MEET SOL: 2017 STEM SCHOLARSHIP AWARD RECIPIENT AND TECH GURU
Are you ready to find your fit?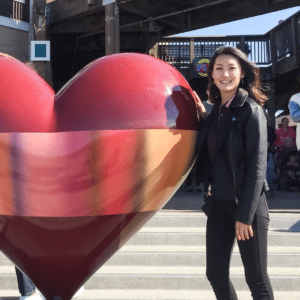 At Best Value Schools, we're honored to congratulate Sol Kim for being the Spring 2017 winner of our $2,000 STEM Scholarship for Women. Sol is currently a full-time sophomore at Brown University, an extremely selective Ivy League school in Providence, Rhode Island. She's enrolled in the Sc.B. Computer Science program to take courses like algorithmic design, software engineering, and computational linguistics. Not only did she achieve an outstanding SAT score of 2380, but Sol also maintains a cumulative GPA of 3.5 in this challenging curriculum. In 2015, she was presented the William Orr Dingwall Foundation's Academic Achievement Award.
Originally from the San Francisco Bay Area, Sol has sharpened her programming skills with Python, HTML, CSS, Java, and more. Last summer, she interned with Adobe's Lightroom photography cloud platform service team to develop RESTful APIs using AWS technologies. She worked with TuringSense to design online content for the 2015 USPTA Conference. She was a web developer intern for JunoWallet, a social marketing rewards app with 3.5 million users. Sol Kim collaborated on the NuSys project in the Brown Graphics Lab to create a Universal Windows application with a whiteboard-style interface. Through the Brown Entreprenurship Program, she also recreated the website for innovativeonthehill.com as a design-tech crossover.
Coding Her Way to Safer Social Networking
As a Facebook fan, Sol's passion for coding began with learning the nuts and bolts of social media websites. While diving into 0s and 1s, she uncovered the heart-breaking stories of teens like 14-year-old Matthew Homyk who was driven to suicide from cyber-bullying. It became her goal to integrate technology into our culture's moral fabric, enhance diversity, and stop online antagonism. She's presently working to calibrate code that finds slurs like "fat" or "ugly." Artificial intelligence will then send users reflective prompts, such as "That sounds hurtful. Do you really want to post it?" Sol also created a whimsical compliments generator to help make the Web more positive.
Sol Kim also strongly advocates for women in tech to shift away from the "brogrammer" culture promoted by men like Mark Zuckerberg and Tim Cook. She created the Conversationalist app for ladies and minorities to contribute more to white male-dominated discussions. At Brown, she's participated in the Women in Computer Science (WiCS) mentorship program. She taught computer science courses to middle school students in Providence as a Learning Exchange volunteer. Since 2014, Sol has developed the STEM curriculum for science enrichment in disadvantaged communities with Maarifa International. Her selfless acts inspiring young computer scientists led to her recognition with the President's Volunteer Service Gold Award.
The BVS scholarship committee believes that Sol Kim personifies the ideal recipient with her unwavering dedication to advancing technology to resolve real-world human problems. She's excelled with coding helpful tech tools like Laundr(eas)y to make chores simpler for Brown students and StaTweetStics to generate topic suggestions on Twitter. We admire her innovation, academic aptitude, programming prowess, and compassionate volunteer work. We expect she'll keep growing her talent after her upcoming software engineering internship at Facebook this summer. It's our honor to recognize Sol as an excellent role model for women building bright futures in STEM. Congratulations, Sol!
Have What It Takes to Become Our Next Winner?
Joining our elite group of STEM Scholarship for Women winners with Sol Kim and others is only possible if you apply. We accept applications from female U.S. citizens who've chosen to major in traditionally male-centric fields of science, technology, engineering, and mathematics. If you're working to clear the absence of estrogen in the technical workforce, please share your story. Our next application cycle will begin in October 2017. Click here to learn more about our scholarship criteria.
Get prepared for your next steps
Use articles and resources to uncover answers to common questions, get guidance on your goals, and learn about applying to schools.
College is an exciting but harrowing time for most college students, and that can be especially true for prospective college students who identify as lesbian, gay, bisexual, transgender, questioning, or...
Historically Black colleges and universities, commonly known as HBCUs, are an incredibly important part of the higher education system in the United States. These schools, which of the nation's colleges...
It can be tough to narrow down higher education options after graduation for most students. There are state and private college options, trade schools, and community colleges to choose from, and each option offers a different price point, a different trajectory, and a different path. These choices become even more difficult when there are other […]
Discover a program that is right for you.
Explore different options for you based on your degree interests.