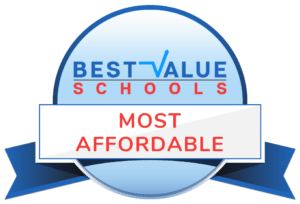 By BVS Staff
Want to know where you can get an affordable graphic design degree online? You've come to the right place.
Graphic Design is a great major to consider pursuing at an online school because most of your classes will already involve using computers and the internet. In addition, using distance education allows you to become more familiar with computers and to heighten your technical skills as you apply your creativity to projects in print, multimedia, web, and other design projects. The trouble with so many schools today, however, is that their tuition costs are skyrocketing. Going to school online can help you save money and time - especially if you are already employed and want to keep working while you're in school.
Note: This article contains sponsored links. These are designed to help you connect with programs easily.
The 10 Best Online Graphic Design Programs Ranking Methodology
Selection Criteria
For this ranking, we focused on public and private (non-profit) colleges and universities that offer graphic design degrees online. Because the focus of this list is on affordability, we only considered programs with average* tuition rates of $25,000/year or less.
*For public schools, we calculated the average value of their in-state and out-of-state rates.
Ranking Factors
Unfortunately, there are a limited number of bachelor's degrees in graphic design available online. Therefore, we could not compile a pool of options large enough to justify a complex ranking system in which we'd filter out schools based on a list of specific factors.
So instead, we ranked the programs solely according to their affordability. See below for the best cheap online graphic design majors, ranked from most to least expensive.
Cheap Online Graphic Design Majors Ranked
---
10. Midway University
Online Marketing Communications Graphic Design Degree
Website
For a graphic design program that puts a strong emphasis on communications and marketing, check out Midway University. In fact, this program technically offers a Bachelor's in Marketing Communications, but with a concentration in Graphic Design. However, even the core coursework includes plenty of classes you'd expect to see in an online graphic design program, like "Digital and Social Media," and "Photoshop." The concentration courses then provide a more in-depth look at the field through advanced lessons in digital storytelling, drawing, animation, and more. Finally, you'll complete a capstone that helps you learn how to use your design skills to create powerful messages for consumers - and profitable relationships with your customers.
Average Tuition & Fees: $23,950/yr
9. Liberty University
Online Bachelor of Fine Arts in Graphic Design
Website
At Liberty University, faculty view graphic design as an important form of visual communication. As such, successful designers must be able to combine artistic talent and technological know-how with creativity and problem-solving skills. Fortunately, Liberty's affordable online graphic design major can help you strengthen your assets in all these areas. Courses cover contemporary subjects like typology, vector illustration, 3D design, digital photography, and more. Plus, all program participants are required to complete both a 30-hour practicum and a 180-hour internship. Although the work is rigorous, the expertise you'll develop through this hands-on training will be well worth the effort.
Average Tuition & Fees: $21,310/yr
8. Arizona State University
Online Bachelor of Science in Graphic Information Technology
Website
Instead of a traditional online graphic design major, Arizona State University offers a BS in Graphic Information Technology. In many ways, the difference between the two is in name only. The curriculum covers plenty of standard design topics, including digital illustration, video techniques, and commercial photography. But this program also goes a step further to prepare students for the 21st century, where tech skills and internet savvy are necessary for most jobs. Classes in website design and authoring, scripting, and computer graphics modeling will help you build these competencies - while giving you an edge in the job market, too.
Average Tuition & Fees: $19,082/yr
7. Pennsylvania State University-World Campus
Online Bachelor of Design in Digital Multimedia Design
Website
Without question, Penn State University offers one of the most versatile, customizable graphic design degrees online. This is thanks in large part to the university's Digital Media Design (DMD) Program Hub, which brings coursework from three different colleges (Arts and Architecture, Communications, and Information Sciences and Technology) under one virtual roof. Students can not only take classes in any of these colleges, but they can also modify their degree with pre-approved "pathways." Unsurprisingly, these pathways cover a diverse range of topics. In addition to a Generalist track, other options include Video Production, Digital Design, Media for Civic Engagement, and Interactive Media Development.
Average Tuition & Fees: $13,988/yr
6. Hodges University
Online Bachelor of Science in Digital Design and Graphics
Website
Hodges University offers a BS in Digital Design and Graphics that puts equal emphasis on art, technology, and business. The result is a career-minded curriculum that imparts skills in modeling, animation, and illustration but also project management, marketing, and computing. At the same time, the detailed course plan allows you to narrow your focus to either Graphic Design or Digital Media. Both tracks include four specialized courses plus a senior design project and portfolio. Plus, unique electives in CAD techniques and drafting make this a top online graphic design major for students interested in architecture and urban planning.
Average Tuition & Fees: $13,940/yr
5. University of Wisconsin-Stout
Online BS in Digital Marketing Technology
Website
If you're equally interested in graphic design and online advertising, UW-Stout's BS in Digital Marketing Technology could be just the program for you. UW faculty designed this degree to provide participants with the technological proficiency they'll need to craft powerful online messages. Indeed, most of the classes in this accredited online graphic design major emphasize computer skills over marketing finesse. For example, required classes include "Graphics Software Tools," "Web and Internet Programming," "Dynamic Web Technologies," and even "Collaborative Computing." However, the program also incorporates a Professional Management Core to ensure that you develop a basic understanding of business, finance, and marketing strategy.
Average Tuition & Fees: $13,440/yr
4. National University
Online Bachelor of Arts in Digital Media Design
Website
Faculty at National University understand that not everyone who earns their BA in Digital Media Design will end up in a career in graphic arts. So instead, they've designed a curriculum that provides students with a solid background in "computer transmedia design theory, production, and project management." To be sure, this cheap online graphic design major still includes creatively-included classes; coursework covers everything from media storytelling and motion graphics to game design and 3D modeling. However, you'll also accrue skills in traditional audio-visual production (e.g. digital video editing, audio creation) and modern-day tech (including web design and game scripting).
Average Tuition & Fees: $13,016/yr
3. University of Maryland-University College
Online Graphic Communication Bachelor's Degree
Website
If you see graphic design primarily as a means of communication, then you'll fit in nicely at the University of Maryland's University College. While pursuing this cheap graphic design degree online, you'll acquire a unique blend of skills that span from digital media to professional branding. As a school that prioritizes career preparation, UMUC's program also requires all students to build an extensive professional portfolio. You'll start by taking an "Intermediate Graphic Communication: Portfolio Development" class, which you can continue to build throughout your studies. Finally, you'll finish things off with a capstone class that employs new projects and activities to take your portfolio to the next level.
Average Tuition & Fees: $9,816/yr
2. Granite State College
Online BS in Digital Media
Website
Granite State College's accredited online graphic design program puts a 21st century spin on a traditional creative pursuit. Required courses include typical topics (e.g. "Design Fundamentals" and "Web Development") as well as some unexpected subjects - like "Living in a Digital Democracy" and "Human Computer Interaction." Ultimately, the goal of the program is to provide graduates with a toolkit of technical and creative skills that they can use to get ahead in the world of digital marketing. To this end, the curriculum also covers practical topics in social media trends, marketing research, consumer behavior, strategic communication, and more.
Average Tuition & Fees: $8,049/yr
1. Bellevue University
Online Bachelor of Arts in Graphic Design
Website
In many ways, Bellevue University offers one of the most traditional graphic design programs. Rather than divert some coursework to focus on marketing, communication, or business, this program takes a deep dive into graphic arts and web development. The result is one of the best cheap online graphic design programs for tech-savvy artists. Once enrolled, you'll study web page design, typography, print design, interactive interfaces, publication development, and much more. And like most top programs, you'll also develop a comprehensive portfolio (both print and web-based, of course!) that you can show off to future employers.
Average Tuition & Fees: $7,752/yr
Thanks for reading our ranking of the 10 top cheap online graphic design programs!
Sources:
IPEDS Data Center
College Navigator
See Also: