Cheapest Online Criminal Justice Degrees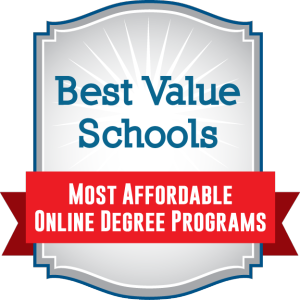 Criminal Justice is a growing field that encompasses a broad spectrum of career choices, including law enforcement, corrections, administration, private security, and cybercrimes; entering this exciting field has never been easier with the ability to earn an online criminal justice degree.
Since we aren't likely to eradicate crime in the United States any time soon, we will continue to need people to serve in protective positions in a variety of industries. In particular, private sector jobs will grow quickly as concerns over vandalism and terrorism pick up, and as more private firms are hired to do the work of police officers.
There are many pathways to a career in Criminal Justice, and one such avenue is to acquire a Bachelor's degree in the field. A large number of schools offer these programs, and many also offer specializations or concentrations in subjects such as Forensics or Management. You may also be excited to hear that more and more schools are moving their degrees online to accommodate the increasing proportion of students interested in distance education.
Methodology
To help you in your search, we have compiled a list of the top, cheapest online college bachelor's degrees in Criminal Justice. They all have tuition rates lower than $16,000 a year, and the most affordable online college will offer you an education for less than $5,000 annually! Each of these schools is accredited and has been confirmed for its quality; many have garnered attention from major education publications and some have received special awards and commendations. We have listed these schools according to their tuition rates as found in the U.S. Department of Education's College Navigator database, and have placed public institutions on the list based on the average of their in-state and out-of-state rates.
---
17. Sam Houston State University
Online Bachelor Degree in Criminal Justice
Sam Houston University offers an online Bachelor's degree in Criminal Justice that is supported by a well-established network of resources and support for distance learners. The program includes courses like Forensic Science and White Collar Crime, as well as a social science requirement. Students attending college online have access to the e-library and virtual advising and tutoring sessions for when they need academic help. The Career Services office offers Skype appointments, virtual interviews, and resume and cover letter assistance via email in addition to an online job database. The online college also recently won recognition from the Wall Street Journal for "Innovative Technology" research. Students can apply for more than fifty scholarships available solely to Criminal Justice majors. Transfer students and veterans in particular are automatically guaranteed financial aid.
Tuition: $7,022/yr (In-state) $15,518/yr (Out-of-state)
_____________________________________________________
16. Western Carolina University
Criminal Justice Online Program
The accredited online Criminal Justice degree at Western Carolina University is a good fit for people who are trying to advance their career in a Criminal Justice-related field to the administrative level. Online students can earn their Bachelor's in Criminal Justice with a concentration in Administration of Justice, which features classes like Police Practices & Problems and Supervision & Leadership of Personnel. The online college's resources include online tutoring, digital library access, and Career Services consultations via GoToMeeting. Though WCU does not offer credit for past life experience, students can earn credit for work experience through a Criminal Justice internship. GetEducated ranked this affordable online college as the #1 Best Buy for an online Criminal Justice degree.
Tuition: $6,265/yr (In-state) $15,862/yr (Out-of-state)
_____________________________________________________
15. University of West Georgia Online
Bachelor of Science with a Major in Criminology Online
Students who want to earn an online B.S. in Criminology on their own schedule will find the perfect program at the University of Western Georgia. The Criminology program allows students to complete their degree in three years by taking classes in three semesters year round. Students can complete individual courses, which cover subjects from Juvenile Delinquency to Criminal Profiling, in as little as eight weeks. Because the majority of UWG students are distance learners, the online college offers virtual tutoring services, career counseling, and virtual mock interviews. There are even Facebook communities and online activities for students who want to be a part of the University community. Princeton Review ranked this cheap online college as one of the Best Colleges in the Southeast.
Tuition: $5,837/yr (In-state) $15,903/yr (Out-of-state)
_____________________________________________________
14. University of Phoenix
Criminal Justice Bachelor's Degree Online
A Bachelor's degree in Criminal Justice through the University of Phoenix comes with all the benefits that a well-established online college can give. The Criminal Justice program offers Bachelor's degrees in Criminal Justice Administration, Human Services for Criminal Justice, and Organizational Security and Management. These degrees can be combined with five concentrations, four certification programs, and/or an Associate's degree in Criminal Justice, giving you maximum flexibility in your educational choices. Students can also take advantage of adaptive tutoring tools and a well-connected Career Services program. In addition, the University of Phoenix provides services to help military students transfer to a civilian career that suits their skills. The online college's alumni include the former U.S. Secretary of Transportation and the MSNBC news anchor Christina Brown, indicating that the school can successfully gear you for success, too!
Tuition: $10,312/yr
_____________________________________________________
13. Wilmington University
Bachelor of Science in Criminal Justice Online
The online Criminal Justice program at Wilmington University is designed to help students get ahead in their career, whether they are just starting out or looking to improve their current position. The program provides a number of educational options to reflect that goal. In addition to a online Bachelor's degree in Criminal Justice, students can earn a Criminal Justice certification, an Associate's to Bachelor's completion degree, and a Bachelor's to Master's accelerated degree. The affordable online college supports distance students with all the standard online advising and tutoring services, plus access to library resources. Wilmington also ranks as the #2 Most Technologically Savvy Online School according to OnlineSchoolCenters.com. The online college also offers benefits to military students, which include accepting military experience for credit and lower tuition costs for active duty military members.
Tuition: $9,950/yr
_____________________________________________________
12. University of Nebraska at Kearney
Online Bachelor of Science in Criminal Justice
The affordable Criminal Justice degree at the University of Nebraska at Kearney is an online degree completion program, which makes it a good match for students who already have an Associate's degree or some college experience. The most important aspect of the degree is an internship that can be completed at a location in the student's area. In addition to the internship requirement, the online college's Criminal Justice curriculum features a focus on the social sciences and includes classes from all three University of Nebraska campuses, giving students access to the best professors and courses across the state. Students can also choose from five online minors, including Sociology and Strategic Communication. U.S. News has ranked this top online college as one of the Top Ten Public Universities in the Midwest.
Tuition: $6,542/yr (In-state) $12,370/yr (Out-of-state)
_____________________________________________________
11. University of Maryland University College
Online Major in Criminal Justice
Students in the Criminal Justice program at the University of Maryland University College receive an online education that thoroughly develops their communication skills. Classes that emphasize writing are present throughout the recommended course sequence, ensuring that graduates have more than the basic skills they need to be effective communicators in the professional world. The Learning Experience Online program provides advising, career services, tutoring, and writing help to support students attending college online. Many Maryland community college and military students find a good match at this cheap online college; in-state college graduates pay significantly lower tuition rates, while military students can earn up to sixty credits for their life experience. Students have given the online college "A" grades for its diversity and technology on CollegeProwler. Univeristy of Maryland also appears on our list of Top 10 Cheap Online Public Safety Administration Degree Programs (Bachelor's) 2019.
Tuition: $6,552/yr (In-state) $12,336/yr (Out-of-state)
_____________________________________________________
10. SUNY Delhi
Bachelor of Science in Criminal Justice Online
The Bachelor of Science in Criminal Justice college online program accommodates adult students with busy lives. Named by U.S. News & World Report as the best college in the nation for online Bachelor's degree programs for its faculty credentials, student engagement, and peer reputation, SUNY Delhi offers students a top online college education. Highlights of the program include technological support and tutoring, relevant curriculum that covers all six areas identified by the Academy of Criminal Justice Sciences, and affordable tuition. Additionally, SUNY Delhi has been designated a military-friendly school. With excellent employment prospects in the field, criminal justice majors will be prepared to start careers in policing, investigation, probation, corrections, juvenile justice, and many other areas.
Tuition: $7,200/yr (In-state) $11,370/yr (Out-of-state)
_____________________________________________________
9. University of Wyoming
Criminal Justice Bachelor of Arts Degree Online
The University of Wyoming's accredited online college offers a Bachelor's Degree in Criminal Justice that is interdisciplinary and a great fit for students interested in the fields of local, state, and federal law enforcement. Students may also opt for a pre-law emphasis to prepare them for law school or graduate education. Graduates of the program begin careers as court administrators, corrections officers, private security, military leaders, and many others. This completely online college program delivers content to students through Web-based courses, as well as audio and video conferencing. Hands-on experience is also available through a variety of internships at local criminal justice agencies. U.S. News & World Report included this affordable online college on its list of top-ranked national universities.
Tuition: $4,404/yr (In-state) $14,124/yr (Out-of-state)
_____________________________________________________
8. Brandman University
Online Bachelor of Arts in Criminal Justice
At Brandman University, Criminal Justice majors study criminal profiling, analyze the correctional system that manages these criminals, and evaluate post-9/11 homeland security scenarios. Students can specialize in various areas within Criminal Justice, including Homeland Security, Corrections, Victims Advocacy-Social Justice, Forensics, Leadership, and Security Services. This very affordable online college program offers courses such as Constitutional Rights, Social Research Design, and Sociology of Deviant Behavior. Students gain an understanding of the legal system, learn valuable research skills, and understand how to apply theory. U.S. News & World Report named Brandman 41st in the nation for online Bachelor's degree programs, earning particularly high scores for student engagement and faculty credentials. Brandman has also been designated a Military Friendly School.
Tuition: $8,800/yr
_____________________________________________________
7. Colorado State University Global
Online Bachelor's Degree in Criminal Justice and Law Enforcement Administration
The Colorado State University Global program is perfect for people who are passionate about law enforcement, enjoy helping people, and envision themselves as leaders. Busy students enjoy the flexibility of completing their coursework at this top online college in an eight-week class format while maintaining close communication with faculty and peers. More than a dozen specializations, such as emergency Management and Criminal Forensics, allow students to tie their education to their career aspirations. Students who maintain currently enrolled status at this affordable online college are also guaranteed zero tuition increases for the duration of the program. U.S. News has ranked CSU the #16 best online bachelor's degree program in the nation.
Tuition: $8,400/yr
_____________________________________________________
6. Bemidji State University
B.S. Criminal Justice - online
At this accredited online college, core courses and many electives are offered completely through distance education, with the majority being taught by full-time faculty members who are actively engaged in mentoring students. After taking course courses in the Criminal Justice major, students can choose from varied specializations: Corrections with Internship, Law Enforcement with Internship, Criminal Justice with Internship, and Criminal Justice (non-internship). The Criminal Justice Club offers students the opportunity to network with professionals and peers in the field, participate in justice system events, and volunteer their talents with local charities. Named one of the best Midwest universities for six consecutive years, this affordable online college offers not only a superior education, but also lets online Criminal Justice degree majors pay the in-state Minnesota tuition rate.
Tuition: $8,124/yr
_____________________________________________________
5. Granite State College
Criminal Justice (B.S.) Online
The Bachelor of Science program at this accredited online college prepares students for a wide variety of careers in law enforcement, administration and business security, among other fields. The flexible format provides evening, online, hybrid and weekend courses, allowing working adults to pursue their education in a schedule most convenient for them. Students explore a variety of topics related to Criminal Justice, including criminology, state and federal constitutional law, advocacy, and research methodology. Granite State also gives degree candidates the opportunity to earn credit through academic testing and training programs like those offered in the military or the New Hampshire Police Standards and Training Academy. This affordable online college was named to U.S. News & World Report's 50 best online Bachelor's degree programs in the nation.
Tuition: $7,065/yr (In-state) $7,545/yr (Out-of-state)
_____________________________________________________
4. Thomas Edison State College
Online BA in Criminal Justice
Adult learners and law enforcement officials at Thomas Edison State College graduate ready to change or further their careers - or even to pursue graduate education. This top online college's Learner Support Center is in keeping with the school's mission to provide flexible, high-quality education for self-directed adults in its courses. Students in the Criminal Justice program develop critical analytical skills and become familiar with research and methods used in the field. Thomas Edison is accredited by the Middle States Commission on Higher Education, and its alumni earn some of the highest pass rates for exams required in their professions. GetEducated.com named this affordable online college business program one of the Top 5 "Best Buys" in the nation.
Tuition: $5,700/yr (In-state) $8,395/yr (Out-of-state)
_____________________________________________________
3. Grantham University
Online Criminal Justice Program (BA)
Grantham University strives to provide a relevant online college education that students can complete at a pace that's convenient for them. Criminal justice students graduate with practical, real-world insight into their field. The university's accredited online associate and bachelor's degrees programs prepare students for careers in local, state, or federal law enforcement, including the Federal Bureau of Investigation and Drug Enforcement Administration. Students learn how to analyze crime theory and concepts, as well as use analytical skills to solve problems and make decisions. Grantham also offers Criminal Justice students two concentrations: Homeland Security and Computer Science, allowing students some ability to customize their experience at GU. Military Times Edge recently named this military-friendly online college to the top 100 Best for Vets list.
Tuition: $6,530/yr
_____________________________________________________
2. Bellevue University
Online Criminal Justice Degree - Bachelor of Science
Bellevue University's Bachelor of Science online college program in criminal justice offers students in-depth knowledge of the field through a comprehensive exploration of social issues, behavior analysis, legal and ethical principles, and policy development. This lays a strong foundation for a career in law, private security, corrections, or law enforcement. The accredited university offers classes in online, cohort, physical classroom and accelerated formats, providing students with plenty of avenues toward a degree. Bellevue's online bachelor's degree programs are ranked 18th in the U.S. News Top Online Education Program Rankings, competing with about 1,000 other schools. Furthermore, the university has been designated a National Center of Academic Excellence in Information Assurance Education by the National Security Agency and the Department of Homeland Security.
Tuition: $6,300/yr
_____________________________________________________
1. Columbia Southern University
Bachelor of Science in Criminal Justice Administration Online
This extremely flexible, affordable online college offers cheap tuition rates, military tuition assistance, and no-cost textbook grants. The accredited Bachelor of Science in Criminal Justice covers diverse areas of interest to future law enforcement professionals, such as Criminal and Constitutional Law, Judicial Processes, Race and Ethnic Relations, and Terrorism Incident Management. The CSU Academic Advising Center is particularly passionate about helping adult learners achieve their educational goals, demonstrated by the university's 94% five-year graduation rate for Criminal Justice and Political Science majors. Graduates are prepared with a solid foundation in the theoretical concepts, knowledge, and skills to be successful in positions in law enforcement, corrections, and courts, or to continue their education in graduate school. Best College Reviews currently rates CSU the fourth-best online college in the nation. Earning a cheap online criminal justice degree from CSU is sure to launch a successful career.
Tuition: $4,895/yr
Related articles:
Sources:
U.S. News & World Report
Wikipedia
Bureau of Labor Statistics
Minnesota Schools and Colleges
National Security Agency
College Navigator
About the Author:
Iris Stone got her start in writing when she began working as a freelance writer and researcher in 2011. Her freelance business soon took off and she now owns and operates a writing and editing firm that works with clients all across the country. Despite the time it takes to run a business she still does much of the writing herself, and her work has included a variety of content related to education policy, colleges and universities, academic programs, and graduates' careers. Check out her Google+ Profile.
This concludes our ranking of the top cheap online criminal justice degree programs (bachelor's).