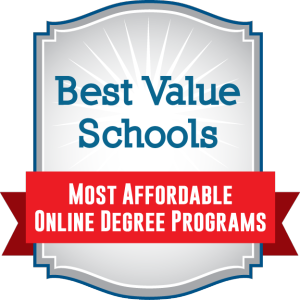 An online master's degree in criminal justice can do wonders for a person's career. Whether you just finished your bachelor's degree or have a decade of experience in the legal system, a criminal justice graduate program can vastly improve your professional reputation. Many graduate degrees include an emphasis on administration and leadership, and also enable students to choose a specific concentration in their desired area of study. After graduation, many students find management positions in law enforcement and government.
To get started, you'll need to first pick some schools to which to apply. Most adult learners are looking for the same basic features: affordability, flexibility, and quality. Online colleges often meet these qualifications and then some, providing cheap tuition rates and asynchronous internet classes that students can complete on their own time.
Methodology
Our research reveals that the 20 schools listed below are the least expensive online criminal justice graduate programs at accredited institutions in the nation. (We sourced tuition information from the U.S. Department of Education's College Navigator database.) All priced at about $10,000 or less for a year of tuition, these programs are also accredited, reputable, and available entirely online. We sorted them from most to least expensive, assigning public schools an approximate tuition rate based on the average of their in-state and out-of-state rates.
Ranking the Top Cheap Online Master's in Criminal Justice Degree Programs
---
20. St. Cloud State University
Online Master of Science in Criminal Justice
Website
St. Cloud University's Center for Continuing Studies offers an online graduate degree in criminal justice that meets the needs of a diverse range of students. Anyone from a current law enforcement professional to a young student without a bachelor's degree in a related field can apply for enrollment at St. Cloud. Describing itself as "course centered and traditional," the curriculum requires all students to complete both research and seminar classes. The rigorous program also mandates that students complete advanced courses in which students tackle long research papers, take on extra readings, and prepare professional presentations. In the past two years St. Cloud has earned special recognition for its efforts to cultivate an inclusive, international community. The NAFSA: Association of International Educators presented St. Cloud with the Simon Award for Comprehensive Internationalization, and INSIGHT into Diversity awarded the school a Higher Education Excellence in Diversity (HEED) Award.
Tuition: $6,895/yr (In-state) $10,777/yr (Out-of-state)
---
19. Liberty University
Online Master of Science in Criminal Justice - Public Administration
Website
Liberty University Online is a popular choice for those interested in attending a private school - and particularly for those seeking a Christian education. The program seeks to cultivate effective decision-makers and leaders who will take on significant roles in the justice system. Graduates find work in homeland security, police administration, social services, sustainable research development, and urban policy. Some even become elected officials! Another attractive feature of this accredited online master's degree in criminal justice is its liberal transfer credit acceptance policy - students can earn hours toward their diploma not just for past schooling, but also for previous work, training, or "life experience." Forbes and U.S. News both recognize Liberty's excellence in multiple areas, and Barron's Profile of American Colleges lists it as a top-ranked "competitive" school.
Tuition: $8,820/yr
---
18. Lamar University
Master of Science in Criminal Justice Online
Website
Lamar University's online criminal justice graduate degree aims to prepare graduates not just for work in law enforcement, but for management and administrative work at top organizations. The program offers multiple start dates every semester, making it easy and convenient for applicants to start classes partway through the year. The school's department in Criminal Justice also encompasses Sociology and Social Work, giving many the chance to take classes across disciplines. The American Council of Trustees and Alumni gave Lamar a rare "A" grade in its study on curriculum standards, noting the university's well-rounded, competitive education.
Tuition: $5,544/yr (In-state) $11,916/yr (Out-of-state)
---
17. University of North Texas
Online Master of Science in Criminal Justice
Website
Current criminal justice professionals can enroll at the University of North Texas in order to gain the advanced knowledge necessary to further their careers. The program uses innovative, web-based technologies to help students complete their degrees, which often takes just two years. The department divides the degree three areas: required core courses, 21 criminal justice electives (9 of which can cover subjects outside the discipline), and a final integrative capstone course. Students in this affordable online master's degree in criminal justice can also earn professional or academic certificates in private investigations, forensics, corrections, safety and security, police management, or criminalistics. Forbes currently ranks UNT in the Top 160 of Southern Universities, and also puts it in the Top 220 Research Universities.
Tuition: $5,450/yr (In-state) $11,822/yr (Out-of-state)
---
16. Concordia University of St. Paul
Online Masters in Criminal Justice
Website
Concordia University at St. Paul has added an M.A. in Criminal Justice to its expanding repertoire of flexible, online programs. Busy adult students often choose Concordia for the self-direction and creativity it allows. Learners from a variety of professional backgrounds work together on criminal justice projects, enhancing their own aptitudes and training to be better leaders. Courses include "Legal and Legislative Issues," "Research Methods in Criminal Justice," "Correctional Design," and "Applied Ethics in Criminal Justice Leadership." Many students also explore contemporary issues in the field and complete a capstone course. Perhaps the best indicator of this program's quality is its U.S. News ranking: the publication labeled it the 34th best online master's degree in criminal justice.
Tuition: $8,550/yr
---
15. University of Houston Downtown
Online Master of Science in Criminal Justice
Website
University of Houston Downtown's Criminal Justice department works to prepare strong leaders, critical thinkers, and decision makers for the legal field. The curriculum is uniquely skill-focused, providing education in criminal justice planning, evaluation, and implementation. Leadership and administration classes push students to become effective managers who are in-tune and responsive to the needs of their local community. A combination of theoretical and integrative classes in this master's degree in criminal justice online give graduates the option to pursue work in corrections, policing, the courts, or a number of other fields. Student review participants on College Prowler rate the school highest for its knowledgeable professors, low-stress course load, and accepting community.
Tuition: $5,405/yr (In-state) $11,012/yr (Out-of-state)
---
14. Missouri Southern State University
Online Master of Science in Criminal Justice
Website
Students at Missouri Southern State University have the unique opportunity to attend online classes at two institutions. MSSU has a partnership with Southeast Missouri State University, and together they created a fixed rotation of classes that students can complete over six terms. The high quality graduate program covers issues in corrections, courts, crime prevention, and law enforcement. The department aims to graduate students who have the skills to conduct and evaluate research, use software and statistics to analyze data, interpret and understand the effects of legal issues, and consider the psychological and sociological roots of crime. Students in this online criminal justice master's degree have multiple ways to direct the path of their degree, and can choose to focus on a thesis, internship, or capstone track. On College Prowler, 88% of students call themselves "highly satisfied" with MSSU, also mentioning the knowledgeable professors and affordable tuition.
Tuition: $5,346/yr (In-state) $10,746/yr (Out-of-state)
---
13. Sam Houston State University
Online Master of Science in Criminal Justice
Website
Sam Houston University takes the strong reputation of its Criminal Justice department and combines it with its popular distance education services, forming a top online master's degree in criminal justice that attracts students from far and wide. Working professionals who take the extra time to complete this degree can find work in higher positions of corrections, social services, security, and law enforcement. 21 hours of required courses cover the finer points of justice administration, quantitative analysis, technology applications, and community theory. Sam Houston receives numerous accolades for its Criminal Justice school. In fact, U.S. News rated its Criminology grad program #22 in the nation, and specifically mentioned that it boasts one of the best online master's degrees in criminal justice, naming it 5th in the entire country .
Tuition: $4,410/yr (In-state) $10,782/yr (Out-of-state)
---
12. Saint Leo University
Online M.S. Criminal Justice
Website
Saint Leo University's online master's degree in criminal justice offers a competitive program that, much like other graduate degrees, focuses on training students for management and leadership positions. Saint Leo is renowned for its distinguished faculty, specifically Dr. Robert J. Diemer - a professor with 30 years of experience and a national reputation in law enforcement. Students enhance their knowledge through the study of treatment methodology, hostage negotiations, personnel law, fiscal resource management, public policy issues, human resources, and ethical issues in criminal justice. These topics cover a much more in-depth exploration of legal topics than many institutions, allowing graduates to benefit from comprehensive training that will set them apart from their peers. Saint Leo holds a "Top University in the South" ranking from U.S. News, as well as the 17th top spot on Guide to Online School's selection of best distance education colleges.
Tuition: $7,596/yr
---
11. University of North Alabama
Criminal Justice Master of Science Online Degree Program
Website
The University of North Alabama attracts many online students due to its policy of unconditional admission. Students who hold a bachelor's degree with a cumulative GPA of 2.5 or better and receive a 286 or better on the GRE earn automatic admission into the university. Applicants who already have a master's degree can gain easy entry to the university without even taking the GRE! The 30-credit hour online master's degree in criminal justice includes such classes as "Crime in America," "Criminological Theory," and "Methods of Research in Criminal Justice." Electives allow learners to explore their own interests in victimology, corrections, forensics, and more. U.S. News' rankings lists UNA as the 81st best Southern University and 39th best public school.
Tuition: $4,968/yr (In-state) $9,936/yr (Out-of-state)
---
10. Kaplan University
Online Master of Science in Criminal Justice
Website
As a popular, for-profit institution of higher learning, Kaplan offers an extensive array of degrees related to criminal justice. In addition to an affordable online master's degree in criminal justice, students can also pursue an online master's in homeland security, a B.A. or A.S. in criminal justice, or seek a certificate in corrections, management and supervision, private security, or crime scene technician. Kaplan also offers Fire Science programs for students also interested in related areas. Online learners enjoy an immersive, interactive experience thanks to Kaplan's innovative use of technology, which includes online testing, virtual classrooms, and even web-based field trips. College Prowler survey results indicate that students most love the university's value, knowledgeable professors, and meaningful online classes.
Tuition: $7,320/yr
---
9. Grand Canyon University
Online Master of Science in Criminal Justice with an Emphasis in Legal Studies
Website
Grand Canyon University's online master's degree in criminal justice comes with an emphasis in legal studies, taking the program to a new level of law comprehension. Students look at criminology theory and restorative justice, but also constitutional rights, the role of psychology, research, public policy, and organizational behavior. Due to the increasing interconnectivity of the world, GCU now also offers classes in international law to help prepare graduates who foresee a future with global organizations. The incredibly useful capstone course helps soon-to-be alumni prepare portfolios and C.V.s, compile writing samples, and put their professional goals into writing. FindTheBest, a website that rates colleges, gives GCU an 81/100 "Smart Rating" for its affordability, reputation, selectivity, and academic excellence.
Tuition: $7,296/yr
---
8. Columbia Southern University
Online Master of Science in Criminal Justice Administration
Website
Columbia Southern University's College of Safety and Emergency Services houses a cheap online master's degree in criminal justice - a degree that gives new meaning to the word "affordable." At less than $6,500 for a full-time year and an estimated completion time of three years, the school enables graduate students to acquire their entire advanced education for less than $20,000. Longer than the average program, the curriculum requires 37 credit hours (13) classes for graduation. Courses include Public Budgeting, Computer Applications, Juvenile Justice Administration, Constitutional Law, Research Methods, Global Terrorism, and the Theory of Crime. The university touts impressive ratings on College Prowler, where nearly 100% of students positively review the affordable tuition, valuable education, and flexible schedules.
Tuition: $6,360/yr
---
7. Angelo State University
Online Master's Degree in Criminal Justice (M.S.)
Angelo State University has developed a reputable Department of Security Studies and Criminal Justice. This includes a master's degree in criminal justice online, which is open to anyone with a bachelor's degree who is interested in making themselves more competitive for professional advancement. The online format is particularly appealing to current government agents, who can take classes on their own time while still meeting the demands of their busy jobs. Eight core courses and four electives comprise the degree, and the former mostly include seminars and research. Classes are often discussion based and require active evaluation, encouraging students to think critically despite studying over the computer. Top rankings for ASU include consistent accolades from Princeton Review, a publication that has included the university on its list of "Best 377 Colleges" for five consecutive years.
Tuition: $2,612/yr (In-state) $9,984/yr (Out-of-state)
---
6. Texas A&M International University
Online Master of Science in Criminal Justice
Website
Texas A&M University International is just one of the state schools with an "agricultural and mechanical" focus, although TAMIU has recently expanded its degree selection, even moving certain programs online. This includes an online master's degree in criminal justice, a program that requires students to actively participate in classes and engage in research. Students should expect a challenge at TAMIU, where distinguished professors push them to reflect on current issues plaguing the field, think critically, and absorb relevant leadership. Many faculty are nationally and even internationally recognized for their work in criminal justice, and can skillfully advise students who want to research specific topics or complete a thesis paper. Recently, the College Affordability and Transparency Center named TAMIU 6th in the nation for its low net cost among public institutions.
Tuition: $3,211/yr (In-state) $9,223/yr (Out-of-state)
---
5. Delta State University
Online Masters of Science in Criminal Justice
Website
Delta State University is a small college stationed in Mississippi. It offers a select number of online majors, including an accredited online master's degree in criminal justice that closely mirrors the campus-based program. Core courses include Theories of Criminal Behavior, Statistics, Professional and Institutional Ethics, Historical Analysis of the Justice System, and the Organization and Philosophy of Criminal Justice. Students also complete a seminar and practicum in criminal justice, further enhancing their knowledge of the field. DSU boasts multiple rankings worth mentioning, including U.S. News approval as a top regional university, top public school, and best college for veterans.
Tuition: $6,012/yr
---
4. Aspen University
Online Master of Science in Criminal Justice
Website
Aspen University's cheap online master's degree in criminal justice is ideal for a wide range of students. It's affordable tuition and convenient distance education format attract adult learners from all over the country. In particular, members of the New York Police Department sometimes attend Aspen in order to take advantage of its NYPD elective courses, available only to those working on the force. The department supplements the degree with a unique concentration in forensic sciences, which enables students to move beyond law and also examine crime scene settings, court rooms, and laboratories. Common career choices after graduation include detective, police officer, crime scene investigator, and forensic science technician. College Prowler recognizes Aspen for its affordability, commitment to teaching, and helpful career counseling services.
Tuition: $6,000/yr
---
3. American Military University
Online Master's Degree for Criminal Justice Professionals
Website
American Military University, a subset of American Public University, is known for its affordable online programs often geared toward military, legal, and political professionals. Its top online master's degree in criminal justice provides students with a "career relevant" education that doesn't have to get in the way of their current careers. The program covers criminal law, juvenile and delinquent behavior, terrorism, security, and other general topics in the justice system. Most professors have direct experience in the field, and impart their knowledge to eager students looking to transform their training into professional advancement opportunities. AMU gets great reviews from alumni, more than 90% of whom say that their experience was positive, they would choose AMU again, and they would recommend the school to a friend.
Tuition: $5,850/yr
---
2. Missouri Baptist University
Online Master of Science in Criminal Justice (MSCJ)
Website
Missouri Baptist University's online master's degree in criminal justice offers a similar education as many other schools on this list, but with a much lower price point. For just $5,700 a year, applicants can gain access to superior training in law enforcement, probation and parole, corrections, juvenile justice, and more. Those who choose the accelerated format might even be able to complete their entire degree in a single year. At the same time, MBU also offers the extreme flexibility for students to attend part time, take classes on their own schedule, and choose their own electives. Students finalize their degree with a Capstone Course, which requires students to complete a major research project of their own design. FindTheBest awards MBU an impressive 90/100 "Smart Rating," noting its affordability and strong academics as attractive features.
Tuition: $5,700/yr
---
1. University of the Cumberlands
Online Master's Degree in Criminal Justice Administration
Website
The University of the Cumberlands, which currently holds a reputable spot on U.S. News' list of Top 100 Regional Universities (South), provides a Criminal Justice program that is both affordable and flexible. Offering numerous specialization options for just over $5,000 a year, the university allows students to choose a concentration in Law Enforcement, Homeland Security, Addiction Studies, Family Services, Juvenile Justice, Corrections, or Investigations. The flexible curriculum can accommodate both seasoned professionals and new entrants to the field, and the online format allows students to interact with faculty on a timeline that fits their schedules. The online master's degree in criminal justice program grounds itself in administrative training, giving all students - regardless of concentration - the chance to enhance their leadership skills.
Tuition: $5,238/yr
Sources:
NAFSA: Association of International Educators
Center for Public Education
Website
Washington Post - American Council of Trustees and Alumni
Forbes
Website
Guide to Online Schools
FindTheBest
College Affordability and Transparency Center
About the Author:
Iris Stone began her writing career when she started working as a freelance writer and researcher in 2011. Her freelance business soon took off and she now owns and operates a writing and editing firm that works with clients all across the country. Despite the time it takes to run a business she still does much of the writing herself, and her work has included a variety of content related to education policy, colleges and universities, academic programs, and graduates' careers. Her interests actually span far beyond writing, and she is currently studying to be a physicist! Check out her Google+ Profile.
Also see:
This concludes our ranking of the top cheap online master's in criminal justice degree programs.