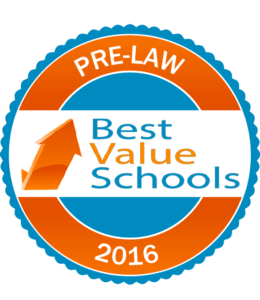 Welcome to our ranking of the top prelaw programs!
If you want to go to law school, what should you major in as an undergraduate? It might seem like a no-brainer that the answer to this question is "pre-law," as the name actually means "before law [school]." But the American Bar Association (ABA) is hesitant to officially endorse a particular undergraduate program, and for good reason. The data shows that students from all academic disciplines - including some surprising ones, like physics and math - have the potential to achieve high LSAT scores and succeed in law school. As such, many universities have shifted away from designated pre-law degrees to give students more flexibility in their coursework. Instead of mandating a particular sequence of classes in history and American government, many colleges are now emphasizing courses that will help aspiring lawyers learn to think critically and consider multiple perspectives.
Methodology
For this best value pre-law degree ranking, we looked for programs that are comprehensive, connected, and of course, affordable! Although pre-law degrees come in all shapes and sizes, we placed emphasis on schools that have retained full-fledged, well-established programs over those that only offer minors or merely a "suggested course list." We also analyzed schools on the vitality and popularity of their programs by looking at the % of all graduating students in most recent school year who earned pre-law degrees (data from College Navigator). To assess student access to networking opportunities and connections to graduate schools, we also looked for colleges that have active Phi Alpha Delta chapters on campus (the international law and pre-law honors society) as well as the universities that the ABA has named to its list of top law school feeder schools. Finally, we factored in metrics on overall academic quality and affordability by looking at six-year graduation rates for undergraduates and annual net price. Note that net price is not the same as tuition, in that it accounts for a wider range of monetary factors, including living expenses, course fees, and average financial aid packages.
In addition to the schools' websites, you can find the other sources we used for this ranking at the end of the article.
---
30. Emmanuel College
Pre-Law Program
Website
The affordable Pre-Law Program at Emmanuel College in Boston is supervised by the school's Pre-Law Advisory Committee (PLAC), which works with every student to design a curriculum that fits with his or her interests. The school also offers a set of courses the PLAC recommends to prepare its students for both the LSAT and a career in law. For instance, the Political Science department provides a number of introductory law courses in topics like Constitutional Law, while the Philosophy Department's Symbolic Logic and Critical Thinking classes should be useful for those tricky LSAT questions.
Net Price: $14,746/yr
29. Denison University
Pre-Law
Website
Denison's approach to Pre-law is to provide its students with as much information as possible to help guide their decisions. The school encourages Pre-Law students to take internships at law firms, meet with representatives from law schools who visit campus, and attend career panels with Denison alumni who have gone onto law school or have careers in the field. Denison's Career Exploration & Development Center has even developed a timetable to guide its students through the process of taking the LSAT and applying to law schools. And as a bonus, Denison offers a need-based pre-law scholarship for students who are working toward this top pre-law degree.
Net Price: $28,660/yr
28. Bethel College-Indiana
History & Contemporary Society: Pre-Law Courses
Website
The Department of History & Contemporary Society at Bethel College offers courses in political science, criminal justice, history, social studies, sociology, and the humanities, many of which are ideal for a student considering law school. Bethel's Christian orientation is an important element of this department. This religious foundation is evident in classes such as Exploring the Christian Faith and both New and Old Testament Literature. Although the school no longer offers a designated pre-law major, Bethel's wealth of courses in logic, criminal justice, and philosophy means the school still offers one of the top pre-law programs.
Net Price: $18,216/yr
27. Florida Institute of Technology
Bachelor of Arts in Humanities - Pre-Law
Website
The Florida Institute of Technology is one of the few schools in this pre-law degree ranking to offer a special Bachelor of Arts in Humanities with an emphasis in Prelaw. This affordable program provides a solid foundation in humanities to prepare students to enter law school, with advanced coursework in related liberal arts subjects (such as psychology) and a research component. But the learning doesn't end in the classroom; FIT's pre-law degree also includes internships at local law offices, networking programs, and a Prelaw Advisory Group made up of working attorneys who advise and guide FIT students.
Net Price: $30,477/yr
26. Northern Michigan University
Political Science Major/Pre-Law Minor
Website
North Michigan University offers one of the most comprehensive programs in this pre-law degree ranking. Political Science majors at NMU can pursue a Pre-Law Minor with required courses in American Government, Judicial Process, and Introduction to Law, which requires a mock trial component. Pre-Law minors can also choose from seven possible electives in a wide variety of law subjects, from contract to probate law. In addition to this robust coursework, students have access to legal internships and mock trial competitions, all of which are organized by the school's pre-law advisors.
Net Price: $12,258/yr
25. Saint Xavier University
Pre-Law Program
Website
As a Catholic university, Saint Xavier puts social justice at the heart of its pre-law program. In addition to standard courses in logic, critical thinking, writing, and communication, SXU recommends its pre-law students take liberal arts courses in English, philosophy, history, and psychology. But this curriculum is far from standard; in fact, the school's Mock Trial course prepares students to compete nationally with the SXU Mock Trial Team. With one-on-one pre-law mentoring, LSAT prep opportunities, and a law school application workshop, students graduating from SXU's affordable pre-law program are well-prepared for graduate work in law.
Net Price: $16,736/yr
24. University of Tulsa
Law, Policy, & Society Minor
Website
Those looking for a philosophical education in the history and purpose of law should look closely at the University of Tulsa's Law, Policy, & Society minor. As the name implies, UT's program examines how law can be used as a tool to improve society, and students can pursue coursework in specialized legal fields like American Indian law, climate and the environment, and the Internet. Another advantage of UT's top pre-law degree is its relationship with the school's College of Law. All of the courses in the Law, Policy, & Society minor are a part of the college, meaning that undergraduates can enjoy a rare opportunity to be a part of an actual law school long before they officially attend one as a graduate student.
Net Price: $28,105/yr
23. University of Dayton
Pre-Law Program
Website
The University of Dayton is the only program in this pre-law degree ranking that offers a special Prelaw minor that students can pair with any major. UD's Prelaw program provides a number of standard services like LSAT prep and networking, and the major itself only requires two "core" courses: Symbolic Logic and American Judicial Process. The rest of the coursework covers topics as esoteric as the playwright Tom Stoppard and International Business Finance. This broad mandate gives aspiring lawyers unprecedented flexibility to take the courses that best support their individual goals. And with the support of academic advisors and the school's Phi Alpha Delta pre-law fraternity, students will have no trouble tailoring their course load to prepare them as thoroughly as possible for law school.
Net Price: $32,965/yr
22. Oklahoma Christian University
B.S. Degree in History/Pre-Law
Website
As its name implies, Oklahoma Christian University is a faith-based institution that weaves a Christian worldview into its B.S. in History/Pre-Law degree program. In addition to critical thinking and research skills, OC Pre-Law students graduate with an understanding of history, an appreciation for religious perspectives, and the ability to apply Christian ethics to their lives. This affordable pre-law program also incorporates coursework in western civilization and American history as well as upper-level history, political science, and literature electives. Through this interdisciplinary curriculum, students are introduced to multiple subjects that also happen to be the most popular majors for law school applicants - potentially providing a double- or even triple-threat advantage during the application process.
Net Price: $19,046/yr
21. Fresno Pacific University
Bachelor of Arts: Pre-Law
Website
Like many of the Christian institutions in this pre-law degree ranking, Fresno Pacific University sees the practice of law as an opportunity to serve society and promote restorative justice. In this spirit, the interdisciplinary coursework for this top pre-law degree includes a unique two-semester Victims, Trauma and Recovery class that covers cycles of violence and the recovery process. Students can also integrate the Council for Christian Colleges & Universities' off-campus American Studies Program in Washington, D.C. — a great opportunity for those interested in entering the political scene with a degree in law.
Net Price: $16,325/yr
20. Campbell University
Economics Pre-Law Degree
Website
Campbell University thinks a strong foundation in economics is the key to being prepared for law school and points out that economics majors score higher on the LSAT than any other majors at its business school. In that spirit, the affordable pre-law program at Campbell is integrated with the school's Economics degree (and its business school) to provide students easy access to all three subjects. In addition to a set of basic Business Core and Economics Major classes, pre-law students at CU take courses in federal, state, and local government, as well as a basic Introduction to Law class.
Net Price: $26,865/yr
19. The University of Findlay
Law & Liberal Arts Program
Website
The University of Findlay's Law and Liberal Arts program benefits from the collaboration of all nine of Ohio's law schools as well as articulation agreements with the Ohio Northern University College of Law and Capital University Law School. These tight relationships enable students to move easily from UF's top pre-law program into a graduate law program at one of these two institutions. The school also works with The Washington Center, a D.C.-based non-profit organization that provides students with the opportunity to earn credits for internships and academic seminars in the District of Columbia.
Net Price: $22,001/yr
18. DeSales University
History Pre-Law Track
Website
The affordable pre-law degree at DeSales University is actually an academic track within the school's History major. Students have significant freedom to pursue their own interests, with only a handful of required courses in American, European, and Comparative History as well as four basic logic and law classes. Pre-law students at DeSales benefit from a strong pre-law advising program and can also join the St. Thomas More Society, a student association that provides networking opportunities among law students and practical lawyers, organizes trips and community service, and even offers law school application prep.
Net Price: $29,412/yr
17. Cedarville University
Pre-Law Major
Website
"Law from a biblical perspective" is the object of the Prelaw Major at Cedarville University, which provides a classic liberal arts education alongside one of the best pre-law programs with a Christian-based study of contemporary legal systems. The school's degree includes coursework in accounting, history, jurisprudence, logic, political thought, and writing, not to mention opportunities for LSAT prep and local internships. Cedarville has also developed a new D.C. Semester program that pairs pre-law students with a university alumnus in the nation's capital. Through this connection, students receive valuable advice on how best to maintain a spiritual perspective as they pursue careers in a secular field.
Net Price: $23,403/yr
16. Texas Wesleyan University
Bachelor of Science/Bachelor of Arts - Political Science - PreLaw
Website
Texas Wesleyan University students interested in a career in law can choose from either a Bachelor of Science or a Bachelor of Arts in Political Science with a Pre-Law Concentration. The school's Political Science Pre-Law track requires students to take a course in the judicial process and then choose from a set of nine courses that includes subjects like dispute resolution, constitutional law, and legal ethics. TWU also provides a handful of unique interdisciplinary courses exclusively for pre-law students, such as Business Law, Critical and Logical Reasoning, and History of Rhetoric.
Net Price: $23,044/yr
15. Howard Payne University
Social Science-Jurisprudence (Pre-Law) Major
Website
Howard Payne University recommends that students interested in pre-law enroll in its highly selective Guy D. Newman Honors Academy, which admits only 25 students per class. Why? HPU explains that the Honors Academy provides a broad background in logic, writing ability, and philosophy, as well as a strong education in communications and the humanities. In other words, perfect preparation for a law degree. The school's Moot Court course gives enrollment preference to pre-law students and also participates in Texas Undergraduate Moot Court Association competitions. The Mock Trial course is even more selective, with enrollment only available to those with instructor permission.
Net Price: $18,751/yr
14. Champlain College
B.S. in Law Degree
Website
Champlain College is one of the few programs in this pre-law degree ranking to specifically encourage students to participate in study abroad. The school has campuses in Montreal and Dublin, and many pre-law students jump at the opportunity to gain an international perspective. Champlain also offers a unique combined program that enables students to graduate with two degrees - a Bachelor of Arts in Law and a Master of Science in Mediation & Applied Conflict Studies - in just four years. For students more interested in a J.D. than an M.S., Champlain offers some perks through its close relationship with New York Law School. Students who secure a recommendation from the program director earn automatic admission to NYLS - along with a scholarship and guaranteed housing!
Net Price: $33,173/yr
13. Creighton University
EDGE Pre-Law
Website
Creighton University offers designated pre-law tracks within the College of Arts and Sciences and the Heider School of Business, but that's not what makes it one of the best pre-law programs on this list. Rather, the school's incredibly comprehensive advising program, which includes everything from one-on-one academic consultations to an online application tracking tool, deserves the most praise. This strong support system extends to CU's Pre-Law "Living Learning Community," which combines panel discussions, guest speakers, and tours for a uniquely interactive undergraduate experience. And students interested in staying at Creighton to pursue a J.D. will be glad to hear that they receive special consideration when applying to the CU School of Law.
Net Price: $28,551/yr
12. Barry University
Pre-Law Major
Website
Forget earning a minor or settling for a concentration; students can obtain a comprehensive education through Barry University's full-fledged, top pre-law degree program. Emphasizing writing and communication skills, this major requires students to take courses in Fundamentals of Speech and Rhetorical Analysis in addition to unusual pre-law coursework in subjects like geography and epistemology. Barry is also home to a robust Phi Alpha Delta Pre-Law fraternity that provides forums, guest speakers, and other resources for pre-law majors. For example, last year the fraternity organized a trip to the Environmental and Earth Law Summit in Orlando.
Net Price: $24,610/yr
11. Philadelphia University
Law & Society Degree
Website
One unique element of the Law and Society Degree at Philadelphia University is the program's Facebook group, an extremely active community for Law and Society majors to discuss everything from current events to abstract legal concepts. This strong sense of community carries through the Law and Society program's Digital Voice publication, which publishes student writing about politics and topical issues in government and the judicial system. Philadelphia University's early acceptance partnership with the Drexel University School of Law also enables Law and Society students to save a year (and a year's worth of tuition!) on their way to obtaining a law degree.
Net Price: $29,626/yr
10. Hamline University
Pre-Law/Legal Studies Degree
Website
When it comes to flexibility and breadth of study, Hamline University undoubtedly has one of the best pre-law programs in the country. In addition to a major and minor in Legal Studies, Hamline also offers a unique dual-major for pre-law students in the form of a Legal Studies and Women's Studies degree. This interdisciplinary program integrates courses in gender, sexuality, and race with a legal foundation in litigation, research, and specialty coursework. The school also has an active Phi Alpha Delta chapter and a strong partnership with the Mitchell Hamline School of Law, which grants pre-law students access to a law library, court visits, and special conferences.
Net Price: $21,849/yr
9. Wilmington University
Bachelor of Science in Legal Studies
Website
The Legal Studies program at Wilmington includes an unusually robust set of core electives. Courses include Cyberlaw, Delaware Practice, Food & Drug Law and Policy, Environmental Law, and even an LSAT Preparation course. This wide range of subjects may be due in part to Wilmington's Legal Studies Advisory board, a body made up of attorneys, paralegals, and other legal professionals who help guide and improve the school's top pre-law degree. This advisory board participates in special events in the program and also develops internship and job opportunities for pre-law students at Wilmington.
Net Price: $13,359/yr
8. Ball State University
Bachelor's Degree in Legal Studies
Website
Students at Ball State University can choose one of two specialized tracks within the school's Legal Studies program — Business law or Public law. The former is ideal for students who hope eventually to work in a corporate environment or manage a law office, and the latter is more suitable for those interested in public policy, government, and politics. Both provide a strong foundation in legal studies with courses like Family Law, Litigation, and a Professional Experience component that make Ball State's one of the best pre-law degrees in the country.
Net Price: $12,804/yr
7. University of Utah
Pre-Law LEAP
Website
The University of Utah distinguishes itself from other affordable pre-law degree programs through its innovative living learning community for future lawyers, known as "LEAP." LEAP students kick-off their education by taking a sequence of courses with the same professor and classmates, providing an early opportunity for students to meet fellow pre-law majors and get to know the faculty. After the first year, students can continue to take advantage of LEAP by enrolling in a number of one-credit courses to learn more about the legal profession. Rounding out this comprehensive experience is a third-year Pre-Law Writing course, which assists students in developing their law school application essays and studying for the LSAT.
Net Price: $11,277/yr
6. Utah State University
B.S. or B.A. in Economics: Prelaw Economics
Website
Like Campbell University, Utah State's top pre-law degree is a part of the school's Economics major. Students can choose a concentration in Prelaw Economics and design a program of study that fits with their interests; for example, many students at Utah who concentrate in Prelaw Economics also choose to add a second major in Political Science, providing an advantageous balance of topics that will serve them well on the LSAT and beyond. Utah State's curriculum is also the most math-heavy in this pre-law degree ranking, with required courses in calculus, algebra, and statistics in addition to the expected economics courses. But considering the high scores that physics and math majors earn on the LSAT, this approach could be just what pre-law students need to set themselves apart from the competition.
Net Price: $12,184/yr
5. CUNY City College
Pre-Law Program
Website
CUNY City College's Pre-Law Program is the most affordable in this pre-law degree ranking, and yet the school hasn't cut any corners in building its curriculum. Above all, this university emphasizes the need for lawyers with sharp critical thinking, decision-making, and analytical skills. As such, the curriculum focuses on developing these strengths rather than sticking to a single academic subject. Required pre-law coursework includes economics, English, philosophy, and political science, and students can choose from electives from nearly any department on campus (with the approval of a pre-law advisor). In fact, pre-law students aren't permitted to take more than two courses from any single department, ensuring they receive a truly interdisciplinary pre-law education.
Net Price: $7,125/yr
4. University of Maryland
Pre-Law Courses
Website
At the University of Maryland, pre-law students won't find a specific major by which to identify themselves. Instead, UMD has established a dedicated Pre-Law Advising Office within the Letters & Sciences Department, which acts as the academic core and home base for all pre-law activities. Advisors are experts on all things pre-law and can provide information on recommended courses (which span 14 departments across the university), access to on-campus resources like the Phi Alpha Delta Professional Pre-Law Fraternity, connections to local internships, and of course one-on-one academic and career advising. For exceptional students, Maryland offers a three-year Arts/Law Degree Program that allows high-achieving undergraduates to apply to law schools in their third year of college and, if accepted, enter law school prior to receiving their undergraduate degree.
Net Price: $14,833/yr
3. Northern Arizona University
Pre-Law Courses
Website
Like its neighbor in this pre-law degree ranking, Northern Arizona University provides designated pre-law advisors who have expertise across nearly a dozen different departments. These advisors - most of whom are also lawyers - help students choose relevant, useful courses in fields ranging from philosophy to hotel and restaurant management. This wealth of academic support means students in this top pre-law program have access to mentoring and professional guidance in almost any field, ensuring they find the best coursework and extracurricular opportunities for graduate work in law. On top of this, NAU students can join the campus chapter of Phi Alpha Delta to take advantage of peer networking opportunities. And although NAU's degree is already one of the least expensive on this list, the school has cut costs even further by establishing two exclusive scholarships for pre-law students.
Net Price: $12,946/yr
2. Nova Southeastern University
B.S. in Legal Studies: Pre-Law
Website
The Bachelor of Science in Legal Studies at Nova Southeastern University is a rare bird — a true undergraduate degree specifically for pre-law. Although graduates of this top pre-law program are well-prepared for higher-level learning across many fields, the interdisciplinary nature of the curriculum is ideal for future law students. NSU also offers a 12-credit Pre-Law Track within the Legal Studies major that includes coursework in American history and government. What's more, students can access a range of law school prep resources through the curriculum, including an annual three-part seminar about how to apply - and get accepted - to law schools.
Net Price: $24,833/yr
1. Michigan State University
Political Science - Pre-Law Degree
Website
Let's cut to the chase: Michigan State University offers the best pre-law degree in the U.S. because its program is affordable, comprehensive, and part of one of the largest and most established universities in the country. MSU's large size - the school is home to over 50,000 students and 5,300 faculty - means it can offer an interdisciplinary pre-law education that includes high-quality and resource-laden courses in nearly every field. The top pre-law program at MSU is a part of the school's Political Science Department and receives support from Phi Alpha Delpta and the school's Pre-Law Society, a student organization that hosts bi-weekly meetings with working professionals, provides LSAT prep and law school application assistance, and more.
Net Price: $14,791/yr
Sources:
College Navigator
Phi Alpha Delta Law Fraternity
Law School Admissions Council (LSAC)
American Bar Association