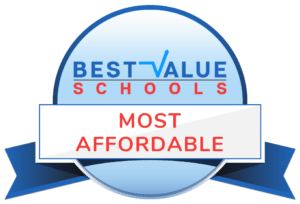 While an undergraduate degree represents a major financial investment that can lead to fulfilling careers and high salaries, paying for school can be a challenge. As college costs continue to rise, many budget-conscious students consider affordability a major factor in choosing a school. Fortunately, many colleges and universities understand that today's students are looking for a quality educational experience without having to worry about the price tag. A diploma from a top-notch school should not saddle you with long-term debt, and the cheapest bachelor's degrees do not have to result in an inferior academic experience. This ranking of the cheapest colleges for bachelor degrees includes some of the best schools offering a full range of programs that fit your needs along with reasonable tuition and financial aid opportunities. You can achieve your educational goals without breaking the bank or taking on a debt load that follows you for many years after graduation.
The Most Affordable Colleges Ranking Methodology
For this ranking, we focused on public and private (non-profit) colleges and universities in the United States that offer affordable bachelor's degrees. Note that the emphasis of this article is on traditional schools. Therefore, online colleges were ineligible for consideration. To ensure that students at these schools have a decent selection of programs from which to choose, we limited our search to colleges that offer at least 30 undergraduate academic programs. From the list of qualifying universities, we then selected the 20 cheapest based on their average annual tuition rate (that is, we took the average of in-state and out-of-state rates for public schools) and ranked them from most to least expensive. The results are below - the 20 colleges and universities with the cheapest bachelor's degrees in the United States!
---
20. CUNY City College
New York, NY
Website
City College of New York, the founding institution of the New York City College system, has been offering degrees for over 170 years. Part of the largest urban university system in the country, it offers undergraduate programs in architecture, engineering and STEM, liberal arts and sciences, and education. It also sponsors 50 master's programs, and doctoral programs in engineering, laboratory sciences, and journalism. CCNY has established a sustainability initiative, working to lower its carbon footprint. Tuition rates at CCNY rank significantly lower than 4-year public in-state institution rates. More than 70% of students receive some form of financial assistance, and 16% have been awarded scholarships.
Average Tuition: $10,244/yr
19. Missouri Western State University
Saint Joseph, MO
Website
Missouri Western State University, located in Saint Joseph, Missouri, has an enrollment of 5,100 undergraduates and 243 graduate students. It offers certificates, associate, bachelor's, and master's degrees. Its special learning programs include ROTC training, distance learning options, and study abroad opportunities. MWSU has the second lowest tuition rate in the state. High school students may earn college credits through its dual credit or dual enrollment courses. The university distributes grants or scholarship assistance to 92% of its first time students. A military friendly school, it provides up to 30 credits for military training that can be applies to the bachelor's of science in technology degree.
Average Tuition: $10,200/yr
18. Weber State University
Ogden, UT
Website
Founded in 1889 in Ogden, Utah, Weber State University now offers 225 certificate and degree programs and 14 graduate degrees to over 26,000 students. This public, coeducational institution administers degree programs in performing arts, humanities, science and technology, business and economics, social and behavioral sciences, and the health professions. One of the most affordable universities in the western U.S., WSU sponsors an Early College Program that allows students to save costs through advanced college entrance. Students may take between 11 and 18 credits for the same tuition rage. The University awards more than $90 million annually in all forms of financial aid.
Average Tuition: $10,136/yr
17. University of South Dakota
Vermillion, SD
Website
Located in Vermillion in southeastern South Dakota, with regional campuses in Sioux City, Rapid City and Pierre, the University of South Dakota offers over 200 undergraduate and 75 graduate programs for a student body of more than 10,000. USD is home to the state's only law school and medical school. The university has established pricing policies that keep educational costs affordable. It charges in-state tuition rates for residents from Iowa and Nebraska, and for children of alumni regardless of their state of residence. It participates in a reciprocity agreement with Minnesota to reduce tuition rates for students from that state. USD's distance learning programs assess online students residing out-of-state the same tuition as students from South Dakota.
Average Tuition: $10,073/yr
16. Southern Arkansas University
Magnolia, AR
Website
Located in Magnolia, Arkansas, less than 2- miles north of the Louisiana state border, Southern Arkansas University has an enrollment of over 4,600. Established in 1909, it has grown into a public university that offers associate, bachelor's and master's degrees. SAU administers over 80 programs in each of its four colleges and its school of graduate studies. Its distance learning programs deliver over 350 courses to more than 1,200 students. SAU offers a relatively low rate of tuition in comparison to other Arkansas schools. It provides eligible new students with academic and performance arts scholarships and awards college credit for military service.
Average Tuition: $10,026/yr
15. Northeastern State University
Tahlequah, OK
Website
From its main campus in Tahlequah and regional sites in Muskogee and Broken Arrow, Northeastern State University serves over 8,200 students. NSU ranks as one of the most affordable regional universities in Oklahoma. It awards scholarships and grants to 65% of its undergraduates and participates in the statewide Oklahoma Promise tuition scholarship program for academic qualified high school students. NSU offers 54 undergraduate and 24 graduate programs, delivered in campus-based, online and blended formats. The most popular fields of study include education, biology, accounting, business, psychology and criminal justice. The University supports a Center for Tribal Studies designed to improve educational success for American Indian students.
Average Tuition: $9,957/yr
14. Northwest Missouri State University
Maryville, MO
Website
Northwest Missouri State University, located in Maryville, offers 127 undergraduate degrees, and 40 graduate programs to over 7,000 students. The business, geography, education and agricultural departments graduate the largest number of students each year. Northwest provides several programs to help students manage the cost of their education. Every full-time student receives a laptop to use throughout the school year. Northwest sponsors a rental program for textbooks, charging students a flat rate per credit hour for all books used during each term. The university has established the Bearcat Advantage program charging qualifying out-of-state students the same tuition rate as Missouri residents. It also awards more then $19 million in grants and scholarships annually.
Average Tuition: $9,928/yr
13. South Dakota State University
Brookings, SD
Website
Established in 1881, South Dakota State University is the largest and the oldest continually operating university in the state. It offers its student body of over 12,000 more than 200 academic programs at the associate, bachelor's, master's and doctoral level. SDSU delivers courses on campus and online through its five colleges: arts and media; business and computing; education, health, and human studies; and humanities and social sciences. The university has a commitment to affordable education, offering in-state tuition rates to new students from Iowa, Nebraska, and children of alumni residing out-of-state. Students enrolled at SDSU regional sites in Sisketon and Kennett pay lower tuition rates than students at the main campus in Brookings.
Average Tuition: $9,788/yr
12. Southeast Missouri State University
Girardeau, MO
Website
Southeast Missouri State, located in Cape Girardeau, has a student body of over 12,000. Its five academic colleges offer more than 145 undergraduate majors, 100 minors, and more than 75 graduate programs. SEMU offers 80 study abroad programs and opportunities for internships and experiential learning in all of its undergraduate majors. The university provides several options to reduce tuition costs. Students enrolled in any of SEMU's 260 online courses pay the in-state tuition rate regardless of their state of residence. The Southeast Salutes Military Package provides in-state tuition to military personnel, veterans, and dependents. SEMU awards more than $20 million annually in institutional scholarships.
Average Tuition: $9,683/yr
11. Black Hills State University
Spearfish, SD
Website
Founded in 1883, Black Hills State University has grown into the third largest university in South Dakota boasting an enrollment of 4,000. Located in the Black Hills community of Spearfish, South Dakota, BHU delivers over 75 degree programs, including five at the associate level, 63 bachelor's programs, and seven master's degree. It has also expanded its distance learning programs offering several bachelor's and master's degrees completely online. Students applying to BHU may be eligible for tuition waivers or discounts. BSU allows out-of-state residents of Wyoming, Colorado and Montana to pay in-state tuition rates, and it has entered into a reciprocity agreement for reduced tuition with Minnesota.
Average Tuition: $9,462/yr
10. Wayne State College
Wayne, NE
Website
A four-year public college located in northeast Nebraska, Wayne State College delivers over 90 different programs of study through its colleges of arts and humanities, education and counseling, business and technology, and natural and social sciences. It offers graduate programs in organizational management, business administration, and two education degrees. WSC has kept tuition affordable by participating in the Nebraska State College System Advantage Program, which covers the difference between the costs of tuition and the amount of other awards received. Out-of-state students residing in Iowa, South Dakota, Illinois, Indiana, Kansas, and Michigan may also receive reduced tuition rates. WCU awards more than 200 scholarships and grants annually.
Average Tuition: $8,862/yr
9. University of North Georgia
Dahlonega, GA
Website
University of North Georgia, with a main campus in Dahlonega, Georgia, enrolls over 18,000 students in more than 100 undergraduate, graduate, and online programs. Designated as a State Leadership Institution and as The Military College of Georgia, UNG is one of sex senior military colleges in the U.S. Located in one of the fastest growing areas of the state, it offers degrees at five campuses across the region. UNG, as part of the University System of Georgia, offers one of the lowest tuition rates compared to similar institutions in other states. Out-of-state residents from border counties pay the same tuition and fees as in-state students.
Average Tuition: $8,575/yr
8. Youngstown State University
Youngstown, OH
Website
A member of the Ohio state system since 1967, Youngstown State University has evolved into a comprehensive urban research institution serving more than 12,700 students in over 115 undergraduate and 40 graduate programs. The university has made a commitment to providing affordable education through a number of initiatives. It participates in College Credit Plus, a statewide program that enables qualified middle and high school students to earn college credit. Under the Affordable Tuition Advantage provision, students applying to YSU from neighboring countries in Pennsylvania, West Virginia and New York pay the same tuition as Ohio residents. First year students entering YSU may be able to save on educational costs by completing their bachelor's degree in three years.
Average Tuition: $8,437/yr
7. Southwest Minnesota State University
Marshall, MN
Website
Southwest Minnesota State University, located in Marshall, Minnesota, began offering courses in 1967. This public institution, accredited by The Higher Learning Commission, has an enrollment of approximately 3,700 in bachelor's and graduate level programs. SMSU hosts several museum and public attractions, including a museum of natural history, a museum of indigenous Americans, a planetarium and a greenhouse. The university keeps educational costs affordable by offering the same tuition rate to in-state and out-of-state students. 80% of students receive some form of financial assistance. SMSU also uses "banded tuition," allowing students to take between 12 and 18 credits per semester but paying only the 12-credit rate.
Average Tuition: $8,347/yr
6. West Texas A & M University
Canyon, TX
Website
Serving the communities of West Texas and the Panhandle, West Texas A&M University has an enrollment of over 10,000 in 59 bachelor's and 38 master's degrees, and one doctoral program. In addition to its numerous campus-based programs, WTAMU offers three undergraduate and two graduate programs that can be completed entirely online. WTAMU demonstrates its commitment to affordable education through its undergraduate guaranteed rate initiative that locks in tuition costs for four consecutive years, providing an incentive for students to save money by graduating on time. It also assesses the same tuition rates to Texas residents and students from bordering counties in Oklahoma and New Mexico.
Average Tuition: $8,322/yr
5. Central State University
Wilberforce, OH
Website
Central State University, the only publicly funded Historically Black University in Ohio, serves over 1600 students at its main campus in Wilberforce, its branch in Dayton, and online. CSU offers over 30 bachelor's and master's degree programs through its four colleges. Among the most affordable schools in the country, CSU charges the same full-time tuition rate for in-state and out-of-state students, and has established the ACE+ program that permits eligible middle and high school students to earn free college credits. The accelerated, three-year degree programs, for qualified students in accounting, business administration, and political science, also provide a way to keep costs down.
Average Tuition: $7,171/yr
4. New Mexico Highlands University
Las Vegas, NM
Website
A comprehensive, state-funded postsecondary institution located in scenic Las Vegas, New Mexico, New Mexico Highland University provides undergraduate and graduate courses at its main campus and its satellite centers in Rio Rancho, Santa Fe, Farmington, and Roswell. The university delivers bachelor's and master's programs in liberal arts and sciences, and professional degrees and certificates in business, social work, and teacher education to over 3,300 students. Its Highland Dual Credit program enables high school students to earn college credits prior to their graduation. NMHU offers open enrollment, small class sizes, and affordable tuition relative to comparable schools, boasting the third most affordable tuition in the southwestern states, and the eighth most affordable out-of-state tuition in the U.S.
Average Tuition: $7,100/yr
3. Delta State University
Cleveland, MS
Website
A comprehensive publicly funded university located in Cleveland, Mississippi, Delta University has a student body of 3.500 representing all 50 states and 50 different nations. The university has maintained its commitment to meeting the needs of all its students by keeping tuition and fees affordable and extending the same rates to both in-state and out-of-state residents. Delta State offers undergraduate, graduate, and continuing education programs through its Colleges of Arts and Sciences, Business, and Education, and its School of Nursing. Its distinctive programs include Commercial Aviation, Geospatial Technology, and the Delta Music Institute. Delta State also has a strong emphasis on performing arts and music through its theatre facility, performing arts center, and summer arts institute.
Average Tuition: $6,418/yr
2. Mississippi Valley State University
Itta Bena, MS
Website
Located in the center of the Mississippi Delta, five miles from Greenwood, Mississippi Valley State University began operations as a vocational school in 1950. The youngest of the nation's Historically Black Colleges and Universities, MSVU has grown into a comprehensive Carnegie Classified Master's university with 68% of its faculty holding doctoral degrees. It offers bachelor's and master's degrees to over 2,400 students in its Colleges of Liberal Arts and Sciences, Professional Studies, and Education, and its Graduate School. The university has established a commitment to affordable education through its "One Fee at 'V'" policy, charging the same tuition rates for residents of Mississippi and students from out-of-state.
Average Tuition: $6,116/yr
1. Brigham Young University
Provo, UT
Website
Brigham Young University, a private comprehensive institution located in Provo, Utah, offers 179 undergraduate majors, 62 master's programs, and 25 doctoral degrees. Sponsored by The Church of Jesus Christ of Latter-day Saints, BYU charges church members significantly lower tuition fees than non-members. Out-of-state students pay the same rate as those residing in Utah. The university encourages students to integrate their education with a strong faith dimension. BYU requires all students to behave in a manner consistent with church teachings as outlined in the university honor code. Undergraduate students must take one religion class each semester for a total of 14 credits.
Average Tuition: $5,300/yr
Thanks for reading our ranking of the 20 top cheap colleges in the US!
By BVS Staff
January 2018
Sources:
IPEDS Data Center
College Navigator
Related Articles:
Cheapest Online Bachelor's Degrees
The 25 Most Affordable Colleges