What High School GPA Do I Need to Get Accepted into College?

Are you ready to find your fit?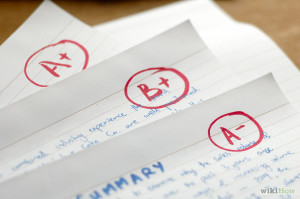 There are many ways that collegiate institutions evaluate prospective students for admission, and the review of an applicant's high school GPA is one of those considerations for practically every college or university. However, several other factors play a key role in the equation for whether to admit an applicant or not.
Common College Application Requirements
Every individual post-secondary institution has guidelines for whom to admit into matriculation as an incoming freshman student. In every case, prospective students will complete an application to give the school information about previous academic experience and achievement, personal characteristics and goals, and other qualifications for starting a collegiate career.
For the majority of applicants, collegiate institutions will require transcripts showing a high school diploma or proof of successful completion of the GED, an entrance essay, ACT or SAT scores, and letters of reference. Additional requirements could also include TOEFL scores and a resume or curriculum vitae.
Featured Online Programs
Figuring out where to apply? These top, accredited schools offer a variety of online degrees. Consider one of these accredited programs, and discover their value today.
College G.P.A. Requirements
High school GPA requirements for an incoming freshman applicant are different depending on which institution is evaluating an application. For many Ivy League, Big Ten, and state universities, for instance, the majority of incoming freshman students have a high school GPA of 3.75 or higher and require a minimum of a 3.0 average. These types of universities, generally, require an applicant to have graduated in the top quarter of his or her class.
Smaller universities are likely to view a 3.0 average as the baseline for first round applicant choices, with students who have grade point averages between a 2.5 or higher also being likely to gain acceptance. Other universities might only require a 2.0, and that is also typically the standard for most colleges.
Many community colleges, however, have no entrance requirement or only require a high school diploma or GED for admission.
Other Admissions Considerations
On average, most students applying to colleges and universities around the country can assume that the baseline for admission in terms of GPA is a 3.0. Many schools, however, place more weight on other factors of admission beyond GPA or other academic scores. For example, colleges and universities are increasingly weighing a student's character in the admissions equation. Students who can demonstrate personal qualities that will be beneficial to a campus can sometimes overcome an obstacle with academic achievement through volunteer experience, extracurricular activities, and letters of reference.
A number of considerations are taken into account when during the college admissions process. Maintaining high grades in the 3.0 to 4.0 range in high school can be beneficial for prospective students during that process; however, an applicant's high school GPA depends largely on the college's individual requirements as well as the weight given to other areas of interest to the institution in the application process. Overall, while an impressive high school GPA is typically recommended, it is not always the most important factor in admissions consideration.
Related: Best Value Schools - Websites That Will Help You Find College Fairs
Get prepared for your next steps
Use articles and resources to uncover answers to common questions, get guidance on your goals, and learn about applying to schools.
Discover a program that is right for you.
Explore different options for you based on your degree interests.