WHAT SHOULD MY SAT SCORES BE IN ORDER TO BE ACCEPTED INTO COLLEGE?

Are you ready to find your fit?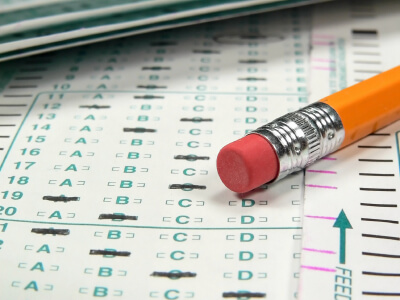 SAT scores are one of the many different factors that are considered by admissions councils where students apply to be accepted to attend a 4-year college or university.
As a high school student, your teachers stress the importance of preparing for your SAT exams so that you can get accepted into the best possible school when the competition is fierce. No matter how much you study, there is no denying that even students who prep and who know the material may have test-taking anxiety that can translate into a lower score. It can take 5 weeks for you and your high school to receive your official SAT scores, and at this time you can request that these scores be sent to the schools where you plan on applying, but knowing what score you need to gain acceptance could be a question in the back of your mind. Read on and learn about what is considered a good score to gain acceptance into post-secondary school.
What are the Criteria That is Used By Most Colleges For Admissions?
Every type of school makes admissions decisions based on their own unique criteria, and understanding which types of school require higher SAT scores for acceptance is crucial before you start filling out any admissions applications. While many schools use your GPA, your extracurricular activities, and your SAT scores, you cannot underestimate how much your scores can affect your applications even when you have a high GPA and volunteer experience.
SAT scores are broken up into 3 different individual scores based on your competency in critical reading, writing, and math. All three of these sections are scored between 200 and 800, meaning that the highest possible score is 2400. While the average total score in the SAT sections for 2013 is 496 in critical reading, 488 in writing, and 514 in math, these scores are not always sufficient if you are applying to an elite or highly selective university.
Most schools will advertise what their requirements are as far as sectional scores, and this can help you gauge whether or not your scores are up to par before applying. Just know that Ivy League schools require higher scores than public and state colleges. You should check with the specific school that is under your consideration so that you have a clear cut range to focus on when you are sending your scores and applications out.
Beyond SAT Scores: Other Factors Admissions Officers Will Take Into Consideration
Some schools take several other factors into consideration and are very conservative with the weight that is placed on SAT test scores. Not all schools take this approach, but those that do will put more weight on your overall GPA because it shows a long-term academic performance. Schools focused on the arts may put a stronger focus on your participation with school theater and other activities. Volunteerism is also highly admired, and officers can place weight on this when there are several students in contention against each other. Still others look highly on Advanced Placement classes taken in high school.
If you are in the process of prepping for your SAT test date, be sure to spend plenty of time taking practice tests with groups and online. If you already have a score, you can check to see if this score will meet admissions requirements. Once you do the research on the SAT scores, you can move on to getting accepted to the right college that is the right fit.
Related: Having a Great GPA Can Get You Into a Great College
Get prepared for your next steps
Use articles and resources to uncover answers to common questions, get guidance on your goals, and learn about applying to schools.
Discover a program that is right for you.
Explore different options for you based on your degree interests.