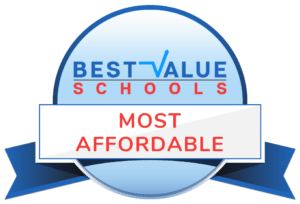 Click here for high resolution badge
If you have a passion for crime solving and science, then an online forensic science degree should be right up your alley.
What does it mean to study forensics? Forensic scientists' jobs sit at the intersection of science and criminal investigation, and their expertise is often used in courtroom proceedings. A forensic scientist might collect evidence at a crime scene, conduct on-site analyses, perform lab tests, interpret results, prepare documentation, and sometimes even testify in court. If you want to be taken seriously as a forensic scientist and be considered an expert by a judge, you will need to have the appropriate educational background and experience. This usually means earning at least a bachelor's degree in forensics or a related field.
The 10 Best Online Forensics Science Majors Ranking Methodology
Selection Criteria
For this ranking, we focused on public and private (non-profit) colleges and universities that offer forensics degrees online. Because the focus of this list is on affordability, we only considered programs with average* tuition rates of $25,000/year or less.
*For public schools, we calculated the average value of their in-state and out-of-state rates.
Ranking Factors
Unfortunately, there are a limited number of forensic science degrees available online. Therefore, we could not compile a pool of options large enough to justify a multifactorial ranking system in which we'd score colleges and universities based on a list of specific considerations.
So instead, we ranked the programs solely according to their affordability. See below for the best cheap online forensic science degree programs, ranked from most to least expensive.
Cheap Online Forensic Science Degree Programs Ranked
---
10. Oakland City University
Online Bachelor of Science in Criminal Justice - Investigative Forensics
Website
At Oakland City University, you can earn a BS in Criminal Justice in a convenient online format. Taking one class every five weeks, you'll have a chance to focus your attention on a single subject at a time while still making steady progress toward your degree. And thanks to an optional concentration in Investigative Forensics, OCU's program is one of the top forensics degrees online. Through this specialization, you'll learn everything you need to know about crime scene investigation, from evidence evaluation to laboratory analysis to crime scene photography. You'll also gain practical experience from a required internship and on-campus research practicum.
Average Tuition & Fees: $23,700/yr
9. Saint Leo University
Online BA in Criminal Justice - Criminalistics Specialization
Website
At first glance, it wouldn't seem like Saint Leo University belongs on this online forensic science degrees ranking. While SLU does offer a BA in Criminal Justice, it doesn't come with a forensics concentration. However, it does have a specialization in criminalistics, which is just another word for forensics! The goal of the program is to prepare students for careers as crime lab analysts, forensic toxicologists, and other similar fields. To this end, you'll take classes that teach you about everything from "Scientific Writing and Courtroom Testimony" to "Evidence Collection and Preservation." And in case you lack hands-on experience, you can use your electives to complete a field placement with a local law enforcement agency or crime lab.
Average Tuition & Fees: $22,220/yr
8. Liberty University
Online Bachelor of Science in Criminal Justice - Crime Scene Investigation
Website
While not the most technically-focused option on our list, Liberty's program is great for anyone who wants to develop a broad understanding of the justice system. As a student in this accredited forensics degree online, you'll start out by learning about justice administration, the judicial process, and criminal law, among other topics. You'll then take a four-course cognate that covers specific aspects of crime scene investigation, from forensic analysis and photography to cybersecurity. Other perks of attending Liberty? The degree is flexible (it includes 8-10 elective classes) and gives you the option to earn credit for completing a 16-week internship.
Average Tuition & Fees: $21,310/yr
7. Purdue University
Online Bachelor of Science in Criminal Justice - Crime Scene Investigation
Website
Purdue's customizable criminal justice program lets participants choose from a number of different concentrations. In the Crime Scene Investigation track, students learn all about forensics - from collecting evidence on the scene to analyzing chemicals back at the lab. Coupled with a solid core sequence that covers basic law enforcement topics like criminal procedure and crime prevention, Purdue's cheap online forensic science degree will more than prepare you for a successful career in crime scene analysis. Side note: this program also offers a concentration in Forensic Psychology, which focuses on analyzing criminal behavior instead of physical evidence.
Average Tuition & Fees: $19,393/yr
6. Brandman University
Online BA in Criminal Justice - Forensics
Website
Brandman University's criminal justice program offers a great way to learn about forensics from several different viewpoints. Each course within the program's 12-credit forensics concentration focuses on a different aspect of the field. For example, "Forensic Documentation" will teach you about handwriting and document analysis, while "Crime Scene Investigation" will train you in the appropriate techniques for evidence collection and court case preparation. This affordable online forensic science major also includes one elective, which ambitious students can use to complete an independent research or directed reading project.
Average Tuition & Fees: $12,360/yr
5. Florida State University
Online BS in Public Safety and Security - Crime Scene Investigation
Website
Admittedly, online courses sometimes lack an important hands-on element - a crucial consideration for science-related disciplines like forensics. But Florida State University circumvents this issue - and adeptly blends practical and theoretical learning - by combining online fall and spring classes with face-to-face lab courses over the summer. On the theory side, you'll study the principles of the criminal justice system and other criminological concepts. And on the practical side of this accredited online forensic science major, you'll learn about computer applications, data collection techniques, crime scene investigation, and laboratory analysis. Note: this is a degree completion program, which means applicants must possess an associate's degree to be eligible to apply.
Average Tuition & Fees: $12,221/yr
4. West Virginia State University
Online BS in Criminal Justice with a Certificate in Investigations
Website
With an in-depth curriculum "informed by the Academy of Criminal Justice Sciences," there's no doubting that West Virginia State University has one of the best cheap forensics degrees online. On top of a 51-credit criminal justice core, WVSU's program offers 12-credit certificates in areas like corrections, law enforcement, and (of course) investigations. The latter option manages to cram a whole range of forensic topics into just four classes, including fingerprinting, interviewing and interrogation, and crime scene analysis. In addition, you'll have to pick six electives; relevant options for aspiring forensic analysts might include "Victimology," "Statistics for Professional Studies," and "Race, Gender, and Crime."
Average Tuition & Fees: $12,048/yr
3. SUNY College of Technology at Canton
Online Bachelor of Technology in Criminal Investigation
Website
Unlike most schools on this online forensic science majors ranking, SUNY Canton doesn't offer a forensics concentration within a criminal justice program. Rather, it offers a Bachelor of Technology with a focus in Criminal Investigation. Practically speaking, this means the curriculum is application- rather than theory-based. Students complete "immersive" courses in topics like forensic photography, investigative interviews, fingerprinting, crime scene processing, and much more. And if you're really into hands-on learning, you also have the option to complete a semester-long internship where you can earn anywhere from three to 15 credits toward your degree.
Average Tuition & Fees: $10,225/yr
2. University of Maryland-University College
Online Investigative Forensics Bachelor's Degree
Website
The only program on our list that's entirely focused on forensics, UMUC's B.S. in Investigative Forensics easily stands out from the crowd. Forget having to take a bunch of general criminal justice classes; this degree's targeted curriculum offers an in-depth dive into forensics - and nothing but. You'll study criminalistics, cybercrime, medical investigations of death, digital analysis, fingerprinting, firearms analysis, evidence collection, and much more. Plus, you have the option to pick up professional certifications in latent print, crime scene, or bloodstain pattern analysis! Add in the extremely low average tuition costs and there's no denying that UMUC has one of the best programs on this forensics degree online ranking.
Average Tuition & Fees: $9,816/yr
1. Colorado State University-Global Campus
Online Bachelor's Degree in Criminal Justice and Law Enforcement Administration: Criminal Forensics Specialization
Website
Like most of the schools on this ranking, Colorado State University offers a forensics specialization within a criminal justice program. More specifically, CSU students will earn a bachelor's degree in Criminal Justice and Law Enforcement Administration. This is an especially great choice for working adults, as the core curriculum includes an optional practicum that you can complete at your current place of employment. As for specialization courses, this top forensics degree online covers all the expected staples, from "Investigative Forensic Photography and "Physical Methods in Forensic Science" to "Criminal Investigation" and "Investigative and Forensic Interviewing."
Average Tuition & Fees: $8,400/yr
Thanks for reading our ranking of the 10 top cheap forensics degrees online!
Sources:
IPEDS Data Center
College Navigator
See also:
Forensic Science Scholarships