MEET CHRISLYN: 2017 STEM SCHOLARSHIP RECIPIENT AND ACCOMPLISHED VETERINARIAN
Advertisement
BestValueSchools.com is an advertising-supported site. Featured programs and school search results are for schools that compensate us. This compensation does not influence our school rankings, resource guides, or other information published on this site.
Are you ready to find your fit?
MEET CHRISLYN: 2017 STEM SCHOLARSHIP RECIPIENT AND ACCOMPLISHED VETERINARIAN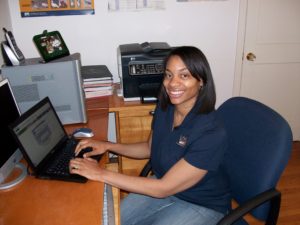 It's time for Best Value Schools to recognize our second 2017 STEM Scholarship for Women winner, Dr. Chrislyn Wood! We have awarded $2,000 to help fund her completion of a Master of Public Health in Biostatistics and Epidemiology at the Penn State College of Medicine in Hershey, PA. Dr. Wood attends evening graduate courses while working full-time at the U.S. Department of Agriculture's Animal and Plant Health Inspection Service, Veterinary Services (USDA APHIS VS). She aspires to reduce the prevalence of infectious zoonotic pathogens, and helping to provide a safe and available food supply for all.
At five years old, Chrislyn first discovered her love for biology as a kindergartener, when she watched her baby chick, "Madonna," hatch in the classroom incubator. Her passion led her to the University of Maryland-Eastern Shore where she pursued a Bachelor of Science in Agriculture and Animal Science. She worked as a student researcher at the Poultry Technology Research Facility, performing enzymatic assays of phytase and growth trials on chickens. After graduating Summa Cum Laude with a 3.85 GPA, Chrislyn spent four years in East Lansing completing Michigan State University's Doctor of Veterinary Medicine (DVM) program.
Researching Human and Animal Diseases to Save Lives
Dr. Wood has tremendous amounts of experience using STEM to promote the well-being of all living things. At the MSU Food Safety and Toxicology Research Lab, she applied the Kirby-Bauer method and classified previously unknown bacteria in Holstein calves. She worked at the USDA Plum Island Animal Disease Center in Greenport, New York, to conduct DNA sequencing analysis on the African swine fever virus prevalent in pigs and boar. In 2001, Chrislyn joined the Fogarty Minority International Research Training (MIRT) program in Chiang Mai, Thailand, to study the prevalence of food-borne pathogens like Escherichia coli.
During veterinary school, Chrislyn completed a USDA traineeship inspecting Canadian livestock trucks crossing Detroit's Ambassador Bridge to thwart disease imports. She also interned with the Michigan Department of Community Health to study bovine tuberculosis in cattle and West Nile virus in birds. In July 2004, Dr. Wood started her current job as a poultry specialist for the USDA Veterinary Services in Lancaster, PA. She works closely with chicken and turkey farmers to monitor and treat outbreaks of highly pathogenic avian influenza (HPAI). Her other responsibilities include comparative cervical tuberculin testing in livestock, conducting biosafety laboratory inspections, and enforcing animal movement regulations.
Dr. Wood's contributions to veterinary science have been applauded with several honors, including the HPAI Taskforce Outstanding Dedication Award, VS Diversity Award for Live Bird Market, and USDA Woman of Character Award. In January 2017, she earned the USDA Recognition for Completion of 15 Years of Federal Service. Dr. Wood has co-authored articles for publications like the American College of Cardiology. She has co-starred in "Healthy Harry" YouTube videos with the USDA Biosecurity for the Birds campaign to educate citizens about avian influenza too.
The Best Value Schools staff is following suit by awarding Dr. Chrislyn Wood the STEM Scholarship for Women. We're proud to financially support such an ambitious, respected veterinarian working diligently to advance her training in infectious disease epidemiology. Our committee was extremely impressed by her ability to juggle being a full-time scientist, wife, mother, and graduate student with a distinguished academic record. We're confident she'll reach her dream of working more in the field of epidemiology, as well as disease control and prevention for animals and people. Congratulations, Dr. Wood!
Inspired by Dr. Wood's Passion for STEM?
Twice each year, we consider the first 50 applications for our $2,000 Best Value Schools STEM Scholarship for Women. We're assisting ladies with affording U.S. college tuition to enter the science, technology, engineering, and math occupations where they remain underrepresented. Let us help you defeat gender bias and stereotypes in STEM by applying during the next cycle in April 2018. Review the scholarship application process here, and you could be our next recipient!
Get prepared for your next steps
Use articles and resources to uncover answers to common questions, get guidance on your goals, and learn about applying to schools.
How To Make Sure You Are ReadyBy Kate JellemaThis year, for the first time, the number of women and men enrolled in graduate schools in…
As technology becomes an ever-increasing part of our lives, the demand for information systems security experts grows, and with it, the need for online Ph.D.
If you're looking to land nonprofit management scholarships, you may be surprised to discover that there are numerous awards available from professional organizations and universities…
Advertisement
BestValueSchools.com is an advertising-supported site. Featured programs and school search results are for schools that compensate us. This compensation does not influence our school rankings, resource guides, or other information published on this site.
Discover a program that is right for you.
Explore different options for you based on your degree interests.