WHAT HAPPENS AT A COLLEGE FAIR?
Are you ready to find your fit?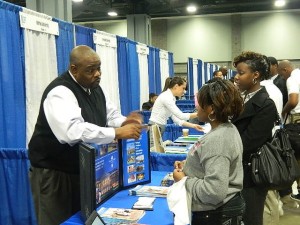 Are you debating whether or not to attend your school's upcoming college fair? If your school is holding a college fair that is free for all of the students to attend, it is important to learn what happens at a fair and what you should expect as an attendee.
A college fair is not like a community fair that is held in cities and towns throughout the nation, rather it is a gathering where prospective college students can come face to face with admissions representatives from a wide variety of post-secondary colleges. When you attend, you can gather the materials from different schools you have been thinking about applying to and ask the hard-hitting questions to representatives so that you can choose which schools will earn your application. Read on and learn what you can expect to happen.
What You Will Discuss at a College Fair
If the fair is being held at your school, generally you will walk into the auditorium that is filled with tables and exhibits all representing a different college or university. At each table, there will be an admissions representative that is employed by the school waiting for you to approach so that they can answer all of your questions and explain why their school could be your dream school. Depending on the area, there could be dozens of schools or hundreds of different institutions there with representation just fighting to get your attention as a student.
As a student who is looking for the best school, you should walk up and down the aisles and discuss your options with all of the representatives. You should be surprised and find that a university you would never have considered is ideal for you based on their degree and extracurricular programs. Each time you stop by a booth, you have the freedom to ask any admissions question that comes to mind. Some of the common topics of discussion include:
Financial aid for dependent and independent students
Application process for grants and aid
College majors that are offered at the university/college
Admissions requirements that are upheld by the school
When college entrance testing is held and what the deadlines are
How to Prepare to Get the Most from your College Fair
Now that you see what a great opportunity you have to speak with representatives, it is important to prepare so that you can ask all of the right questions. It is best to visit the fair's site to see which colleges will be attending so that you can highlight which booths to spend the most time at. You should also make a list of the questions you need to ask so that you do not forget while you are on the spot. Bring a pen and paper to take notes, and always take the materials they offer at the booth.
When you arrive at the college fair, get a map and see where the colleges that are at the top of your list are located. Find out what makes each school special, and see which schools will cater to things that you find important. Many schools have information sessions before the fair. Attending this session can help you answer basic questions so that the fair can cover topics that were not discussed. Research schools that interest you and after the college fair set up a campus visit to see if it is the right place for you to attend.
Get prepared for your next steps
Use articles and resources to uncover answers to common questions, get guidance on your goals, and learn about applying to schools.
If you're pursuing a master's degree in psychology, you may have been asked the following question: "What can you do with a master's in psychology?" It may even be a...
Are you interested in helping others resolve their issues and hurdles through talk therapy? You may want to consider a career in the counseling field. Counseling is a field that's...
Mental health counseling jobs exist across many settings — from hospitals and government agencies to schools and private practices, and they're projected to grow. The Bureau of Labor Statistics (BLS)...
Discover a program that is right for you.
Explore different options for you based on your degree interests.