TOP FIVE SURVIVAL TIPS FOR FINAL EXAMS

Are you ready to find your fit?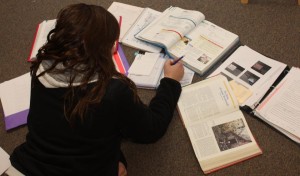 In order to prepare both intellectually and emotionally for the most stressful part of the academic year, you will need to arm yourself with the top survival tips for final exams. Although the weather is finally nice after a long grueling winter, you still need to put in the effort needed to prevent your overall grade from plummeting with a poor test score. After all, final examinations are the only thing that is separating you from all of the excitement of summer break right around the corner. Therefore, read on to learn more about our top five survival tips for being more prepared and less stressed through finals.
1. Build a Time Management Plan
Since the majority of final examinations will cover an entire semester or year's worth of curriculum, it is no surprise that you are going to have to plan ahead to manage your time wisely and cover all your bases. Since research consistently indicates the negative effects of cramming, it is recommended that you begin scheduling study times at least two weeks before your final exam week starts. Break down the material into manageable sections and allot more time to spend on the classes that will likely have the most challenging tests. While it may seem counterintuitive, be sure to also remember to schedule in break times to rest, digest the material fully, and recover from study sessions.
2. Find a Study Partner/Group
While abstaining from attending a long list of parties and end-of-the-year events is highly beneficial, it is important to not cut yourself off from the rest of campus during final exam weeks. In fact, your friends and classmates can provide a valuable resource for keeping you motivated and allowing you to talk through topics you are struggling with. Since studying with other people is obviously much more fun too, you should seek out a study partner, members of your sorority or fraternity, or group of colleagues from your classes to prepare for finals together.
3. Take Good Care of Your Health
Despite popular belief, huddling over a book at all hours of the day and night will not guarantee that you achieve straight As during finals week. In order to maximize your studying potential, you need to make sure that your body is receiving the nutrients it needs to perform well. Feed your brain with well-balanced meals to avoid feeling sluggish. Rather than pulling all-nighters, also get plenty of sleep throughout final exams week to aid in memorizing the information you studied earlier. Furthermore, schedule in plenty of time to exercise because working out will release endorphins through your body that can boost self-confidence and combat anxiety.
4. Sign Out of Social Media
Although social media websites can be an excellent source for networking and staying in touch with friends, they can also be a huge distraction that wastes valuable time in your day. If you are busy checking your Facebook, Twitter, Tumblr, or Instagram account, you will not be giving your undivided attention to the study materials before you and will not retain the information. Therefore, make sure that you lock your phone away in a safe place where you will not be tempted and refrain from checking it until you have finished your study sessions.
5. Remember to Breathe!
Overall, final exams week is undoubtedly one of the most stressful weeks of the school year with tremendous amounts of pressure to succeed. However, it is essential that you do not let the stress overwhelm you. Before taking your examinations, make sure you take a few deep calming breaths to release all of the built-up tension and put your body at ease. With top survival tips for final exams in your arsenal, be confident in your intelligence, stay relaxed, and try your best.
Related: Making the Most of Your Freshman Year - Best Value Schools
Get prepared for your next steps
Use articles and resources to uncover answers to common questions, get guidance on your goals, and learn about applying to schools.
Discover a program that is right for you.
Explore different options for you based on your degree interests.