HOW DO I MAKE THE MOST OF MY FRESHMAN YEAR OF COLLEGE?
Are you ready to find your fit?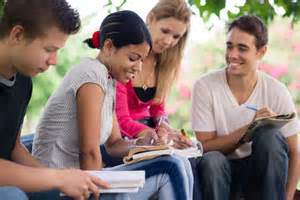 Leaving home to attend college for your freshman year is one of the most exciting moments of your life thus far. However, with new classes, new friends, and maybe even a new city, it can also be overwhelming. Rather than sitting on the sidelines, though, taking advantage of the new opportunities at your fingertips is a big part of what college is all about. This is a time that will shape your adult future, so making the most of it is the way to get your college career off on the right foot. Read on for tips to keep in mind as you embark on this exciting journey.
Think About Your Major
While many schools don't require you to choose a major right away, you'll want to give some thought to the career you'd like to pursue and the best field of study to get you there. Your college advisor is invaluable in this regard; visit them early and often, and build a roadmap for your four years. Not only will this help you take the straightest path toward your goals, it can also save you money by ensuring you don't need extra coursework to graduate on time.
Make Lots of Friends
While it can be difficult to start from scratch at a new school, keep in mind that the other freshmen are in the same boat as you. By meeting as many people as possible, you up the chances that you'll find "your people." So talk to your hallmates, attend social events, chat up others in your classes and in the cafeteria, and put yourself out there to get to know others. While many of these nascent friendships will be fleeting, others will last a lifetime.
Talk to Your Professors
Don't be intimidated by your professors; while they may seem like just a face at the front of the lecture hall, they are also an invaluable resource. Get to know them and make a good impression. Attend office hours to ask questions and talk about the course material. Stop by after class to talk about a news story you heard that relates. This is especially true for the professors in your major area, who you'll be working with throughout your four years.
Go to Class
Since this is the first time that you don't technically have to go to class, you might be tempted to skip that 8 a.m. Friday lecture (especially if you get swept into the social scene). Avoid this temptation; not only is it all too easy to fall behind, but you're also depriving yourself of the education that you're paying a lot of money to have access to. You can't learn if you're not there.
Many resources are available to learn how to excel and achieve well-being during your first year of college. Talk to friends, parents, your guidance counselor and students of the college you will be attending. Look on-line as well. For example, The Huffington Post collects advice for college freshman on its homepage touching on topics such as homesickness and social media. The magazine even has advice for parents of college freshmen. With the right preparation, you'll be ready to make the most of your freshman year.
See Also: Best Value Schools – How do I find out from a school how many students transfer to another school during or after their first year?
Get prepared for your next steps
Use articles and resources to uncover answers to common questions, get guidance on your goals, and learn about applying to schools.
If you're pursuing a master's degree in psychology, you may have been asked the following question: "What can you do with a master's in psychology?" It may even be a...
Are you interested in helping others resolve their issues and hurdles through talk therapy? You may want to consider a career in the counseling field. Counseling is a field that's...
Mental health counseling jobs exist across many settings — from hospitals and government agencies to schools and private practices, and they're projected to grow. The Bureau of Labor Statistics (BLS)...
Discover a program that is right for you.
Explore different options for you based on your degree interests.