HOW CAN I BUILD A MEANINGFUL MENTORING RELATIONSHIP WITH A COLLEGE PROFESSOR?

Are you ready to find your fit?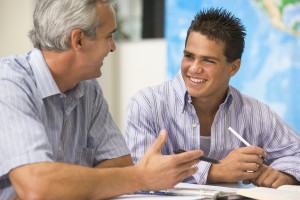 As a college student, it is important to access some of the greatest minds in your chosen field by building a meaningful mentoring relationship with one or two college professors within your department. A mentoring relationship can be defined as a nurturing process of personal growth in which an experienced professional serves as a role model to inspire, train, counsel, and befriend a student. Not only will building a meaningful mentoring relationship provide you with academic and professional advice, but it could also offer you future job opportunities after graduation. In fact, a recent Gallup survey found that college graduates who had encouraging mentors were more likely to have higher reports of well-being and work engagement later on. If you want to truly get on the track towards career success, read on to learn some valuable tips for developing a quality mentoring relationship in college.
1. Find Professors Who Share Your Passion
In order to develop a significant mentoring relationship that will last four years or beyond, it is essential that you find a mentor that shares your same enthusiasm for a certain field. Therefore, you should seek out extra-curricular activities and courses that specifically relate to your career interests early on. Join student organizations, attend public lectures, and participate in any on-campus social events or optional programs that suit your passion. As a result, you will be able to interact with professors that have an interest in shared topics and could be great mentors for you.
Resource: How Do I Know Which Degree Suits Me Best?
2. Make an Appointment to Meet with Professors
After a few classes and attending a couple on-campus events, make the next move to ask your potential mentors for a meeting during their office hours. While it may be difficult for some students to bluntly ask a professor if they would be interested in mentoring them, it is important to utilize this meeting to judge whether they are the ideal mentor match. Do not shy away from asking the questions that you have because it will show the professor how interested and serious you are about your future. Be sure to ask if they would be willing to guide you, inquire about whether they have contacts that align with your career goals, and request some professional advice. Choose the mentor that you click with conversationally and have the most in common with professionally.
3. Communicate Regularly with Your Mentor
Once you have started building a meaningful mentoring relationship with a college professor, you must continue to keep in touch on a regular basis. It is crucial that you set up a schedule of how you will be communicating through face-to-face meetings as well as e-mail correspondence, to begin with. Instead of only going to your newfound mentor when problems arise, respect your professor by maintaining contact throughout periods of slow progress to guarantee they are not given the impression that you are avoiding them. You may want to ask your mentor to help create a research proposal, discuss current events in your field, critique a paper, provide studying strategies, or assist in building a creative project.
While balancing daily classes, homework, and an internship or job can be challenging in itself, it is still important to make the most of your college experience by finding a suitable mentor that can guide you through this time of tremendous personal growth. You should never try to make every professor a mentor, but you will want to develop mentoring relationships with at least one professor during your freshman year. When you are successful at building a meaningful mentoring relationship with a college professor, you will enjoy many benefits from a quality bond that will assist you throughout your journey from the classroom to the real world.
See also: Best Value Schools - How Do I Know Which Degree Suits Me Best?
Get prepared for your next steps
Use articles and resources to uncover answers to common questions, get guidance on your goals, and learn about applying to schools.
Discover a program that is right for you.
Explore different options for you based on your degree interests.