10 BEST VALUE SMALL COLLEGES FOR A CIVIL ENGINEERING DEGREE

Are you ready to find your fit?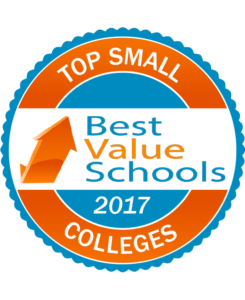 By BVS Staff
July 2020
Welcome to our ranking of the 10 best small colleges for civil engineering majors on a budget.
Ranking Methodology
Each of these top schools offers at least one targeted program for students seeking a bachelor's degree in civil engineering (this also includes architectural, structural, and environmental engineering). In addition, they each maintain an overall undergraduate graduation rate of at least 50%. Of course, to be a best value, these top-ranked schools also have to demonstrate a genuine commitment to affordable education - which means meeting our net price requirements. All of the programs on this ranking have estimated annual costs (as reported on College Navigator) of less than $27,000 a year. But which of these is the most affordable small college for a civil engineering degree? Scroll down to #1 to find out!
---
#1

United States Coast Guard Academy

New London, CT

#2

Virginia Military Institute

Lexington, VA

#3

Christian Brothers University

Memphis, TN

#4

SUNY College of Environmental Science and Forestry

Syracuse, NY

#5

LeTourneau University

Longview, TX

#6

Illinois Institute of Technology

Chicago, IL

#7

Walla Walla University

College Place, WA

#8

Lafayette College

Easton, PA

#9

Lawrence Technological University

Southfield, MI

#10

Norwich University

Northfield, VT
Featured Online Programs
Figuring out where to apply? These top, accredited schools offer a variety of online degrees. Consider one of these accredited programs, and discover their value today.
United States Coast Guard Academy

Those accepted into the U.S. Coast Guard Academy's small civil engineering program pay absolutely no tuition, thanks to a full scholarship for every student. As such, this Connecticut institution is indisputably the most affordable college for a civil engineering degree in the country. Beyond the price, the USCGA's civil engineering degree also offers a strong curriculum that prepares students for careers in or out of the Coast Guard. Courses in Organizational Behavior and Leadership and Moral and Ethical Philosophy provide business training in addition to a solid foundation of math, science, and engineering subjects. And in their senior year, majors acquire first-hand team experience by working on a collaborative capstone project that simulates a real-world engineering problem.

Net Price: $0/yr

Virginia Military Institute

VMI is the oldest military college in the country. It features a rigid military code of discipline and requires all students to participate in an ROTC program (Army, Marines, Navy, and Airforce are all available). Although alumni do not have to join the armed services, roughly 50% of each graduating class pursues commissions anyway. Therefore, VMI is far and away one of the best civil engineering undergraduate programs for anyone who desires strong academics and a strict lifestyle. Future civil engineers at VMI enjoy seven sub-disciplines within the major, plenty of independent study opportunities, and an abundance of laboratory experience.

Net Price: $15,197/yr

Christian Brothers University

The majority of students in CBU's civil engineering major participate in paid internships in their junior and senior years, and the school says that these opportunities often lead to full-time positions after graduation. This top small college for civil engineering majors also provides career help through the American Society of Civil Engineers (ASCE) student chapter, which offers networking opportunities with fellow students and alumni. But it's not all about getting a job; as a participant in the ASCE Deep South Conference, CBU encourages its students to participate in canoe and bridge building competitions that provide a little fun alongside team and project management experience.

Net Price: $15,556/yr

SUNY College of Environmental Science and Forestry

As one might guess from the name, the SUNY College of Environmental Science and Forestry is focused more strongly on the environmental aspects of engineering than any of the other schools on this civil engineering colleges ranking. SUNY ESF's Environmental Resources Engineering degree is all about green building, with upper level coursework that offers a comprehensive survey of all the ecological, geospatial, and hydrological aspects of engineering for a sustainable future. Students who prefer a more regimented program will also appreciate SUNY ESF's pre-designed curriculum, which starts with hands-on design-oriented courses and progresses to advanced engineering problems and a professional project by senior year.

Net Price: $17,813/yr

In its early history, LeTourneau University was a technical institute that served GIs returning from WWII. Its eponymous founder was a wealthy inventor who made his fortune by designing engineering equipment and vehicles for the military. A religious man, Mr. LeTourneau also sowed the roots for what has become an "unapologetically Christian university." Still today, most undergraduates take at least 12 hours of theology courses. Fortunately, LU's emphasis on engineering has also survived the past 60 years. The department has developed particular expertise in structural and water resource engineering, but this top small college for civil engineering majors offers plenty of classes in other subfields, too, from geotechnics to construction.

Net Price: $23,024/yr

Illinois Institute of Technology

The Illinois Institute of Technology's top civil engineering undergraduate program goes beyond the science and math that the profession demands, promising to provide students with an "entrepreneurial outlook and management expertise" as a part of their degree. As such, civil engineering majors take two "professional practice courses" in subjects like instruction methods and cost estimating. These pragmatic classes impart valuable administrative skills that will undoubtedly come in handy as graduates vie for job offers with top companies. In addition, IIT's Interprofessional Projects requirement gives engineering majors the opportunity to participate in two cross-departmental projects with students from other academic programs.

Net Price: $23,371/yr

Walla Walla University

Location

College Place, WA

As a liberal arts school with a Christian mission and roots in the Seventh-day Adventist Church, Walla Walla University might not seem like a natural choice for this affordable civil engineering colleges ranking. Even so, WWU attracts plenty of hands-on scientists to its B.S. in Engineering, which includes a concentration in civil engineering. Small class sizes and a service-based mission statement provide a comfortable study environment, drawing applicants who might feel lost at a slightly larger technical university. Future engineers of faith will also appreciate the school's mix of hard science and Christian ethics classes. Walla Walla even offers regular prayer events and mission opportunities for students hoping to give back to the community.

Net Price: $24,104/yr

Part of the advantage of attending an affordable small school for civil engineering like Lafayette is that students have more chances to collaborate with faculty on research. The school touts such opportunities as a "major advantage" of its program, citing three separate ways for undergrads to connect and collaborate with faculty. These include independent study courses, the departmental honors program, and the EXCEL Scholars initiative. The latter is a particularly unique work-study opportunity that provides students with a way to earn a stipend while pursuing research with a member of the Lafayette faculty.

Net Price: $24,993/yr

Lawrence Technological University

LTU provides an impressive range of research centers and engineering laboratories on its Southeast Michigan campus. The Great Lakes Stormwater Management Institute (GLSMI), which serves as an on-campus resource and authority on stormwater management for agencies like the Sierra Club, is one perfect example. The institute is also a model of environmental engineering practices with a LEED Silver-certified building that includes rain gardens, a green roof, and native landscaping. Access to the GLSMI, plus facilities like a structural test lab center and electrical lighting lab, is a valuable asset to any student attending this top small college for civil engineering majors.

Net Price: $26,248/yr

Norwich boasts one of the oldest pedigrees of any school on this civil engineering colleges ranking; its academic catalog has included a Civil Engineering major since 1821! In fact, this Vermont institution claims to be the first private school in the United States to teach engineering "as a separate branch of education." Today, Norwich's civil engineering degree is comprised of two parts. For the first two years, students cover the basic math and science behind engineering design. In the latter two, they develop their skills in a specific area of civil engineering, such as water resources, transportation, the environment, geotechnics, or construction.

Net Price: $26,733/yr
Want to find out exactly how much it will cost for you to attend one of these affordable small schools for civil engineering? Check out the U.S. Department of Education's Net Price Calculator Center.
Sources:
See also: 50 Best Value Engineering Schools 2016
Get prepared for your next steps
Use articles and resources to uncover answers to common questions, get guidance on your goals, and learn about applying to schools.
Discover a program that is right for you.
Explore different options for you based on your degree interests.