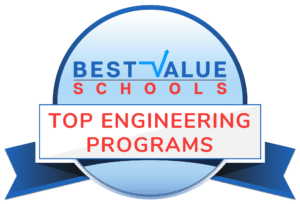 By Iris Stone
The NACE reports that the top ten highest-earning majors are in engineering. What specialty you choose also affects a person's salary. The difference between a degree in petroleum and industrial engineering is $30,000, for example.
As such, those hoping to earn $60,000 a year should consider becoming an engineer.
What are the best engineering schools in the United States? The list below includes some of the best engineering programs in the country.

Best Engineering School Ranking Methodology
BVS uses College Navigator to create a list of four-year public and nonprofit schools. There are more than 500 such qualifying institutions. As such, we cut schools with tuition above $25,000. We filtered the remaining 300 candidates by selecting schools with accreditation from ABET. The remaining schools needed to meet four more qualifications:
Number of Accredited Programs: ABET accredits specific programs, not entire schools. Given this, universities with a particularly strong engineering department often have several accreditations. Schools with more accreditation often have larger departments. They are also more well-rounded as a rule. As such, we weighted this category 30% of the total score.
STEM Majors: STEM includes science, math, technology, and engineering. PayScale.com lists the percentage of degrees awarded in STEM subjects. Using this helped us identify universities with a good reputation in scientific fields. It also helped pinpoint the ones most popular among STEM-focused college students. We weighted this category 30% of the total score.
Early Career Pay: PayScale.com also provides information on alumni salary. We use these reports to identify the average early career salary of a school's graduates. Early career salary refers to the median pay for alumni with 0-5 years of experience. Earned income correlates with the quality and reputation of someone's academic experience. This is why we weigh this category with 25% of the total score.
Net Price: We also considered each school's net price. This figure goes beyond annual tuition. It also takes into account account living expenses and room and board. Other considerations include fees and financial aid packages. Added to the $25,000 tuition cap, this ensures that the degrees listed below are affordable. We weigh this category 15% of the total score.
Final Results:After completing these calculations, we award each school a point value. The largest possible score is 100. As a final measure, we curved the final results so that the #1 ranked school received a perfect score. The rest of the programs' point totals are adjusted in kind.
See who made the cut in our ranking of the 50 best engineering schools.
---
25. Tennessee Technological University
Cookeville, Tennessee
College of Engineering
Website
Tennessee Technological University is committed to producing "21st Century Renaissance Engineers." What does that mean? It includes many factors. Among them are six accredited degree programs and a $60,000 average salary for graduates. It also includes a large research budget. Moreover, the school offers a unique learning environment for students. The school boasts a Mobile Learning Environment and Systems Infrastructure. This gives students the chance to work through material remotely. The school also has the "Order of Engineers" to foster collaboration.
Net Price: $13,677/yr
Score: 58.79
24. University of West Florida
Pensacola, Florida
College of Science and Engineering (CSE)
Website
This year, the University of West Florida received their largest gift from a living donor. As such, the school is renaming their College of Science and Engineering. The new name is the Hal Marcus College of Science and Engineering. This college will devote this $5 million dollar donation to international research opportunities. This will help finance student competition teams and organizations. It will also attract renowned lecturers to the campus. Those hoping for a top engineering degree for a great price should consider this school.
Net Price: $10,759/yr
Score: 58.86
23. Kansas State University
Manhattan, Kansas
College of Engineering
Website
Kansas State University is one of the top public research colleges for engineering. In the next ten years, the College of Engineering plans to hire 35 new world-class faculty members. It also hopes to build cutting-edge research and instruction facilities. These facilities will add 100,000 square feet of space. Additionally, the school aims to improve its curriculum. The emphasis will lie with topics focused on leadership and innovation. Of particular interest is bringing departments into the 21st century.
Net Price: $15,784/yr
Score: 58.87
22. Tuskegee University
Tuskegee, Alabama
College of Engineering
Website
Tuskegee University has one of the best engineering schools in the country. Tuskegee is the first black college to offer a bachelor's in aerospace engineering. The program holds accreditation status. About 35% of Tuskegee students choose a STEM major. When they are not building rocket engines, engineering students complete other projects. For example, they discover new composite materials and enhance robotic intelligence.
Net Price: $28,414/yr
Score: 59.48
21. Mississippi State University
Starkville, Mississippi
James Worth Bagley College of Engineering
Website
Engineers work best in groups. At Mississippi State University, students can collaborate in the Engineering Living Learning Community. This program places freshmen engineering students into a residential facility. The school offers them tutoring, dedicated study areas, onsite academic advising, and more. But that is not all the makes MSU one of the best schools for engineering. The school has 10 accredited degree programs. It also offers an entrepreneurship track that prepares students to work on their own. There is no limit to what an engineering degree from MSU can do for you.
Net Price: $15,297/yr
Score: 59.62
20. Lamar University
Beaumont, Texas
College of Engineering
Website
Lamar University produces some of the highest paid engineers in the country. In fact, a diploma from this top college could lead you to a salary of $75,000 or more. What's more, PayScale.com ranks Lamar as the 2nd best undergraduate engineering university. But Lamar students do not have to wait until they graduate to start earning. Part of the engineering school's success is the co-op program. This program allows students to alternate semesters between classes and paid internships. Lamar provides $4 million dollars in need- and merit-based scholarships for undergraduate engineers. This helps students save money on tuition — and actually hold onto some of that money they earn.
Net Price: $13,789/yr
Score: 59.87
19. University of Arkansas
Fayetteville, Arkansas
College of Engineering
Website
The University of Arkansas offers 17 accredited engineering degree programs. But these departments offer more than a greater variety of choices for students. The density of interdisciplinary work also fosters creativity and collaborative insights. U of A encourages students to expand their academic interests. The school also helps them transition into a professional career through internships. One such internship is the Student Integrated Intern Research Experience (SIIRE). The school combines paid internships with on-campus research. Students can also renew their scholarships in the SIIRE program. All together this makes the U of A one of the best schools for engineering in the country.
Net Price: $14,466/yr
Score: 60.28
18. University of New Mexico
Albuquerque, New Mexico
UNM School of Engineering
Website
The University of New Mexico was given $5 million to improve its engineering school. The gift came from the National Science Foundation, and the school put this money to good use. The school developed the Science, Technology, Engineering and Mathematics Talent Expansion Program (STEP). Only three years old, the program is a success. Through STEP, UNM has paired hundreds of students with faculty and corporate mentors. It has also solicited and financed paid internships in core industries. Still more, it has sent students to take part in engineering conferences all around the world.
Net Price: $12,840/yr
Score: 63.72
17. Oregon Institute of Technology
Klamath Falls, Oregon
College of Engineering, Technology and Management
Website
Oregon Institute of Technology is a thriving community of scholars and researchers. It is one of the top regional colleges in the West. As a technical institution, almost half of its students are STEM majors. What's more remarkable is how many of them are able to find work! Oregon Tech has a comprehensive engineering curriculum. It features 11 accredited programs and a commitment to experiential education. About 90% of Oregon Tech graduates find employment within six months of graduation. The same is true for those who further their education.
Net Price: $14,723/yr
Score: 66.86
16. University of Oklahoma
Norman, Oklahoma
Gallogly College of Engineering
Website
At the University of Oklahoma, incoming engineering students are entering a new program. The Gallogly College of Engineering is a new name, and the building is both new and state of the art. There is also a new biomedical engineering department and graduate fellowship endowment. These new additions give OU 12 accredited engineering programs. Together, these put the university on the map for enterprising engineering scholars.
Net Price: $16,813/yr
Score: 67.34
15. Brigham Young University-Provo
Provo, Utah
Ira A. Fulton College of Engineering and Technology
Website
Engineering can't solve all the problems facing the world today, but it can make them easier to handle. Brigham Young University-Provo is one of the largest private institutions in the world. Almost 20% of its student body enrolls in STEM programs. The school aims to enrich the global community one step at a time with a fresh influx of devoted engineers. BYU offers nine different accredited degree programs. As such, the Ira A. Fulton College of Engineering and Technology is a great school for engineering.
Net Price: $12,335/yr
Score: 67.83
14. San Jose State University
San Jose, California
Charles W. Davidson College of Engineering
Website
The largest college in San Jose State University is the engineering college. It harbors over 7,000 graduate and undergraduate students. The college provides more engineers to Silicon Valley companies than any other university. The school offers hands-on training and 390 dedicated faculty and staff. Other benefits include more than 60 student clubs. Combined, these resources transform students into hardworking, creative, resourceful, and proud engineers. The school also delivers customized certificate and full-degree programs. These cater to employees in areas like big data analytics and battery technologies. More areas include cybersecurity and cloud computing.
Net Price: $10,729/yr
Score: 67.89
13. Texas Tech University
Lubbock, Texas
Edward E. Whitacre Jr. College of Engineering
Website
At Texas Tech University, engineering is the universal language. TTU is the first public university to require engineering majors to study abroad. This is the result of an initiative established by the engineering college. The initiative gives students the valuable perspective that comes from traveling. New cultures help engineers learn the value of a varied-solutions approach. The school offers bachelor's and master's degrees. Areas include cybersecurity, wind science, petroleum science, and software engineering. This makes TTU's program one of the most progressive schools featured on this ranking.
Net Price: $13,901/yr
Score: 68.35
12. New Mexico State University
Las Cruces, New Mexico
College of Engineering
Website
New Mexico State University's College of Engineering was founded in 1891. In the last 125 years, this college has become the largest in the state. It has 13 accredited programs and 2,000 graduate and undergraduate engineering students. With such a robust program, it's safe to say that NMSU has contributed to the development of the state. Considering its ranking on our list, NMSU is a great choice for students from all around the country.
Net Price: $10,299/yr
Score: 68.71
11. West Virginia University Institute of Technology
Montgomery, West Virginia
Leonard C Nelson College of Engineering & Sciences
Website
Engineers are problem-solvers. WVU Tech offers a career-oriented, student-centered engineering education. Graduates can and do enter into a variety of industries. The school offers nine ABET accredited degree programs in engineering and engineering technology. The engineering and science school allows students to select a focus area. to shop around for the focus that piques their interest. The total net cost of attendance is just $7,000. WVU Tech is without a doubt one of the best schools for engineering in the nation.
Net Price: $7,325/yr
Score: 69.62
10. Oklahoma State University
Stillwater, Oklahoma
College of Engineering, Architecture and Technology
Website
Oklahoma State University is probably best known for throwing "America's Greatest Homecoming Celebration." Every fall, this draws more than 100,000 attendees to the first Cowboys game of the year. OSU is also known for its exemplary architecture, mechanical, and agricultural engineering programs. OSU research contributes to sustainability efforts in the "Dust Bowl" region and beyond. It owes this to its land- and sun-grant status. These programs offer student services like tutoring, career advisement, and work cooperative initiatives. Together, they make OSU one of the best schools for engineering in the West.
Net Price: $14,750/yr
Score: 69.69
9. Iowa State University
Ames, Iowa
Iowa State University College of Engineering
Website
Iowa State University is set on a 1,900-acre campus designed to look and feel like a national park. Over a quarter of ISU's 36,000 students choose STEM majors. A land-grant university, ISU aims to create technology that makes the world better. The school pushes students to succeed, whether they study computers or construction. ISU faculty set a good example for their students. For example, they have created radar cloaking devices and gravitational wave detectors.
Net Price: $13,899/yr
Score: 71.34
8. University of Michigan-Dearborn
Dearborn, Michigan
College of Engineering and Computer Science
Website
UM Dearborn has pledged to graduate at least 20 students a year in response to Obama-era concerns. As such, the school aims to help with many challenges. These include tackling issues in healthcare like energy costs, recycling, and cybersecurity. To this end, UM Dearborn's engineering college is doubling down on experiential learning. It hopes to accomplish this through initiatives like its Rapid Prototyping Laboratory. The university has also established a cooperative curricula that works with industry partners. This measure ensures that instruction stays topical and relevant.
Net Price: $12,347/yr
Score: 74.00
7. California State Polytechnic University-Pomona
Pomona, California
Cal Poly Pomona College of Engineering
Website
"Learn By Doing" is the philosophy behind Cal Poly Pomona's College of Engineering. But it probably ought to be the motto of engineers everywhere. CPP's engineering program forces students to tackle problems head on. It emphasizes practical experience through interactive laboratory classes, independent student research, and internships. This is nowhere more evident than CPP's burgeoning engineering entrepreneurship program. Students in the program work in collaboration with the business school. Learners accepted can also use the university's Product Development and Commercialization Lab. This allows them to bring a concept to market for course credit.
Net Price: $9,824/yr
Score: 80.44
6. University of Houston
Houston, Texas
UH Cullen College of Engineering
Website
The University of Houston's Cullen College of Engineering is a powerhouse. It harbors over 5,000 total students and 16 accredited degree programs. The school also has specialized certifications and over $250,000 for annual research. Yet, top students never feel lost in the crowd at UH. This is due in large part to the recently launched Honors Engineering Program (HEP). HEP gives exceptional students the chance to learn through team-based, project-oriented coursework. It also provides a leg up on internships and other career networking opportunities.
Net Price: $12,618/yr
Score: 82.34
5. North Carolina State University at Raleigh
Raleigh, North Carolina
NC State University College of Engineering
Website
North Carolina State University's college of engineering is the largest in the school. It harbors roughly 10,000 students. NCSU Raleigh is a hub for pioneering research in vital fields. These include healthcare, computer systems, and nano-tech. The Centennial Campus has become a model for university campuses everywhere. It boasts a thousand-plus acres. It is also a melting pot of companies, government agencies, faculty and students. This educational and research enterprise makes it one of the best in the country.
Net Price: $13,579/yr
Score: 82.54
4. West Virginia University
Morgantown, West Virginia
Benjamin M. Statler College of Engineering and Mineral Resources
Website
West Virginia University's engineering program offers 21 ABET-accredited degree programs. One such program is the petroleum and natural gas engineering program. WVU is also known for their pioneering biometrics and identification technology program. This program is the national academic leader for the FBI's biometric research. WVU was also the first university to offer a bachelor's degree in biometrics. The school also continues to draw attention and support for its groundbreaking work.
Net Price: $9,380/yr
Score: 86.10
3. California State University-Chico
Chico, California
College of Engineering, Computer Science, and Construction Management
Website
Chico State has a College of Engineering, Computer Science, and Construction Management. It harbors 50 academic departments and over 150 degree programs. The school offers one of the most comprehensive engineering programs in the Northwest. It includes nine accredited degree programs. It also has an unaccredited program in computer animation and game development. As such, Chico State is one of the best schools for sustainable engineering in the country. The school also earned the grand prize from the National Wildlife Federation. The award was given for the school's efforts towards achieving climate neutrality.
Net Price: $11,781/yr
Score: 88.08
2. Missouri University of Science and Technology
Rolla, Missouri
Engineering Degrees
Website
The Missouri University of Science and Technology has about a 90% STEM enrollment. This makes it the perfect place for students who are seriously "left-brained." The school offers these students support services and a good education. MST's scientific focus allows students to be involved in faculty and graduate research. This is particularly true of engineering students. An extra benefit includes the interactions with like-minded and equally motivated peers.
Net Price: $14,377/yr
Score: 88.55
1. Montana Tech of the University of Montana
Butte, Montana
School of Mines and Engineering
Website
We list the School of Mines and Engineering as our best engineering school in the country. Graduates earn a salary of over $80,000 per year. In some cases, it is much more than that. Montana Tech's mining school has over a century of experience preparing professionals. Students learn to build, fortify, and extract from mines. This makes for a curriculum that is uniquely useful to the local economy. It's no wonder Montana Tech graduates have a 98% placement rate in the mining industry.
Net Price: $11,037/yr
Score: 100
Sources:
College Navigator
Accreditation Board for Engineering and Technology
Dayton Daily News
National Association of Colleges and Employers (NACE)