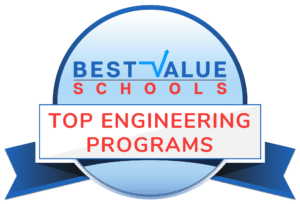 By Iris Stone
When you graduate from college, where do you see yourself? More importantly, where do you want to see yourself? Moving back in with your parents and struggling to get interviews, or signing a lease on your new apartment after landing a high-paying job? If you want to secure the latter (and we assume you do) then you need to major in engineering. Really, it is nearly that simple.
A study by the National Association of Colleges and Employers (NACE) has reported, yet again, that engineering is where it's at. Of the top 10 highest-earning majors, all of them - we repeat, all of them - were in engineering. What specialty you choose also matters (the difference between a degree in Petroleum and Industrial Engineering is about $30k) but the bottom line is this: if you want to earn $60,000 a year right off the bat, there is no better way to make your dreams come true than to be an engineer.
This leads us to another question: what are the best engineering schools in the United States? There is no shortage of answers out there on the internet, but we have our own take.

Best Engineering School Ranking Methodology
To begin, we used the College Navigator database to assemble a list of all the four-year, public and non-profit (sorry, no for-profit schools here) colleges and universities in the United States that offer bachelor's and master's degrees in engineering. There are more than 500 such qualifying institutions in the country, so we cut down the list by also limiting the results to schools with a maximum annual tuition of $25,000 (this included in-state and out-of-state rates). From the nearly 300 remaining candidates, we picked out only those with ABET (Accreditation Board for Engineering and Technology) accreditation. Those that remained - approximately 170 - were subject to additional scrutiny on four main indicators:
Number of Accredited Programs: Because ABET accredits specific programs, not entire schools, it is possible for a university with a particularly strong engineering department to have five, 10, or even 15 separate degree accreditations. By our interpretation, schools with more accreditations not only have larger departments, but also more well-rounded programs and place more emphasis on engineering as a discipline. We weighted this category 30% of the total score.
STEM Majors: This data, provided by PayScale.com, represents the percentage of degrees awarded in science, math, technology, and engineering subjects at each school. Using this metric helped us identify universities with a strong reputation in scientific fields - as well as the ones most popular among STEM-focused college students. We weighted this category 30% of the total score.
Early Career Pay: PayScale.com also provides information on alumni salary, and we used their reports to determine the average early career salary (defined as the median pay for alumni with 0-5 years of experience) that each school's engineering students can expect to earn post-grad. Especially in the beginning of their careers, earned income can be correlated with quality and reputation of academic experience. We weighted this category 25% of the total score.
Net Price: Not ones to forgo cost as a consideration, we also considered each school's net price. This figure, which goes beyond annual tuition to take into account living expenses, room and board, additional fees, as well as scholarship and financial aid packages, provided a clear way to identify the most affordable engineering schools. Combined with our overall tuition cap of $25,000, you can be sure that these colleges offer the best bang to buck ratio that you'll find in higher education. We weighted this category 15% of the total score.
After the number crunching was over and the fog cleared, we awarded each school a total point value out of a maximum possible 100. As a final measure, we normalized (aka curved) the final results so that the #1 ranked school received a perfect score, with the rest of the programs' point totals adjusted in kind.
See who made the cut in our ranking of the 50 best engineering schools for 2019 below.
---
50. University of Colorado Denver
Denver, Colorado
College of Engineering and Applied Science
Website
With STEM majors comprising nearly a fifth of the student body, the University of Colorado Denver's College of Engineering and Applied Science is a hub for enterprising, technical minds. For just over $13,000 a year, students can pursue in-depth study and research in six advanced fields, ranging from bioengineering to computer science. In fact, at the graduate level UC Denver has one of the best engineering schools on our list, with cutting-edge research ongoing in every department. Whether you're interested in contributing to the next wave of robotic-artificial limb systems or collaborating on Formula Vee chassis development, UC Denver will find a challenge for you.
Net Price: $13,518/yr
Score: 45.13
49. Saginaw Valley State University
University Center, Michigan
College of Science, Engineering and Technology
Website
The College of Science, Engineering and Technology at Saginaw Valley State University is an undergraduate-focused department that provides robust research and internship opportunities alongside a rigorous, comprehensive core curriculum. While SVSU does feature a graduate program in Energy and Materials, the majority of departmental resources are devoted to bachelor's programs in Computer Science and Information Systems, Electrical Engineering, and Mechanical Engineering. Outside of class, many undergraduate engineering students participate in topical, hands-on diversions like building concept cars for the annual Formula SAE Collegiate Competition or providing technical support for local businesses and industry through SVSU's Independent Testing Lab.
Net Price: $13,269/yr
Score: 45.15
48. California Maritime Academy
Vallejo, California
Facilities Engineering Technology and Marine Engineering Technology
Website
As one of just seven degree-granting maritime academies in the country—and the only one on the West Coast—the California Maritime Academy is easily among the best maritime engineering schools in the country. Students can also pursue degrees in facilities engineering technology and mechanical engineering at the undergraduate level, as well as Transportation and Engineering Management at the master's level. While CSUM inducts all new undergraduates into the Corps of Cadets - and mandates military-style uniforms, work regimes, and a rigid disciplinary code - it doesn't require students to commit to military service. Nevertheless, many elect to participate in military programs via the Coast Guard, Navy/Merchant Marines, and Marine Corps for scholarships and additional career opportunities.
Net Price: $11,210/yr
Score: 46.07
47. University of Texas of the Permian Basin
Odessa, Texas
College of Engineering and Technology
Website
Due to the prominence of the growing oil and gas industry in the Permian Basin, UTPB is one of the fastest growing universities in the nation and boasts many promising research and career opportunities. Today, one in ten jobs in the region are in oil or manufacturing services, making UTPB's recently accredited department one of the best petroleum engineering schools for job placement and salary. And with a net price of just $8,000 a year - plus an average early career pay of $70,000 annually, according to PayScale.com - an engineering degree from UTPB is a strong investment in your future.
Net Price: $8,245/yr
Score: 46.16
46. Youngstown State University
Youngstown, Ohio
College of Science, Technology, Engineering, and Mathematics
Website
With nine nationally and regionally accredited engineering programs at the graduate and undergraduate level, Youngstown State University's College of Science, Technology, Engineering, and Mathematics is one of the best schools for engineering in a variety of diverse fields. Youngstown engineering departments range from chemical, civil, and electrical engineering to materials science, engineering technology, and computer science, providing a strong foundation for any number of promising careers. Students are also active in local service and research via on-campus centers and institutes. Popular examples include the Natural Gas and Water Resources Institute, the Center for Applied Chemical Biology, and the Center for Excellence in Materials Science and Engineering.
Net Price: $10,117/yr
Score: 46.64
45. California State University-Los Angeles
Los Angeles, California
College of Engineering, Computer Science, and Technology
Website
With their net price clocking in at just a fraction of the cost of some of the other schools on this list, California State University-Los Angeles would be a great deal regardless of its engineering school ranking. But Cal State LA is competitive in degree offerings and student resources as well as price. Not only are all five of its departments (Civil, Mechanical, and Electrical Engineering; Computer Science; and Technology) ABET-accredited, but Cal State also offers robust opportunities for engineering students through its Professional Practice Program (P3). Through regional and national industry partnerships, P3 sponsors engineering students' undergraduate senior design projects, leadership development programs, and even provides scholarships for exemplary academic performance.
Net Price: $2,735/yr
Score: 46.87
44. University of Kentucky
Lexington, Kentucky
College of Engineering
Website
Ranked 12th in the country by U.S. News for graduate programs in Biological/Agricultural Engineering, the University of Kentucky's College of Engineering is one of the best engineering schools for research. In fact, UKY's engineering department is heavily involved in collaborate research projects with the College of Medicine and Markey Cancer Center in bioinformatics, as well as drug discovery and delivery research with the College of Pharmacy. And with accredited undergraduate programs in 11 different specializations, even bachelor students develop the skills they need to produce meaningful work at an advanced level. For those who show promise early on, UKY's University Scholars program provides an accelerated BS/MS pipeline at no additional cost.
Net Price: $14,842/yr
Score: 46.92
43. Wright State University
Dayton, Ohio
The College of Engineering and Computer Science
Website
Ranked fifth in the country for carbon dioxide emissions, Ohio is at the center of sustainability conversations in the U.S., and Wright State University's College of Engineering and Computer Science is prepared to answer the charge. One of the best schools for green engineering, WSU's Renewable and Clean Energy Program is producing future leaders in solar tech and other green engineering fields, which are a rapidly growing and unmistakably vital sector of the emerging global economy. Of course, that merely accounts for a fraction of WSU's offerings; students can also pursue degrees at the graduate and undergraduate level in a variety of other engineering specializations, from biomedical engineering to computer science.
Net Price: $13,868/yr
Score: 47.02
42. University of South Florida
Tampa, Florida
College of Engineering
Website
Why do 20% of students at one of the largest universities in the country pursue STEM degrees? Aside from an average starting salary of nearly $60K a year and eight accredited programs in a huge range of engineering specializations, what is it that makes the University of South Florida one of the best schools for engineering? For one thing, USF leads the nation in research in nanotech, bioengineering, and robotics and sensor technology, making it a top choice for postdocs and grad students in tech fields. But undergraduate students also have the chance to do exciting work outside of the classroom, with study abroad opportunities in sustainability labs in Bolivia and the Netherlands, as well as regional and national internships.
Net Price: $11,355/yr
Score: 47.24
41. University of Arkansas at Little Rock
Little Rock, Arkansas
UALR George W. Donaghey College of Engineering and Information Technology
Website
Recognized by U.S. News as one of the best engineering schools for undergraduates, the University of Arkansas at Little Rock's George W. Donaghey College of Engineering and Information Technology attracts many of the brightest minds from around the state and country to get their start in any of the university's six engineering departments. Whether they choose Civil and Construction Engineering or Computer Science (listed among Computer Science Degree Hub's "50 Most Innovative" departments in the U.S.), engineering students at UALR are brought to the forefront of their field through exceptional teaching and research/internship opportunities.
Net Price: $12,780/yr
Score: 47.63
40. Wichita State University
Wichita, Kansas
The College of Engineering
Website
Many consider the field of engineering to be at the forefront of technology and design research, but the same isn't always true of engineering education. At Wichita State University, the College of Engineering has earned their high engineering school ranking by taking the initiative to revolutionize undergraduate engineering education through their "Engineer of 2020" program. This innovative, integrated curriculum combines undergraduate research and hands-on education with global and service learning, leadership, and interdisciplinary collaboration to produce engineers who can adapt to their environment as well as their department of specialization. Regardless of whether they study aerospace, electrical, industrial, or mechanical engineering, graduates of Wichita State will be prepared to face challenges that speak to everyone.
Net Price: $9,843/yr
Score: 47.91
39. University of Nevada-Reno
Reno, Nevada
College of Engineering
Website
While STEM students only comprise about 8% of the University of Nevada-Reno's student body, this self-selecting group makes up for their smaller numbers with great earning potential. According to PayScale.com, UNR engineering graduates make well above $60K in their five first years after graduation, outperforming not just other majors at the university, but many of the best engineering schools on this list as well. Part of this success is no doubt due to the College of Engineering's vast specialization options; outside of typical majors, UNR offers unique minor and certificate programs in Nanotech, Renewable Energy, Nuclear Packaging, Digital Interaction Games, Cyber Security, Unmanned Autonomous Systems, and more.
Net Price: $15,583/yr
Score: 48.92
38. Minnesota State University-Mankato
Mankato, Minnesota
College of Science, Engineering and Technology
Website
Whether you are looking for a career in industry, an advanced degree, or a bachelor's degree that will prepare you for one, the Minnesota State University-Mankato's College of Science, Engineering and Technology is among the best engineering schools money can buy. MNSU offers undergraduate and graduate programs in automotive, electrical, mechanical, civil, and manufacturing engineering, in addition to associated management and technology programs. MNSU also provides all CSET students with the opportunity to earn GPA-based scholarships to help subsidize their education, effectively contributing to their present and future success simultaneously.
Net Price: $12,464/yr
Score: 50.91
37. CUNY City College
New York, New York
Grove School of Engineering
Website
Named after alumnus and Intel Corporation co-founder Dr. Andrew Grove, CUNY City College's Grove School of Engineering has historically been the most popular undergraduate major in the university. It's not hard to see why: with a range of degrees at the bachelor, master's, and doctoral level in eight accredited departments, the Grove School is one of the best schools for engineering in traditional as well as emerging fields like Urban Sustainability, Translational Medicine, and Earth and Environmental Engineering. Engineering students are also active outside of the classroom via the university's chapters of Engineers Without Borders and its membership in the U.S. Global Engineering Education Exchange.
Net Price: $7,125/yr
Score: 50.99
36. Oakland University
Rochester, Michigan
School of Engineering and Computer Science
Website
With a student body of nearly 3,000 combined graduate and undergraduate students, Oakland University's School of Engineering and Computer Science is larger than many small colleges in the United States. But that impressive stature doesn't detract from Oakland's dedication to small class sizes and close faculty-student interaction—in fact, it only adds to it. Oakland is home to dozens of engineering faculty members producing pioneering research in topics as diverse as data mining, fuel cell modeling, and manufacturing management systems optimization. What these professors are able to offer their students (both inside and outside the classroom) is what makes Oakland one of the best engineering schools in the country.
Net Price: $13,043/yr
Score: 51.45
35. University of Idaho
Moscow, Idaho
College of Engineering
Website
The University of Idaho's College of Engineering just celebrated their 125th anniversary in recognition of the 20,000 alumni who have helped to build this country into the technology and industry leader it is today. With a STEM population of over 2,000 students currently in attendance, Idaho has matured into a crucial resource for engineering education in the Northwest. One of the best schools for engineering of any kind, the University of Idaho's engineering department alone offers nine accredited degree programs - all of which emphasize practical, actionable experience. From the 20+ extracurricular engineering organizations and groups to mandatory senior design projects, Idaho's engineering students gain all the skills they need to launch a career in a challenging, thriving industry.
Net Price: $14,445/yr
Score: 52.14
34. University of North Carolina at Charlotte
Charlotte, North Carolina
The William States Lee College of Engineering
Website
Like Idaho, the William States Lee College of Engineering at the University of North Carolina at Charlotte is a hands-on department that prioritizes experiential learning as much as theoretical coursework. What earns WSLC its top engineering school ranking is the Industrial Solutions Lab, where graduate and undergraduate students alike can participate in industry- and faculty-led research to gain meaningful experience in their field right on campus. This state-of-the-art facility is also host to Senior Design, a two-semester capstone sequence that allows upperclassmen to develop and undertake an independent project in small interdisciplinary teams.
Net Price: $10,196/yr
Score: 52.92
33. University of Texas at Arlington
Arlington, Texas
College of Engineering
Website
With over 4,000 students and 30 degree programs, the College of Engineering at the University of Texas Arlington is among the largest and most comprehensive (if not the best) engineering schools in the state. UT Arlington's engineering school offers accredited degree programs in everything from aerospace to software engineering, along with the student support services (academic and career advising, internship and outreach programs, need-based financial aid and scholarships) required to promote student success across the student body. As a testament to this commitment to equal opportunity student success, UT Arlington was also ranked 5th by U.S. News in terms of racial and ethnic diversity.
Net Price: $11,622/yr
Score: 53.02
32. Howard University
Washington, D.C.
College of Engineering, Architecture and Computer Science
Website
As part of a historically black college, Howard University's College of Engineering, Architecture and Computer Science is already distinguished from comparable programs at peer institutions. But what truly sets the engineering department at Howard apart is their 10:1 student-faculty ratio, nearly 40% enrollment of women (compared to a national average of 19%), and representation of students from 65 countries all over the world. If that's not enough to convince you that Howard University is one of the best schools for engineering in the country, consider the fact that Howard engineering graduates earn on average more that $70K annually in their first five years after graduation.
Net Price: $22,337/yr
Score: 53.48
31. San Diego State University
San Diego, California
College of Engineering
Website
As a popular tech-hub, San Diego would attract enterprising and analytically gifted young people even if it weren't for San Diego State University's College of Engineering. But what makes SDSU one of the best schools for engineering is its capacity to intellectually challenge the top students in the country while encouraging them to grow. The Zahn Innovation Launch Pad, for instance, has attracted over a million dollars in corporate funding to support student startup initiatives on campus - and so far, an impressive one in ten have actually launched as fully-fledged companies! The college's Mechatronics Club also recently placed 1st in a national RoboSub competition, proving that success at SDSU is about more than just a paycheck.
Net Price: $10,085/yr
Score: 54.17
30. Southwestern Oklahoma State University
Weatherford, Oklahoma
B.S. in Engineering Technology
Website
Engineering is a constantly growing field with high job placement rates, but the highest-paying careers will always go to those with the most experience. At Southwestern Oklahoma State University, all engineering majors graduate with either independent research or a meaningful internship on their resumes, which ideally positions them to earn those competitive engineering job offers over less-experienced grads. Whether they want to work in industry, management, or research, SOSU is one of the best engineering schools for the price. Even teachers find their calling through SOSU; 30% of Oklahoma tech educators have at least one degree from SOSU.
Net Price: $10,500/yr
Score: 54.37
29. University of New Orleans
New Orleans, Louisiana
College of Engineering
Website
With a net price just under $9,000 a year, the College of Engineering and the University of New Orleans is able to provide the local and national community with the engineers they need to drive innovation and industry. That's why UNO works closely with industry partners to develop curricula that impart the skills students will actually need in the transition to a professional career in engineering. In fact, UNO developed their Department of Naval Architecture and Marine Engineering in 1980 to meet the growing demand raised by local shipbuilders and the offshoring industry. With state-of-the-art facilities for interactive classroom education, UNO is one of the best engineering schools for students who want to start working right away.
Net Price: $8,661/yr
Score: 55.30
28. North Dakota State University
Fargo, North Dakota
College of Engineering
Website
Engineers don't just make things; they make things work. At North Dakota State University's College of Engineering, engineering students are equipped with the tools and skills they need to make everything from agriculture to computers to industrial manufacturing processes operate as efficiently and effectively as possible. The sheer breadth of the university's engineering offerings—a total of ten accredited degree programs, all told—alone earns NDSU its top engineering school ranking, and it also accounts for the fact that STEM majors comprise a full quarter of the school's student body.
Net Price: $14,249/yr
Score: 55.80
27. University of Texas at El Paso
El Paso, Texas
UTEP College of Engineering
Website
With fewer than 400 Bachelor of Science degrees conferred annually, the UTEP College of Engineering seems a little small for its high engineering school ranking. It ranked 1st in the nation in PhDs to women, and 2nd for master's and PhDs to Hispanics, according to the ASEE, and 7th among national universities according to Washington Monthly. UTEP is also home to the W.M. Keck Center for 3D Innovation, the "the world's largest hub for additive manufacturing—more commonly known as 3-D printing—technologies." Access to this incredible resource gives students of all degree levels the opportunity to gain an intimate understanding of this industry as it emerges.
Net Price: $5,607/yr
Score: 56.25
26. Stony Brook University
Stony Brook, New York
College of Engineering and Applied Sciences
Website
Like Wichita State, Stony Brook University's College of Engineering and Applied Sciences has its eyes set on the year 2020 as the year of the engineer. But where Wichita's initiative focused on crafting the engineer of the future, Stony Brook's Engineering 2020 Program is all about adapting its curriculum to meet the problems we face now. In collaboration with Brookhaven National Laboratory, Stony Brook is planning to double its research activity by the end of the decade, while also adding new programs in industrial engineering, quantitative finance, and even intelligent and "green" computing. Stony Brook also aims to raise diversity quotas and couple engineering skills with entrepreneurial outreach to create one of the best engineering schools of the 21st century.
Net Price: $13,352/yr
Score: 56.54
25. Tennessee Technological University
Cookeville, Tennessee
College of Engineering
Website
At Tennessee Technological University's College of Engineering, they claim to be committed to producing "21st Century Renaissance Engineers"—but what does that actually mean? From the outside, it looks like TNTech has all the typical trappings of the best engineering colleges: six accredited degree programs, a $60k+ average early salary for graduates, and a large research budget. But it is programs like the MoLE-SI (Mobile Learning Environment and Systems Infrastructure)—a collaborative digital platform with a full software suite available remotely—and the eccentric Order of Engineers that reveal what a unique learning environment TNTech really is.
Net Price: $13,677/yr
Score: 58.79
24. University of West Florida
Pensacola, Florida
College of Science and Engineering (CSE)
Website
Just this year, the University of West Florida received their largest gift from a living donor, and the school is renaming their College of Science and Engineering in honor of this charitable act. The newly christened Hal Marcus College of Science and Engineering will devote this $5 million dollar donation to supporting international research opportunities, financing student competition teams and organizations, and drawing renowned lecturers to the campus. If you're interested in getting a top engineering degree for a great price, now is the time to apply—before UWF's engineering school ranking gets any higher.
Net Price: $10,759/yr
Score: 58.86
23. Kansas State University
Manhattan, Kansas
College of Engineering
Website
Kansas State University may be on our list of the 50 best schools for engineering, but that won't satisfy this school, which is committed to reach unanimous status as one of the top public research colleges for engineering in the country. Of course, that is part of what makes KState such an attractive school. In the next ten years, the College of Engineering plans to hire 35 new world-class faculty members, build cutting-edge research and instruction facilities (100,000 square feet of which will open to students this year), and bring their curriculum into the 21st century with leadership and innovation programs across all departments.
Net Price: $15,784/yr
Score: 58.87
22. Tuskegee University
Tuskegee, Alabama
College of Engineering
Website
You don't have to be a rocket scientist to see why Tuskegee University has one of the best engineering schools in the country, but you can become one if you attend! To this day, Tuskegee remains the first and only historically black college to offer an accredited bachelor's degree in aerospace engineering. That's not the only reason 35% of Tuskegee students choose a STEM major, though. When they are not building rocket engines, engineering students at Tuskegee are hard at work on tasks that range from discovering new composite materials to enhancing robotic intelligence.
Net Price: $28,414/yr
Score: 59.48
21. Mississippi State University
Starkville, Mississippi
James Worth Bagley College of Engineering
Website
Like crows and wolves, engineers work best in groups. At Mississippi State University's James Worth Bagley College of Engineering, first-year students now have the unprecedented opportunity to truly put their heads together with the new Engineering Living Learning Community. This program places freshmen engineering students into a residential facility that offers tutoring, dedicated study areas, onsite academic advising, and more. But that's not all the makes MSU one of the best schools for engineering in the state; with 10 accredited degree programs and an entrepreneurship track that prepares students to strike out on their own, there's no limit to what an engineering degree from MSU can do for you.
Net Price: $15,297/yr
Score: 59.62
20. Lamar University
Beaumont, Texas
College of Engineering
Website
Lamar University produces some of the highest paid engineers in the country - in fact, a diploma from this top college could lead you to a salary of $75k or more within the first five years after graduation! What's more, PayScale.com has ranked Lamar as the 2nd best undergraduate engineering university by salary. But Lamar students don't have to wait until they graduate to start earning. Part of the engineering school's success is the co-op program, which allows students to alternate semesters between classes and paid internships in their field. Lamar even shells out $4 million dollars in need- and merit-based scholarships for undergraduate engineers so they can save money on tuition - and actually hold onto some of that money they earn.
Net Price: $13,789/yr
Score: 59.87
19. University of Arkansas
Fayetteville, Arkansas
College of Engineering
Website
The University of Arkansas' 17 accredited engineering degree programs put it very near the top of our list in terms of sheer variety. But all these departments offer more than just a greater range of choices for students of varying interests. More importantly, the greater density of interdisciplinary rigor concentrated all in one place fosters creativity and collaborative insights. In addition to encouraging students to expand their academic interests, UAK also helps them transition into a professional career with its Student Integrated Intern Research Experience (SIIRE). Combining paid internships, on-campus research, and renewable scholarships, SIIRE is the kind of school-to-career pipeline that makes UAK one of the best schools for engineering in the country.
Net Price: $14,466/yr
Score: 60.28
18. University of New Mexico
Albuquerque, New Mexico
UNM School of Engineering
Website
The National Science Foundation gave the University of New Mexico a $5 million grant to improve its engineering school programs. To this end, the UNM School of Engineering has developed the Science, Technology, Engineering and Mathematics Talent Expansion Program (STEP), which has already seen great success in the three short years of its existence. Through STEP initiatives, UNM has paired hundreds of students with faculty and corporate mentors, solicited and financed paid internships in core industries, and sent students to participate in engineering conferences all around the world.
Net Price: $12,840/yr
Score: 63.72
17. Oregon Institute of Technology
Klamath Falls, Oregon
College of Engineering, Technology and Management
Website
Ranked by U.S. News as one of the top regional colleges in the West, the Oregon Institute of Technology is a thriving community of left-brand scholars and researchers. As a technical institution, it's no shock that nearly half of the student body is registered as a STEM major; what's more remarkable is how many of them are able to find work! Owing to OIT's comprehensive engineering curriculum (featuring no fewer than 11 accredited degree programs) and commitment to experiential education, 90% of OIT graduates find employment or seek higher education in their field within six months after graduation.
Net Price: $14,723/yr
Score: 66.86
16. University of Oklahoma
Norman, Oklahoma
Gallogly College of Engineering
Website
At the University of Oklahoma, incoming engineering students are taking the helm of a brand new program. Owing to a sizeable donation from the Gallogly and Stephenson families just last year, the College of Engineering has earned a new name, a new state-of-the-art building, and a new biomedical engineering department - with enough left over for a graduate fellowship endowment. These new additions bring the tally of UOK's accredited engineering degree programs to a staggering 12 and are sure to put the university on the map for enterprising engineering scholars from all around the country.
Net Price: $16,813/yr
Score: 67.34
15. Brigham Young University-Provo
Provo, Utah
Ira A. Fulton College of Engineering and Technology
Website
Engineering can't solve all of the problems facing the world today, but it can certainly make them easier to handle. With almost 20% of the student body enrolled in STEM programs, Brigham Young University-Provo (one of the largest private institutions of higher learning in the world), is enriching the global community one step at a time with a fresh influx of devoted engineers. BYU offers nine different accredited degree programs in the Ira A. Fulton College of Engineering and Technology, making it one of the best schools for engineering in a wide range of specializations.
Net Price: $12,335/yr
Score: 67.83
14. San Jose State University
San Jose, California
Charles W. Davidson College of Engineering
Website
With over 7,000 graduate and undergraduate students currently enrolled, the Charles W. Davidson College of Engineering is easily the largest and most popular college in San Jose State University. It's not hard to see why; the college provides more entry-level engineers to Silicon Valley companies than any other university (#1 at Cisco, #1 at Apple). Hands-on training, 390 dedicated faculty and staff, and more than 60 student clubs combine to transform students into hardworking, creative, resourceful and proud engineers. The school also delivers customized certificate and full-degree programs for employees in specific areas, such as big data analytics, battery technologies, cybersecurity and cloud computing.
Net Price: $10,729/yr
Score: 67.89
13. Texas Tech University
Lubbock, Texas
Edward E. Whitacre Jr. College of Engineering
Website
Some say that math is the universal language; at Texas Tech University, it's engineering. Since the debut of the Edward E. Whitacre Jr. College of Engineering's International Experience Initiative, TTU has been recognized as the first public research university to require all engineering majors to study abroad before graduation. This provides students not only with the adventure of a lifetime, but also with the perspective and wisdom that comes from learning about new cultures. Coupled with their unique bachelor's and master's degrees in cyber security, wind science, petroleum science, and software engineering, this makes TTU's program one of the most progressive of all the schools featured on our top engineering school ranking.
Net Price: $13,901/yr
Score: 68.35
12. New Mexico State University
Las Cruces, New Mexico
College of Engineering
Website
Believe it or not, there were already engineers in 1891; in fact, that's when New Mexico State University's College of Engineering was founded. In the last 125 years, this college has become the oldest and largest in the state, with 13 accredited degree programs and over 2,000 graduate and undergraduate engineering students combined. With such a robust program, it's safe to say that NMSU has contributed greatly to the development of the state's industry. And now that it's classified as a top tier university in U.S. News' engineering school rankings, NMSU is a great choice for students from all around the country.
Net Price: $10,299/yr
Score: 68.71
11. West Virginia University Institute of Technology
Montgomery, West Virginia
Leonard C Nelson College of Engineering & Sciences
Website
Engineers are problem solvers. If that problem happens to be employment, the West Virginia University Institute of Technology can offer the career-oriented, student-centered engineering education that is needed to succeed in a variety of industries. With nine ABET accredited degree programs in engineering and engineering technology, the Leonard C Nelson College of Engineering & Sciences allows students to shop around for the focus that truly piques their interest - all while enjoying a net price of just $7,000. Regardless of which path they choose, these future engineers can rest easy knowing that WVU Tech is without a doubt one of the best schools for engineering in the nation.
Net Price: $7,325/yr
Score: 69.62
10. Oklahoma State University
Stillwater, Oklahoma
College of Engineering, Architecture and Technology
Website
Oklahoma State University is probably best known for throwing "America's Greatest Homecoming Celebration" every fall, drawing more than 100,000 attendees to the first Cowboys game of the year. But OSU is also known for its exemplary architecture, mechanical, and agricultural engineering programs. Owing to its land- and sun-grant status, OSU research contributes greatly to sustainability efforts in the "Dust Bowl" region and beyond. These top programs, in addition to free student services like tutoring, career advisement, and work cooperative initiatives, all make OSU one of the best schools for engineering in the West.
Net Price: $14,750/yr
Score: 69.69
9. Iowa State University
Ames, Iowa
Iowa State University College of Engineering
Website
Set on a 1,900-acre campus designed to look and feel like a national park, it's hard to imagine anyone getting any work done at Iowa State University. Still, over a quarter of its 36,000 students choose STEM majors, which means they must have a fair amount of personal discipline! As a land-grant university, Iowa State is committed to creating technology that makes the world better, and it pushes students to push the status quo, whether they are studying computers or construction. Undaunted by the challenge of creating tunable radar cloaking devices and gravitational wave detectors, the expert faculty at Iowa State set a strong example for their students.
Net Price: $13,899/yr
Score: 71.34
8. University of Michigan-Dearborn
Dearborn, Michigan
College of Engineering and Computer Science
Website
Last March, the University of Michigan-Dearborn was one of 122 schools to sign a letter of commitment to President Obama pledging to address the "Grand Challenges" identified by the White House. In an effort to tackle mounting issues like healthcare and energy costs, recycling, and cyber security, UM Dearborn has pledged to graduate at least 20 students a year who are qualified and dedicated to these challenges going forward. To this end, UM Dearborn's College of Engineering and Computer Science is doubling down on experiential learning through initiatives like its Rapid Prototyping Laboratory. The university has also established a cooperative curricula that works with industry partners to make sure instruction stays topical and relevant.
Net Price: $12,347/yr
Score: 74.00
7. California State Polytechnic University-Pomona
Pomona, California
Cal Poly Pomona College of Engineering
Website
"Learn By Doing" may be the guiding philosophy behind Cal Poly Pomona's College of Engineering, but it probably ought to be the motto of engineers everywhere. Emphasizing practical experience through interactive laboratory classes, independent student research, and internships, CPP's engineering program forces students to tackle problems head on. This is nowhere more evident than CPP's burgeoning engineering entrepreneurship program in collaboration with the business school. Engineering students who are accepted into this competitive pilot program have to chance to use the university's Product Development and Commercialization Lab to bring a concept to market for course credit.
Net Price: $9,824/yr
Score: 80.44
6. University of Houston
Houston, Texas
UH Cullen College of Engineering
Website
The University of Houston's Cullen College of Engineering is a powerhouse in the field, with over 5,000 total students enrolled, 16 accredited degree programs (plus a variety of specialized certifications), and over a quarter of a million dollars allocated for annual research funding. Yet top students never feel lost in the crowd at UH, thanks to the recently launched Honors Engineering Program. A small cohort within the larger Honors College, HEP gives exceptional students the chance to learn through team-based, project-oriented coursework while providing a leg up on internships and other career networking opportunities.
Net Price: $12,618/yr
Score: 82.34
5. North Carolina State University at Raleigh
Raleigh, North Carolina
NC State University College of Engineering
Website
Weighing in at roughly 10,000 students, North Carolina State University at Raleigh's College of Engineering is easily the largest department in the school, if not the world. NCSU Raleigh is a hub for pioneering research in vital fields such as healthcare, computer systems, and nanotech, and is so important to the future of the country that it hardly needs to cater to its students to rank among the best engineering schools. Nevertheless, the Centennial Campus, a thousand-plus acre melting pot of companies, government agencies, faculty and students, is such a remarkable educational and research enterprise that it has become a model for university campuses everywhere.
Net Price: $13,579/yr
Score: 82.54
4. West Virginia University
Morgantown, West Virginia
Benjamin M. Statler College of Engineering and Mineral Resources
Website
With 21 ABET-accredited degree programs—including one of three such Petroleum and Natural Gas Engineering programs in the nation—West Virginia University's Benjamin M. Statler College of Engineering and Mineral Resources could reach the #4 position on our list of the best engineering schools by this number alone. Yet WVU is also known for their pioneering Biometrics and Identification Technology Program, which is actually the national academic leader for the FBI's biometric research. WVU was also the first university to offer a Bachelor's degree in Biometrics, and it continues to draw attention and support for their groundbreaking work in this emerging field.
Net Price: $9,380/yr
Score: 86.10
3. California State University-Chico
Chico, California
College of Engineering, Computer Science, and Construction Management
Website
Out of its 50 academic departments and over 150 degree programs, California State University-Chico is probably best known for its College of Engineering, Computer Science, and Construction Management. Why? With nine accredited degree programs—and an unaccredited program in Computer Animation and Game Development—this is certainly one of the most comprehensive engineering programs in the Northwest. But more specifically, CSU Chico has a well-deserved reputation as one of the best schools for sustainable engineering in the country. It even earned the Grand Prize from the National Wildlife Federation for its efforts towards achieving climate neutrality.
Net Price: $11,781/yr
Score: 88.08
2. Missouri University of Science and Technology
Rolla, Missouri
Engineering Degrees
Website
Unlike most of the other schools on this list, the Missouri University of Science and Technology doesn't offer very much in the way of soft sciences or humanities—not to speak of the arts. In fact, MST has about a 90% STEM enrollment, making it the perfect place for students who are seriously "left-brained." Although the curriculum isn't as well-rounded as some other universities, MST's hardcore scientific (and, particularly, engineering) focus allows undergraduate students to get much more involved in faculty and graduate research, as well as benefit from more interactions with like-minded, equally motivated peers.
Net Price: $14,377/yr
Score: 88.55
1. Montana Tech of the University of Montana
Butte, Montana
School of Mines and Engineering
Website
With an average early salary of over $80,000 a year and an annual of not more than 10% of that, Montana Tech of the University of Montana's School of Mines and Engineering easily tops our list of the best engineering schools in the country. But it's not just about the money. Montana Tech's mining school has over a century of experience preparing professionals to build, fortify, and extract mines from the mining capital of the nation, which makes for a curriculum that is uniquely useful to the local economy. It's no wonder Montana Tech graduates have a 98% placement rate in the mining industry - and why their alma mater is our #1 pick!
Net Price: $11,037/yr
Score: 100
Sources:
College Navigator
Accreditation Board for Engineering and Technology
Dayton Daily News
National Association of Colleges and Employers (NACE)