20 BEST VALUE SMALL COLLEGES FOR AN AFRICAN STUDIES DEGREE
By BVS Staff January 2017 Welcome to our ranking of the 20 best small colleges for African American studies majors on a budget. Methodology Each of these top schools offers at least one comprehensive program for students seeking a bachelor's degree in African studies (including but not limited to African American studies, Black studies, and ...
BestValueSchools.com is an advertising-supported site. Featured or trusted partner programs and all school search, finder, or match results are for schools that compensate us. This compensation does not influence our school rankings, resource guides, or other editorially-independent information published on this site.
Are you ready to discover your college program?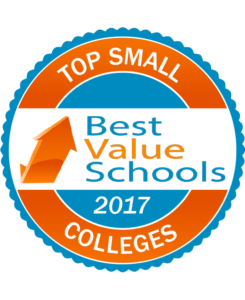 By BVS Staff
July 2020
Welcome to our ranking of the 20 best small colleges for African American studies majors on a budget.
Methodology
Each of these top schools offers at least one comprehensive program for students seeking a bachelor's degree in African studies (including but not limited to African American studies, Black studies, and Africana studies). In addition, they each maintain an overall undergraduate graduation rate of at least 50%. Of course, to be a best value, these top-ranked schools also has to demonstrate a genuine commitment to affordable education - which means meeting our net price requirements. All of the programs on this ranking have estimated annual costs (as reported on College Navigator) of less than $27,000 a year. But which of these is the most affordable small college for an African studies degree? Scroll down to #1 to find out!
#1

Berea College

Berea, KY

#2

Amherst College

Amherst, MA

#3

Colby College

Waterville, ME

#4

North Park University

Chicago, IL

#5

Vassar College

Poughkeepsie, NY

#6

Colgate University

Hamilton, NY

#7

Hamilton College

Clinton, NY

#8

Wellesley College

Wellesley, MA

#9

Wesleyan University

Middletown, CT

#10

Augustana College

Rock Island, IL
Featured Online Programs
Figuring out where to apply? These top, accredited schools offer a variety of online degrees. Consider one of these accredited programs, and discover their value today.
Berea College is perhaps best known for its Tuition Promise Scholarship, which guarantees that all students receive 100% tuition assistance (that is, pay no money for classes) for all four years of their undergraduate education. But Berea offers much more than a free education (as if that's not enough!). In fact, Berea's African and African American Studies program is among the school's most academically rigorous. By combining the study of black history, literature, music, politics, economics, and more into a single program, this top college for an African Studies degree equips majors for a wide range of promising career opportunities after graduation.

Established in the early 1970s, Amherst College's Black Studies Program has long been a bastion for cross-cultural and radical inquiry. From their very first introductory course in the major, students learn to debate the ontology of the "Black Experience" itself. This task often leads to discussions about what, if any, similarities exist between the experiences of African Americans, Caribbean inhabitants/West Indians, and South Africans, among other groups. Black Studies majors at Amherst quickly acclimate to this level of discourse, as the coursework frequently challenges them with tough questions about culture, race, and heritage. Since these questions are so trenchant - and often evoke personal responses - many students in this top African American studies program investigate further by producing a senior thesis.

At Colby College, students don't just read about the African experience; they actually go out and experience it. Since most undergrads at Colby are from the United States, the school encourages members of its affordable African American Studies program (as well as non-majoring African Americans) to study abroad in order to broaden their perspective. To that end, Colby supports overseas travel to Ghana, South Africa, many of the other 54 countries that make up the African continent. On campus, members of the African-American Studies Department also work closely with faculty to develop programming for Black History Month, celebrating their heritage throughout the entire school.

Like many other schools on this list, North Park University is an affordable small college with an African studies program that is interdisciplinary, cross-cultural, and compassionate. While that alone would surely make North Park attractive to many students, it's the annual Sankofa trip that makes this program especially unique. Officially, Sankofa is a West African word meaning "looking backward to move forward." At North Park, the department uses it to describe a cross-country bus trip that can students take to confront relics of racial injustice (e.g., plantations, churches, schools) that still have impact on communities today.

Vassar College

Location

Poughkeepsie, NY

As Vassar's "longest-running multidisciplinary program," it's surely safe to say that this college's Africana Studies Department is one of the oldest in the country. Since 1969, the department has relied on the experience of black scholars in nearly every academic field across campus to create an intellectual environment that is conducive to the safe and rigorous study of black identity and cultural heritage. Today, this top college for an African Studies degree is also well known for hosting important black speakers (such as New York Times bestselling author, Andrea Pinkney) at public events on campus.

Colgate University's Africana and Latin American Studies Department offers more options for personalization than most of the schools on this African studies college degree ranking. Perhaps most significantly, undergrads in this department can choose from four area-specific concentrations, including African, African American, and Caribbean Studies. These three options allow majors to study their own heritage or an area of personal interest, while the fourth option lets students craft their own focus based on their own experiences or cultural preferences. But regardless of which concentration they select, Colgate provides all majors in the department with a comprehensive liberal curriculum that spans the humanities, social sciences, and arts.

Interdisciplinary and transcontinental, Hamilton College's Africana Studies Department is an intellectually eclectic environment for voracious learners. The major program spans five broad geographical areas that transcend national boundaries: Africa, the Caribbean, the US, Latin America, and Europe. Since each of these regions has played a pivotal role in the cultural development of the African diaspora, Hamilton's curriculum is able to weave their histories together to help students appreciate world history from the black perspective. Members of this affordable African American studies program also investigate the cultural contributions of black artists and writers through music, painting, literature, and performance.

Once known as "Black Studies," Wellesley's Africana Studies Department was founded in 1972 to celebrate and study the works of those of African descent. Since then, it has grown to accommodate a wide variety of social, political, and theoretical methodologies that include Negritude, Garveyism, pan-Africanism, and Post-Colonialism. That might sound like a lot of "isms", but it is precisely this diverse chamber of opinions and experiences that make this one of the most attractive departments for cultural studies students at Wellesley. Another feature that makes Wellesley one of the best colleges for an African studies degree is its independent Swahili Department.

Where Augustana's Africana Studies program is devoted to exploring blackness around the globe, Wesleyan University situates the critical conversation surrounding race in the Western world. Wesleyan's top African American studies program explores "issues of race and identity" through examinations of the music, art, literature, philosophy, and political writings of black Westerners like W.E.B. DuBois, James Baldwin, and Miles Davis. The curriculum sets these historical conceptions of color and power structures against contemporary writings and the lived experiences of the very students in the classroom to provide an illuminating and introspective educational environment.

Augustana College's Africana Studies program provides undergraduates with a comprehensive survey of the culture, politics, and experiences of peoples of African descent. From African Americans to the Caribbean and, of course, the nations of Africa itself, Augustana's curriculum chronicles black lives in nations across the globe. Students encounter these experiences through an array of critical lenses, from anthropology and cultural theory to economics and legal analysis. Due to the diverse topics and methodologies of this affordable African American studies program, it can serve as a great primer for graduate school as well as a variety of careers.

Although some of the other schools on this list do highlight the importance of research, Davidson might be alone in its particular focus on research methodology. A required class on this somewhat dry topic helps students develop often overlooked skills in areas like computational economics. And at this top college for an African studies degree, those skills definitely won't go to waste. That's because every Africana Studies major at Davidson must complete a "substantial senior thesis," in which program members spend an entire year developing a proposal and exploring their chosen topic. To supplement this highly focused study, Davidson has implemented a "breadth requirement" that ensures each student receive a balanced education that covers the African American, African, and African Diaspora experiences.

Franklin and Marshall College

Unlike most majors and minors at the college, Franklin and Marshall's top African studies program arose directly in response to student demand. As such, it's not too surprising that the curriculum gives majors an unusual degree of latitude in designing their coursework. Of the nine required classes, five are electives, and students can pick these courses from 11 other departments across campus. The only mandate is that their choices "primarily address issues surrounding Africa and the African Diaspora." This interdisciplinary academic approach extends to the school's extracurricular programming, which in the past has featured lectures on a wide variety of topics, from Haiti to gentrification.

Rather than limiting its focus either to African American culture or the African Diaspora, Bowdoin maintains balance by providing concentrations in both topics. The department draws liberally from other subjects to build its curriculum, meaning that certain anthropology, sociology, music, and even French classes are eligible for credit. And like many of the other top small colleges with African studies programs, Bowdoin provides a challenging Honors Thesis option for qualifying students. Through this project, majors can explore deeply interdisciplinary subjects. Examples include the collaboration of the Black Panther Party and the Gay Liberation Front and the relationship between the Birmingham bombing and the music of Nina Simone and John Coltrane.

Every Africana Studies student at Barnard College in New York City takes at least one course about Harlem, the Big Apple borough home to some of black America's greatest cultural achievements. Classes like Gay Harlem and James Baldwin's Harlem highlight this hyper-local focus that makes Barnard one of the best small colleges for African American studies majors who have a strong interest in the Harlem Renaissance. Even so, the school's Africana Studies program still maintains a global perspective. The curriculum includes required core coursework in the broader African experience as well as a mandatory four-semester sequence in a language of Africa or the African diaspora.

Founded by abolitionists in 1855, Bates College has a long history of grappling with the problem of race in America. The school's affordable African American studies program takes a nuanced approach to this subject by offering "intersecting" African American and American Cultural Studies degrees. That means students pursuing an African American Studies degree can expect to receive a broader view of the American ethnic experience alongside more traditional subjects like the Civil Rights Movement and Black Feminism. Cross-departmental courses such as Blood, Genes and American Culture and Race, Cultural Pluralism, and Equality in American Education highlight Bates's broad perspective.

Lafayette's Africana Studies major is hard work; the school encourages students to take on a second major, engage in original field research, and study abroad. But to those in search of a rigorous academic experience, Lafayette quickly emerges as a top college for an African studies degree. Research is a central part of Lafayette's program, and many of the courses provide opportunities for students to conduct independent study projects. The school also challenges majors to address topics head on - and face-to-face, when possible. For example, in one "community-based learning and research seminar," undergrads work with local non-profits and transitional housing shelters to study issues that disproportionately affect black women in Easton.

Lake Forest College is home to one of the newest and best African American studies programs in the country - particularly for those with a specific interest in black American culture. Lake Forest's African American Studies major provides a deep dive into African American art, including literature, music, and film, and covers important figures ranging from Spike Lee to W.E.B. Du Bois. Students can also explore modern problems like racism in the criminal justice system in courses such as Black Metropolis and Race and Criminal Justice. Lake Forest's major is quite new - the school introduced it only this year - but the range of coursework and tight focus make it a great fit for many students.

Mount Holyoke College

Location

South Hadley, MA

Formerly known as African American Studies, Mount Holyoke's Africana Studies major has expanded beyond the borders of the American continent to include all people of African descent. To that end, every Africana Studies major receives exposure to the real-world African Diaspora through Community-Based Learning courses like Black Migrations and History of Global Inequality. These classes bring majors into contact with local elementary school students, African immigrants, and other members of the African Diaspora as a part of their learning. But of all the top small colleges with African studies programs, Mount Holyoke is one of the few to offer an extra "perk." That is, in addition to its in-house degree, the college offers a separate "Five-School" African Studies major in conjunction with its partner universities in the Massachusetts Five College Consortium.

Claremont McKenna College

The Claremont Colleges is a consortium of five Southern California colleges that have pooled their academic resources together offer a variety of intercollegiate degrees. These shared programs, which include Africana Studies, are available to students at any one of the colleges. And it's easy to see the benefits of this cooperative learning arrangement. In particular, the Africana Studies major offers more concentrations (three in all) and more unique classes than most of the other programs on this African studies college degrees ranking. One such specialty course explores cultural and spiritual connections to the moon in southeastern African America and even incorporates one-on-one interviews at a local nonprofit that aids pregnant black women.

Smith's top Africana Studies program offers five different concentrations: history, literature/cultural studies, social science, black women's studies, and Diaspora studies. The latter subject is a particularly important one for the degree; the only elective requirement is at least one course about the African Diaspora. Undergrads at this top college for an African studies degree also have access to an impressive number of interdisciplinary courses from through departments, from Queer Black Studies to Urban Economics. Smith's Africana Studies department expects all majors to study abroad, and in the past students have visited South Africa, Ghana, and Mali.
Want to find out exactly how much it will cost for you to attend one of these affordable African American studies programs? Check out the U.S. Department of Education's Net Price Calculator Center.
See also: 10 Best Value Small Colleges for a Middle Eastern Studies Degree 2016-2017
Sources:
Get prepared for your next steps
Use articles and resources to uncover answers to common questions, get guidance on your goals, and learn about applying to schools.
Discover a program that is right for you.
Explore different options for you based on your degree interests.