10 BEST VALUE SMALL COLLEGES FOR A MIDDLE EASTERN STUDIES DEGREE

Are you ready to find your fit?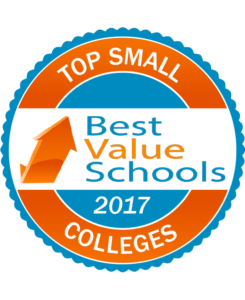 By BVS Staff
July 2020
Whether it's geographic knowledge, cultural background, or linguistic know-how, the skills learned through a Middle Eastern studies degree program will set you apart from other applicants and show off your unique passions. A study by the non-profit New American Economy found that the demand for bilingual workers in America has more than doubled in recent years.
To help you get started on your journey to a Middle Eastern studies degree, we've compiled a list of the 10 best small colleges for Middle Eastern studies.
Every one of our selected schools offers at least one full program, not including minors, for students seeking a degree in Middle Eastern studies or a related area. Also, each school maintains an overall undergraduate rate of at least 85%. According to College Navigator, all of the programs have an estimated annual cost of less than $27,000 a year.
Wondering which one is the most affordable? There's only one way to know: check out #1 on our list.
Methodology
Each of these top schools has at least one full program (not including minors) for students seeking a bachelor's degree in Middle Eastern studies or a related area (including but not limited to Arabic and Arab Studies). In addition, they each maintain an overall undergraduate graduation rate of at least 85%. Of course, to be a best value, these top-ranked schools also have to demonstrate a genuine commitment to affordable education - which means meeting our net price requirements. All of the programs on this ranking have estimated annual costs (as reported on College Navigator) of less than $27,000 a year. But which of these is the most affordable small college for a Middle Eastern studies degree? Scroll down to #1 to find out!
For more information on the methodology, click here.
---
#1

Pomona College

Claremont, CA

#2

Middlebury College

Middlebury, VT

#3

Williams College

Williamstown, MA

#4

Colgate University

Hamilton, NY

#5

Wellesley College

Wellesley, MA

#6

Davidson College

Davidson, NC

#7

Barnard College

New York, NY

#8

Trinity College

Hartford, CT

#9

Mount Holyoke College

South Hadley, MA

#10

Smith College

Northampton, MA
Featured Online Programs
Figuring out where to apply? These top, accredited schools offer a variety of online degrees. Consider one of these accredited programs, and discover their value today.
Pomona's affordable small college Arabic program takes an unmistakably interdisciplinary approach to learning. Rather than simply allowing students to select courses from other departments, Pomona actually requires its Middle Eastern Studies majors to choose a secondary discipline in Religious Studies, Anthropology, History, or Political Studies. Of these options, History has the broadest range of options related to Arab Studies. In fact, Pomona's catalog may offer more Middle East-related history courses than any of the other schools on this Arabic degrees ranking. These specialized courses tend to address a particular topic as it relates to one or more regions of the world. One example is "Women and Slavery," which examines this ongoing issue in relation to both Africa and Southeast Asia as well as the Arab world.

The top Middle Eastern studies undergraduate program at Middlebury falls within the school's International and Global Studies department, meaning students learn both about their region of interest and broader global issues. In fact, all members of the International and Global Studies program must study abroad for at least one semester. Fortunately, Middle Eastern studies majors have plenty of interesting locations from which to choose, including Israel, Jordan, and Morocco. And to supplement time spent in the classroom, the International and Global Studies Department schedules a variety of extracurricular lectures, symposia, and campus events throughout the year, making this degree especially well suited for students whose interests span across multiple regions and cultural groups.

Williams College

Location

Williamstown, MA

The Arabic degree at Williams College is relatively new, but the school is clearly working hard to establish the major as one of the top Middle Eastern studies undergraduate programs in the area. The school hosts regular film screenings, concerts, and guest lectures, as well as a weekly Arabic "language table" that enables students to practice their skills in a relaxed (and realistic) setting over dinner. As for the curriculum, Williams' focus on classical and contemporary Arab literature sets it apart from many of the other schools on this Arabic degrees ranking. Students can choose from foundational courses like "Introduction to Classical Arabic Literature" as well as advanced theory classes such as "Arab Women Memoirs: Writing Feminist History."

Colgate is home to one of the most comprehensive programs on this Arabic degrees ranking, with a catalog boasting dozens of Middle Eastern and Islamic Studies courses on topics in the humanities, history, language, social sciences, and more. This broad selection provides the basis for students to build a personal curriculum that caters to their unique areas of interest. Once majors have acquired some foundational knowledge in their specialty, they have the opportunity to stretch their understanding through independent study. This capstone course - which is a requirement for all Arab Studies majors - challenges students to conduct research that builds on their interests in a particular field.

The wealth of extracurricular options in Wellesley's affordable Middle Eastern studies undergraduate program set it apart from many of the other schools on this list. Many of these activities stem from the Arabic Cluster (Wellesley's take on the "living learning community"), which gives program members the opportunity to live with other Arabic speakers and practice their language skills outside of class. Every year, the Arabic Cluster hosts a Fulbright scholar from an Arabic-speaking country who lives with the students and helps to coordinate cultural events and programming. Wellesley also offers a winter session in Moroccan language and culture that includes a visit to southern and central Morocco.

Davidson's Arab Studies Department takes a kind of "parallel processing" approach to teaching. Recognizing that Arabic language and culture are inextricably linked, the college's curricular architects have designed classes, such as "Contemporary Syrian TV Drama," that simultaneously provide valuable colloquial language practice and a glimpse into modern Arab society. Many students also take advantage of opportunities to attend extracurricular cultural activities within the neighboring Arab community. Overall, Davidson's unique philosophy and focus on helping its students explore Arab culture make it one of the best small college Arabic programs in the country.

Rather than follow a pre-determined sequence of courses, students in Barnard's Middle East track (within the Asian and Middle Eastern Studies major) work closely with an advisor to select pertinent coursework. One element of the curriculum includes language study, and Barnard is undoubtedly one of the top small college for Middle East studies majors with a strong interest in becoming multilingual; the college offers classes in Arabic, Persian, Sanskrit, Hebrew, and several other Middle Eastern dialects. In addition, all Middle Eastern Studies majors complete a senior thesis under the supervision of their advisor and can even take a half- or full-year Independent Study to help prepare for this capstone requirement.

Trinity's Arabic program has a slightly different structure from many of the other schools on this Arabic degrees ranking. The primary option for Middle East-interested students is the World Literature and Culture Studies major (available through the language department). This interdisciplinary degree combines the study of one or more languages (of which Arabic is one) with upper-level culture courses, such as "Writing the Body in Contemporary Arabic Literature" and "Arab and Middle Eastern Cinema." As a supplement, program members can add a minor in Middle East Studies, which provides a deeper look at Arab culture through unique courses like "Gender and Sexuality in Middle Eastern History," "Daily Life in the Middle East," and "The Contemporary Arabic Novel."

Mount Holyoke College

Location

South Hadley, MA

Mount Holyoke's exceedingly flexible curriculum makes it one of the best colleges for a Middle Eastern Studies degree for independent thinkers. The school requires only three designated classes, which means the rest of the classes are open for students to choose themselves. And since Holyoke's course catalog covers the full range of humanities and social science topics - from international relations to art history - finding an educational focus shouldn't be difficult. And Mount Holyoke's membership in the Five College Consortium only adds to the wide array of classes from which undergrads may choose. This range of selection proves especially advantageous for Middle Eastern Studies majors, who are free to choose classes from any department - provided at least half the curriculum is relevant to their field of study.

Smith College's top Middle Eastern studies undergraduate program combines foundational courses (on topics like the history of Islam, for example) with contemporary classes such as "The Arab Spring" and "Syria beyond the Headlines." The degree also includes a four-credit concentration that allows each student can design an individual area of specialization. Areas of focus often align with a particular discipline, such as art, politics, or history. Smith's Middle East Studies major also requires at least two years of training in an approved language. In addition to Arabic, undergrads at Smith can study Hebrew, Farsi, or Turkish, and the program offers study abroad trips to Middle Eastern countries like Jordan, Morocco, and Israel where students can practice their language skills with native speakers.
Want to find out exactly how much it will cost for you to attend one of these affordable Middle Eastern studies undergraduate programs? Check out the U.S. Department of Education's Net Price Calculator Center.
We think you might also like: 50 Best Value Rankings: Best Small Colleges
Sources:
Get prepared for your next steps
Use articles and resources to uncover answers to common questions, get guidance on your goals, and learn about applying to schools.
Discover a program that is right for you.
Explore different options for you based on your degree interests.