WHAT IS THE BEST COLLEGE CLASS SIZE?

Are you ready to find your fit?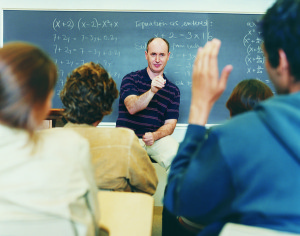 Does college class size matter? If you were to ask bodies who rank colleges based on several different sets of criteria, the answer would be undoubtedly yes. Prospective students who are preparing to enter a higher education program often focus on a school's reputation, accreditation, the majors offered, and even whether or not the school offers financial aid.
One factor that many students do not consider is the student-to-professor ratio, and while class size in college may not be emphasized as much as it is in high school, class size does affect graduation and retention rates. If you are wondering what the best class sizes are based on the ranking criteria set by respected body US News & World Report, read on and learn what you need to know.
Class Size is a Key Measure of Academic Quality
The US News & World Report organization has created a list of the US News Best Colleges rankings, which ranks high education institutions based on their measures in 16 key areas. These key factors fall into 7 different categories, which rank academic quality at a college based on graduation rates, retention rates, student selectivity, financial resources, alumni giving, performance and faculty resources (which includes class size). While each of these indicators is very important when ranking a school, class size is often overlooked because colleges do not have the faculty resources that they often need to keep class sizes low. With this being said, some schools do rank high on the Best list in the faculty resources category, meaning that it is possible to find a college that still understands the importance of a fair student-to-professor ratio.
What Class Size is Ranked Best?
Professors have generally had experience teaching very small classes as well as very large classes. There are downsides to teaching a class with fewer than 5 students, just like there is a disadvantage of teaching classes with 100 or more students. In terms of class scores and performance, classes that are between 1 and 19 students tend to earn the highest scores in the best ranking model. While classes with 20 to 25 students do not fall into this category, they are far better than classes that are extremely large. The other ranking on the US Best ranking list is class sizes of 50 students or more. These undergraduate courses will have a smaller percentage of students who score higher than average in the ranking model. By considering all of these facts, it is easy to see that classes with fewer than 20 students are better than those with more than 50.
You must consider all of the important factors when you are deciding which class size is best. While the sheer number is an indicator, you also need to know how faculty compensation and expenditure per student can affect the performance of students in small and larger courses. Professors who earn high salaries and teach larger classes will teach students who tend to perform better on tests than large classes taught by professors who are not compensated as well. Make sure you understand how a student-faculty ratio will affect your performance in college, and you can select the best school for you by choosing a school that offers a college class size that is not too high or too low.
Related: College Knowledge - Guidance for Students Searching for the Right College
Get prepared for your next steps
Use articles and resources to uncover answers to common questions, get guidance on your goals, and learn about applying to schools.
Discover a program that is right for you.
Explore different options for you based on your degree interests.