What is an Honors College?
Are you ready to find your fit?
Honors Colleges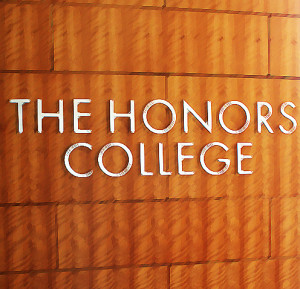 If you're looking to put your exceptional academic abilities to the ultimate test, you may be considering enrolling in an honors college to exceed your educational ambitions.
Since the upsurge in higher education after World War II, honors colleges have grown increasingly popular for providing special enriched learning opportunities for top-tier students. Honors colleges typically are housed as autonomous academic entities in larger four-year multi-collegiate universities. Honors students are provided more demanding courses, stimulating discussions, international study options, and engaging thesis projects in a supportive learning environment tailored to their unique needs.
Below we'll take a deeper look into what honors colleges offer bright, motivated students to help determine if it's the right setting for you.
Featured Online Programs
Figuring out where to apply? These top, accredited schools offer a variety of online degrees. Consider one of these accredited programs, and discover their value today.
Benefits of Honors Colleges
Publicly supported state schools often create honors colleges to attract talented students who might otherwise select a liberal arts college or private research university. Therefore, honors students can expect to get the equivalent of an education at a smaller school for significantly lower tuition costs. Honors colleges offer students the chance to attend smaller classes, interact with full-time faculty, live in the honors housing community, and sometimes receive priority registration. Attending an honors program paints a positive picture on a student's academic reputation, so it's also an excellent springboard for leaping into graduate, medical, veterinary, or law school after graduation.
Potential Drawbacks of Honor Colleges
Honors colleges are usually the ideal learning setting for ambitious university students, but there are some potential disadvantages that students should be aware of. Not all credits needed to complete your major will be honors courses, so you will still need to take some traditional lectures with larger class sizes. Although universities often have more resources available than liberal arts schools, honors students must share them with the rest of the student body and often deal with crowds. Honors colleges typically focus on academics, which cuts down on time for extra-curricular activities and even hands-on internship experiences. Also, the application process for an honors program will be highly selective with additional essays and interviews required.
Tips for Choosing an Honors College
As with selecting any other collegiate setting, it's important to find honors colleges that fit your individual learning needs and offer the undergraduate major you seek. Honors colleges are commonly located within universities that pride themselves on their research and/or scholarship mission. Look for accredited universities with highly developed honors colleges that offer a great range of curriculum, comprehensive research resources, diverse campus culture, small class sizes, and top faculty credentials. Make sure you investigate how learning opportunities are being cultivated in the honors colleges and what will be expected of you. If you want to extend your learning into your living environment, find universities that boast residence halls specifically catered to honors students too.
Once you've made the decision that an honors program would be a great fit, it's time to bulk up your application by earning high standardized test scores and showing the additional academic talents you'll bring to the campus community. Honors students must write a greater volume of papers, so put extra time into preparing a compelling application essay as well. Then, you'll have the best chance of being in the upper quarter of the applicant pool and landing a prestigious spot in your university's honors college.
See also: Top Most Affordable Universities
Get prepared for your next steps
Use articles and resources to uncover answers to common questions, get guidance on your goals, and learn about applying to schools.
If you're pursuing a master's degree in psychology, you may have been asked the following question: "What can you do with a master's in psychology?" It may even be a...
Are you interested in helping others resolve their issues and hurdles through talk therapy? You may want to consider a career in the counseling field. Counseling is a field that's...
Mental health counseling jobs exist across many settings — from hospitals and government agencies to schools and private practices, and they're projected to grow. The Bureau of Labor Statistics (BLS)...
Discover a program that is right for you.
Explore different options for you based on your degree interests.