HOW IMPORTANT IS IT TO DECLARE A MAJOR IN THE FIRST YEAR OF COLLEGE?
Are you ready to find your fit?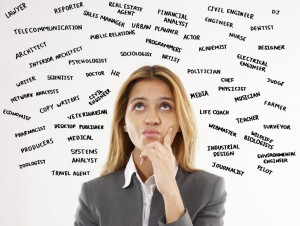 College is sure to be four of the most enjoyable years of your life. That said, the first year can be a bit rocky. After all, it's likely to be the first time you've lived on your own away from your parents. Not only is it just you, but you're also going to be surrounded by thousands of other students who are enjoying living on their own with no one telling them what to do. With all of this in mind, your first year is important and should be used as a valuable lesson. However, it doesn't necessarily mean that you need to declare a major in your first year of college. And more so it doesn't mean that if you don't declare, you'll be lost for the remainder of your time at university. Here are some reasons why a major isn't as important in the first year and some tips that you can use to stay on track throughout your college career.
Gen Ed Classes
Every freshman has to take a variety of general education classes that are required to graduate. This means that no matter how much you hate math, science, history or some other course, you will have to take the barebones requirements to get credit. Instead of being disappointed about having to take these classes, use your first year to complete them. This will allow you the time to think more about what you would like to declare as your major in future years, but also keep you on track to have the right amount of credits for each term. The important thing to remember is to not completely forget about these gen ed courses, as they will surely factor into your GPA, which could affect your ability to get you into a major down the road.
Another great benefit of general education courses is that they help you find things that you may be interested in that you never would've considered before. So instead of looking at gen ed as requirements, look at them as learning experiences that will help you better understand what to expect when you are required to do things you may not want to (because guess what? Chances are this will happen in the workforce after college). Here are 10 questions that will help you choose classes that may better prepare you for declaring your major in the future.
The Clock's Ticking
Assuming you keep your GPA up in your first few years, you should stay on track for later years in college. After all, some schools won't require you to declare your major until your sophomore or junior year. With that in mind, remember that there is plenty of time, as long as you are watching the clock. What this means is that you shouldn't let a few general education courses that you have to take a turn into multiple semesters worth of meaningless classes. Within your first year of college, you should have a general idea of what direction you'd like to take with your college career. Even if you don't declare a major yet, it is important that you do what is necessary to get on a path that you can see yourself enjoying in the future. Join clubs meet like-minded people, and contact teachers to get a better idea of the field you would like to study. This will help you decide if a certain career is something you truly want to do or not.
After you graduate and get your first student loan bill, you will quickly realize that every course that you took in college meant something. If not educationally, then certainly financially. However, that doesn't mean that the classes you took during your first year will dictate what you do the rest of your life. All it takes is making sure that you stay on the right path and keep an eye open for potential opportunities that may interest you.
See related: Best Value Schools – Should I go to College if I Don't Know What to Major in?
Get prepared for your next steps
Use articles and resources to uncover answers to common questions, get guidance on your goals, and learn about applying to schools.
If you're pursuing a master's degree in psychology, you may have been asked the following question: "What can you do with a master's in psychology?" It may even be a...
Are you interested in helping others resolve their issues and hurdles through talk therapy? You may want to consider a career in the counseling field. Counseling is a field that's...
Mental health counseling jobs exist across many settings — from hospitals and government agencies to schools and private practices, and they're projected to grow. The Bureau of Labor Statistics (BLS)...
Discover a program that is right for you.
Explore different options for you based on your degree interests.