SHOULD I GO TO COLLEGE IF I DON'T KNOW WHAT TO MAJOR IN?

Are you ready to find your fit?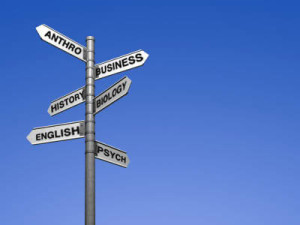 Many parents agonize over their recent graduate's indecision about declaring a college major. They feel their children should enter higher education with a career path in mind.
While there are many education experts who support that position, there is an equal voice from the other side of the debate.
Certainly, you can enter college without declaring a major, but should you?
The Great Debate: Declare or Wait
Lynn O'Shaughnessy, in an article from College Solution, says students can benefit from waiting to choose a major. She thinks they should wait until they have college experience and time to explore options. O'Shaughnessy cites a Western Kentucky University study concluding students who waited until the end of their sophomore year to declare a major had the highest four-year graduation rate (83.4 percent as opposed to 72.8 percent for those who entered school with a major).
In a Forbes article, Dan Johnston, Regional Director of Pennsylvania's Higher Education Assistance Agency, would disagree with those findings. In fact, he says that waiting to declare a major until the beginning of your junior year is "the worst possible advice" for students entering college. Admitting that some students benefit from waiting, he asserts it is a very small percentage of those entering college. He argues that students who wait to declare a college major often must stay in school longer to take classes required for their majors. That equates to more money spent and possibly taking on more debt to pay the annual $20,000 to $40,000 most colleges charge for tuition.
Additional Studies Support the Western Kentucky Data
British universities require students to declare college majors while they are still in high school. Researchers found that those students were less likely to hold jobs related to their field of study. Scottish students, in contrast, took a wide variety of classes in their first two years of university study. More of those graduates found careers in their chosen fields. Mr. Johnson agrees that students who investigate courses of study before declaring a major have a higher success rate. There are, however, other ways of gaining that educational perspective.
Related Resource: Which College Degrees Prepare Students for the Highest Paying Careers?
How Can Students Get Information about the Best College Major for Them?
Dan Johnston recommends auditing college classes while students are still in high school. Some secondary schools even offer dual enrollment programs that let students earn credits that apply to their diplomas as well as degree requirements. Additionally, though there is an up-front tuition charge for the classes, high schools often reimburse students if they complete the courses successfully. Of course, most universities and colleges tailor the first two years to offer core education in math and language. Electives during that time can help students make choices. Students can even be "undeclared" within a major; they wait to declare a specialty but register under the broad major. The debate is not about gaining perspective before declaring a major, but about when the major should be declared.
Whether you declare a major when you enter college or wait until you are certain of your decision, both sides of the debate agree you need to make an informed choice. Education costs, realistic self-assessment and time constrictions all play roles in that choice. The decision of when to declare a college major is highly individual.
Get prepared for your next steps
Use articles and resources to uncover answers to common questions, get guidance on your goals, and learn about applying to schools.
Discover a program that is right for you.
Explore different options for you based on your degree interests.