How Do You Become a Crime Scene Investigator?
Are you ready to find your fit?
Becoming a CSI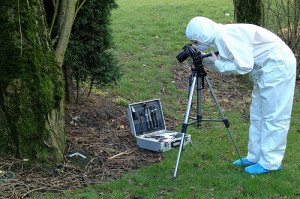 Becoming a crime scene investigator is a popular ambition thanks to shows like CSI, Bones, Castle, and NCIS, but the job is a bit more tricky that television often suggests.
Crime scene investigators, also referred to as forensic science technicians or forensic investigators, are responsible for collecting and analyzing physical evidence from crime scenes. CSIs work tirelessly examining every fingerprint, hair, fiber, sample, and smudge that could later be used by police to bring criminals to justice. Crime scene investigators spend most of their time in the field securing the crime scene, taking measurements, sketching diagrams, taking photographs, and attending autopsies.
Featured Online Programs
Figuring out where to apply? These top, accredited schools offer a variety of online degrees. Consider one of these accredited programs, and discover their value today.
If you're determined to play this crucial role in solving crimes, the following is a step-by-step guide for becoming a crime scene investigator.
1. Earn an Accredited Bachelor's Degree
In most cases, crime scene investigators are required to hold at least a bachelor's degree from a regionally accredited post-secondary institution. Most aspiring investigators choose to major in the natural sciences to earn their undergraduate degree in chemistry, forensic science, biology, or criminal justice.
Resources:
Top 18 Cheap Online Criminal Justice Degree Programs (Bachelor's)
Top 5 Cheap Online Forensic Science Degree Programs (Bachelor's)
For the best career preparation, fill your electives with coursework related to forensics, investigation, legal studies, ethics, criminal justice, psychology, human anatomy, physics, and chemistry. Participating in a work-study or internship program at a police station could be very helpful for transitioning into the workforce.
2. Obtain Law Enforcement Training
Although it isn't always required, the majority of crime scene investigators are sworn law enforcement officers who have completed a police academy program. Even if you don't choose this route, you'll need to receive significant on-the-job training before you can work on cases independently. Entry-level crime scene investigators will apprentice under a more experienced technician to learn about the accurate procedures for documenting evidence. This training can take anywhere from six months to three years and may culminate in a proficiency exam.
3. Pursue Professional Certifications
Once you've finished training, it's smart to work towards professional certification to prove your abilities and achieve quicker promotion. In some states, it's actually required that forensic science technicians become certified every few years to stay up-to-date on-field developments. Through the International Association for Identification (IAI), you can become a Certified Crime Scene Investigator (CCSI), Certified Crime Scene Analyst (CCSA), Certified Crime Scene Reconstructionist (CCSR), or Certified Senior Crime Scene Analyst (CSCSA) depending on experience. You'll need to successfully pass a written test with a minimum score of 75 percent.
4. Consider Attending Graduate School
Advancing into a higher position in forensics is possible for crime scene investigators who put in the effort to work hard and perhaps earn a graduate degree. You can choose to further your education with a master's or doctoral degree related to forensic science. Master of Science (M.S.) programs offer forensic science students the chance to specialize in niches like DNA analysis, forensic chemistry, or crime scene photography for supervisory roles. A Doctor of Philosophy (Ph.D.) isn't required, but the research-oriented degree can help unlock research and teaching jobs too.
For students with good communication skills, problem-solving abilities, attention to detail, and composure in viewing acts of violence, forensic science can be a great match. Employment of crime scene investigators is expected to grow slower than average by six percent before 2022, which means competition for job openings will be strong. Make certain you follow these steps for becoming a crime scene investigator to boost your likelihood of success in law enforcement.
See also: Affordable Criminal Justice Degree Online (Bachelor's)
Get prepared for your next steps
Use articles and resources to uncover answers to common questions, get guidance on your goals, and learn about applying to schools.
If you're pursuing a master's degree in psychology, you may have been asked the following question: "What can you do with a master's in psychology?" It may even be a...
Are you interested in helping others resolve their issues and hurdles through talk therapy? You may want to consider a career in the counseling field. Counseling is a field that's...
Mental health counseling jobs exist across many settings — from hospitals and government agencies to schools and private practices, and they're projected to grow. The Bureau of Labor Statistics (BLS)...
Discover a program that is right for you.
Explore different options for you based on your degree interests.