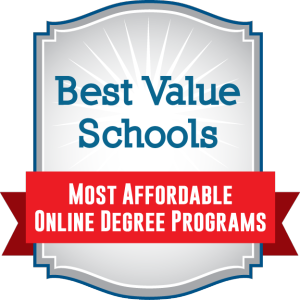 If you're interested in studying Public Relations and also want to take classes online, this list of the nine most affordable online public relations degree programs will help you choose a quality program.
Methodology
To construct the list, we first did research about all the schools offering degrees in PR. Note that for the purposes of this list, it is not sufficient for schools to just offer a general Communications degree. They must offer a degree specifically in Public Relations or offer it as a concentration within another degree. The selected schools described below have comprehensive PR programs, offer them 100% online, and are also extremely affordable. In fact, all the colleges you'll see below have tuition below $14,000 a year. To be specific, we consulted the U.S. Department of Education's College Navigator database to identify the nine most affordable accredited institutions offering online public relations degree programs. They are presented here in descending order of cost, with the most affordable appearing at #1.
Cheap Online Public Relations Degree Program Ranking
1. University of North Dakota
Online Bachelor of Arts in Communications with a Public Relations Emphasis
Tuition: $7,508/yr
The University of North Dakota has a very highly-ranked Communications program, and was ranked by The Best Colleges as one of the "Top 10 Online Communications and Public Relations Bachelor's Degree Programs." Although it is a public institution, all students who enroll in an online public relations degree are offered in-state tuition, regardless of residency. You'll get to interact in a virtual classroom and choose your own area of concentration, such as Print Journalism, Advertising, or Public Relations. The integrated curriculum combines a focus on information processes and communication technologies with a broad, comprehensive liberal arts education.
2. Arkansas Tech University
Online Bachelor of Professional Studies with a Concentration in Public Relations
Tuition: $5,598/yr (In-state) $10,374/yr (Out-of-state)
Arkansas Tech University offers an online Bachelor of Professional Studies degree that provides adults with the education they need to enhance their current careers and prepare them for new opportunities in multiple industries. Students can choose one of a multitude of concentrations, including Applied Leadership, Criminal Justice, and Public Relations. The cheap online public relations degree is offered in an accelerated format that is idea for working adults and community college graduates. General coursework includes classes like Business Information Systems, Technical Writing, and Professional Communications, and concentration-specific classes include Microcomputer Applications, Interviewing Principles and Practices, and Public Relations Writing. As reported by Cappex, ATU receives 5-star ratings in the categories of "Am Enjoying Being Here" and "Am Learning a Lot."
3. Franklin University
Public Relations Degree Program Online
Tuition: $10,681/yr
If you're interested in studying topics like social media and web development, internal communications, communications coaching, publicity, and promotions and special events, consider pursuing an affordable online public relations degree from Franklin University. Franklin offers flexible scheduling and allows students to choose between 6-week, 12-week, and 15-week classes so individuals can choose the format that best suits their lifestyle. The school also makes transferring credits from previous schools very convenient and gives out nearly $15 million in scholarship money each year. Take classes like Media Research and Writing, Rhetoric and Social Influence, and Relationship Marketing at a school that has been named one of the Top Military-Friendly Colleges and Universities by Military Advanced Education magazine.
4. Montana State University - Billings
Bachelor of Science Public Relations Online
Tuition: $5,745/yr (In-state) $17,088/yr (Out-of-state)
One of the benefits of attending Montana State University - Billings for your accredited online public relations degree is that you have the most extensive list of options possible for your education. You can earn a Bachelor of Science in Public Relations, or you can get a degree in Applied Science or Liberal Studies and then choose a Public Relations-related concentration, such as Management and Public Relations or Mass Communications and Public Relations. Applied Science (BAS) and Liberal Studies (BSLS) degrees are ideal for students who already have an Associate's degree and can focus on earning additional credits in their concentration area. The university makes it onto U.S. News and World Report's list of best Regional Universities (West).
5. University of Minnesota - Crookston
Communication, BS Online With a Concentration in Organizational Communication/Public Relations
Tuition: $11,448/yr
The University of Minnesota - Crookston degree in Communication offers three optional concentrations: Communication Studies, Writing, or Organizational Communication/Public Relations. Students can develop a broad understanding of the field through general classes in Communication Theory, Human Relationships and Leadership, and Writing in Your Profession, as well as others. You'll also get a chance to take seminars, complete final projects, and build a portfolio as you study conflict management, group and team dynamics, and leadership. Graduates find very successful careers in media relations, corporate communication, and public relations. You can also complement your degree with a minor in Marketing or Business Management. UMC online has received numerous awards, including a "Best Online Program" ranking by U.S. News and World Report a "Best College in the Midwest" ranking by Princeton Review.
7. North Dakota State University
Public Relations and Advertising Online
Tuition: $7,660/yr (In-state) $18,242 (Out-of-state)
Interestingly, the University of North Dakota isn't the only institution in the state to make this list. North Dakota State University also offers an attractive program in Public Relations and Advertising that can be administered entirely in an online format. Students take 36 credits toward their major and can choose to concentrate in either PR or Advertising. In order to best prepare students for life after graduation, NDSU requires students to earn a B or better in all of their pre-communications classes before allowing them to declare a concentration in either area. Although all credits can be earned for this public relations degree online, the university does encourage students to pursue an internship, which of course requires face-to-face interaction. NDSU is the only university in the state to make the Carnegie Commission on Higher Education's list of research-intensive universities and Forbes has ranked the town (Fargo) as one of the "Top College Tows for Jobs."
8. West Virginia University
Public Relations Area of Emphasis Online
Tuition: $6,456/yr (In-state) $19,632/yr (Out-of-state)
West Virginia University offers a comprehensive public relations degree online that is geared toward adult learners. Much of the degree is oriented around teaching students how to build and maintain relationships with various audiences while utilizing their communication strategies and skills to craft positive images for clients. Online public relations degree students can also choose an area of emphasis, such as Business Administration, Marketing, Health Promotion, or Political Science so you can design the degree that will get you exactly where you want to go. WVU is on U.S. News and World Report's list of Best National Universities and also has a higher-than-average freshman retention rate.
9. Penn State World Campus
Online Bachelor of Arts in Advertising/Public Relations - Strategic Communications Option
Tuition: $13,202/yr
Go beyond a typical Communications major with a degree from Penn State. By choosing to study Strategic Communications you'll learn about advertising, marketing, communications, technology, public relations, law, social media, research, and still more. This means you'll get a diverse education that will prepare you for any number of careers. By the time you graduate you'll have had practice writing press releases, conducting communications campaigns, and analyzing marketing and advertising efforts, among other projects. Penn State's World Campus has been nationally recognized by U.S. News and World Report as a "Best Online Bachelor's Program." Earning an online public relations degree from Penn State World Campus will provide a great foundation for a rewarding career.
Related articles:
Sources:
Cappex - Arkansas Tech University
Military Friendly - Franklin University
U.S. News and World Report - Montana State University Billings
U.S. News and World Report - Walden University
Forbes - Top College Towns for Jobs
U.S. News and World Report - West Virginia University
About the Author:
Iris Stone got her start in writing when she began working as a freelance writer and researcher in 2011. Her freelance business soon took off and she now owns and operates a writing and editing firm that works with clients all across the country. Despite the time it takes to run a business she still does much of the writing herself, and her work has included a variety of content related to education policy, colleges and universities, academic programs, and graduates' careers. Check out her Google+ Profile.