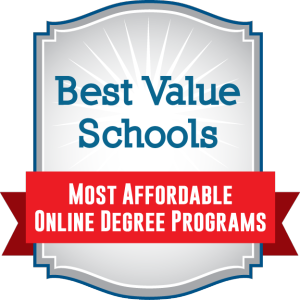 The field of Marketing is one of the fastest growing areas of business today and there has never been a better time to earn an online marketing degree. People who understand how to use the internet as well as traditional media to communicate their message and attract customers will go far in the business world. Unfortunately, not everyone has the time or resources to attend a traditional four-year college and spend hours a week on campus. Luckily, that's no longer necessary to get a top-notch education. Take the list of accredited online marketing degree programs below, for example.
Methodology
After developing a list of all the accredited institutions in the country that offer degrees in Marketing, we then narrowed the selection to include only those that offer their programs in a 100% online format. Of the colleges left, only the twenty with the lowest overall tuition rates (according to the U.S. Department of Education's College Navigator database) made it into this article. It's important to note that for public schools, we calculated an estimated tuition by taking the average of the in-state and out-of-state rates. Many of these schools, cheap as they might be, are also impressively high-quality and have received top ratings from U.S. News and World Report, Princeton Review, College Prowler, and more.
Cheap Online Marketing Degree Program Rankings
---
1. Western Governors University
B.S. Marketing Management Online
Website
Tuition: $6,070/yr
The Bachelor of Science degree in Marketing Management from Western Governors University is perfect for entrepreneurs and experienced professionals who are looking to augment their existing education with a degree in Marketing. Students build a foundation in product management, promotion, strategic marketing, sales, distribution, and pricing while also learning about important business principles, such as finance, information systems, accounting, and economics. With an online marketing degree from WGU, you'll be prepared to be not just a successful marketing professional, but an effective leader as well. The school has been named one of the most innovative companies in America by Fast Company, a Top Online School by Guidetoonlineschools.com, and Best Practices in Distance Learning program by the U.S. Distance Learning Association.
2. Bellevue University
Marketing Management Degree - Bachelor of Science Online
Website
Tuition: $6,300/yr
Bellevue is a much decorated university, earning awards as a Top 20 Online Bachelor's Degree Program and Top 10 Online Bachelor's Degree Program for Veterans from U.S. News and World Report. Students can take Bellevue's Marketing Management degree program in both an accelerated and cohort format, which allows them to graduate early and tap into a helpful network of peers. You'll move step-by-step through curriculum in sales, advertising, ethics, law, quality management, and the nature of consumers before completing the program by developing a comprehensive marketing plan. This major is ideal for students who have past work experience that can be applied for credit toward their degree.
3. American Public University
Online Bachelor of Arts in Marketing
Website
Tuition: $6,400/yr
If you're interested in sales, advertising, and promotion and fantasize about working in a fast-paced environment, then a Bachelor of Arts degree in Marketing from American Public University might be for you. APU attracts military veterans and other adult learners who want to take classes in International Marketing, Marketing Management, Contracting and Negotiating, Public Relations, Strategic Internet Marketing, and more. Students also benefit from Independent Study and can choose to concentrate in Analytics, Sales, or General Marketing. American Public University was rated as one of the Best Online Bachelor's Degree Programs by U.S. News and World Report. And with a cost of only $250/credit, it's a hard deal to beat.
4. Thomas Edison State College
BSBA in Marketing Online
Tuition: $5,700/yr (In-state) $8,395/yr (Out-of-state)
Learn about product development, sales and brand management, wholesaling, public relations, and market planning and analysis through Thomas Edison State College's Marketing Concentration within the Business Administration major. This cheap online marketing degree program is designed for people who are already working in marketing and are interested in developing additional expertise in certain functional areas. All students are given the opportunity to showcase their knowledge and integrate much of the information they've learned into a final Capstone Project. The school has received national recognition and was named by The New York Times "one of the brighter stars of higher learning" that had "paved the way for adults."
5. Granite State College
Online Marketing (B.S.)
Website
Tuition: $7,065/yr (In-state) $7,545/yr (Out-of-state)
By the time you graduate from Granite State College with an affordable online marketing degree in Marketing, you'll be able to identify all the core concepts of marketing and develop marketing strategies and objectives. As you get your marketing degree online, you'll practice studying marketing trends, developing effective branding, and crafting powerful advertising messages. Classes are available entirely online, but you can also take classes on campus or in a flexible "hybrid" campus/online format. Classes are also available in intensive weekend sessions to accommodate the working adult. U.S. News and World Report named GSC as one of the "Best Online Degree Programs."
6. Mount Washington College
Online Business Administration Bachelor's Degree: Marketing Concentration
Website
Tuition: $8,016/yr
Combining a degree in Business Administration with a Concentration in Marketing gives you all the flexibility of a degree in Business with all the specialized skills that come with training in advertising, sales, and promotions. Students take classes in Principles of Management, Business Ethics, Advertising, Marketing Research, Consumer Behavior, and more before moving on to careers in business, finance, office management, and advertising. You also might be able to get 100% tuition coverage through the school's DREAMers scholarship initiative. Mount Washington College is a Better Business Bureau accredited business with an A+ rating.
7. Baker College
Marketing - Bachelor of Business Administration Online
Website
Tuition: $8,100/yr
Baker College understands that, in order to be competitive in the marketing industry, one needs to not just hold a coveted Marketing degree, but also enter the field fully prepared to take on responsibilities with minimal additional training. That's why the school has developed a comprehensive program that enables students to find significant work as marketing managers making attractive salaries, even as a new grad. The program is accredited by the International Assembly for Collegiate Business Education (IACBE) and involves team activities, real-life business simulations, and individual projects. It's easy to see how successful Baker grads are when you look at the statistics - in fact, 97% of them are currently employed.
8. Colorado State University - Global
Online Bachelor's Degree in Marketing
Website
Tuition: $8,400/yr
One of the unique aspects of Colorado State University's Bachelor of Science in Marketing is that you have the option of specializing in an additional career-relevant area. Some of these are fairly traditional choices, such as Business Administration or Finance, but you can also make a more unique selection, such as Criminal Forensics, Emergency Management, or Healthcare Informatics. While getting your marketing degree online, you'll take classes like Consumer Behavior, International and Multicultural Marketing, and Promotion and Public Relations, and then complete a final Capstone Project that challenges you to put your newfound knowledge into practice. CSU has been named a "Best Online College" by SuperScholar as well as a "Best Online Bachelor's Program" by U.S. News and World Report. CSU also appears on our list of Top 10 Cheap Online Retail and Sales Management Degree Programs (Bachelor's) 2019.
9. New England College of Business and Finance
Online Bachelor's Degree in Business Administration: Marketing or Digital Marketing
Website
Tuition: $9,235/yr
At the New England College of Business and Finance you have the option of choosing between a Business Administration Degree in Marketing or a Bachelor of Science in Digital Marketing. By choosing the BSBA program you can learn about business while also being trained in how to build customer relationships, conduct market research, and take on management roles. Many grads go on to become marketing specialists, sales managers, and advertising representatives. Students in the Digital Marketing program learn about media strategies, digital content, Web 2.0 advertising, and virtual operations. These grads become creative developers, web masters, and SEO specialists, among other things. The school has over 200 corporate partners that allows them to offer more "real world" business and marketing classes.
10. University of Maryland University College
Online Major in Marketing
Website
Tuition: $6,552/yr (In-state) $12,336/yr (Out-of-state)
By enrolling at the University of Maryland University College, you can get all the benefits of one of the most trusted names in Mid-Atlantic education with the convenience of an accredited online marketing degree. Students learn about information technology, law, operations, and customer relations, which gives them a broad foundation in business principles. Highly-regarded professors also offer training in scenario planning, customer profiles, market intelligence, and competitive analysis so that you can secure an in-demand position in either the private or public sector. UMUC is regionally accredited and has been labelled a top military- and veteran-friendly institution.
11. Fashion Institute of Technology
International Trade and Marketing for the Fashion Industries BS Degree Program Online
Website
Tuition: $5,105/yr (In-state) $13,955 (Out-of-state)
For a twist on the typical marketing degree, consider applying to the Fashion Institute of Technology's program in International Trade and Marketing for the Fashion Industries. The major is ideal for students who have an interest in fashion but would prefer to work in management rather than design. Students take classes like International Business Transactions, Strategies of Business Communication, Global marketing, and Import/Export Regulations. Graduates go on to pursue careers in marketing, management, logistics, customs, licensing, and other areas of importance to global fashion marketing. As part of your education, you'll also gain proficiency in a foreign language and have the option to take classes in World Civilizations and History. The school boasts three separate accreditations and has produced a long list of notable fashion icons, including Calvin Klein and Michael Kors.
12. University of Northwestern Ohio
Online Degrees Marketing
Website
Tuition: $9,565/yr
The University of Northwestern Ohio gives students the flexibility to choose between a Bachelor degree in Marketing or a BSBA degree with a Marketing Concentration. Either way, you'll take classes like Consumer Behavior, Internet Marketing, Services Marketing, International Marketing, and Marketing Research, but the degree in Marketing also includes many more specialized classes, such as Professional Selling and Integrated Marketing Communications. Marketing majors also take special electives classes, while Business Administration majors focus more on general business principles, Economics, Accounting, and Human Resources. Cappex reports that the school frequently gets 5 star ratings in categories like "Bang for the Buck" and "Am Enjoying Being Here."
13. University of Phoenix
Online Bachelor of Science in Business With a Concentration in Marketing
Website
Tuition: $10,500/yr (On average)
The University of Phoenix's program in Business with a Concentration in Marketing prepares students to further their careers in management by instructing them in all the principles of finance, law, organizational behavior, research, and technology. Students are also encouraged to develop critical thinking skills, flex their analytical muscles, and practice conducting research so that they will be more suited for careers in marketing. You'll learn how to identify customer needs, communicate with potential clients, develop pricing strategies, and even develop effective advertisements. The university has strong corporate partnerships with big names in the industry, including AT&T and MGM Resorts, which means you may have a better chance of landing a job after graduation that will really take you places.
14. Colorado Technical University
Online Bachelor of Science in Business Administration - Marketing
Website
Tuition: $10,531/yr
CTU's Marketing program is unique because of the school's focus on technology. The curriculum is designed around the changing fields of advertising and public relations that require marketers to think outside the box and turn to web and social media applications rather than traditional media. Students become business savvy as they learn about product service planning, marketing research, the virtual marketplace, applied marketing management. After graduation, many students become business analysts, program managers, store managers, and more. 84% of students report that they are satisfied with their experience at CTU and 98% of employers say that graduates perform their jobs as well or better than other employees.
15. Franklin University
Online Marketing Degree Program & Marketing Major
Website
Tuition: $10,681/yr
Learn to channel your creativity and inspire it in others with a marketing degree from Franklin University. The affordable online marketing degree curriculum covers advertising, global relations, public relations, digital marketing, e-commerce, market research, analysis, strategy, and a multitude of other areas that will be invaluable in your future career. Speaking of future careers, with a degree from Franklin you will be ideally poised for a job in copywriting, research analysis, promotion coordination, and management - to name but a few. Franklin is considered one of the best schools for military veterans and counts numerous CEOs and entrepreneurs among its alumni.
17. University of Minnesota Crookston
Ranked as one of the top universities by the U.S. News and World Report, Princeton Review, OnlineU, Affordable Online Colleges, SuperScholar, Guide to Online Schools, and more, the University of Minnesota Crookston offers several online marketing courses.
Marketing, BS Online
Website
Tuition: $11,448/yr
Become an account manager, or a public relations manager, or a copywriter, or an event planner, or virtually anything else in advertising or sales with a degree from the University of Minnesota. Despite the fact that the degree is taught online, students still get all the benefits of hands-on, experiential learning. Tackle challenging projects, design intricate marketing plans, and organize consumer analysis reports before you ever get a diploma. Students also have the opportunity to tailor their degree to their own preferences by choosing to double major or minor in Entrepreneurship or Management. UMC is a much lauded school, with awards and rankings from U.S. News and World Report, The Princeton Review, OnlineU, Affordable Online Colleges, SuperScholar, Guide to Online Schools, and more.
18. Walden University
Online B.S. in Business Administration: Marketing
Walden University's Business Administration degree is accredited by the Accreditation Council of Business Schools and Programs and includes multiple specialization options, including finance, small business management, and marketing. Start with business courses, such as Critical Thinking and Information Systems in Enterprise, before completing a final business capstone project. During this time you'll also take online marketing degree classes, conduct a case study in Services Marketing, and develop a final student portfolio that could just be the reason you land a job over your competitors in the job market. Walden also has a Self-Design option within the BSBA degree that could allow you to combine an interest in Marketing with other business specializations.
19. Walsh College of Accountancy and Business
BBA - Marketing Online
Website
Tuition: $11,640/yr
Walsh College has built a successful BSBA - Marketing degree program on the "four P's" - product, pricing, place, and promotion. Students learn about how to successfully impact consumers by studying advertising, public relations, sales, internet marketing, research, and communications. Built on a foundation of finance and management knowledge, students are in the best possible position to look for careers in marketing after graduation. Not only does the school have a high-quality curriculum based on both Professional Core and Concentration classes, but the online Bachelor's degree program in Business was rated a "Best Buy' by GetEducated.com.
20. University of Alabama at Birmingham
Online Bachelor of Science in Marketing
Website
Tuition: $7,206/yr (In-state) $16,398/yr (Out-of-state)
With a Bachelor of Science in Marketing from the Collat School of Business at the the University of Alabama at Birmingham, you can get all the resources of a large state school combined with the flexibility and convenience of a degree offered 100% online. The school has been awarded the title of "Best College" for its Business Program by U.S. News and World Report, holds a regional accreditation, and has an additional accreditation from the Association to Advance Collegiate Schools of Business. Study quantitative analysis, financial management, business communications, information systems, e-commerce, international marketing, entrepreneurship, strategic marketing, and more as part of this online marketing degree program at a school that can help you significantly improve your career prospects.
Additional Resources: Top 10 Cheap Online Internet Marketing Degree Programs (Bachelor's) 2019 and Marketing Scholarships.
Sources:
Wikipedia - Western Governors University
Wikipedia - Thomas Edison State College
Wikipedia - Granite State College
Better Business Bureau
Wikipedia - Fashion Institute of Technology
Cappex - University of Northwestern Ohio
Wikipedia - Franklin University
About the Author: Iris Stone got her start in writing when she began working as a freelance writer and researcher in 2011. Her freelance business soon took off and she now owns and operates a writing and editing firm that works with clients all across the country. Despite the time it takes to run a business she still does much of the writing herself, and her work has included a variety of content related to education policy, colleges and universities, academic programs, and graduates' careers. Check out her Google+ Profile.