BEST AFFORDABLE MASTER'S IN MATH EDUCATION ONLINE DEGREE PROGRAMS

Are you ready to find your fit?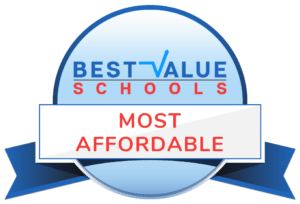 Students looking for some of the best online master's degrees in math education online can start their search here, with our list of "best value" schools. These colleges and universities boast an impressive combination of high-quality coursework and low tuition rates. The result is a list of the top cheap math education master's degrees online, places where teachers can improve their career prospects and advance their education with minimal disruptions to their daily schedules - and their wallets!
[editorial-links]
Earning a math education master's degree online allows teachers to advance their certification status and strengthen their knowledge of mathematical concepts. Thanks to the convenience of online classes, many students in these programs continue to teach and gain classroom experience even while their attending classes. All this means that by the time you graduate, you'll be in a prime position to land whatever job you want, whether you're eyeing that promotion to become head of the math department or want to transition into a career in education administration or policy.
The 20 Best Online Mathematics Education Graduate Programs Ranking Methodology
Selection Criteria
For this ranking, we focused on public and private (non-profit) colleges and universities that offer math education master's degrees online.
To ensure that we only included high-quality online master's degrees in math education on our ranking, we assessed each program according to the percentage of its curriculum that focuses specifically on math- and math education-related topics (as opposed to general education topics). Using this approach, we were able to focus our search on specialized graduate degree programs that put a strong emphasis on teaching math, rather than those that only offer two or three few math education classes as a possible certification area.
Ranking Factors
To qualify for our ranking, programs must devote at least 50% of their MEd curriculum to math education topics. Once we identified eligible schools, we filtered out all but the 20 cheapest (in terms of average* annual tuition rates and fees) to include in this article. We have ranked them below in order from most to least expensive.
In keeping with our goal of bringing you the best cheap master's in math education online degree programs, all of the colleges and universities on this list cost less than $25,000 a year to attend!
Read more about the best cheap online mathematics education graduate programs below!
*For public schools, we calculated the average value of their in-state and out-of-state rates.
Ranking Cheap Online Master's Degrees in Math Education
#1

University of the Cumberlands

Williamsburg, KY

#2

Minnesota State University-Mankato

Mankato, MN

#3

Aurora University

Aurora, IL

#4

Marshall University

Huntington, WV

#5

Kennesaw State University

Kennesaw, GA

#6

Regent University

Virginia Beach, VA

#7

East Carolina University

Greenville, NC

#8

Northern Arizona University

Flagstaff, AZ

#9

Western Kentucky University

Bowling Green, KY

#10

University of Arkansas

Fayetteville, AR
Featured Online Programs
Figuring out where to apply? These top, accredited schools offer a variety of online degrees. Consider one of these accredited programs, and discover their value today.
University of the Cumberlands

Location

Williamsburg, KY

With an average tuition that comes in below $6k, the University of the Cumberlands easily earns the title as the top cheap online master's degree in math education. But the school has plenty to offer besides financial savings. In fact, its MAED rivals much more expensive programs when it comes to quality and comprehensiveness. As a student interested specifically in math education, you'll enroll in the Teacher Leader (Math) track. This concentration aims to impart skills that support degree candidates' "lifelong pursuit of professional achievement, responsible service, and leadership in teaching." The curriculum, therefore, covers a wide range of topics, from number theory, statistics, and geometry to research methods and mentoring practices.

Minnesota State University-Mankato

If you're looking for a program that lets you customize your coursework, you'll love the master's in math education online degree program at Minnesota State University - Mankato. This MS in Elementary Education lets you mix and match all sorts of different options to suit your interests. First, select one of three subject tracks: STEM, Math, or Generalist. If you pick the Math option, you might also want to add in some of the STEM track courses - such as "Integrating Science, Technology, Engineering, and Mathematics" - as electives. And at the end of the program, you'll also get to pick your capstone. You can complete a thesis, creative project, or in-depth research paper.

Few schools offer a mathematics education program as comprehensive and robust as Aurora's. Here, the curriculum is entirely devoted to coursework in teaching mathematics - that means no classes in general education or other content areas. From "Numbers and Mathematical Thinking" to "Applications in STEM" and "Educational Research in Mathematics and Science" this affordable master's in math education online degree program leaves no stone unturned. As a result, you'll graduate from this program with a full suite of specialized math, teaching, and leadership skills that will help you be successful in your career.

Marshall University offers not one, but two math education master's degrees online. The first is an Elementary Mathematics Specialist program that is designed to help K-6 teacher improve their content knowledge and leadership skills. Although you will have to complete some general teaching classes ("Educational Research and Writing," for example) the majority of the curriculum focuses specifically on math education, including geometry, algebra, and elementary mathematical methods. Marshall's other degree program is an MAEd with a specialization in Mathematics through Algebra I. This option is designed for middle school teachers who need to brush up on higher-level subjects like pre-calculus and finite math.

Kennesaw State University

Degree candidates in Kennesaw State University's MEd program can choose from a variety of subject and grade-level specialties. For example, students looking for a top online mathematics education graduate program will first select math as their subject area and then pick a sub-focus in either middle or secondary grades. The core courses for both options are the same and include classes like "Transformative Teaching and Learning with Families and Communities" and "Applied Quantitative and Qualitative Research." In addition, both programs require 12 credits of teaching field courses in math (e.g., "Technology and Mathematics"), nine elective credits, and a final capstone.

Regent University

Location

Virginia Beach, VA

Regent University's MEd in Leadership in Mathematics Education is an especially popular choice for Christian students. Although the curriculum doesn't include any explicitly religious coursework, most classes at Regent are "presented from a Christian worldview." As the degree title suggests, this affordable online master's degree in math education is also well-suited for teachers who want to take on leadership positions in their workplace. Classes like "Educational Leadership in Mathematics" and "Technology Applications for School Mathematics Leaders" - plus a cumulative project/portfolio - will give you the skills you need to take charge in the classroom and pioneer fresh solutions to problems.

Even amongst the top online master's degrees in math education, few are as comprehensive as East Carolina University's MA program. Degree candidates can take their pick of three grade-level concentrations: Elementary School (K-5), Middle School (6-8), or High School (9-12). All three tracks are designed to act as "a springboard to National Board Certification" and include coursework relevant to mathematics licensure. For example, the middle grades specialization offers classes in "Teaching with Mathematical Modeling," "Reasoning with Numbers and Algebra," and "Leadership in Mathematics Education," to name just a few. Note, however, that while the elementary and middle school tracks are 100% online, the high school option does require some on-campus courses.

Northern Arizona University

Like most schools in this online mathematics education graduate programs ranking, NAU offers a master's degree for educators who already hold a teacher certification. As such, eligible applicants must have prior teaching experience (or relevant undergraduate coursework in math education) and be employed in a classroom setting while enrolled in the program. Indeed, Northern Arizona University's MSME emphasizes hands-on learning throughout its curriculum. This includes a "Research in Mathematics Education" course as well as a final capstone, during which you'll put together a comprehensive portfolio of your work and take a cumulative exam to demonstrate your mastery of the curriculum.

Western Kentucky University

Location

Bowling Green, KY

If you're looking to take charge and initiate change in the classroom, Western Kentucky University has a program for you. Its MAE in Secondary Education (Teacher Leadership) imparts skills that will help you make a direct impact on student learning. Also, its flexible curriculum enables you to tailor a course of study that fits your individual career goals. For a specialization in mathematics, you'll take 18 credits in content courses like geometry and statistics as well as pedagogical courses like "Secondary Mathematics an Advanced Perspective." What's more, you can add an endorsement in Gifted and Talented Teaching or Instructional Computer Technology while pursuing this affordable math education master's degree online.

University of Arkansas

Location

Fayetteville, AR

When it comes to the job market, versatile teachers are in-demand. Even if you are credentialed to teach a specific subject (e.g., math), being knowledgeable in a wide range of content areas - geometry and calculus, for example - increases your attractiveness to employers. And that's exactly the focus of the University of Arkansas' online master's degree in math education. Over 30 credit hours, you'll learn about statistics, calculus, abstract algebra, and geometry in the context of teaching mathematics. You'll also have the opportunity to take electives in broader areas of education, such as "Instructional Theory" and "Content Specific Pedagogy."

Ball State has one of the most versatile programs on our list of cheap math education master's degrees online. Billed as an MA for K-12 educators, this program offers separate concentrations for math teachers working at the elementary/middle school and secondary school levels. It also offers a third track for elementary/middle school teachers who want to become education specialists. BSU is also an attractive option for applicants who crave convenience and flexibility. The program's 100% online curriculum utilizes mostly asynchronous coursework, although you also have the option to take courses on campus in Muncie if you so desire.

University of Alaska Southeast

Before enrolling in the mathematics Elementary Education Master's program at UAS, take note: this degree is only available to residents of Alaska. Why? Because the curriculum reflects "the unique teaching conditions of various Alaskan communities" - plus, it requires degree candidates to complete a field experience in-state (quite the commute for anyone living in the lower 48!). Because many Alaskan students live in remote villages, the curriculum also emphasizes the use of technology in instruction. In fact, UAS has one of the most tech-focused programs of any school on this online master's degrees in math education ranking.

The Master of School Mathematics program at Iowa State University caters to a fairly narrow demographic: current secondary school math teachers. While this focus may limit its appeal somewhat, it has also allowed ISU to develop a curriculum that uniquely benefits this specific group. For example, the course of study addresses targeted topics like intermediate calculus, statistics, algorithms, and geometry - all subjects crucially important for middle and high school students. While enrolled in this online mathematics education graduate program, you'll also participate in illuminating seminars about the latest math research, trends, and practices affecting secondary school teachers.

Lesley University is another great option for teachers who view solid math skills as the key to their success as educators. Every course in Lesley's cheap online master's degree in math education is specifically designed to help teachers improve their conceptual understanding - and in doing so, bolster their job performance. From "Constructing Mathematical Understanding for Number Theory" to "Concepts of Calculus," you'll take classes that encourage you to think deeply about math, its underlying ideas, and how to communicate those ideas to others. If you hold an initial teaching license, this program will also prepare you for professional certification in elementary (1-6) or middle school (5-8) math.

California University of Pennsylvania

Teachers who don't want to limit their expertise to mathematics might benefit from Cal U's versatile MEd program. A Master of Education in STEM (Science, Technology, Engineering, and Math), this degree prepares candidates to be leaders in curriculum planning and academic assessment. Indeed, its broad perspective on course design makes this one of the top cheap online mathematics education graduate programs for teachers who want to work outside the classroom - in administration or policy, for example. If this sounds like it aligns with your goals, you'll be especially interested in courses like "Integrating Technology in Elementary/Middle School STEM Curriculum" and "Teachers as Leaders."

Like many education programs, Oregon State University's MEd was created to help current teachers meet professional development requirements and advance their careers. But instead of traditional concentrations in subjects like English, History, and Science, this top online master's degree in math education takes a different approach. As a degree candidate, you'll find specializations options in unique areas like "Social Justice Education" and "Advanced Science and Mathematics Education." The curriculum itself is similarly nontraditional yet undeniably comprehensive. With courses like "Fostering Reflective Discourse in Math and Science" and "Racial and Cultural Harmony," you'll be well-prepared to meet the demands of modern (read: diverse and tech-connected) classrooms.

Nova Southeastern University

Location

Fort Lauderdale, FL

Nova Southeastern University's Mathematics Education specialization program is ideal for educators who want to take their instruction to the next level (grade level, that is). The degree offers targeted preparation at the middle, high, and postsecondary school levels, and the curriculum does not shy away from complicated subjects. Forget addition and subtraction; in pursuing this affordable online master's degree in math education, you'll take classes like "Conquering the Teaching of Calculus" and "Linear and Abstract Algebra for Teachers." Although you may be hesitant to take on such a challenging curriculum, remember that the work you put in now will make it that much easier for you to teach the subject in the future!

James Madison University

Location

Harrisonburg, VA

If you're looking for a program that's more math than education, James Madison University might be the place for you. The university's unique MEd in Mathematics stands out on this cheap math education master's degrees online ranking for its emphasis on fundamental math skills over specific teaching methods. While the program does include some coursework in learning theories and instructional models, it also covers modern analysis, algebra, and geometry; probability and statistics; and the history of mathematics. As such, JMU requires all applicants to have at least 15 credits in undergraduate math to qualify for admission.

New York Institute of Technology

Location

New York City, NY

Initially, it might seem odd that a tech-focused school like NYIT would appear on this online mathematics education graduate programs ranking. But take one look at the curriculum for its M.S. in Adolescence: Specialist in Mathematics and you'll immediately see the connection. Indeed, the New York Institute of Technology leverages its reputation for high-tech, STEM-oriented training to create a truly robust learning opportunity for math teachers. Courses like "Mathematics and Technology in Education" and "Instructional Applications of the Internet," for example, will bring your teaching into the 21st century in a way that has a positive impact on your students.

Wilkes University

Location

Wilkes-Barre, PA

Wilkes University offers two convenient options for Level I and Level II teachers who are interested in teaching middle school math. First, there is a 36-credit option that includes a semester-long internship and leads to certification for grades 4-8. The other program, which consists of 30 credits, is geared toward teachers who either aren't seeking certification or plan to meet the requirements through the Pennsylvania Department of Education's "test only" option. Regardless of which path you choose, you'll walk away with one of the top cheap math education master's degrees online - plus relevant training in number theory, algebraic concepts, geometry essentials, and more.
Sources:
IPEDS Data Center
College Navigator
Related Articles
Thanks for reading our ranking of the 20 top cheap online master's degrees in math education in the US!
Get prepared for your next steps
Use articles and resources to uncover answers to common questions, get guidance on your goals, and learn about applying to schools.
Discover a program that is right for you.
Explore different options for you based on your degree interests.