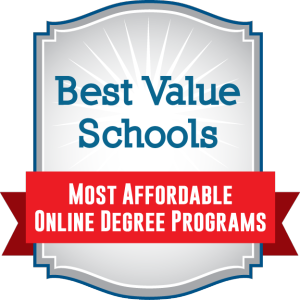 Students who want to earn an online master's degree in K-12 teaching and education can get their search started with the list below. All of these 10 schools offer programs in K-12 teaching and education, although each takes a unique approach to the subject. Some emphasize leadership and supervision, while others give students the opportunity to earn a teaching credential or specialize in a particular subject.
Methodology
Whatever your reason for going to graduate school, chances are you'd like to be able to do it without going into a crazy amount of debt. Thankfully, these "best value" schools come in well under budget for most working professionals. Even the most expensive university (Old Dominion - listed first) keeps in-state tuition below $9,000 a year. Even more shocking, the least expensive university (American Military - listed last) offers its degree programs for less than $6,500 annually!
Although these schools are among the cheapest of the cheap, many also count themselves among the best of the best. You'll notice that U.S. News, College Prowler, and other top sources recognize both their quality and extreme affordability.
---
10. Old Dominion University
Online Educational Leadership - Admin. & Supervision K-12 (MSEd)
Website
Old Dominion University's Distance Learning Department offers an affordable online master's degree in K-12 teaching and education with an administration/supervision focus. The format is synchronous, meaning that students must log on to the online portal at specific times to attend classes. This is because most classes are broadcast live, which helps distance learners experience a true, traditional classroom, even from afar. Students must also complete practicums and internships in their local area in order to gain the hands-on training they need to be successful professionals. According to U.S. News, ODU boasts the 70th best graduate education program in the nation, plus an online graduate education program ranked 42nd.
Tuition: $8,550/yr (In-state) $24,210/yr (Out-of-state)
---
9. Oregon State University
Master of Education (Ed.M.) - Online
Website
The online master's degree in K-12 Teaching and Education at Oregon State University takes a more traditional approach to the subject. Rather than offering a leadership focus, OSU offers general training for students who want to become "master educators" in any grade from kindergarten to the end of high school. The 45-credit program is both rigorous and comprehensive, covering all of the complex challenges that teachers must face in contemporary schools. Students can start any term and have anywhere from two to seven years to finish their degree; rather than being tied to a cohort, online learners advance at their own pace. In its 2014 edition, "The Fiske Guide to Colleges" named OSU in its top 41 "Best Buys."
Tuition: $8,060/yr (In-state) $21,288/yr (Out-of-state)
---
8. University of Nebraska Lincoln
Online M.E.d. Educational Administration: Area of Study in P-12 Educational Administration
Website
The University of Nebraska at Lincoln is another school with an accredited online master's degree in K-12 Teaching and Education that focuses on administration. The program includes a principal endorsement and allows graduates to take on supervisory roles in the school system. U.S. News' 2015 report lists UNL among the best online graduate education programs in the nation, and the program boasts a special accreditation from the Council of Accreditation of Educator Preparation. In lieu of a written final examination, candidates for graduation prove their competency by developing a final portfolio with a collection of their best work.
Tuition: $8,060/yr (In-state) $21,388/yr (Out-of-state)
---
7. Capella University
Online Master's Degree in K-12 Studies
Website
Many people choose Capella University each year for its affordable tuition rates and convenient scheduling. Each course is just 10 weeks in length, and the cost per credit is typically less than $450. The online master's degree in K-12 Teaching and Education has earned a special accreditation from the National Council of Teacher Accreditation, and the vast majority of graduates confirm that the program taught them communication, critical thinking, leadership, and analytical skills, to name a few. Although the program has a broad focus on K-12 education, students can still specialize in Math, Science, or Social Studies teaching.
Tuition: $12,348/yr
---
6. Western Colorado State University
Online Master of Arts in Education with K-12 Endorsement
Website
Western Colorado State University uniquely offers a teaching residency program through its master's in education. Students in this top online master's degree in K-12 Teaching and Education complete 27 credit hours of online coursework while simultaneously working in a real classroom. The department pairs online learners with a mentor, who guides them through the residency in their local area - anywhere in the world! U.S. News ranks WCSU as the 154th best online graduate program in the country, and the curriculum closely aligns with Colorado's stringent Teacher Quality Standards.
Tuition: $7,343/yr (In-state) $17,284/yr (Out-of-state)
---
5. Eastern Kentucky University
Online Master of Arts in Education - Literacy with a P-12 Specialist Certification
Website
Eastern Kentucky University's master's degree in K-12 Teaching and Education online is both interactive and affordable. The program focuses specifically on literacy training, educating professionals on how to improve their future students' reading and writing skills. The major appeals to a variety of educators, from current elementary, middle, and high school teachers to literacy teaching specialists. Students who already hold a teaching certificate can bolster their resumes with an additional "Teacher Leader" endorsement. For 2014, U.S. News placed EKU on its list of the 50 best online graduate education programs in the nation.
Tuition: $7,536/yr (In-state) $16,608/yr (Out-of-state)
---
4. Minnesota State University Mankato
Online Graduate Teacher Licensure (GTL) Program / M.A. in Teaching (MAT)
Website
This online master's degree in K-12 Teaching and Education offers the additional benefit of allowing program members to earn licensure. Students who agree to take an additional six credits can still complete the program in just two years, and will graduate with the ability to teach in elementary, middle, and high schools within Minnesota. MSU differentiates itself by treating students as teachers from the very first day, holding them to a high standard and providing individual guidance. On-going assessments keep students on their toes, while small learning communities provide the support they need to succeed. College Prowler surveys reveal that approximately 85% of students find the professors knowledgeable and would choose to attend MSU-Mankato again if they had to go back to school.
Tuition: $7,557/yr (In-state) $15,036/yr (Out-of-state)
---
3. Baker College
Online Master of Science in Educational Effectiveness: Educational Leadership P-12
Website
Baker College has a reputation for offering extremely affordable programs, and its cheap online master's degree in K-12 Teaching and Learning is no exception. Like some other schools, the focus at Baker is on leadership, and falls within the realm of its M.S. degree in "Educational Effectiveness." P-12 Education classes mostly occur within a specialization, which includes 12 credits in "Fiscal, Facilities, and School Management," "Public Policy, Values, and Legal and Ethical Issues in Accountability," and "School and Community Relations - Diversity and Communities." College Prowler assessments make note of Baker's extreme affordability and high retention rate - only 3% of students transfer out.
Tuition: $10,800/yr
---
2. Colorado State University Global
Online M.S. in Teaching and Learning with K-12 Teacher Licensure
Website
Colorado State University Global offers one of the best online master's degrees in K-12 Teaching and Learning, and boasts a top #86 ranking on U.S. News' selection of the greatest online graduate education programs. The school partners with a system called "Teacher Ready," which allows students to earn a master's degree while also gaining their K-12 teaching credentials. The program holds a NCATE accreditation and partners every student with a local mentor. These mentors help participants access field experiences and gain hands-on experience in real classrooms. The 36 total credit hours divide into 24 at CSU Global and an additional 12 through Teacher Ready.
Tuition: $8,400/yr
---
1. American Military/Public University
Online Master of Education: Educational Leadership: K-12 Track
Website
American Military University, a member of the well-known American Public University system, offers a number of popular online degrees. Recently, the Online Learning Consortium gave it an Effective Practice Award for the fourth consecutive year. The school's degree options include an M.E.d. in Educational Leadership with multiple specialization options. All of the focus areas lend themselves to K-12 education, but students can choose whether they want a Non-Certification in Athletic Administration Track, a Non-Certification Virtual School Track, or a general K-12 Track. The general track offers the concentration classes closest to an online master's degree in K-12 Teaching and Education, such as "Curriculum, Instruction, and Assessment" and "Technology Leadership."
Tuition: $6,400/yr
See also: Top 10 Cheap Online Master's in Child Development and Early Childhood Studies Degree Programs
Sources:
College Navigator
U.S. News Ranking & Review
College Prowler
Online Learning Consortium
About the Author:
Iris Stone began her writing career when she started working as a freelance writer and researcher in 2011. Her freelance business soon took off and she now owns and operates a writing and editing firm that works with clients all across the country. Despite the time it takes to run a business she still does much of the writing herself, and her work has included a variety of content related to education policy, colleges and universities, academic programs, and graduates' careers. Her interests actually span far beyond writing, and she is currently studying to be a physicist! Check out her Google+ Profile.