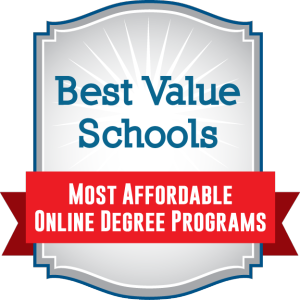 If you're interested in earning an online master's degree in child development and early childhood studies, you've come to the right place. Our best value list of graduate programs in this field focuses on one factor over everything else: low price. Most students today - especially working professionals who need to support a family and continue working while in school - can't afford tens of thousands a year in tuition costs.
Featured Programs
Luckily, distance education meets the needs of these learners perfectly. Once considered a unique subset of college students, older students going to school online have nearly become the norm. The number of universities offering degrees by distance continues to grow, and education degrees seem to be high on the priority list.
That's good news for anyone interested in such a degree. You can easily find a school that is affordable, accessible, and high quality without too much trouble. Our list is a great place to start.
For cheap online college ranking
Methodology
Scroll down for a brief description of the 10 cheapest online master's degrees in child development, early childhood studies, and related fields. We gathered expense information from NCES/College Navigator, a service of the U.S. Department of Education. Organized from most to least expensive, these schools offer surprisingly affordable tuition for programs that pack a powerful educational punch.
Note: This article may contain sponsored links. These are designed to help you connect with programs easily.
---
10. University of Missouri
Youth Development (MA & Online Only)
Website
The University of Missouri, old Mizzou since 1839, was the first public college established west of the Mississippi. Their Department of Human Development and Family Studies offers an online master's in child development, or more specifically "youth development." This advanced degree studies child development within a social and cultural context, and students explore relationships within families and the greater society through applied research. The curriculum emphasizes practical application to solve problems facing families and individuals. Public institutions and organizations are eager to hire experts who can take a positive role in resolving interpersonal issues. U.S. News & World Report ranks the university's online programs at #94, and Bestschools.org ranks Mizzou Online at #12 on its Top 30 Best Online Schools.
Tuition: $9,415/yr (In-state) $23,764/yr (Out-of-state)
---
9. University of Colorado Denver
Online MA, Early Childhood Education
Website
Since 1912 the University of Colorado at Denver has been delivering quality education. Their School of Education & Human Development offers an Early Childhood Education Masters for those who have a "passion for education." The degree places an emphasis on child development, and graduates venture into the job market with the skills to comprehensively support the needs of challenged families and children. As a professional in the field, graduates of this accredited online master's degree in early childhood studies deliver family centered and culturally adapted services. The program has several teaching accreditations, and the school boasts it ranked 29th in the nation as a Best Online Graduate Education Program in 2014 with U.S. News & World Report.
---
8. University of Nebraska Online
Online Master's in Youth Development
Website
The University of Nebraska has been educating passionate students for more than a century, and in the 21st century has taken that service online. In concert with the Great Plains Interactive Distance Education Alliance, the university's Youth Development Program offers a Child, Youth and Family Studies Masters (or graduate certificate) with a concentration in Youth Development. The skill sets attained in this top online master's degree in child development include primary concepts of development, multicultural family dynamics, and the practical administrative aspects of youth service organizations. Overall, U.S. News & World Report ranks the development program at #48 as a Best Education School, and ranks their online education programs at #5.
Tuition: $7,933/yr (In-state) $22,057/yr (Out-of-state)
---
7. Stephen F. Austin State University
Online Master of Education in Early Childhood
Website
Stephen F. Austin State is one of several public universities in Texas. Founded in 1923, the university is moving full stride into online learning. The school's online master's degree in early childhood studies incorporates these values in an all-online learning experience. The graduate degree program develops professional competencies in child education and development, allowing students to pursue career paths in research, teaching, or consulting. Many graduates even leverage their advanced education into managerial positions in schools. U.S News & World Report ranks the university as the 84th Regional University in the West, and also places its graduate school in education in the top 190 nationwide.
Tuition: $8,060/yr (In-state) $21,388/yr (Out-of-state)
---
6. University of North Carolina Greensboro
Online The Master of Education: Birth-Kindergarten Interdisciplinary Studies in Education and Development (BK:ISED) Program
Website
The University of North Carolina Greensboro's Human Development and Family Studies department provides an interdisciplinary master's degree in child development online. Graduate students learn the best education and development strategies for children from birth to kindergarten, and train rigorously to take on leadership positions in the field. Distinguished professors emphasize the importance of practical application, and share effective classroom practices through "synchronous" virtual internet classes. This delivery format is less flexible than asynchronous models, but allows students to interact routinely with faculty and peers. Two concentrations are available: Early Childhood Leadership/Program Greensboro is a Tier 1 University with US News & World Report, and Princeton Review places the school second on its Best Values list.
Tuition: $8,412/yr (In-state) $19,032/yr (Out-of-state)
---
5. SUNY University at Albany
MS in Early Childhood Education Online
Website
The State University of New York at Albany is part of the state's massive SUNY public educational system. The some 64 campuses network to provide comprehensive online education in a variety of subject areas, including an affordable online master's degree in early childhood studies. The part-time and self-paced program is ideal for working professionals and offers several concentrations, but also allows students to attend full-time. To be eligible, potential students need current or pending state certification (Grades 1 through 6). Like many others on this list, U.S. News includes Albany on its list of best graduate education schools, placing the university at #51.
Tuition: $8,040/yr (In-state) $18,360/yr (Out-of-state)
---
4. University of Northern Colorado
Early Childhood/Early Childhood Special Education, Master of Arts Online
Website
The University of Northern Colorado has been a leader in the state for teacher education since 1889. Although obviously online classes were not available in the late 19th century, students today can benefit from UNC's extensive online system. It has one of the best online master's degrees in early childhood studies in the country, and the program includes a focus on special education. Students develop the professional expertise to work with special needs children and their families. The program focuses on the critical necessity of collaboration with families and professional peers, and graduates develop research-based skills and intervention practices. U.S. News & World Report ranks the overall program 13th for Best Online Education Programs, and 126th in the nation for traditional (classroom-based) education schools.
Tuition: $6,968/yr (In-state) $18,507/yr (Out-of-state)
---
3. Capella University
Online Master of Science in Psychology: Child and Adolescent Development Specialization
Website
Capella University is a relatively new institution of higher learning that has become a leader in online education. The for-profit, regionally-accredited university specializes in flexible programs for working adults. One such program is the online master's degree in child development, housed within the psychology department. The degree focuses on leadership in organizations serving youth, and graduates are more than prepared to work in careers serving children through adolescents. Alumni are currently working as school program directors, child development specialists, and early childhood education specialists. OnlineSchools put the school at #23 on its list of 30 in the 2012 Guide to Online Schools.
Tuition: $12,348/yr
---
2. Walden University
Online MS in Early Childhood Studies
Website
Walden University is a newer for-profit private institution founded in 1970. Like many recently established higher education universities, Walden is taking the lead in online learning. Their cheap online master's degree in early childhood studies teaches graduate students the value of knowledge and leadership in this expanding field. For professionals already involved in the field, this program enriches their understanding of how children learn and develop. Classes require students to apply relevant research to problems facing children and their families and prepare to assess current trends in the school system. TheBestOnlineSchools.org ranks Walden 18th on its list of the 30 Best Online Colleges for 2014.
Tuition: $11,460/yr
---
1. University of Southern Mississippi
Master's Degree in Child and Family Studies (Online Program)
The University of Southern Mississippi, which Forbes ranks 553rd in the nation and in the top 150 for all southern schools, offers a useful graduate program in Child and Family Studies through its Department of Child and Family Studies. This degree teaches students the value of theory and research in classrooms, putting an emphasis on experiential learning. Online learners also study "family systems theory," developing the valuable skills needed to advocate for challenged children and their families. Successful graduates can look forward to careers in the private or public sectors as family and child support professionals. Students living within the state can take the extra step to earning teacher certification while enrolled in this online master's degree in child development, all while continuing to work and fill other professional commitments.
Tuition: $6,744/yr (In-state) $15,024/yr (Out-of-state)
See also: Top 15 Cheap Online Master's in Early Childhood Education Degree Programs
Sources:
College Navigator
U.S. News Best Colleges
TheBestSchools.org
Guide to Online Schools
Wikipedia - Capella University
Wikipedia - UNC Greensboro
Forbes
About the Author:
Iris Stone began her writing career when she started working as a freelance writer and researcher in 2011. Her freelance business soon took off and she now owns and operates a writing and editing firm that works with clients all across the country. Despite the time it takes to run a business she still does much of the writing herself, and her work has included a variety of content related to education policy, colleges and universities, academic programs, and graduates' careers. Her interests actually span far beyond writing, and she is currently studying to be a physicist! Check out her Google+ Profile.