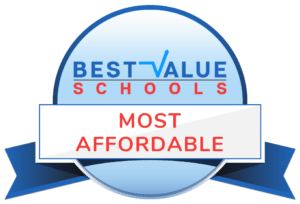 There's never been a better time to enroll in a healthcare management program online. According to the Bureau of Labor Statistics, jobs for medical and health service managers are expected to grow by 20% (aka much faster than average) by 2026. This has led to an influx of students at colleges and universities seeking bachelor's degrees in Healthcare Management in an attempt to capitalize on this astounding growth.
Online healthcare management programs are often set up to accommodate students from a wide variety of backgrounds. That is, whether you're new to college, new to healthcare, already have a bachelor's degree, or have been working in a health profession for many years, you can find an online program that fits your needs.

The 15 Best Online Health Management Degree Programs Ranking Methodology
Selection Criteria
For this ranking, we looked for public and private (non-profit) colleges and universities that offer healthcare management programs online. Because the focus of this list is on affordability, we only considered programs with average* tuition rates of $25,000/year or less.
*For public schools, we calculated the average value of their in-state and out-of-state rates.
Ranking Factors
After compiling a list of all the colleges that offer health management online degree programs and meet the above criteria, we then collected data in four categories:
Program Popularity: Out of all undergraduates, how many choose to major in healthcare management? That is, how successful is the health management program at attracting students to their degree over other options available at the school? To find out, we considered both the number of students who earned their bachelor's degree in psychology in the most recent school year as well as the percentage of all bachelor's program graduates that that number represents.
Overall Strength of Healthcare Programs: How many total healthcare programs does the college offer (online and on campus)? Of those, how many are available online? Offering multiple programs in one discipline indicates that the school is seriously dedicated to preparing students for success in that field (in this case, healthcare). And having multiple of those degrees available online shows the school's commitment to providing accessible healthcare education.
Coursework Balance*: How many classes does the curriculum require students to take in healthcare vs. management topics? The goal for many healthcare management programs is to provide students with an even balance of coursework in both fields. Therefore, we rated schools based on how close they come to having a 1:1 ratio of courses in each discipline.
Affordability: What is the average annual cost of attendance?
*It is not necessarily true that all HCM programs strive to put an equal emphasis on healthcare and management subjects. However, we have chosen to favor programs that strike this balance as a way to create an academic distinction between degrees in healthcare management and healthcare administration. We address the latter degree type in a separate ranking, where we place much less emphasis on explicitly managerial coursework.
After collecting and sorting all the information, we ranked the candidates according to their performance in each area. Finally, we summed up the results and gave each school a final score using a curve so that the top-scoring program earned an even 100 points.
Read more about the best cheap online healthcare management degrees below!
Cheap Health Management Online Degree Programs Ranked
---
15. University of Alabama at Birmingham
Online B.S. in Health Care Management
Website
The University of Alabama Birmingham's versatile, affordable online healthcare management degree should interest students from all sorts of backgrounds. That's because the program offers five different degree options that cater to a variety of experience levels and goals. For example, the Clinical Manager Track is exclusively for admits who already possess a credential or associate's degree in a health-related discipline. There's also a Pre-Professional Track for candidates who want to attend grad school, a Long-Term Care Track for those who aspire to work in nursing homes or assisted living facilities, and an accelerated five-year Occupational Therapy Track. If you'd rather keep your options open, the General Manager Track provides a broad, well-rounded education.
Average Tuition & Fees: $13,204/yr
Score: 53
14. SUNY College of Technology at Canton
Online Healthcare Management BS
Website
Although just about anyone can apply to SUNY Canton's BS in Health Management, the program is particularly well-suited to transfers and current healthcare professionals. Asynchronous online courses provide convenience and flexibility, while an accommodating transfer policy makes it easy for non-traditional students to jump into the program midstream. Plus, it will be up to you to decide whether you want to complete an internship while enrolled in this healthcare management program online. If you're short on hands-on experience, an internship will help get you up to speed and earn you course credit. But if you're already working in the field, you can skip the fieldwork and explore interesting electives instead.
Average Tuition & Fees: $11,543/yr
Score: 56
13. Cleary University
Online Bachelor of Business Administration Degree (BBA) in Health Care Management
Website
If you're especially interested in the business side of healthcare, then Cleary's undergraduate program could be perfect for you. As a BBA with a specialization in healthcare management, this degree provides a robust background in general business principles. In fact, you'll study accounting, finance, macroeconomics, and marketing before you ever take a health-related class. And even as an upperclassman, you'll balance concentration-specific courses (e.g., "Health Care Business and Policy" and "Health Care Informatics" with general classes in business communication, analysis, and managerial accounting. Cleary also stands out on this health management online degrees ranking for its emphasis on hands-on learning. Indeed, classes frequently use projects, case studies, and group work to facilitate understanding.
Average Tuition & Fees: $17,600/yr
Score: 67
12. Ohio Christian University
Online Bachelor of Arts in Business: Healthcare Management
Website
Ohio Christian University's BA in Business: Healthcare Management program should stand out to one group in particular: Christian health professionals with a strong interest in business. Due to its religious roots, this university incorporates theology throughout its curriculum. And the online healthcare management degree is no exception; program participants take classes like "Transformed Worldview" and "Introduction to Theology." The curriculum also skews heavily in favor of general business topics. In fact, the only healthcare classes you're likely to take will be those required to earn the four-course concentration. Possible options include "Healthcare Informatics," "Legal and Regulatory Issues in Healthcare," and "Healthcare Finance and Reimbursement."
Average Tuition & Fees: $11,718/yr
Score: 68
11. Western Governors University
Online B.S. in Business: Healthcare Management
Website
For a cheap online healthcare management degree that's also a quick study, take a look at Western Governors University. Not only is WGU one of the most affordable schools on this list, but 83% of its BS in Business: Healthcare Management majors graduate in just six to 16 months. That accelerated pace is largely thanks to WGU's competency-based learning model, which allows you to finish courses as soon as you understand the material instead of waiting until the end of the term. In another practical move, WGU's healthcare management curriculum favors easily marketable, technical skills over abstract theories. For example, you'll take classes in "Business Strategy," "Technology Applications in Healthcare," "Spreadsheets" and other topics that directly apply to real-world scenarios.
Average Tuition & Fees: $6,070/yr
Score: 69
9. Florida Institute of Technology (Tied)
Online BA in Business Administration: Healthcare Management
Website
The Florida Institute of Technology is another go-to choice for business-minded students who have a specific interest in the healthcare industry. It should also appeal to applicants who want an especially broad education in business principles. That's because, in this online health management degree program, you'll take classes in everything from global business, finance, and accounting to economics, management, marketing, and human resources. Health classes fill in the gaps, including practical courses like "Quality Improvement Methods in Healthcare" and "Medical Ethics." And while there's no required internship, you'll get plenty of time apply your knowledge in a two-part research class in which you create an "actionable business plan" based on an original venture.
Average Tuition & Fees: $12,240/yr
Score: 70
9. Granite State College (Tied)
Online Healthcare Management BS
Website
Of all the schools on this online health management degree programs ranking, few - if any - offer a better deal for transfer students than Granite State. GSC administrators specialize in their ability to maximize applicants' earned credits from prior institutions. Plus, the school also offers credit for non-academic experiences, such as work, volunteering, and military training. It's no wonder 84% of Granite undergrads are transfers! That means that for the most part, degree candidates who transfer into the BS in Health Care Management program will only need to complete major-specific courses. Other than a few general business classes, these focus heavily on health-related topics like healthcare policy, the U.S. healthcare system, and community health.
Average Tuition & Fees: $7,845/yr
Score: 70
8. University of Maryland-University College
Online Health Services Management Bachelor's Degree
Website
If you're looking for a program that will provide an immersive, in-depth education in healthcare management, UMUC is a safe bet. Instead of general business classes, this program values targeted coursework with direct relevance to health professions. In fact, you'll begin learning about the real-world applications of your studies almost immediately upon enrolling in this accredited healthcare management program online. The practical, skills-based curriculum features classes in "Research and Data Analysis in Health Care," "Health Care Economics," and "The U.S. Health Care Sector," to name but a few. And because these highly-focused classes exist at every stage of the program, you won't have to wait until you graduate to start applying your knowledge on the job.
Average Tuition & Fees: $9,756/yr
Score: 71
7. University of Minnesota-Crookston
Online Bachelor of Science Degree in Health Management
Website
At the University of Minnesota Crookston, you'll find a meticulously crafted curriculum that deftly balances practical and theoretical topics for a well-rounded education. You'll study the basic principles of accounting, management, and marketing while building up a repository of useful knowledge about medical terminology, biomedical ethics, long-term care, and other industry-specific subjects. In addition, all students in this affordable health management online degree program are required to complete a three-credit internship. (Note that those who plan on applying for Minnesota licensure as a nursing home administrator must take five credits).
Average Tuition & Fees: $11,700/yr
Score: 75
6. Columbia College
Online BSBA/BABA in Healthcare Management
Website
It's all about business in Columbia College's healthcare management major. In this program, you'll get to pick between earning a Bachelor of Arts or a Bachelor of Science in Business Administration. The only difference between the two options is that with a BA, you'll have to complete a six-credit foreign language requirement, whereas BS candidates take more electives. Otherwise, students in both tracks enjoy the same top online health management degree program, featuring a strong contingent of business classes as well as a few targeted courses in healthcare law, ethics, management, and economics.
Average Tuition & Fees: $7,887/yr
Score: 81
5. Saint Leo University
Online Bachelor of Science in Health Care Management
Website
Recently, the International Assembly for Collegiate Business Education (IACBE) renewed Saint Leo's business school accreditation, ensuring that the school's coursework is up-to-date and tuned toward crucial areas of growth. Of course, one of those areas of growth is healthcare, which is why Saint Leo has taken extra efforts to cultivate a robust curriculum of industry-relevant topics. This cheap health management online degree incorporates classes in health planning, health law, community health, critical issues in healthcare, and much more. The program also includes an internship, although you can substitute this requirement with other courses or credits with departmental approval.
Average Tuition & Fees: $21,130/yr
Score: 87
4. Franklin University
Online Healthcare Management Bachelor's Degree
Website
With 80% of their students taking online courses, Franklin University is no stranger to distance education. This puts them at a distinct advantage when it comes to designing online courses that are as engaging and challenging as traditional classes. Within Franklin's accredited online healthcare management degree, this ability is clear throughout the curriculum - especially the capstone course. Here, you'll use hands-on assignments as you learn to express your knowledge of current issues in the industry, analyze pertinent factors, and synthesize effective solutions. And as long as you maintain good academic standing, you can also earn elective credit for pursuing an independent study project (under faculty supervision, of course).
Average Tuition & Fees: $11,881/yr
Score: 90
3. South Texas College
Online Bachelor of Applied Technology Degree (BAT) in Medical and Health Services Management
Website
If you're looking for something a little different on this health management online degrees ranking, check out South Texas College. Here, you can earn a Bachelor of Applied Technology (BAT) in Medical and Health Services Management. How does this differ from your average program? As a BAT degree, this program emphasizes technical skills over business acumen. That means that along with your major coursework, you'll also take 33 credits of "technical specialty courses." These must come from an approved associate's degree such as nursing, health information technology, or occupational therapy (business administration is also an option). Beyond that, you'll fill up your course plan with plenty of major-specific classes in healthcare delivery, law, finance, and more.
Average Tuition & Fees: $4,225/yr
Score: 91
2. Park University
Online Bachelor of Science in Management/Healthcare
Website
For a program that offers a nearly even balance between business and health courses, Park University is the place to go. After enrolling in this online healthcare management degree and completing your general education credits, you'll dive into a sequence of Business Core classes. This part of the curriculum covers the principles of accounting (financial and managerial), economics (micro and macro), and marketing, as well as computer technology, international business, law, and statistics. Next, you compliment these business basics with a 21-credit sequence of healthcare classes. This is where you'll take courses like "Personal and Community Health" and "Health Care and the Political Process" as well as a senior seminar in healthcare management.
Average Tuition & Fees: $12,130/yr
Score: 95
1. Ottawa University
Online Bachelor of Arts in Health Care Management
Website
Aside from its popularity, affordable tuition, and balanced coursework, there's one other reason that Ottawa University deserves its place at the top of this online healthcare management degrees ranking. Going far and above what most other programs offer, Ottawa's BA in Health Care Management comes with an incredible number of concentrations. Students will first customize their coursework by choosing a Clinical or Non-Clinical Track. But that's not all. Within each of these tracks, you'll be able to further tailor your experience to your personal goals by choosing from one of five business-minded concentrations: Economics, Marketing, Finance, Human Resources, or Leadership and Management.
Average Tuition & Fees: $12,205/yr
Score: 100
Thanks for reading our ranking of the 15 top cheap online healthcare management degree programs!
Sources:
IPEDS Data Center
College Navigator
Bureau of Labor Statistics
See also:
Healthcare Management Scholarships