WHAT ARE TYPICAL ENTRY LEVEL BUSINESS JOBS?

Are you ready to find your fit?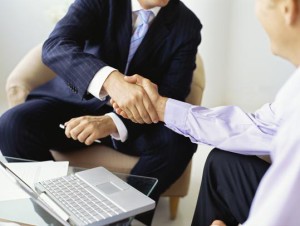 While it seems that good jobs for even those with a college education are hard to come by in today's competitive job market, there are still some entry level business jobs available for those with little work experience. Because employers are expecting at least some experience for even entry-level jobs, it is important to try to obtain either volunteer work or internship credits in order to make yourself more appealing to potential employers. However, these are some of the entry-level positions you can expect to find in the field of business.
Financial Analyst
Financial analysts analyze financial information for various sectors of business, including insurance companies, banks, other financial institutions and securities firms. This job usually requires a Bachelor's level degree in business management, math, economics, finance or accounting. These professionals must love numbers in order to be successful. They need to enjoy analyzing data and coming with solutions through that analysis and mathematical equations. There are a number of avenues for growth and advancement in this field.
Human Resources Assistant
A human resources or assistant is one of a number of entry level business jobs that work as part of a team. An HR assistant collaborates with members of the human resources department of a business or other organization to write job descriptions, handle payroll, oversee benefits administration or manage other issues pertaining to employees. HR assistants usually have a Bachelor's degree in some area of business.
Resource: Top 20 Cheap Online Human Resource Management Degree Programs (Bachelor's)
Those working in human resources must truly enjoy working with people. They must have an analytical mind, be able to think critically and to make quick decisions. Often times, companies, agencies or organizations will have an in-house system of training human resources assistants to move toward management positions from within the department.
Public Relations Assistant
Public relations assistants work to promote the employees of a company or the business itself. They do this through writing and submitting press releases and other publicity materials to various media outlets. A Bachelor's degree in public relations or communications is usually needed for this job. These folks must like to interact with people, be very good listeners, as well as possess excellent written and verbal communication skills. There is room for growth and advancement into management roles with added responsibility.
Marketing Coordinator
This professional conducts various outreach and analytic activities to determine the demand for an organization's service or product, as well as works to identify the demographic would be interested in these commodities. A Bachelor's degree in economics, marketing or business will suffice for entry-level jobs of this kind. Marketing coordinators are usually great at research, very strategic, adept at identifying trends and understand people's underlying motivations. These entry-level employees can work hard to rise through the ranks to positions in management or administrative levels.
These are merely a few examples of entry level business jobs. There are numerous others. In order to become a successful business professional, as in any other field, it's important to remember that it's often necessary to start out in assistant or other ancillary positions. Particularly in a competitive job market, entry-level business jobs can be hard to come by, but they do exist and can lead to more rewarding positions down the line.
See also: The Top Most Affordable Small Colleges for a Business Administration Degree - Best Value Schools
Get prepared for your next steps
Use articles and resources to uncover answers to common questions, get guidance on your goals, and learn about applying to schools.
Discover a program that is right for you.
Explore different options for you based on your degree interests.