BestValueSchools.com is an advertising-supported site. Featured or trusted partner programs and all school search, finder, or match results are for schools that compensate us. This compensation does not influence our school rankings, resource guides, or other editorially-independent information published on this site.
Are you ready to discover your college program?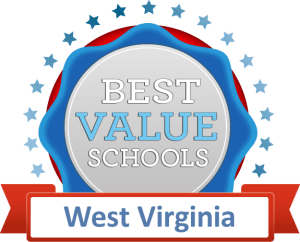 By Iris Stone
In this ranking, we examine top value universities and colleges in West Virginia. Also check out our ranking of Best Online Colleges and Universities in West Virginia.
Although there are plenty of great things to say about going to college in West Virginia, one of the best benefits of seeking your higher education in this rural state is that the tuition costs couldn't be lower! Affordable real estate and a below-average cost of living makes West Virginia a magnet for the budget-conscious - as well as the academically ambitious. Schools like Concord University and West Virginia Tech can offer you an education that pays off, but not just because of their cheap prices. All of the following 15 cheap West Virginia colleges (which we identified using a highly focused methodology) share a common goal - to prepare their students for a lifetime of financial and personal success without leaving your piggy bank in pieces.
Methodology
Read more about the methodology we used for this article here.
#1

Concord University

Athens, WV

#2

Appalachian Bible College

Mount Hope, WV

#3

Bluefield State College

Bluefield, WV

#4

West Virginia University Institute of Technology

Montgomery, WV

#5

West Virginia University

Morgantown, WV

#6

Alderson Broaddus University

Philippi, WV

#7

Marshall University

Huntington, WV

#8

Fairmont State University

Fairmont, WV

#9

West Virginia State University

Institute, WV

#10

Ohio Valley University

Vienna, WV
Featured Online Programs
Figuring out where to apply? These top, accredited schools offer a variety of online degrees. Consider one of these accredited programs, and discover their value today.
Concord University is the #1 cheap college in West Virginia - a distinction that it has worked hard to maintain, despite the competition from other universities in this extraordinarily affordable state. Concord's low cost and reputable academics also make it one of the most popular schools around, as evidenced by its 38% acceptance rate. The Princeton Review has even named it one of the Best Southeastern Colleges, while U.S. News ranked it the top public institution in West Virginia! Considering its low student-to-faculty ratio of 15:1, admirable accessibility (which includes numerous online and hybrid courses), and competitive academic credentials (accreditations include CSWE, HLC, NCATE, and CAATE), it's pretty clear that Concord more than meets the standards for "best value" classification.

Appalachian Bible College

Located in the diminutive town of Mt. Hope, West Virginia, Appalachian Bible College offers a quiet, intimate college experience. The 150-acre campus houses a mere 300 students, ensuring that ABC learners enjoy plenty of space, personal attention, and access to professors. There are only a few academic programs available at this West Virginia college, almost all of which focus on religious vocations. But if you're dedicated to a career of spiritual service, ABC is one of the best universities in West Virginia that you could find. Study Music Ministry, Bible & Theology, or even Camping Ministry, all while enjoying the school's exceptional 63% graduation rate and nearly $200,000 net ROI. And who says you can't make money doing what you love?

Bluefield State College secures the #3 spot on this ranking because of both its selectivity (which stands at 38% acceptance, the second lowest in the state) and rock-bottom tuition (which is also one of the lowest in West Virginia). And with core values like Diversity, Excellence, and Community, there's plenty more to love about Bluefield State. The college's five academic divisions collectively offer degree programs like Criminal Justice Administration, Health Management, Civil Engineering, and Elementary Education - all great choices that will give you great career prospects after graduation. BSC also has plenty of unique support programs for students who need academic help, including "Smarthinking," a 24/7 online tutoring service.

West Virginia University Institute of Technology

Right away, it's easy to see why the West Virginia Institute of Technology deserves a spot on this list. First and foremost, it is the best college in West Virginia for securing your long-term financial success - at least, that's what its more than $530K 20-year net ROI suggests! And it's no surprise - with popular academic programs like Aerospace Engineering, Industrial Technology, Engineering Technology, and Forensic Investigation, WVU Tech is overflowing with opportunities to get involved in some of the country's most in-demand career fields. The university's student clubs will give you just as many chances to build your repertoire of skills, from the Automotive Club to the Tech Media Crew.

Of all the affordable colleges in West Virginia, WVU is without a doubt one of the best investments. Not only is its annual tuition attractively affordable, but it also touts a 20-year net ROI of almost $375K! It's hard to find a school that will give you so much for so little. WVU is also one of the most innovative universities around; faculty members are currently leading some of the country's most groundbreaking projects, including work in renewable energy, neuroscience, and the digitization of healthcare. This passion tends to rub off on students at this cheap college in West Virginia, which claims an astounding 24 Rhodes Scholars, 40 Goldwater Scholars, and 22 Truman Scholars.

Alderson Broaddus University

Alderson Broaddus University was born out of the merger of two private colleges in West Virginia - Alderson Academy and Broaddus University. Both schools supported a strong liberal arts curriculum and rich religious background, and a united ABU has continued to carry these values over the past nearly 100 years. All students complete a "liberal studies" program, regardless of their major. The idea is for all ABU learners to acquire a solid foundation in the liberal arts as well as solidify important skills before they narrow their focus to a single subject. It's also worth mentioning that the school's 43% acceptance rate puts it among the five best West Virginia colleges for selectivity, and its low cost only makes it more attractive to applicants!

Marshall University is a place for students with "enormous potential" and big dreams. Even if you don't know what you want to do with your life, this affordable West Virginia university can give you the guidance you need to have a successful career. What's more, Payscale.com reports that MU boasts an average 20-year net ROI of more than $180,000 - one of the highest in the state. And Marshall's list of undergraduate degrees is so long, students will be hard pressed not to find a subject to which they're willing to dedicate their lives. Some of the more unique options include Cytotechnology, Environmental Geoscience, Medical Imaging, Worksite Wellness, and Printmaking.

Fairmont State University

Located in the friendly city of Fairmont, this West Virginia university of 4,200 students is just as welcoming and sociable as its home town. The 120-acre campus is ideally situated in one of the region's burgeoning tech corridors, and the Robert C. Byrd National Aerospace Education Center is just a short drive away. Fittingly, Aviation Technology is one of the majors at Fairmont State! Other high-tech degree programs include Architectural Engineering, Electronics Engineering, Graphics Technology, and National Security and Intelligence. If you're interested in one of these programs, you'll also be happy to know that this affordable university in West Virginia recently opened a state-of-the-art Engineering Technology program - but you'll still enjoy the same old low tuition rates!

West Virginia State University

West Virginia State University is a diverse, accessible school that prides itself on the ability to reach a wide range of learners. A historically black college in West Virginia, WVSU has earned a reputation as a top choice for nontraditional learners, including working adults, high school students, commuters, and students from all racial, ethnic, and socioeconomic backgrounds. The cheap West Virginia college is made all the more accessible by its laudably low tuition, although its affordability doesn't translate to open admission. Actually, WVSU maintains an acceptance rate of just 41% - one of the most selective in the region!

At the heart of this "Christ-centered academic community" is a simple mission: to make a difference in the lives of students so that they might make a difference in the lives of others. Even a quick glance at OVU's list of majors will convince you that this heartfelt mission is embedded deep within its academic curriculum: programs in Wellness, Elementary Education (with numerous concentrations in Special Education), Criminal Justice, and Psychology will uniquely prepare you to offer a helping hand through your chosen profession. OVU is also one of the best universities in West Virginia for students who plan to adopt religious vocations. The School of Biblical Studies offers majors and minors that cover Christian Counseling, Christian Service for Women, and Youth and Family Ministry, among others.

Wheeling Jesuit University

As a Jesuit university, WJU is dedicated to community engagement, service, and the "greater good" to a degree that most colleges would never even hope to attain. That's because Wheeling Jesuit looks beyond specific career goals to the bigger picture - a world full of caring individuals who sincerely desire to make a difference. This emphasis on community involvement and activism starts on WJU's lively campus, where you'll notice that students are noticeably productive and engaged with each other. In addition to campus ministry and performance arts productions, you can fill your recreational time through membership with the Student Sustainability Club, Life Gets Better Alliance, International Conversations Club, Justice and Peace of Our Times, and other globally conscious advocacy organizations.

West Liberty University

Location

West Liberty, WV

West Liberty University aims to be "the premier 4-year institution of higher learning in the Upper Ohio Valley," and it is well on its way. Its $11,000 price tag doesn't hurt, either - in fact, WLU is one of the best cheap colleges in West Virginia. Its academic specialty programs deserve special mention: the "Advance Academy" lets motivated young learners take high school and college courses concurrently, while the Honors College provides an equally challenging environment to traditional students. You could also apply for a semester-long internship in Washington, D.C., study abroad in Europe or Asia, or join one of numerous academic student organization (the Investment Club and Philosophy club are just two examples).

Davis and Elkins College is as devoted to the liberal arts as it is to professional career preparation. Unlike some colleges, which uphold a reductive definition of student success, D&E understands that success comes in many forms. In an effort to support your path to financial security, personal satisfaction, and meaningful productivity, this top university in West Virginia offers academic programs that are as wholesome as they are stimulating. Programs like Adventure Recreation, Design and Technical Theatre, Appalachian Studies, and Environmental Studies - plus a co-op 3/2 forestry option - let you blend your passions with practicality.

As its nickname, "the Lighthouse on the Hill," suggests, Glenville State College serves as a beacon for students all over West Virginia, illuminating a new world for students seeking the light of knowledge. Its central location makes it an ideal choice for in-state residents, while its low cost brands it one of the more affordable colleges in West Virginia - and a friend to budget-conscious students all over the United States. GSC's original mission was to offer teacher training programs and spur an increase in the quality of educators across the state; although it has since expanded its academic repertoire, the school remains one of the best colleges in West Virginia for teacher education. Many of its other degrees are similarly focused on bolstering the local economy; majors like Accounting, Resort Area Management, Natural Resource Management, and Criminal Justice can help you secure a productive career within the region.

Bethany College is a small, liberal arts college with a shockingly spacious campus - and that's not hyperbole. Despite enrolling just over 1,000 students at a time, the school's campus spans a massive 1,300 acres - that's more than an acre per student! The low cost of living enables this top West Virginia college to go above and beyond for its students, and not just in acreage. It supports a sizeable equestrian program, which competes in Western, Hunt Seat, and Dressage divisions, and more than a dozen other athletic programs (the football players are especially lucky to enjoy Bison Stadium, which was recently upgraded with new artificial turf).
This concludes our ranking of best value West Virginia colleges and universities. Interested in online degree programs in West Virginia? See our ranking of the affordable online schools in West Virginia.
Sources:
College Navigator
Pay Scale
About the Author:
Iris Stone began her writing career as a freelance writer and researcher. She now owns and operates a writing and editing firm that works with clients all across the country. Her work has included articles related to education policy, colleges and universities, academic programs, and careers.
Get prepared for your next steps
Use articles and resources to uncover answers to common questions, get guidance on your goals, and learn about applying to schools.
Discover a program that is right for you.
Explore different options for you based on your degree interests.