BestValueSchools.com is an advertising-supported site. Featured or trusted partner programs and all school search, finder, or match results are for schools that compensate us. This compensation does not influence our school rankings, resource guides, or other editorially-independent information published on this site.
Are you ready to discover your college program?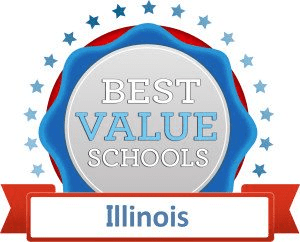 By Iris Stone
Illinois is a unique state for many reasons. Residents of "The Prairie State" enjoy an ideal blend of rural Midwestern calm and urban city buzz, and Chicago stands out as a metropolitan beacon in a state that is known for its agricultural productivity. When it comes to college, this means that students who choose to attend school in Illinois will never be far from whatever activity they could desire, whether it's an internship in the capital city of Springfield, a music venue in downtown Chicago, or a relaxing camping trip in the woods. This also means that academic options for students are about as diverse as they come - Illinois is home to numerous metropolitan campuses in Chicago, several reputable state schools, and top-ranked national programs like Northwestern and the University of Chicago.
Of course, quality is meaningless if it isn't financially accessible to as many students as possible. That's where our ranking comes in - we take all the indicators that people use to identify "top" institutions, like selectivity, graduation rate, and return-on-investment - and add cost to the mix, revealing a distinct ranking that focuses specifically on "best value" schools. You may also want to check out our ranking of the top affordable online schools in Illinois.
Our Ranking Methodology:
Graduation Rate: This indicator refers to the percentage of students who complete their degree within 150% of normal time (six years for a typical four-year degree program). Schools that perform well in this area have a track record of keeping students engaged and successful for their entire time on campus. We weighted this category 30% of the total and retrieved the information from College Navigator.
Net Price: In order to make sure that cost was still a factor in the ranking, we also considered overall net price as an indicator. Taken from data on College Navigator, "net price" is an approximate value that refers to the average amount of money a student could expect to pay each year after taking into account tuition, room and board, living expenses, scholarship awards, and financial aid packages. We weighted this category 25% of the total.
Acceptance Rate: Academically challenging, popular universities tend to be more selective and thus have a lower acceptance rate. In order to pinpoint those colleges that boast rigorous academics and also receive a large number of applications, we considered acceptance rate - the percentage of students out of the total number of applicants who receive an acceptance letter. We retrieved this information from College Navigator and weighted it 30% of the total.
20-Year Net Return on Investment: Taken from information on the website PayScale, this statistic provides a picture of how much students can expect to make after they graduate from a particular college. More specifically, the figure is calculated by taking the average income an alumnus will make over his or her first 20 years after graduation and subtracting the amount paid in tuition. Schools with a high ROI tend to be better at preparing their students for the job market. We weighted this category only 15% because data was not available for all colleges considered.
After adding all the points, we gave each university a final score out of 200. The schools below have scores ranging from 98 to 164, and each has something different to offer in terms of its cost, quality, and reputation. No one college is perfect (which is why the scores vary so much) but this ranking offers you a premier selection of universities to help get you started on your search for an education in Illinois.
Also check out the full list of best cheap online colleges.
#1

University of Illinois Urbana Champaign

Champaign, IL

#2

Northwestern University

Evanston, IL

#3

University of Chicago

Chicago, IL

#4

Eastern Illinois University

Charleston, IL

#5

Illinois Institute of Technology

Chicago, IL

#6

Illinois College

Jacksonville, IL

#7

University of St. Francis

Joliet, IL

#8

University of Illinois Chicago

Chicago, IL

#9

Illinois State University

Normal, IL

#10

Northern Illinois University

Dekalb, IL
Featured Online Programs
Figuring out where to apply? These top, accredited schools offer a variety of online degrees. Consider one of these accredited programs, and discover their value today.
University of Illinois Urbana Champaign

Of all the campuses associated with the University of Illinois, the Urbana-Champaign location is without a doubt the best of them all. While it's 84% graduation rate and $550,000+ 20-year ROI earn the school plenty of points, it's the school's low net price that really sets it apart. As a public school, the University of Illinois Urbana-Champaign is a no-brainer for in-state students, who can get the quality and value of a top-ranked college for a fraction of the price. And this top, affordable Illinois college only continues to grow; the school now boasts more than 32,000 students, a burgeoning research program, and faculty that include Nobel laureates and Pulitzer Prize winners.

Northwestern University is well known as a school that regularly appears near the top of U.S. News' ranking lists, and for good reason. It's selective (13% acceptance rate) with a habit of cultivating overachievers (93% graduation rate) who do exceedingly well after graduation (20-year net ROI approaches $475k). Northwestern is also a great choice for students who are looking for a little of everything; it houses Division I, nationally-ranked athletic teams; highly praised academic programs - including the internationally known Medill School of Journalism; and an esteemed alumni network that rivals those of the Ivy League giants.

There is plenty for students to get excited about at the University of Chicago, one of America's top colleges and by far one of the best universities in Illinois. Although the school's prime location makes it somewhat expensive to attend, those who have their heart set on the Windy City should give this university a closer look. It's at the top of the field in research, including work in education, medicine, engineering, and the arts. Involvement in Argonne National Laboratory, the Fermi National Accelerator Laboratory, and the Marine Biological Laboratory only heighten UC's reputation, while the school's star-studded faculty (including 6 Nobel laureates) draws quite the crowd of applicants. But of course not everyone can attend this superior college, which boasts an acceptance rate of just 9%.

Eastern Illinois University

Personal relationships and quality academics are the cornerstones of Eastern Illinois University, a small school with a compact campus and a growing reputation. EIU is also more committed to affordability than most, and goes so far as to provide an in-house textbook rental system that saves students hundreds of dollars ever term. Undergraduates can major, minor, and double-major in a wealth of subject areas, and can challenge themselves by tackling Honors College classes or taking their studies abroad. Independent research projects and creative activities give students an additional edge after graduation, and EIU's well-rounded alumni enjoy an average ROI of $231,000 20 years out.

Illinois Institute of Technology

A private research university which centers STEM topics and entrepreneurship, the Illinois Institute of Technology comprises eight schools and several research institutes and affiliates. It began life as two separate schools, the Armour Institute and the Lewis Institute, which merged in 1940 to become the solution-centered institution it is today. Students interested in progressing to graduate-level research can pursue the school's combined bachelor's-master's degree programs, which open up graduate-level coursework to students in their junior years. Illinois Institute of Technology also has a large international student population, encouraging cross-cultural exchange of ideas.

Illinois College

Location

Jacksonville, IL

With just 1,000 students on campus and a low net price, Illinois College is ideal for those who seek both comfort and affordability in their collegiate experience. An 11:1 student-to-faculty ratio and intimate class environments make sure all students get the most out of their courses, whether they're studying Biology, Education, International Studies, or one of ten pre-professional programs (including Law, Pharmacy, Physical Therapy, and Veterinary Medicine). Perhaps most importantly, Illinois College is one of the few schools that has made its National Survey of Student Engagement (NSSE) scores readily available, and the results are promising; IC seniors rave about their school's ability to help them think critically, communicate effectively, and work well with others.

University of St. Francis

Like other institutions of higher learning founded in the Franciscan tradition, the University of St. Francis sticks to the ideals of justice, faith, wisdom, and knowledge. The small liberal arts college seeks to nurture each individual in his or her pursuit of higher learning; students are encouraged to participate in as many areas of campus life as possible. On-campus organizations are available for math lovers, comic book fans, drama geeks, budding journalists, future entrepreneurs, and more. There is a similar diversity on the academic side, and the sky is the limit thanks to a breadth of academic options that cover Accounting, Visual Arts, History, and everything in between.

University of Illinois Chicago

There aren't many downsides to attending a college like the University of Illinois in Chicago. In addition to being one of the largest schools in the state, UIC also claims one of the most vibrant cities in the country as its home base. With 83 bachelor's degree programs, an 11:1 student-to-faculty ratio, and a net ROI that approaches $400l, the numbers at this top university in Illinois don't lie. The school is also quite ethnically and culturally diverse - an attribute that is well known to enhance students' perspectives and improve their overall collegiate experience. And given that the university is such a research powerhouse, it's no surprise that undergrads are encouraged to participate; young learners have multiple opportunities to partner with their favorite professors and pursue projects of personal significance.

Illinois State University

There are plenty of reasons to claim Illinois State University is one of the best universities in Illinois. Every year more and more students apply to ISU, and it is now welcoming the largest freshman class in its history. And despite this increase in size, the school continues to maintain a graduation rate (72%) that is in the top 10% of colleges across the country. Students stay on track with the help of attentive professors and diligent advisors, who keep on top of ISU attendees as they pursue degrees in Art, Biology, Chemistry, Dance, Education, and Finance; just about every possible program, A to Z

Northern Illinois University

Northern Illinois University is full of possibilities, with majors, minors, and extracurricular activities to suit every hobby and life goal. Students can join Greek life and cheer on the Huskies at athletic events (there are more than a dozen sports on campus), participate in an academic or special interest campus organization (there are more than 300) or try their hand at an intramural sport like Badminton or Flag Football. But of course there is always time for academics, and NIU's 50+ degree programs are so successful that the school's 20-year net ROI now exceeds $350,000.

Principia College is unique amongst both religious colleges and science and tech universities in that it manages to be both. Situated in that narrow middle section of the Venn diagram combining Christian teaching and science training, Principia is the perfect solution for spiritual scientists. All students take the time to reflect on God's intelligence and strength, but they also are free to explore the high-tech topics that fuel their passions, including Engineering Science, Environmental Studies, Computer Science, Mathematics, and Sustainability (don't worry, there are options for humanities majors as well).

Dominican University

Location

River Forest, IL

Dominican University is full of inspired minds [and] amazing possibilities, and attracts some of Illinois' most ambitious learners. This cheap Illinois college offers plenty of bang for its buck and myriad unique opportunities; students jump at experiential learning courses that allow them to volunteer in the local community, intern with nearby organizations, and even monitor honeybee populations. Dominican also supports programs like ImpACT, an annual daylong workshop that teaches students about social struggles in U.S. history and celebrates the Civil Rights Movement. And for students who aren't satisfied with life in River Forest, study abroad trips to the Caribbean, Europe, Africa, Asia, and Central America will make the world their classroom.

As Chicago's oldest university, Saint Xavier is one of the best Illinois colleges for students who value history and tradition in their academic experience. The university's original mission was to educate the poor - particularly women - and those noble roots continue to drive Saint Xavier's basic operation. It strives to cultivate a student body that accurately reflects the modern workforce, and from year to year approximately 40% of students are women and minorities. These hardworking students enjoy access to more than 40 undergraduate programs, including topics in art and design, business, nursing, humanities, and the natural sciences.

From humble beginnings as a teacher's college operating out of an old railroad freight car, Chicago State University has grown into an impressive institution with more than 7,000 students. From accepting everybody to accepting only the best (the acceptance rate is a mere 30%), CSU has established itself as a valuable investment for an affordable price. The administration also encourages students to get involved in extracurricular activities on campus; student organizations offer something for everyone, from Brazilian Jui Jitsu to Chess Club to the Dreamers Club. CSU offers plenty of other resources for students as well, including the African American Male Resource Center and the Upward Bound leadership program.

On a residential campus of just short of 6,000 students, inspired young people gather with a collective curiosity and desire for success. Bradley University's superior teaching and comfortable class sizes set it apart from other colleges, and it has an esteemed reputation for producing a large number of Fulbright scholars. In fact, the university goes the extra mile to make professors accessible through an initiative called ProfMinutes, a webpage where students can watch brief videos and hear all about their favorite teachers' research. Bradley students have the freedom to major in just about any traditional academic area (and some not-so-traditional) including Physical Therapy, Interactive Media, History, and Finance.

Lewis University is all about self-improvement, both for its students and its own curricula. The university continually works to keep classes small while simultaneously expanding its degree options - the newest additions of which include Unmanned Aircraft Systems, Computer Engineering, Data Science, and Business Analytics. LU also works hard to make sure that its private school education is affordable to as many applicants as possible, and it typically awards financial assistance to more than 85% of incoming undergrads. This initiative helps students graduate with less debt, which only increases their overall earnings 20 years out - and the net ROI for Lewis comes in at more than $150k.

Lincoln Christian University

As a Christian university, LCU's primary mission is to nurture and equip Christians with a Biblical worldview, and to forge leaders who will serve the church and advocate spirituality throughout the world. Fittingly, the academic programs at Lincoln Christian focus on religious matters, including Biblical Studies, Children's Ministry, and Preaching Ministry. The university - which is also one of the more affordable Illinois colleges for religious students - also encompasses a graduate program in theology for learners who want to get serious about the study of counseling, leadership, spiritual formation, and the Bible.

It's frequently included on U.S. News' list of America's best colleges, and yet many people haven't even heard of North Central University. Why? This top college in Illinois is small in stature, with just 65 acres and fewer than 3,000 resident undergrads. But its less-than-overwhelming size doesn't match its reputation, which carries substantial weight as it draws students from all over the state - and 32 others. And although NCU is small, its academic options are greater than many times its resources; 70 distinct degrees range from Actuarial Science to Graphic Arts to Conflict Resolution.

At first glance, Augusta College is most distinctive for its scenic campus and lush surroundings. The liberal arts college sits on 115-acres of land by the Mississippi River, tucked between thick forests and the sparkling river valley. And yet Augustana is driving distance from Chicago; Milwaukee; and Cedar Rapids, Iowa, giving adventurous students plenty of access to urban entertainment. AC is a particularly great choice for students who seek a well-rounded experience, since they'll be able to enjoy equal access to division III athletic programs, community outreach initiatives, and of course - challenging classes.

Concordia University Chicago

Location

River Forest, IL

What exactly does the Concordia Experience entail? Apart from being one of the best cheap colleges in Illinois, CU is a university that is characterized by student engagement, flexible scheduling, and a break from tradition. Many of Concordia's programs are available online, and there are also plenty of atypical degree options available for adults. Outside of the classroom, most students split their time between faith and ministry activities, service learning, and leadership opportunities, all so that Concordia grads will have the moral compass and ethical boundaries to succeed in whatever career they choose.

University of Illinois Springfield

The University of Illinois is a world-class institution with an expansive reach when it comes to research, academic reputation, and relationship with future employers. The Springfield campus is one of the smaller branches of U of I, hosting just 5,000 students who still receive all the benefits or a much larger institution. This advantage extends to degree programs, and students can major in a litany of areas that range from Chemistry and Communications to Political Science and Psychology. And since U of I at Springfield is a public school, it's significantly cheaper than many of its privately owned neighbors.

Elmhurst College is a small school for students with big dreams. It can be hard to get ahead on a traditional public school campus, but Elmhurst offers a different experience. The largest class is just 35 students, and the average course caps off at a comfortable 17. Elmhurst has taken some inspiring steps to make it accessible - and affordable - to people in need, including by developing special programs for first-generation college students. And it's practically impossible to be bored on a campus like this; students have the opportunity to join numerous clubs, like Model U.N. or a political think tank; become a Blue Jay and play on one of 20 sports teams; or get involved in service-learning and give back to the local community.

Illinois Wesleyan University

Students flock to Illinois Wesleyan University to take advantage of its distinctive liberal arts curriculum, small class sizes, and attentive community of focused learners. IWU intentionally invites students to campus who claim a diverse range of talents, and the major and minor options are appropriately varied to support this breadth of interests. Degrees include Anthropology and Biochemistry, Business Administration and Exercise Science, Journalism and Physics, and plenty of other topics across the entire spectrum of liberal arts and sciences. What's more, Illinois Wesleyan has a student activity to complement every academic pursuit, including activist groups like Amnesty International and media clubs like Titan TV.

Students who are looking for a career-focused, fast-paced education at one of the most affordable colleges in Illinois can stop their search at Robert Morris University. U.S. News, USA Today, and Money Magazine have all recognized the quality and value that RMU offers, from its high retention to its efforts in sustainable design. Fields of study mainly focus on skill development for specific careers, like Architectural Technology, Law Office Administration, Exercise and Sports, and Drafting and Design. Robert Morris students can also earn integration level credits by acting as real consultants for real businesses - and gaining work experience at the same time.

Wheaton College is an explicitly Christian school, with an academically rigorous curriculum that aims to bring out the best in religious scholars as they explore the liberal arts and the life of Jesus Christ. Wheaton's core tenants center on the importance of both intrinsic value and tangible outcomes, and it looks to produce graduates who are prepared for top careers - but who are also prepared to live well. This top Illinois college is also a fan of global and experiential learning, which frequently comes in the form of study abroad trips for credit. Wheaton has partnered with more than 30 other nations, making it easy for students to jump on a plane to study marine biology in Belize, religion in Greece and Italy, or politics in Korea.

Western Illinois University

Western Illinois University has been in operation for more than 100 years, but hasn't always been the 11,000 student regional powerhouse that it is today. Back in 1889, Western Illinois Normal and Training School opened to just over 200 students. Academic programs for undergraduates span nearly 70 subject areas, from Agricultural Business and Environmental Biology to Network Technologies and Zoology. WIU also supports a robust athletic program, and nearly two-dozen men's and women's sports teams provide endless entertainment for student athletes and spectators alike.

Lake Forest College's ideal location on the North Shore of Chicago is perfect for students who want a little bit of everything. Scenic views and proximity to Lake Michigan offer up plenty of obvious weekend activities, while the buzzing lifestyle of downtown provides internships, cultural outlets, and entertainment options galore for students of all tastes. Of course, students who stay on campus have plenty at their fingertips as well. In fact, LFC encourages its learners to push themselves to the limit, and many are able to earn a double major and a minor and still graduate in four years.

Moody Bible Institute is a college that takes the Bible - and the word of God - seriously. All teachings at the school fall under the authority of this religious text, which MBI believes declares timeless truth that is relevant today. The majority of the academic programs are religious in nature and focus on topics like Biblical Language, Youth Ministries, and Evangelism, but students who are looking for a slightly more secular program can find what they need in the Communications, Linguistics, Elementary Education, and Aviation degrees. In addition, campus groups significantly revolve around spiritual matters, and many students participate in extracurricular fellowships, ministry groups, and gospel choirs.

Millikin University is a private, independent school that specializes in an approach to education called performance learning. According to Millikin, students get the best education by getting out of their lecture seats and into the driver's seat. Of course, most colleges offer study abroad and research opportunities that are hands on and experiential, but Millikin goes further. Students can get credit for working in the on-campus art gallery, building an investment portfolio, helping out at the Illinois Raptor Center, or gaining clinical experience at the community health center. Add to this the numerous conferences, workshops, student associations, scholarships, and competitions that can help students get ahead, and it's a no brainer that MU is one of the best colleges in Illinois.

Loyola University Chicago

A Catholic university in the Jesuit tradition, Loyola University in Chicago provides students with a diverse, inclusive community that thrives on the shared values of faith, justice, and learning. One of the biggest cities in the U.S. serves as a vibrant backdrop for the stately campus, which houses 11 different schools and colleges - including the Quinlan School of Business and the Marcella Niehoff School of Nursing. Greek life is an important aspect of Loyola as well, and the campus supports nearly 20 chapters - each with their own values and approach to community service. But if you're not the fraternity or sorority type, that's OK too: there are more than 200 student organizations for people whose interests range from anime to vegan diets.
Sources:
College Navigator
Pay Scale
About the Author:
Iris Stone began her writing career as a freelance writer and researcher. She now owns and operates a writing and editing firm that works with clients all across the country. Her work has included articles related to education policy, colleges and universities, academic programs, and careers.
Get prepared for your next steps
Use articles and resources to uncover answers to common questions, get guidance on your goals, and learn about applying to schools.
Discover a program that is right for you.
Explore different options for you based on your degree interests.