THE BEST SMALL COLLEGE FOR A THEATRE DEGREE
By BVS Staff Are the bright stage lights calling your name? Choosing to pursue a career in theatre gives you a chance to pursue a career acting and performing on stage. Many theater graduates pursue career opportunities off the stage, however, putting their depth of knowledge about the profession to use. These jobs include casting ...
BestValueSchools.com is an advertising-supported site. Featured or trusted partner programs and all school search, finder, or match results are for schools that compensate us. This compensation does not influence our school rankings, resource guides, or other editorially-independent information published on this site.
Are you ready to discover your college program?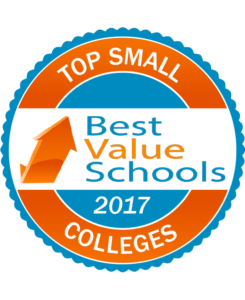 By BVS Staff
Are the bright stage lights calling your name? Choosing to pursue a career in theatre gives you a chance to pursue a career acting and performing on stage. Many theater graduates pursue career opportunities off the stage, however, putting their depth of knowledge about the profession to use. These jobs include casting director, costume designer, or theatre historian.
Welcome to our list of the 15 best small colleges for theatre majors on a budget. Each college on this list provides great value to its students. All of these colleges offer at least three programs for students seeking a bachelor's degree in theatre or a related area. Every college maintains a graduation rate of at least 50%. Finally, every program has an estimated annual cost of less than $30,000 a year, as reported by College Navigator.
Interested in finding a small college that's not going to break the bank? Keep reading!
#1

University of North Carolina School of the Arts

Winston-Salem, NC

#2

Young Harris College

Young Harris, GA

#3

Coker College

Hartsville, SC

#4

Middlebury College

Middlebury, VT

#5

Colorado College

Colorado Springs, CO

#6

Swarthmore College

Swarthmore, PA

#7

Wesleyan University

Middletown, CT

#8

Franklin and Marshall College

Lancaster, PA

#9

Barnard College

New York, NY

#10

Florida Southern College

Lakeland, FL
Featured Online Programs
Figuring out where to apply? These top, accredited schools offer a variety of online degrees. Consider one of these accredited programs, and discover their value today.
University of North Carolina School of the Arts

Location

Winston-Salem, NC

As one might expect from its name, the University of North Carolina School of the Arts features a comprehensive range of majors in the performance arts that spans dance, theater, film, and design and production. As a result, UNCSA cultivates what it calls "the conservatory experience," where artists are able to work, study, and live in close proximity with creatives who are just as committed and inspired as they are. And while UNCSA may already be recognized as a top small college for dance majors, the highly selective directing track for drama students only strengthens the school's reputation as a haven for performing artists.

Young Harris College

Location

Young Harris, GA

Thanks to a combination of low tuition, strong need-based financial aid, work-study opportunities, and robust merit-based scholarships in every department, Young Harris College is one of the most affordable small colleges for theater majors. But that's not the only reason YHC is so high on our list. From musical theater to drama and technical theater production, fine arts students at YHC can actualize their potential in whatever subject fascinates them most. One way that these aspiring performers can find fulfillment is by collaborating on multidisciplinary projects. Indeed, student-run theatrical products at YHC are popular affairs that draw large audiences to see the results of the undergrads' hard work.

Coker College is home to the Round Table learning methodology, a unique discourse-based mode of inquiry that is designed to promote discussion and student engagement. Taking more from Socrates than King Arthur, the literally round tables in all classrooms encourage students to question each other as much as the professor. This practice is in full swing in Coker's top undergraduate theater program as well, where students perform close readings of famous dramatic works and discuss drama scholars from Aristophanes to Brecht. Students can also specialize within this major, selecting from General Theater, Performance, and Technical Theater.

Middlebury College's top undergraduate theater program prepares students for lifelong work onstage. The comprehensive curriculum addresses all aspects of the dramatic arts and places a strong emphasis on professionalism. As such, program members spend a great deal of time practically engaged in creative work, be it acting, directing, writing, set design, or production. Middlebury also encourages experienced theater students to submit their work for evaluation by professional theater organizations, which keeps them up to date with best practices in a constantly evolving industry. In addition, thespians at Middlebury can take advantage of regular field trips to popular shows and theater festivals around the country.

Colorado College

Location

Colorado Springs, CO

One of the best small colleges for dance majors, Colorado College integrates the performative capabilities of drama and dance into a single interdisciplinary program. For example, all students in the Theater and Dance major acquire fundamental skills in a class that focuses on "design and movement techniques," and provides a strong foundation for future skill development - regardless of specialty. Undergrads in this unique major also take master classes with luminary artists who exemplify greatness equally in both disciplines, such as "off-Broadway theatre ensemble Elevator Repair Service [and] the Japanese dance duo, Eiko & Koma."

Although Swarthmore College only graduates a handful of undergraduate theater majors each year, its affordable undergraduate theater program is nonetheless a crucible of inquiry and a dynamo of production that serves over 200 students in a variety of capacities. Thanks to a full suite of theater courses in acting, writing, directing, and stage technology, Swarthmore is never short on participants to help put together full-scale productions throughout the year (last year's shows included A Bright Room Called Day by Tony Kushner). What's more, the Swarthmore Project in Theater provides grants for faculty, alumni, and students to produce artistic work over the summer.

Founded in the 1930s, Wesleyan University's affordable undergraduate theater program is one of the most widely known and highly regarded in the country. This caliber is perhaps best represented by the school's impressive list of faculty (including visiting artists and Pulitzer Prize winners like Quiara Alegria Hudes and Doris Duke Artist Rinde Eckert), as well as its cavalcade of notable alumni (such as Hamilton-star Lin-Manuel Miranda). Wesleyan's already competitive theater program also provides an honors track for top performing students, as well as two awards (the Rachel Henderson Theater Prize and the Outreach and Community Service Prize) to recognize excellence in student work.

Franklin and Marshall College

As a top small college for film studies as well as theater, Franklin and Marshall brings students of all performing arts backgrounds to act in concert - literally and figuratively. Combining theater, dance, and film and media studies, Franklin and Marshall groups performance students into a single department to build an arts ensemble that is integrative, interdisciplinary, and collaborative. While students in this program can certainly specialize in the practice of their choice (each art form has a full course listing available), this unique department encourages them to look outside of their comfort zone for inspiration and influence.

Barnard is probably best-known as the sister college of Ivy League member Columbia University. Naturally, this prestigious relationship lends plenty of credibility to the schools' collective Theater Department. Not only does Barnard draw from Columbia's Core Curriculum, but it also shares Columbia's theater faculty and departmental resources. But what Barnard itself brings to the table is just as significant. From artistic production (e.g. "acting, design, directing, dramaturgy, playwriting, [and] solo performance") to critical capstone theses, Barnard cultivates some of the most inspired and pivotal student work found in any top small college for theater majors.

A career in theater can mean many different things to many different people. Florida Southern College acknowledges the inherent pluralism of this art form by offering a comprehensive selection of bachelor's degrees within its affordable undergraduate theater program. From performance and directing to set design, theater tech, and education, FSU supports every facet of the theater industry with equal zeal and vigor (there's even a specific major devoted to musical theater!). And while more isn't always better, there's no doubt that FSU can provide the avenue to a dream career for aspiring performers and stagehands alike.

Minneapolis is home to one of the most thriving theater communities in the US, and at the center of it all is Augusburg College. Augusburg's Theater Department places equal emphasis on the liberal arts and performance studies, providing all theater students with a firm grounding in the domains of art, literature, philosophy, cultural studies, and communications. The theater curriculum is equally comprehensive, and performance art students at Augusburg explore a wide assortment of topics, from "classical, modern, [and] contemporary," to "multicultural theatre." This curricular rigor makes Augusburg's affordable undergraduate theater program one of the leading educational opportunities for thespians in the Midwest and beyond.

Mount Holyoke College

Location

South Hadley, MA

With Pulitzer Prize winning playwrights like Wendy Wasserstein and Suzan Lori-Parks among its many prestigious alumni, it's hardly a surprise to find Mount Holyoke College joining its sister, Smith, on this college theater programs ranking. MHC's theater curriculum breaks the art form down into three discrete components: "design, performance (acting and directing), and theatre history and dramatic theory." These skills prepare students for a host of demanding roles in the performing arts. What's more, MHC's relationships with Actor's Equity, the Stage Managers' Association, and other industry organizations provide a direct pipeline from the classroom to the main stage.

Like Smith, Pitzer College is a member of a coastal college consortium that is much greater than the sum of its parts. While Pitzer's Theater Department is technically under the domain of fellow Claremont Consortium-member, Pomona College, students at Pitzer are free to take advantage of all the resources (including four major productions a year), classes, faculty members, minors, and even majors this program has to offer. Pitzer students can also partake in Scripps College's dance program, which is widely recognized as one of the top small colleges for dance majors in the entire country.

At Smith, one of the best small colleges for theater majors, performing arts students don't have to worry about exhausting the meager resources of a diminutive liberal arts college. Thanks to the Five Colleges Consortium, theater and dance majors at Smith enjoy the combined capabilities of four other local schools: Amherst, Hampshire, Mount Holyoke, and the University of Massachusetts-Amherst. Needless to say, this collaborative effort affords performing arts students at Smith all the benefits of a university many times its size while maintaining the intimate culture necessary to cultivate a thriving arts community.

From the page to the stage, Connecticut College features one of the top undergraduate theater programs for budding thespians. This robust and interdisciplinary program integrates close readings of dramatic texts with full-scale productions to allow theater students to develop every facet of their craft. Although there is no audition required to join the program, students regularly compete with one another for department-led productions year-round, including musicals, classics (think Shakespeare and Chekov), and contemporary masterpieces. For those with less affinity for live performance, Connecticut College's Theater Department also hosts an honors program where students can engage in independent study of the work that truly stirs their hearts.
Want to find out exactly how much it will cost for you to attend one of these affordable small theater colleges? Check out the U.S. Department of Education's Net Price Calculator Center.
See also: 50 Best Value Rankings: Best Small Colleges 2016
Sources:
Get prepared for your next steps
Use articles and resources to uncover answers to common questions, get guidance on your goals, and learn about applying to schools.
Discover a program that is right for you.
Explore different options for you based on your degree interests.