THE BEST SMALL COLLEGES FOR A POLITICAL SCIENCE AND INTERNATIONAL RELATIONS DEGREE
January 2019 Studying political science or international relations equips you to grapple with public policy, legal thinking, and advocacy, among other fields. Political science is about the inner workings of the political process and government. International relations takes that same understanding of the political process and expands it on a much more global scale. Graduates in ...
BestValueSchools.com is an advertising-supported site. Featured or trusted partner programs and all school search, finder, or match results are for schools that compensate us. This compensation does not influence our school rankings, resource guides, or other editorially-independent information published on this site.
Are you ready to discover your college program?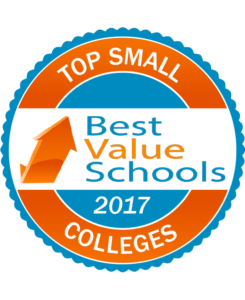 July 2020
Studying political science or international relations equips you to grapple with public policy, legal thinking, and advocacy, among other fields. Political science is about the inner workings of the political process and government. International relations takes that same understanding of the political process and expands it on a much more global scale. Graduates in these fields can go on to study in fields like law, or move directly into public or private sector work.
Start your college search here at our list of the 25 best political science majors on a budget. All of the schools listed offer a minimum of two relevant programs for both political science and international relations, along with a related area. Additionally, the colleges maintain an overall undergraduate graduation rate of at least 50%. To establish that they're the best value of them all, each school has an estimated annual cost of less than $32,000 a year.
Need to know what program is at #1? Just scroll down to find out!
For more information on the methodology, click here.
#1

Pomona College

Claremont, CA

#2

Bridgewater College

Bridgewater, VA

#3

Middlebury College

Middlebury, VT

#4

Chatham University

Pittsburgh, PA

#5

William Jewell College

Liberty, MO

#6

Hamilton College

Clinton, NY

#7

Austin College

Sherman, TX

#8

Skidmore College

Saratoga Springs, NY

#9

Lafayette College

Easton, PA

#10

Lake Forest College

Chicago, IL
Featured Online Programs
Figuring out where to apply? These top, accredited schools offer a variety of online degrees. Consider one of these accredited programs, and discover their value today.
Pomona College may not be the namesake of the Claremont Consortium, but it is undoubtedly the crown jewel. Consistently ranked among the top ten liberal arts colleges in the nation, this school is as selective as Harvard and nearly as prestigious. So it's not exactly a stretch to suggest that Pomona has the best undergraduate political science program of any small college in the country. In addition to its own exceptional faculty and staggering 8:1 student-faculty ratio, the school's shared library - and nearly communal course catalog - with CMK and Pitzer (ranked 19th and 14th on this list, respectively) put it completely over the top.

If you thought Claremont McKenna had too many political science programs, it's time to think again. Believe it or not, Bridgewater College's Department of History and Political Science clocks in at 11 majors, minors, and concentrations, all available to undergraduates. While that might sound excessive to a STEM-enthusiast, Bridgewater has undeniable appeal to politically-minded students across the spectrum. From the American History buff to the Public Policy wonk, just about any social scientist would agree that Bridgewater's affordable undergraduate political science program is among the most robust in the nation.

With more than 90 different programs available in over 40 different countries, Middlebury College easily leads the nation in study abroad opportunities. And while this fact alone all but guarantees Middlebury's top political science college ranking, the good news doesn't end there. From straight-forward Political Science to International Politics and Economics and International and Global Studies, Middlebury students have an exceptional selection of policy and governmental programs within the school itself that cater to their every interest. Throw in its exceptional financial aid packages and it becomes clear why this school practically tops our list.

At Chatham University, the study of history, politics, and international affairs go hand-in-hand—so much so, in fact, that there's an entire department devoted entirely to these subjects. But it's not just by name that Chatham's History, Political Science, and International Studies (HPSI) Department earns its reputation; it's the enormous size and scope of the department that is truly impressive. From study abroad and co-curricular programs with organizations like the Pennsylvania Center for Women and Politics to world-class faculty from around the world, there is no shortage of opportunities for ambitious students at this affordable political science school. Regardless of which program students choose, Chatham ensures they keep opening more doors than they close.

William Jewell College may not be a household name, but thanks to its highly rigorous and selective Oxbridge Honors Program, students at this relatively unknown school can receive a world-class education for half the price of comparable institutions. A portmanteau of Cambridge and Oxford, Oxbridge is a tutorial-style program that piles attention, expectation, and, of course, a generous heap of homework on each individual student. Within this program, the Institutions and Policy major stands out as one of the best undergraduate political science programs in the country, preparing students for academia, law, and business alike.

Hamilton College is an affordable small college for political science majors that want to ask big questions. In particular, the school's Government Department, which is equipped with a comprehensive array of interdisciplinary coursework, will challenge students' most fundamental assumptions about the law and the role of the state in governing. Even within this program, students can choose from three pathways: Government (the most general approach), World Politics, and Public Policy. While they all share a common core curriculum, each program allows students to choose a topic of study that fascinates them, whether it be a particular region, problem, or question pertaining to government.

Featured in Loren Pope's seminal book, Colleges That Change Lives, Austin College tops multiple "best-of" lists in fields like international studies and political science. What makes these programs at Austin so groundbreaking is the intimacy of the educational environment. With fewer than 1,300 students enrolled at any given time, poli-sci and international studies majors have unprecedented access to faculty members, and they comfortably share resources that would be stretched paper thin at a larger university. This affordable small political science school also allows students to concentrate in sub-fields like Advocacy to gain meaningful experience in their prospective career path.

Skidmore College

Location

Saratoga Springs, NY

Although Skidmore's political science degree only officially includes ten major-specific courses (or 33 credits), the program is anything but a cakewalk. In fact, students are likely to spend most of their time walking from the classroom to the library…and back again. That's because this writing-intensive major asks students to write dozens of papers throughout their college career, culminating in a 40-page (10,000 words) thesis on a topic of their choice. Admittedly, this approach may lose some points among applicants looking for a more "hands-on" education. Nevertheless, Skidmore stands out as one of the top political science schools in the nation, especially for students interested in earning a master's degree or attending law school.

Relations, studies, affairs—whatever you call it, there's no denying that Lafayette College is among the best small colleges for political science and international relations degrees in the US. In addition to its requirement that all program members master a second (or third) language, Lafayette's International Affairs curriculum features an abundance of travel opportunities that encourage students to look beyond their own horizons. These include summer language-study intensives in Italy, Germany, Mexico, and Spain; sister programs in DC and Manhattan; and semester-long courses in Asia, Europe, Africa, and Latin America. The best part? Students can apply their financial aid towards funding for any and all of these travel opportunities.

Located just outside of the international city of Chicago, Lake Forest College is a top small college for international relations and political science students alike. Where the former have access to internship opportunities at institutions such as the Polish American Chamber of Commerce and the International Visitors Center, the latter are surrounded by the political intrigue of the Windy City. Students in either program can expect a heaping dose of challenging coursework in law, economics, history, and sociology, as well as a range of hands-on learning opportunities in communities around Chicago.

"Active learning" is becoming a keyword in higher education today, and the Political Science Department at Augusburg College provides a good illustration of just why it's so important. Where many small political science schools tend to focus on the theoretical side of international law and systems of government, Augusburg places stronger emphasis on practical applications - including career readiness. As such, political science students tend to learn just as much outside of the classroom as they do in it; opportunities include traveling to the Twin Cities for a semester to learn about community organizing and studying policy and environmental issues along the banks of the Mississippi River.

With five unique political degree programs available to just over 3,000 undergraduate students, Clark University is truly among the best small political science schools in the country. From conventional programs like Political Science and Pre-Law to more idiosyncratic areas of study (including International and Comparative Studies and Philosophy: Ethics and Public Policy), Clark offers the kind of specializations usually available only at the largest public research universities. And to top it all off, each program features study abroad opportunities on different continents, allowing students to receive life education alongside their academic coursework.

Mount Holyoke College

Location

South Hadley, MA

Mount Holyoke is one of the premiere liberal arts colleges in the country, and it boasts a long history of producing academically well-rounded graduates. And although its reputation doesn't necessarily include high marks for pre-professional education, MHC is quickly turning this weakness into one of its greatest assets. The college's greatest initiative in this regard is "Nexus," a series of ten career-oriented tracks in the liberal arts. One such program is the politically-focused Law, Public Policy, and Human rights degree. Drawing on faculty and courses across the catalog of this top small political science school, LPP&H helps students build strong foundations in political studies - as well as strong professional relationships with the public affairs offices and advocacy groups that may one day employ them.

Given its membership in the Claremont Consortium (with Claremont McKenna and Pomona Colleges), it's easy to predict Pitzer's top political science college ranking. After all, thanks to the remarkably generous relationship between consortium members, Pitzer students can take any classes available to Pomona and CMK students and even major in any of the numerous politically-oriented CMK majors listed above. But that's not to say that this college doesn't have reputable degree programs in its own right. In fact, unique programs like International and Intercultural Studies and International Political Economy are exclusive to the Pitzer campus.

Arcadia University's Department of Historical and Political Studies (HAPS) is home to a range of reputable degree programs at the undergraduate level. But HAPS does not limit its members to the usual suspects of Political Science, History, and International Studies. While Arcadia is certainly a top small college for international relations and political science majors, the school that deserves the highest praise for its Global Legal Studies degree. In this unique program, students acquire granular insights into the legal architectonics of countries all over the world, which they can complement with a host of study abroad opportunities.

It is a common opinion (however cynical) that politics is merely the pursuit of power, and that to the victors go the spoils (and writing of the history books). Norwich University responds to both of those sentiments with its Studies in War and Peace program, an affordable undergraduate political science program that combines political theory, international relations, law, history, and more. It's hard to imagine a school more suited to deliver a program such as this; not only is Norwich University the oldest private military college in the US, it is also the "birthplace of the ROTC."

Political science is a deep interdisciplinary field, and tackling the arduous work of government service necessitates a thorough understanding of economics, law, sociology, history, and even philosophy. And while it may be difficult for any school to address every sub-field in a single major, Denison University comes close with its Philosophy, Politics, and Economics program. To be sure, there's plenty of ground to cover in those topics alone, even at a small political science school like Denison. Aside from the name, what makes this program so unique is that it allows students to direct their own course of study. Poli-sci undergrad spend much of their time conducting research - and ultimately complete an independent thesis on a topic of their choosing.

At Rhodes College, one of the top small colleges for political science majors, it's no surprise that the political science program is so popular. In fact, due to the sheer number of students in the department, Rhodes' political science faculty members actually run their own internship program. This grants Rhodes students unprecedented access to the offices of Tennessee's two senators as well as a number of other public offices throughout Appalachia and beyond. Within the program itself, Rhodes also offers an honors program that encourages rigorous study in law, economics, government, and international relations.

Claremont McKenna College

With a considerable selection of degrees in fields related to public and foreign service, Claremont McKenna is widely recognized as one of the best small political science schools. To put it simply: Legal Studies; Philosophy, Politics, and Economics; Philosophy and Public Affairs; Government; Leadership; Human Rights, Genocide, and Holocaust Studies; and Environment, Economics, and Politics are not merely course offerings but fully-fledged majors with substantial course loads of their own. And while the sheer quantity of these programs is enough to qualify Claremont McKenna as an academically rigorous school, it's worth noting that it is also consistently ranks among the top liberal arts colleges in the country, from Bloomberg to The Princeton Review.

Interestingly, the word "politics" is from Ancient Greek and refers, quite simply, to relations among citizens. Simmons upholds this fundamental definition in its political science program, emphasizing human interaction and relationship-building in departmental activities. One particularly strong example of this focus is the Warburg Program, through which poli-sci majors can connect with former U.S. Ambassadors and other public service officials. Simmons' top undergraduate political science program even attracts global leaders like Former Secretary of State Hillary Rodham Clinton and Gloria Steinem, both of whom have visited the college. Political science students at Simmons can also take advantage of its 3+1 program, which allows them to complete a bachelor's and master's degrees in just four years!

Combining political science and international relations into a single major, Carleton College encourages poli-sci students to look outside of their regional and national boundaries to explore the diverse governments found all over the world. In fact, Carleton's affordable undergraduate political science program features a number of off-campus programs (located both in Washington DC and across Europe and Asia) where students can pursue their studies in the heart of a foreign city. Students particularly taken with the glamour of distant lands can also tack on an additional concentration in International Relations to their major.

While Occidental College may not offer a political science degree by name, its showings in related fields more than make up for this discrepancy. Occidental's top political science colleges ranking is a reflection of its Politics, Pre-Law, and Diplomacy and World Affairs programs, respectively—each of which provide the critical inquiry, interdisciplinary study, and applied research that characterizes the best poli-sci programs nationwide. The most unique of these options is undoubtedly the Diplomacy and World Affairs program, which is almost like an international relations program on steroids. The DWA is also home to the William and Elizabeth Kahane United Nations Program, where Occidental students can actually study and intern with the UN and its affiliates.

From Federal Judges to CEOs, it's no secret that Political Science graduates from Gettysburg College go on to do great things. But that's hardly a sufficient explanation of why Gettysburg stands among the best small colleges for political science majors. Gettysburg's comprehensive political science major places equal emphasis on the four pillars of the field—political theory, American government, international relations, and comparative politics—to provide students not only with a robust grounding in politics, but a strong liberal arts background, as well. What's more, Gettysburg's Poli-sci Department provides numerous academic and extracurricular opportunities for ambitious students—including internships, honors study, grants, and fellowships.

Featuring travel opportunities, foreign language acquisition, and a fascinating blend of law and political theory courses, Dickinson College's International Studies program is a great way to learn about the kind of global relations that make our world turn. For over 40 years, the IS has been one of the most popular and successful interdisciplinary degree offerings at Dickinson, making it one of the best small colleges for political science and international relations degrees in the country. But that doesn't mean it's easy; in addition to the substantial breadth of coursework this major requires, IS students at Dickinson complete not one but two capstone seminars their senior year.

One of the top small colleges for political science and international relations degrees, Muhlenberg College features a wide range of majors and specializations within its Poli Sci Department. Students who choose to major in International Studies specifically can choose from concentrations in compelling sub-fields that include Conflict and Peace Studies; Environmental Issues; Global Trade and International Business; and Global Interdependence. But if these topics are too specific (or, perhaps, not specific enough), Muhlenberg's Poli-sci Department also offers a handful of interdisciplinary majors, including Philosophy/Political Thought and Political Economy & Public Policy.
Want to find out exactly how much it will cost for you to attend one of these affordable small political science schools? Check out the U.S. Department of Education's Net Price Calculator Center.
See also: Top 9 Cheap Online Political Science Degree Programs (Bachelor's) 2016
Sources:
Get prepared for your next steps
Use articles and resources to uncover answers to common questions, get guidance on your goals, and learn about applying to schools.
Discover a program that is right for you.
Explore different options for you based on your degree interests.