20 BEST VALUE SMALL COLLEGES FOR A COMMUNICATIONS DEGREE
By BVS Staff February 2017 Welcome to our ranking of the 20 best small colleges for communication majors on a budget. Methodology Each of these top schools offers at least three majors - or at least three concentrations within a major - for students seeking a bachelor's degree in communications (which also includes programs in journalism, ...
BestValueSchools.com is an advertising-supported site. Featured or trusted partner programs and all school search, finder, or match results are for schools that compensate us. This compensation does not influence our school rankings, resource guides, or other editorially-independent information published on this site.
Are you ready to discover your college program?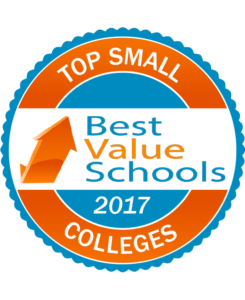 By BVS Staff
February 2017
Welcome to our ranking of the 20 best small colleges for communication majors on a budget.
Methodology
Each of these top schools offers at least three majors - or at least three concentrations within a major - for students seeking a bachelor's degree in communications (which also includes programs in journalism, broadcasting, mass media, speech, and TV/radio/film studies). In addition, they each maintain an overall undergraduate graduation rate of at least 45%. Of course, to be a best value, these top-ranked schools also have to demonstrate a genuine commitment to affordable education - which means meeting our net price requirements. All of the programs on this ranking have estimated annual costs (as reported on College Navigator) of less than $24,000 a year. But which of these is the most affordable college for a communications degree? Scroll down to #1 to find out!
20. Austin College
Sherman, TX
Austin College's distinct blend of programs puts it in the running as one of the best small colleges for communications majors who are interested in digital media and entertainment. This is because, in addition to a traditional communication program, Austin also offers a major in Media Studies and a minor in Film Studies. The Media Studies degree in particular provides a great deal of room for individualized learning, and the curriculum contains few official course requirements. Class assignments often include "non-traditional" work like infographics, video essays, and even Wikipedia entries. These projects help prepare students for versatile careers in an industry that is growing increasingly dependent on multimedia platforms to deliver information.
Net Price: $23,690/yr
19. Elmhurst College
Elmhurst, IL
Elmhurst is serious about communication - just ask anyone in the school's Department of Communication Arts and Sciences. The department houses three majors in the discipline: Communication Studies, Organizational Communication, and Interdisciplinary Communication Studies. The first option is the most traditional; it offers a broad overview of coursework in both theoretical and applied topics. It also links students to internships at radio and broadcast stations in nearby Chicago. Undergraduates with an interest in business - especially human resources - might prefer the second option, which focuses specifically on corporate communication issues such as conflict management. But this top college for a communications degree goes above and beyond with its third option - an interdisciplinary, custom-designed program for learners with unique or highly specific goals.
Net Price: $23,688/yr
18. North Central College
Naperville, IL
With more than 2700 undergraduates on campus, North Central is pushing the boundaries of a typical small college. Fortunately, the school has no problem keeping up with its many students and their diverse interests. Communications majors alone have at least five different programs that can meet their needs, including degrees in Journalism, Interactive Media Studies, and Broadcast Communication. Indeed, it is the breadth of offerings that makes NCC one of the best small schools for journalism and communications (not to mention its award-winning college radio station and student-run newspaper). Journalism majors can also develop their web presence by writing for NCCLinked, the school's official online portal for campus news.
Net Price: $23,565/yr
17. Andrews University
Berrien Springs, MI
Communication is a broad field that covers everything from journalism to public relations. It's unusual for one school to offer programs across this entire spectrum, but Andrews University is a rare exception. Andrews has evolved into one of the best small colleges for communication majors of all persuasions by maintaining a comprehensive set of degree options. On the more traditional side, students can opt for the standard Communications BA (which requires a second major or minor). For a slight twist, they can add an emphasis in management or international communication. On the vocational side, Andrews supports a Journalism and Communications Media BA that contains separate tracks for aspiring broadcast journalists, magazine and news writers, and public relations specialists.
Net Price: $23,491/yr
16. Flagler College
Saint Augustine, FL
Due to the rapidly-changing nature of the field, young professionals looking for communication jobs would do well to keep their options open. Fortunately, undergrads at Flagler College will have no trouble developing a wide array of skills. While they'll inevitably have to select a specific major (choices include Media Studies, Journalism and Media Production, and Strategic Communication), they can also tack on a unique minor to complement (or contrast!) their primary studies. And as a top small school for journalism and communications, Flagler provides many such "mix-and-match" opportunities. For example, future public relations specialists (most likely majoring in Strat. Comm.) might explore a minor in Film Studies to learn more about the impact of visual messaging.
Net Price: $21,804/yr
15. Asbury University
Wilmore, KY
At Asbury University, it's all about the concentration. No, not the kind that means focused effort (although that's important too) but the kind that refers to an academic specialization. And it's no contest; this university has far and away more program options than any other school on our best communications degree ranking. Consider, for example, the Media Communications major, which offers an incredible seven emphases in topics that include Film, TV and Video Production, Multimedia, and even Entertainment Management. There is also a standard (non-media) program that consists of four tracks: Leadership, Social Media, International Comm., and Public Relations. As if that weren't enough, Asbury additionally supports a popular journalism degree with opportunities in print, broadcast, and online reporting.
Net Price: $21,622/yr
14. Bluffton University
Bluffton, OH
In many ways, Bluffton is a typical small, Christian college located in an only slightly larger Midwest town. But when it comes to cultivating one of the best undergraduate communications programs in the area, the university's approach is anything but conventional. Bluffton's distinct pedagogy is most apparent in its Convergent Media major, which provides a 21st-century take on an aging industry. To maximize their career readiness, all program members must acquire knowledge of multiple platforms, from radio and TV broadcasting to social media, blogging, and interactive media. But students can also take advantage of a few other unique opportunities tucked away in the course catalog, including a Sport Management program with a concentration in Sport Communication.
Net Price: $21,356/yr
13. Chatham University
Pittsburgh, PA
So far, all of the schools higher up on our top communication degrees ranking have shared at least one common trait: they all boast multiple programs - sometimes several minors, too. But this trend ends with Chatham University, where communications majors cluster around a single degree option (a BA in Communication). Fortunately, this doesn't mean students' options are limited to a single curriculum. In actuality, the university's streamlined approach provides a benefit to undergrads who want to connect with like-minded peers and grow in an intimate space. And once they declare their major, program members can still branch out into a particular area of interest thanks to concentrations in Journalism, Public Relations, Graphic Design, and Human Communication.
Net Price: $21,066/yr
12. Hardin-Simmons University
Abilene, TX
In many ways, Hardin-Simmons is the Southwestern counterpart to Chatham University - at least for communications majors. While their locations are completely different, these two universities share many similarities, including almost identical costs and graduation rates! And Hardin-Simmons, although it is the larger school, also shares Chatham's efficient approach to communication education. All students in this field earn a BA in Communication and then select from emphases in Public Relations/Advertising, Mass Media, and Speech Communication. Interestingly, limiting the scope of their undergraduate communications program has allowed the department to develop some fairly unique extracurricular opportunities - like the Charles Goodnight Project, which grants HSU students up-close access (and reporting privileges) on the restoration of a historic ranch house in the community.
Net Price: $20,528/yr
11. Gardner-Webb University
Boiling Springs, NC
If there is any question as to whether Gardner-Webb University is equipped to handle the needs of 21st-century communications majors, just look at the name of the department! With a title like the "Department of Communication and New Media," this academic division makes it clear that modern, contemporary reporting is its specialty. Indeed, GWU is a top small college for communication majors who are eager to be a part of the cutting-edge. Perhaps most impressive is the department's journalism degree, which provides training in editorial news (both online and print media), television broadcasting, and photojournalism (which includes photo, video, and multimedia methods).
Net Price: $20,417/yr
10. Northwest Nazarene University
Nampa, ID
At Northwest Nazarene University, communication is as much an art as it is a science. The Communication Studies Department reflects this dichotomy through programs that emphasize creative pursuits (like Mass Comm./Film Studies) as well as analytical thinking (like Comm. Science). Actually, NNU is one of just a few schools on this communication degrees ranking to offer a degree specifically in Communication Science. Rather than focusing on journalism or media, this program imparts knowledge in research methods and communication theories, making it ideal for individuals who plan to attend graduate school or work in consulting.
Net Price: $19,789/yr
9. Culver-Stockton College
Canton, MO
Culver-Stockton College earns a single-digit ranking on this list of affordable small schools for journalism and communications thanks to its low net price, which barely tops $19k a year. While this affordable price tag might also be part of the reason Culver-Stockton only offers a single communications degree, it hasn't seemed to affect the program's quality at all. Indeed, the compact communication major packs a powerful punch, complete with specializations in Media Comm., Sports Comm., and Public Relations. But the opportunities may be more enticing outside of the classroom. And with student-run publications like Megaphone, the award-winning newspaper, plus on-campus radio and TV stations, it's not hard to see why.
Net Price: $19,188/yr
8. Concordia University - St. Paul
Saint Paul, MN
At first glance, the BA in Communications Studies at Concordia University in St. Paul may seem relatively shapeless - that is, until students get their hands on it! On the broadest level, Concordia's program offers a fairly basic overview of communication topics. Required courses touch on public speaking, communication theory, research methods, and the like. But a closer look at this affordable undergraduate communications program reveals a rich curriculum that grants majors plenty of freedom to cultivate their own personal interests. Tailored course sequences are available in areas like Public Relations and Marketing and Sports Management, as well as for aspiring journalists, authors, and website/graphic designers.
Net Price: $19,082/yr
7. Oklahoma Christian University
Edmond, OK
Although it costs less to attend than two-thirds of the other schools on this best communication degrees ranking, Oklahoma Christian University offers nearly twice as many programs as its competitors. The options are almost too many to list in such a small space; from the BA in Public Communication and Leadership to the BS degrees in Electronic Media, Journalism, Mass Communication, and Public Relations, OCU really does have it all. Interestingly, the Electronic Media and Mass Comm. programs share a triad of concentrations, so majors in either of these areas can pick from the same three specialty tracks.
Net Price: $18,758/yr
6. Concordia University - Chicago
River Forest, IL
Concordia University makes a second appearance on our affordable communication degrees ranking through its Chicago location. On this campus, communications majors have their choice of two paths: a traditional comm. program and a career-focused journalism degree. The former option emphasizes research, writing, and analytical skills, making it a great foundation for graduate school. However, students can also use the curriculum to prepare for a specific career by selecting an emphasis in Media (ideal for jobs in radio broadcasting or audio/visual production) or Strategic Communication (public relations). A third concentration in Human Communication and Culture doubles down on analytical and theory-based coursework to ensure majors will be adequately prepared for graduate-level work.
Net Price: $18,557/yr
5. Belhaven University
Jackson, MS
As a Christian university, Belhaven is dedicated to providing students of faith with an education that promotes moral as well as intellectual values. Although this isn't the only Christian college for a communication degree on our ranking, Belhaven's curriculum puts more emphasis on religious coursework than most. However, undergraduates don't have to worry that this focus on biblical teachings will detract from their academic pursuits. Communication majors, for example, will still find plenty of room in their schedule to obtain a concentration in Journalism, Public Relations, Electronic Communication, or Sports Broadcasting.
Net Price: $15,527/yr
4. North Greenville University
Tigerville, SC
While other universities spread themselves thin by trying to support communication degrees in every possible area of focus, North Greenville takes a different approach. To be sure, the school's College of Communication offers three different majors, but they all share a common link: journalism. NGU's Broadcast Media major introduces participants to audio and visual production as well as directing, media management, and on-air reporting. The Digital Media major is all about storytelling; students learn how to report information from all angles and can choose from concentrations like Writing and Multimedia Development. This is also one of the more religiously-focused colleges on our top communications degree ranking, and the program even offers a major in Media Ministry.
Net Price: $15,422/yr
3. William Carey University
Hattiesburg, MS
Of all the programs that William Carey's Department of Theatre and Communication offers, the most robust is probably Mass Communication. In addition to more than 40 credit-hours of general coursework, majors must also complete a 12-credit concentration in one of two areas: Public Relations or Electronic Media and News Production. Conveniently, the degree also offers related minors in PR and Journalism, making it possible for students to double the size of their concentration - or develop specialties in both areas! But that's not the only way undergrads can get more than their money's worth from this affordable small college for communication majors. On-campus groups like The Cobbler newspaper and Crusader Yearbook provide valuable work experience, too.
Net Price: $15,026/yr
2. Madonna University
Livonia, MI
At Madonna University, opportunities to study communication pop up all over the course catalog. Though loosely organized under the heading of "Language, Literature, Communication, and Writing," these programs operate independently and give students a large degree of freedom to explore their interests. The broadest of these options is the Communication Studies major, which provides useful skills for almost any career path - as well as for grad school. But unlike general undergraduate communications programs at most other schools, Madonna supplements its curriculum with unconventional concentrations like Public Advocacy and Public Comm. Undergrads who are leaning more toward a career in reporting can choose from degrees in English/Journalism, Journalism and PR, and Broadcast and Cinema Arts.
Net Price: $13,710/yr
1. College of the Ozarks
Point Lookout, MO
With a graduation rate of 73% (tied for the highest on this affordable communication degrees ranking) and an extremely competitive net price of about $13,500, the College of the Ozarks represents the epitome of value in higher education. Anyone looking for an affordable investment with a high rate of return will find a reliable partner in this school, which couples strong academics with a clear focus on work ethic. The college offers just one pertinent degree program (in Communication Arts), but its curriculum is overflowing with opportunities - including five distinct tracks in popular subjects like Radio Production, Journalism, and Speech Communication.
Net Price: $13,567/yr
Want to find out exactly how much it will cost for you to attend one of these affordable undergraduate communications programs? Check out the U.S. Department of Education's Net Price Calculator Center.
See also:
Sources:
Get prepared for your next steps
Use articles and resources to uncover answers to common questions, get guidance on your goals, and learn about applying to schools.
Discover a program that is right for you.
Explore different options for you based on your degree interests.