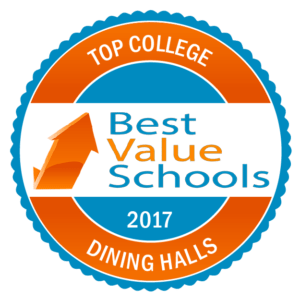 What college dining halls have the best food? This might not be the most important question high schoolers should be asking when putting together their application lists, but it's not a trivial concern, either! Everyone has to eat, and active, growing college students are definitely no exception! Realizing that campus food will form the majority of their diet for the next four years, it's worth considering what that will look like - from the variety of options available, to nutrition content, to accommodating dietary restrictions (due to allergies, religious customs, moral/ethical concerns, etc.).
The 50 Colleges with the Best Food Ranking Methodology
Just as beauty is in the eye of the beholder, taste is in the mouth of the diner. In other words, determining an objective measure of the "best" food for college students would be nearly impossible. Some think taste and variety are the most important factors, while others place a premium on nutrition content or sustainability. Still others emphasize participation in food-related events or wellness programs.
In the end, we decided that all of these factors are important - and more! Therefore, we built one comprehensive ranking by combining the results of five other studies on college dining halls all across the country:
Taken together, the scores that each college received from the websites above accounted for 84% of our total ranking. We allocated the remaining 16% to measure affordability, which we calculated by looking at each college's net price. We obtained net price figures, which combine tuition rates and fees/other expenses (e.g. cost of living) with average financial aid, from the National Center for Education Statistics.
After crunching the numbers, we came up with our final ranking of the 50 best college dining halls.
---
50. University of Chicago
Chicago, IL
Website
Although UChicago partners with food service giant Bon Appétit, the school is also committed to supporting small businesses. To that end, it sources some of its healthy college food from local suppliers, many of them owned by women or people of color. The school plans to ramp up that practice in the near future, aiming to source 40% of its purchases from the community. But responsibly sourced ingredients would mean nothing if the end product wasn't tasty, so UChicago runs a "mystery diners" program to evaluate meal quality (and the entire dining experience). The program, which is open to students, requires diners to fill out surveys; UChicago staff then review the results and modify meals or other details accordingly.
Net Price: $33,107/yr
Score: 40.1
49. College of William and Mary
Williamsburg, VA
Website
No matter what William and Mary students crave, the school's 10+ dining locations should have something that appeals. Pitas, barbecue, and pizza are just a few options, and the school has plenty of tea and coffee shops to give sleepy students a caffeine infusion. Like similar colleges with the best food, William and Mary caters to special diets, allergies, and intolerances through its Simple Servings stations. The school also designates certain dishes as "Mindful," meaning they meet specific health standards while still incorporating creative flavors. Students might choose a Blueberry Peach Muesli Parfait for breakfast, have a Tahini Ginger Crunch Wrap for lunch, and enjoy Samosa Stuffed Potatoes for dinner.
Net Price: $14,310/yr
Score: 41.5
48. California Baptist University
Riverside, CA
Website
Thanks to its partnership with Chik-fil-A, California Baptist University could be a great choice for students who crave familiar food. But the school also offers plenty of original fare at its top college dining halls. The Foodology location provides quick service and farm-fresh meals, including to-go salads, sandwiches, and more, while El Monte Grill nods to California's great Mexican food with south-of-the-border specials. And for an all-you-can-eat option that's open to students and their families alike, check out the Sunday brunch buffet. With sushi, pizza, and standard breakfast fare, it has something for every appetite.
Net Price: $26,548/yr
Score: 42.2
47. Roger Williams University
Bristol, RI
Website
Among the best college cafeterias, Roger Williams' dining halls stand out thanks to their commitment to sustainability. A quarter of the school's food is produced within 150 miles of the Bristol, Rhode Island, campus, and chefs check a farmer update app so they can prepare meals using the best ingredients available that day. RWU encourages students to avoid food waste with awareness campaigns throughout the year, and they partner with food recovery agencies so leftovers go to local shelters rather than the trash. And finally, by using compostable materials, the school prevents waste from ending up in a landfill. Instead, it goes a local compost plant.
Net Price: $35,755/yr
Score: 42.9
46. University of Houston
Houston, TX
Website
With its innovative menu app, the University of Houston is embracing current technology trends and appealing to an audience that expects updates at their fingertips. The school's Android and iOS app lists daily menus and nutritional information for both residential dining halls, giving diners the chance to plan their meals with ease. UH also offers some of the best food for college students who want details about what they're eating. Thanks to a comprehensive labeling system, each dish is marked for caloric content, sodium levels, dietary preference, and various other innovative markers (such as, "Baked, Not Fried" or "Hearty Whole Grains").
Net Price: $14,059/yr
Score: 44.3
45. Muhlenberg College
Allentown, PA
Website
With its strong sustainability initiatives, focus on healthy food, and varied options, Muhlenberg College counts itself among the top college dining halls in the country. The school's on-staff registered dietitian brings evidence-based health initiatives to the menu, while an innovative sustainability internship lets interested students join the dining team and put their passion for sustainable dining to work. The unique internship includes a focus on marketing, giving it broader appeal and providing valuable experience. Muhlenberg also includes students in its dining team in another way: they help run a hydroponic garden that provides herbs to one of the main dining halls.
Net Price: $34,943/yr
Score: 45
44. Princeton University
Princeton, NJ
Website
Thanks to its focus on sharing food from myriad cultures, Princeton runs one of the best college cafeterias for students who appreciate diverse flavors. The menu features creative, fresh dishes such as coconut basmati rice, Thai roasted vegetables, and Korean bulgogi bowls. And because the school values transparency, it rates dishes based on their carbon emission levels with designations that range from low to high (including a special "Earth-friendly" designation). On the online site, easy filtering options for specific allergens also make it simple for students to tell which meals meet their needs and preferences.
Net Price: $17,901/yr
Score: 45.6
43. University of Oregon
Eugene, OR
Website
Given the state of Oregon's renown as a beacon of sustainability, it should come as no surprise that the University of Oregon offers some of the best food for college students who want to know exactly where their meals come from. More than 25 farms in the surrounding Willamette Valley provide local produce, and the school's trained chefs incorporate these fresh ingredients into healthy options such as potato leek soup, vegetarian meatballs, and build-your-own bowls with lots of local veggies. The university doesn't let food scraps go to waste, either: It composts more than 130 tons of waste each year, and used fryer oil gets converted into fuel thanks to a partnership with a local company.
Net Price: $15,128/yr
Score: 46.1
42. Columbia University in the City of New York
New York, NY
Website
Columbia University in the City of New York aims for inclusivity in its meal options: The school offers healthy college food that meets the requirements of various cultural diets and religious restrictions. For example, Jewish students can enroll in a special kosher meal plan that includes access to a designated kosher dining area; they can also buy grab-and-go options at an all-kosher deli with great quick options. And Muslim students have a similar option with the halal meal plan, which entitles the students to dishes prepared according to the tenets of their faith.
Net Price: $17,678/yr
Score: 48
41. Northwestern University
Evanston, IL
Website
Though it can be difficult to stand out among similar colleges with the best food, Northwestern differentiates itself with a unique menu customization option. Following food industry trends modeled by fast casual restaurants such as Chipotle and Chop't, Northwestern's My Kitchen station allows students to prepare their own meals from a selection of ingredients. The station might feature paella ingredients one day and curry the next, and students cook their own meals (under the guidance of a chef) on induction stoves to avoid burn risks. Not only do students know exactly what they're eating, but they also learn how to prepare tasty, fresh meals from quality ingredients.
Net Price: $30,552/yr
Score: 48.4
40. University of South Carolina-Columbia
Columbia, SC
Website
Carolina's dining program receives awards nearly every year, and it's easy to see why. From a diverse range of choices to a school-wide focus on health, Carolina has plenty to offer. The university provides more than 10 dining plans, allowing students to customize their meals to their style and preference. And because of its partnership with Sodexo, Carolina's top college cafeterias include many healthy choices. In fact, the school incorporates both Simple Servings (allergy-friendly options) and Mindful meals, which meet specific health standards. For students who prefer chain restaurants, Carolina has quite a few franchises on campus - including five Starbucks locations!
Net Price: $19,434/yr
Score: 50.3
39. Kent State University-Kent
Kent, OH
Website
Recognizing that students with celiac disease need a safe, contaminant-free space to eat so that they don't get sick, Kent State built Prentice Hall, the first Gluten Intolerance Group-certified college cafeteria in the country. This top college dining hall is a true safe zone and had to meet strict criteria for qualification. It's also convenient: students can order ahead and pick up meals later. Prentice Hall isn't the only innovative dining option on campus, though. Kent State also operates Fork in the Road, a food truck that serves up creative entrees around campus. For busy students, the ability to grab a burger or veggie wrap on the go could be a lifesaver.
Net Price: $18,531/yr
Score: 52.6
38. College of the Atlantic
Bar Harbor, ME
Website
From classic Maine blueberry pie to plenty of seafood, the College of the Atlantic offers food inspired by its location in Bar Harbor, Maine. It also pays more than lip service to the importance of healthy college food. More specifically, chefs make all dishes from scratch with fresh, local ingredients, and they take pride in creating innovative dishes. A whopping one third of all dishes are vegetarian, and students can find plenty of vegan options as well. For students concerned with animal welfare, the school always opts for humanely raised and sustainably sourced products. All coffee (and many bulk staples) are fair-trade, and the staff is working towards an entirely fair-trade menu in the future. And finally, a composting partnership works to reduce food waste.
Net Price: $22,768/yr
Score: 52.9
37. University of San Diego
San Diego, CA
Website
The University of San Diego consistently receives awards for its dining concepts as a whole and for its individual offerings (PETA gives its vegan menu an A+). One of its most inspiring concepts is La Paloma, a stand-alone cafe that prizes sustainable, local ingredients with an international flavor. The cafe uses locally made tofu and serves hormone- and antibiotic-free meat, and it avoids artificial sweeteners, colors, and additives. Not only does it offers some of the best food for college students, but a commitment to sustainability means that everything is recyclable, biodegradable, or eco-friendly.
Net Price: $35,950/yr
Score: 53.7
36. Hendrix College
Conway, AR
Website
Like most colleges with the best food, Arkansas' Hendrix College strives to offer options for every preference. Hendrix takes it a step further with customizable stations where students can make meals to their own tastes. From a surprisingly robust salad bar to a DIY stir-fry station, Hendrix hands the reins to students. The school is also an active participant in Meatless Monday, giving chefs the chance to reinvent classic dishes in new ways (think buffalo cauliflower pizza or ratatouille wraps). Plant-based eaters need not worry the rest of the week, either: the school always serves at least one vegan option with each meal and often adds a vegetarian option too.
Net Price: $24,955/yr
Score: 54.5
35. University of California-Davis
Davis, CA
Website
For a dining program that benefits its entire community, give the University of California - Davis a look. Not only does Davis's top college cafeteria practice waste-mitigation techniques such as composting and source reduction, but it also donates fresh food to community groups through food recovery programs. In addition, students can "donate" their meal swipes during twice-yearly drives, and Davis will give an equivalent donation to a local food bank. Back on campus, nutrition talks help students make healthy choices, and a nutrient ranking descriptor on signage indicates the nutrient density of each menu item.
Net Price: $16,841/yr
Score: 55.3
34. Massachusetts Institute of Technology
Cambridge, MA
Website
At MIT, an in-house nutritionist is on hand to help students with special diets or allergies ensure that they have plenty of healthy options at mealtime. In the case of a severe allergy, MIT staff members work with Bon Appétit management to craft well-rounded dishes that won't endanger the student's health. MIT also offers healthy food for college students who are interested in wellness by clearly marking menu items that are "in balance," meaning they contain a balanced array of whole grains, proteins, fruit, and/or vegetables. It also notes when seafood meets stringent seafood watch guidelines so students know that their meals are ocean-friendly, too.
Net Price: $21,691/yr
Score: 56.1
33. University of California-San Diego
La Jolla, CA
Website
Students who reside in off-campus housing often can't sign up for a school's meal plan. Not so at UC - San Diego, where the community dining plan lets everyone, residential or not, enjoy the school's healthy college food. Students (and faculty!) simply swipe their campus ID card to access it—and they get a 20% discount on each purchase. Meal plan or no, all students will appreciate the dozens of creative options available at the school's many dining halls, restaurants, and cafés. San Diego even runs a food truck that features Mexican specialties.
Net Price: $14,933/yr
Score: 57.4
32. Mills College
Oakland, CA
Website
With just over 1,300 students, Oakland's Mills College might be small, but it holds its own against larger universities and ranks among the colleges with the best food. Fair-trade coffee, plenty of organic produce, and a variety of plant-based entrées help set it apart from the competition. Some produce even comes from Mills' own garden! Besides Founders Common, the traditional dining hall, the school also runs a smaller tea shop. Its outdoor patio seating provides a great chance to take a break and enjoy a quick bite from the grill.
Net Price: $27,181/yr
Score: 57.6
31. Johns Hopkins University
Baltimore, MD
Website
Chefs who work at Johns Hopkins' top college dining halls follow rigorous standards as they prep thousands of meals each week. Because the school is devoted to offering as much fresh food as possible, employees bake bread daily, make their own stocks from scratch, and use the freshest vegetables they can find. When possible, they also use local, sustainably grown produce to reduce the university's environmental impact. And because the dining program values community, the team puts on regular food-focused events (think cultural nights and a cooking demonstration series) that help get students more involved in what they eat.
Net Price: $28,334/yr
Score: 59.3
30. Brown University
Providence, RI
Website
Like many smaller, private liberal arts colleges, Brown University relies mainly on traditional dining halls to serve students. More specifically, the campus has two "all-you-care-to-eat" cafeterias, each of which serves up a wide array of dishes for breakfast, brunch ("continental breakfast"), lunch, and dinner. Diners looking to make educated food choices can use an online tool called MyMeal to see nutrition and ingredient information, and all meal items are marked with special labels to designate vegetarian, vegan, and gluten-free options. And thanks to its Express Delivery service, Brown has some of the best food for college students who want their meals brought to them.
Net Price: $22,957/yr
Score: 60.2
29. Harvard University
Cambridge, MA
Website
Harvard University Dining Services (or "HUDS") takes meal time on campus very seriously. Students at this elite college maintain busy schedules from morning 'til night, and many only take breaks to eat. As such, HUDS strives to make eating a socially as well as physically reinvigorating experience. Each dining hall is associated with a particular house (undergraduate residence) and maintains a unique schedule that encourages community bonding. For example, one facility sets aside a few hours each day just for freshmen to eat, while another has established "community dinners" just for house members. But regardless of where they eat, Harvard undergrads can feel confident that they'll be chowing down on some of the best college food in New England.
Net Price: $15,742/yr
Score: 61.5
28. University of Washington-Seattle
Seattle, WA
Website
Forget traditional college cafeterias. At UW, students can choose from four types of contemporary dining. The university's three food courts, which serve a variety of international cuisines and classic dishes, are especially popular. Chief among them is the Husky Den, which includes a fully-stocked salad bar, classic burger joint, and hot breakfast station. On-campus cafés and markets give Huskies a chance to recharge with a quick coffee or pick up fresh groceries and chef-prepared side dishes for home cooking. And last but not least, UW Street Food is a collection of food trucks that serve made-to-order breakfast sandwiches, hot dogs, barbeque, and "island-style" dishes all day long.
Net Price: $9,744/yr
Score: 62.7
27. Liberty University
Lynchburg, VA
Website
Considering the vast majority of its students are enrolled in online programs, Liberty might seem like an odd choice for this ranking of colleges with the best food. But in fact, the university's Reber-Thomas Dining Hall has repeatedly earned national recognition for the quality of its fare. Operated as a food court, Reber-Thomas houses nearly 20 dining establishments under one roof. Among the more unique stations are the Training Table, which serves nutrient-dense meals specifically designed for athletes; Simple Servings, which prepares all meals free of at least 7 out of 8 common food allergens; and Global Fusion, which combines live-action cooking with authentic Asian and Mediterranean cuisine.
Net Price: $23,468/yr
Score: 63.5
26. University of California-Berkeley
Berkeley, CA
Website
Just like it falls near the middle of this ranking of colleges with the best food, UC Berkeley also takes a middle-of-the-road approach to on-campus dining. On one hand, students can choose to eat in one of four "dining commons" locations. Each of these dining halls sports a distinct theme: Foothill serves traditional fare, Clark Kerr offers authentic Spanish dishes, and both Crossroads and Café 3 make organic, local ingredients a top priority. Café 3 is also popular for its Kosher-certified and vegan/vegetarian options. However, students who prefer more contemporary dining can frequent nearly a dozen on-campus cafés, casual eateries, and marketplaces instead.
Net Price: $16,601/yr
Score: 63.8
25. University of Pennsylvania
Philadelphia, PA
Website
Much like its neighbor on this college dining halls ranking, the University of Pennsylvania splits its dining services between traditional/residential and retail food options. Two of the most popular retail establishments are The ARCH Café, which specializes in "hand-crafted Mexican delicacies" using seasonal (and locally-produced) ingredients, and Houston Market, where students can grab internationally-inspired entrées, hand-rolled sushi, gluten-free snacks, and more. And anything that's not available at the 10+ on-campus stores is probably on the menu in one of Penn's four all-you-care-to-eat dining facilities. One of these, known as Falk Dining Café, prepares all dishes Glatt Kosher and is open to both students and members of the surrounding community.
Net Price: $23,924/yr
Score: 64.9
24. Duke University
Durham, NC
Website
From an abundance of on-campus establishments to nutritional resources to partnerships with off-campus vendors, Duke Dining may actually have it all. All told, Duke supports more than 55 casual eateries, quick-service restaurants, and cafés across its three interconnected campuses. Certainly one of the most popular lunchtime locales is West Union, which brings together a multitude of cuisines in one place. Whether students are hungry for sushi or tandoori chicken, burgers or vegan spinach lasagna, farm-to-fork sustainability or a delicious craft beer, West Union doesn't disappoint. Add in the food trucks that conveniently pop up on campus at lunch and dinner time, and there's no doubt Duke is one of the colleges with the best food around.
Net Price: $21,295/yr
Score: 66.3
23. Wheaton College
Norton, MA
Website
There's always something new and exciting happening at Wheaton College Dining Services. At Chase Dining Hall, newly-installed cook-to-order stations bring students all their favorite cuisines. But Chase also supports all-you-care-to-eat meal plans, making this one of the best college dining halls for high variety and high value. Another mainstay on campus is Emerson Dining (also newly renovated), which offers coffee, fresh salads, and other quick bites for students on the go. But what really puts Wheaton over the top is the Hood Eco Café, where diners can enjoy a wide selection of soups, salads, and sandwiches in an eco-friendly environment.
Net Price: $27,792/yr
Score: 67.2
22. Ball State University
Muncie, IN
Website
The dining section of Ball State's website advertises "11 convenient locations" across campus. But this figure far undersells the true culinary variety to which students have access. That's because several of these locations actually house five or more establishments, putting the university's actual restaurant count in the dozens. One of the busiest is The Atrium, where students can get all their favorite college foods, including tacos, deli sandwiches, and steak burgers. Health nuts might have better luck at LaFollette Square, which offers a buffet of vegetarian entrées, salads, and more. As an added bonus, a strip of restaurants along W. McGalliard Rd. (about a mile from campus) provides plenty of off-campus options for students bored of food court fare.
Net Price: $12,847/yr
Score: 68.8
21. St Olaf College
Northfield, MN
Website
A small liberal arts college located in southeast Minnesota, St. Olaf lacks the overwhelming variety of dining options that students at much larger schools enjoy. And yet, what the college does offer leaves little cause for complaint. After all, Stav Hall (the main dining facility on campus) dishes out 70+ entrées a week - not to mention a fully-stocked desert table. Stav also offers plenty of sustainable food for college students interested in supporting the local economy. In addition to produce and herbs from the on-campus organic farm, dining staff uses antibiotic- and hormone-free meat and dairy products from local farmers.
Net Price: $26,183/yr
Score: 70.6
20. Wesleyan University
Middletown, CT
Website
At Wesleyan University's top college cafeteria, meals come with an interesting side: intellectual conversation. That's because Daniel Family Commons, a dining hall usually reserved for faculty and staff, encourages students to join their professors and mentors "to engage in intellectual discourse over lunch." Of course, undergrads who need to give their brain a break have other options, including another dining hall and two on-campus cafés. Another great source of nutrients - especially for students with special dietary needs - is WesShop Essentials. This mini-market offers fresh, local produce and bulk food items; Halal and Kosher selections; and ready-to-eat/heat organic meals.
Net Price: $22,257/yr
Score: 71.4
19. Purdue University
West Lafayette, IN
Website
If there's one reason Purdue University deserves its spot on this ranking of colleges with the best food, it's because of the unbelievable variety it offers. For any given meal, Boilermakers have their choice of six on-campus dining courts, 17 full-service restaurants, 10 cafés (including two Starbucks locations), four markets/mini-marts, and a food truck! Of course, quantity isn't everything, but Purdue isn't slacking on quality, either. Students can even access an online search tool to read detailed nutrition information about any of menu items being served in the dining courts that week.
Net Price: $11,643/yr
Score: 73.3
18. Stanford University
Stanford, CA
Website
Stanford already has a reputation as one of the most academically challenging, forward-thinking universities in the world. But few would have thought that this penchant for innovation would extend to its dining halls! Sure, Stanford is one of the colleges with the best food, but it's also one of the schools with the most unique food programs. For example, students can sign up for Jamie Oliver's Cook Smart Program, which teaches participants basic cooking skills as well as about healthy and mindful eating. Alternatively, a student may elect to become a dining ambassador, promoting events in the dining hall and informing their peers about wellness, sustainability, and nutrition.
Net Price: $19,245/yr
Score: 74.7
17. New York University
New York, NY
Website
Because NYU doesn't operate a traditional college campus, it wouldn't make sense for the university to force students - who attend classes in buildings spread throughout the city - to eat meals in one central location. So instead, NYU dining offers students their choice of 16 establishments across Manhattan and Brooklyn. Those who choose to purchase a meal plan (as all freshmen are required to do) will likely gravitate toward Washington Square. Here, students can get their fill of great college food from dining halls, food courts, and casual eateries serving up a wide variety of both local and international cuisines.
Net Price: $35,106/yr
Score: 76
16. Yale University
New Haven, CT
Website
At Yale, students' dining experience is closely linked to their residential one. In fact, every one of the university's 14 residential colleges has an associated dining hall. With so many options, it's hard to pick the best college dining hall on campus, but suffice to say they all rank among the best in the nation! Conveniently, Yale provides an online service to help students plan their menu based on location, meal, and dietary restrictions and habits. Of course, busy Yalies won't always have time for a formal sit-down meal; in those cases, they can swing by one of nearly a dozen on-campus restaurants (mostly cafés) for a quick bite or coffee pick-me-up.
Net Price: $18,164/yr
Score: 77.4
15. Pitzer College
Claremont, CA
Website
Dining at Pitzer College takes place primarily in four on-campus locations. Two of these - McConnell Bistro and Pit-Stop Café - are run by Café Bon Appetit, a progressive company that "strive[s] to cook delicious food that's good for you, the animals, the workers, the community, and the Earth." In addition to healthy, fresh college food, Pitzer students can expect plenty of fun in their dining experience, including theme nights like "Mongolian Mondays" and "Freestyle Fridays." Other options include the Grove House (famous for its delicious cookies) and Shakedown Café, a student-managed restaurant that takes environmentally and socially conscious cuisine to a whole new level.
Net Price: $26,288/yr
Score: 78.1
14. Middlebury College
Middlebury, VT
Website
One aspect of Middlebury's dining services immediately distinguishes it from other schools: its lack of meal plans! Where other colleges make students pay for a certain number of meals per semester or fill their ID cards with pre-purchased points, Middlebury goes completely off book. According to its website, "Students can eat wherever they'd like, whenever they'd like, and as much as they'd like" in exchange for one all-inclusive fee. This is an especially great deal considering Middlebury is home to three top college cafeterias, each of which offers a unique dining experience. An outspoken friend of the environment, the school also strives to cut down on its ecological footprint by composting up to 99% of its food waste.
Net Price: $20,197/yr
Score: 79.7
13. Boston University
Boston, MA
Website
Well over 30,000 students attend Boston University, which comprises 18 smaller schools and colleges operating on three continents. Naturally, it takes an extensive dining program to accommodate BU's large campus population (not to mention sprawling international presence). That includes not one, but four residential cafeterias, all of which qualify as some of the top college dining halls in America. It also includes nearly two-dozen cafés, casual eateries, and quick-service establishments; an on-campus pub; and a "Late Night Kitchen" that serves classic comfort foods until 1:00am. And for those interested in improving their diet, a unique Sargent Choice meal plan (designed by and named for BU's own nutrition center) makes healthy eating both easy and convenient.
Net Price: $32,732/yr
Score: 80.1
12. University of Georgia
Athens, GA
Website
UGA students don't need to see this ranking to know that they have access to some of the best, healthiest college food in the country. Why? Because UGA Dining Services is already drowning in accolades and awards, including the Loyal E. Horton Dining Awards for Excellence and the IFMA Silver Plate Award for College Food Service Operator of the Year. At the heart of this operation is Bolton Dining Commons, where students can satisfy just about any craving or dietary requirement. From Sunrise Café (which serves made-to-order omelets and pancakes all day) to the CanTING wok stir-fry bar, Bolton just about has it all. There is even a dedicated "Special Selections" line for diners with common food allergies.
Net Price: $13,280/yr
Score: 80.1
11. Emory University
Atlanta, GA
Website
Most college dining programs have one job: feed students! While this is certainly a worthwhile goal, Emory Dining takes on a much larger role in campus life. Of course, like all colleges with the best food, Emory offers a wide array of healthy options, including vegetarian, vegan, gluten-free, and kosher meals. The school's main dining hall, known as the DUC-ling, also adjusts its menu throughout the year to incorporate as many fresh, seasonal ingredients as possible. But Emory Dining's impact doesn't stop there. Not only has the program pledged to acquire at least 50% of its food supply from local and sustainable sources, but it also serves as an advocate for farmworker rights and nutrition education.
Net Price: $25,928/yr
Score: 82.5
10. Bates College
Lewiston, ME
Website
With an enrollment of fewer than 2,000 students, Bates College has little need for massive food courts. In fact, hungry students at Bates generally go to one place: Commons. Utilizing a rotating schedule of menus throughout the year, this cafeteria provides some of the best and healthiest food for college students. Breakfast, for example, includes an omelet station and waffle bar seven days a week, plus extra-delicious brunch options every weekend. Later in the day, diners can fill their plates at the traditional "Bobcat Bar" or check out the Pasta, Deli, or Vegan Bar. Grill, Brick Oven, and Bakery stations are also open at every meal!
Net Price: $24,956/yr
Score: 83.4
9. Kennesaw State University
Kennesaw, GA
Website
At first glance, it might not seem like Kennesaw's Culinary and Hospitality Services are anything to write home about. Indeed, the school's dining profile consists mostly of fast-casual restaurants like Chik-fil-A, Hissho Sushi, and Burrito Bowl. However, KSU also has one of the best college dining halls on the East Coast. This modern cafeteria, known as "The Commons," is the go-to spot for healthy, diverse fare any time of day. Students can even access an interactive online menu that provides detailed nutrition information, with labels about portion size, sustainable ingredients, and vegan/vegetarian options.
Net Price: $17,493/yr
Score: 84.4
8. Washington University in St Louis
Saint Louis, MO
Website
What makes college food good? High quality taste and nutrition, of course, butlocation is also important. After all, a delicious meal is only as useful as its proximity to hungry people! Washington University in St. Louis has mastered this concept with a triad of dining establishments that stretches the full length of its 169-acre campus. At the northern end is The Village, home to casual restaurants like Stir Fry, Old World Deli, and Comfort Food. Journey to the center of campus to find The DUC, one of the most impressive college cafeterias west of the Mississippi. Further south lives the Bear's Den, where students can chow down on authentic international fare from the Mediterranean, Latin America, India, and even Mongolia.
Net Price: $33,261/yr
Score: 87.6
7. Vanderbilt University
Nashville, TN
Website
Vanderbilt University understands that college students have some unique eating habits. With such busy schedules, they need access to a variety of quick, convenient, and healthy foods at all hours of the day. Fortunately, that's exactly what Vanderbilt Campus Dining provides. Of the roughly 20 food options on campus, more than a quarter are 24-hour, "grab-and-go" marketplaces stocked with groceries and ready-to-eat sandwiches, salads, and produce. Casual dining establishments - i.e. cafés and bistros - are another mainstay of the school's restaurant profile. But where is the healthiest food for college students at Vanderbilt? That would probably be Grins Vegetarian Café, which features a Kosher-certified kitchen, or Leaf, a "made-to-order concept" that serves up fresh produce every day.
Net Price: $22,937/yr
Score: 88.1
6. University of Massachusetts-Amherst
Amherst, MA
Website
It would be easy to assume that a large public school wouldn't have the resources to maintain one of the best college cafeterias in the nation. And yet, the University of Massachusetts at Amherst does just that. In addition to four traditional dining halls, the campus sports 18 commercial eateries/cafés, two food trucks, a bakery, and a delivery service. Many of these establishments even serve SPE-certified dishes, a true indication of high-quality nutrition - and taste! But what really makes UMass Amherst stand out is its focus on community values. By sourcing fruits, vegetables, and seafood from local vendors year round, the school does more than its fair share to support the New England Food System.
Net Price: $19,109/yr
Score: 90.2
5. Cornell University
Ithaca, NY
Website
If it weren't for its higher-than-average net cost (which is more expensive than 80% of the schools featured here), Cornell would likely place even higher on our best college food ranking. And yet, the fact that Cornell ranks 5th despite its price tag should testify to the quality of its dining services. Indeed, Cornell students have access to nearly 30 different eateries all across campus. But it's not all about quantity; fortunately, the quality of options is just as impressive. From "All You Care to Eat" dining halls (most of which are housed in residential buildings) to centrally located cafés, food courts, dairy bars, this school's cuisine is consistently top-notch.
Net Price: $28,656/yr
Score: 92.4
4. James Madison University
Harrisonburg, VA
Website
With 28 on-campus dining options, the only food-related complaint JMU students are likely to make is that they can't decide where to eat! One of the most striking features of the university's dining profile is the number of chain restaurants it features, from Chick-Fil-A and Dunkin' Donuts to Starbucks and Subway. Or for a more traditional meal, Dukes can head to E-Hall, which features made-to-order omelets, an "authentic Tandoori oven," and plenty of options for vegan/vegetarian/gluten-free diets. Lastly, those seeking to maximize their intake of healthy college food should check out the Fueled Food Truck. This mobile restaurant aims to bring nutritious, locally-sourced food to campus (in the form of delicious Asian fusion cuisine, no less!).
Net Price: $16,683/yr
Score: 95.5
3. University of California-Los Angeles
Los Angeles, CA
Website
Few universities go to the lengths that UCLA does to keep its students well-fed. For starters, the university's four "residential restaurants" (located in the undergrad dorm complexes), give Bruins easy access to healthy, culturally-diverse cuisine. And yet, students who don't want to take a trip downstairs can simply pick up their phone and order pizza or wings from MyPizza, the university's exclusive online food delivery service. As if that weren't enough, UCLA's quick-service restaurants provide the best food for college students on the go. This includes two combination eateries/coffee bars that stay open until 2am to satisfy late night cravings.
Net Price: $13,816/yr
Score: 96.7
2. Virginia Polytechnic Institute and State University
Blacksburg, VA
Website
Choice is a key part of the dining experience at Virginia Tech University. The school supports about a dozen different dining centers on campus, from traditional cafeterias to food courts featuring popular chain restaurants. VT Dining Services also owns two food trucks, both of which "steer clear of a predictable menu" and park at various campus hot spots throughout the day to meet the needs of hungry Hokies. And like most colleges with the best food, Virginia Tech places a strong emphasis on sustainability. Most notably, the Farms and Fields Project (located in one of the food courts), serves up exclusively local, sustainable, and organic dishes.
Net Price: $18,398/yr
Score: 98.4
1. Bowdoin College
Brunswick, ME
Website
It should come as little surprise that Bowdoin College tops our ranking of the best college dining halls. Publications such as Restaurants and Institutions Magazine, The Princeton Review, and HerCampus.com have all praised Bowdoin's commitment to healthy, delicious food. Part of the school's claim to fame is due to its focus on sustainability; it features an "in-house meat shop" with "local, grass-fed beef," and many of the dining halls' fruits and vegetables come from an on-campus organic garden. What's more, Bowdoin shows sensitivity to special diets by placing allergen labels next to all food items and providing both vegan and gluten-free options at every meal.
Net Price: $23,156/yr
Score: 100
Thanks for reading our ranking of the 50 colleges with the best food!
Sources:
College Navigator
Huffington Post - The Menu Items Millenials Need in their Campus Dining May Surprise You
Niche Best College Food in America
Princeton Review Best Campus Food
College Rank the 50 Best College Dining Experiences
The Daily Meal - 80 Best Colleges for Food in America
BestColleges.com - Best Dining Halls