These 30 Colleges Have Had The Best Renovations. See How A Modern Campus Means A Great Learning Experience
By BVS Staff July 2018 Each college has its own unique character. And this means that each college only suits certain types of student. You need to recognize which colleges best reflect your personality before applying. Some colleges are very new and focused on innovation, and others are centuries old institutions that have a classical ...
BestValueSchools.com is an advertising-supported site. Featured or trusted partner programs and all school search, finder, or match results are for schools that compensate us. This compensation does not influence our school rankings, resource guides, or other editorially-independent information published on this site.
Are you ready to discover your college program?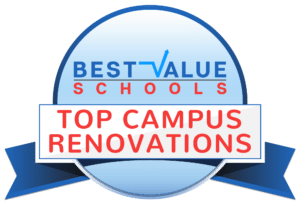 By BVS Staff
July 2020
Each college has its own unique character. And this means that each college only suits certain types of student. You need to recognize which colleges best reflect your personality before applying. Some colleges are very new and focused on innovation, and others are centuries old institutions that have a classical teaching approach. And of course, many lie somewhere in between these two extremes.
There are several things that you can look at to gauge a college's character. One of the most prominent is its infrastructure. Often, colleges construct their buildings from scratch. Even if a college is choosing to occupy a previously created building, they've made a conscious decision to be in that building for a reason. And once they're there, the college's staff members will customize it to reflect how the college wants to be perceived.
But the most important detail that you need to consider with college campus buildings is whether they're modern enough. Every college building needs renovating, improving and updating after several years. These updates also feed into a college's character, as every college is attempting to pride itself on its ability to provide for future careers and the demands of an evolving job market. But only some colleges achieve that goal.
Basically, every single job in the world is going to be affected by modernization. That means that college campuses need to have the facilities in place to prepare their students for this. You may not have considered the importance of a modern campus up until now, but it will greatly impact your years of study. Some colleges have outdated facilities, while others are undergoing disruptive building work that can be detrimental to its current cohort. However, many colleges have completed their updates and are providing students and faculty alike with buildings and facilities that allow them to learn, relax and become highly productive people.
This list will show you which colleges have undergone the best campus renovations and revamps in recent years and how they benefit students in the most constructive ways.
Methodology
Producing this list has involved combining a range of respectable online articles and conducting our own dedicated research. Due to the very nature of college renovations, only recent articles suffice. After compiling the college renovations from these sources, we've then looked into other websites and statements to ensure that the buildings are actually incredible. We've done this because the colleges need to prove that their buildings are actually providing students with the value that the articles claim they are.
We haven't selected any one subject of study above another. Some buildings are geared to the arts, while others are scientific in nature. Some even combine areas of study into one place. We think that it's important to show you this range of subject area because then you'll get a strong idea of what colleges can provide. And if you're considering colleges that aren't on this list, then you can still use our selections to see how their facilities and buildings compare to your choices.
The articles that we're referencing are as follows:
University Business, Building a better college campus: https://www.universitybusiness.com/article/building-better-college-campus
University Business, How colleges manage inner space: https://www.universitybusiness.com/article/how-colleges-manage-inner-space
University Business, How Higher Education is learning to grow: https://www.universitybusiness.com/article/how-higher-education-learning-grow
The Atlantic, The Paradox of New Buildings on Campus: https://www.theatlantic.com/education/archive/2016/07/the-paradox-of-new-buildings-on-campus/492398/
Architectural Digest, The 9 Best New University Buildings Around the World: https://www.architecturaldigest.com/story/the-9-best-new-university-buildings-around-the-world
New York Times, The Innovation Campus: Building Better Ideas https://www.nytimes.com/2016/08/07/education/edlife/innovation-campus-entrepreneurship-engineering-arts.html
Building Design + Construction: 5 ways universities use new buildings to stay competitive: https://www.bdcnetwork.com/5-ways-universities-use-new-buildings-stay-competitive
The above articles are a mixture of mainstream publications and specialist journals that focus on universities or architecture. That means that we've been able to find colleges that have gained prominence on a national level and impressed people that focus on college building design.
In compiling our own rankings, we've used a range of criteria. The most important criterion to this list is the demonstrated impact that a renovation project has had on student learning and studying. After this, we've factored in the total expenditure of the project. By sorting our rankings in this manner, we've ensured that we're selecting buildings that not only look impressive and are expensive but are ones that actually focus on what really counts: student education. Other selection factors include the number of students aided and physical appearance.
The list, from 30 to one, is here:
#1

University of Chicago

Chicago, IL

#2

Northeastern University

Boston, MA

#3

Columbia University

New York City, NY

#4

Cornell Tech

Ithaca, NY

#5

Duke University

Durham, NC

#6

Wayne State University

Detroit, MI

#7

Stanford University

Stanford, CA

#8

Carroll University

Waukesha, WI

#9

Coppin State University

Baltimore, MD

#10

University of Iowa

Iowa City, IA
Featured Online Programs
Figuring out where to apply? These top, accredited schools offer a variety of online degrees. Consider one of these accredited programs, and discover their value today.
From 2011 to 2016, University of Chicago spent almost $1.7 billion on construction and renovation. This huge sum means that this college a world leader in almost every field of study. With so much money spent on a range of projects, it's hard to pick any one building, but the William Eckhardt Research Center stands out. Overall, the building is 277,000 square foot and features five above-ground floors with two basement levels. It features some of the most incredible astronomy and astrophysics equipment in the world. The building was completed in 2015, and its inhabiting professors have lofty ambitions. The building means the faculty and students, "will find Earth-like planets and maybe signs of life from these planets," predicted Angela Olinto, University of Chicago's chair of Astronomy and Astrophysics. The final cost of this center stood at $225 million.

Northeastern University is now home to a 220,000 square foot innovation ecosystem. It's dedicated to helping great minds collaborate on improving humanity and preserving the Earth and many other noble educational causes. Within this building, the subjects of brain and cognitive health; cybersecurity and privacy; human-centered robotics; drug delivery and structural biology; molecular, cellular and tissue engineering; translational biophotonics; and synthetic chemistry are taught in a way that sees high levels of crossover between student specialisms. Additionally, it hosts global industry leaders who discuss future innovation and practices. The building opened in 2017 and cost $225 million.

Columbia University

Location

New York City, NY

In August 2016, Columbia University's medical and graduate students moved to a new NYC home. It was the 100,000 square feet, 14 floor, state of the art building called the Roy and Diana Vagelos Education Center. This building took three years to complete and features everything a training medical practitioner could need, in both a professional and leisure capacity. This includes a sky lounge for study groups, active learning classrooms, student commons, an anatomy quad, a multi-purpose auditorium, a study bar, a garden and more. The entire project cost $185 million.

Located on Roosevelt Island, New York City, The Bloomberg Center opened in 2017 and is remarkable for a number of reasons. As the name suggests, the building was funded by businessman and former New York City Mayor Michael Bloomberg, who provided $100 million for its construction. The Center is powered entirely by energy generated on campus and is one of the most environmentally friendly buildings on the planet. It also ensures that its students are happy through offering relaxing, non-tech-related activities, such as its art program.

In 2016, Duke University opened a radical redesign of one of the college's older buildings, the West Campus Union Building, which originally opened in 1931. The building was transformed from looking like its neighboring brick clad buildings and into a futuristic glass cube. Some are not fans of how the original, locally quarried Duke Stone was replaced with modern glass, fundamentally changing the appearance of the building and surrounding campus. But many appreciate the way that it has updated the campus to reflect 21st-century thinking. Now the college has an area where students, faculty, and alumni meet, study, present, rehearse, perform and more. The renovation cost $90 million in total.

In 2015, Wayne University's Integrative Biosciences Center opened in Detroit, Michigan. This 200,000 square foot, $90 million building later won R&D Magazine and Laboratory Design's 2017 Renovated Laboratory of the Year Award. Its main purpose is for students and faculty to discover new ways to solve urban health issues. It has a 40-foot high concourse, meeting rooms, laboratories and cutting-edge scientific equipment. The center encourages a collaborative approach, and not just within its walls. Wayne State University deliberately placed it near TechTown, the college's business incubator, so the scientific team can work with business people in gearing their solutions to the world.

Stanford University has invested heavily in its art department over the last decade. It has opened three new buildings dedicated to the arts, with the latest and most impressive being 2015's McMurtry Building for the Department of Art & Art History. This new building cost $85 million overall, and its interior is 96,000 square feet. Additionally, there is 24,000 square feet of courtyard space. This space houses a range of courses and classes dedicated to art study and practice. Features include flexible presentation spaces, indoor and outdoor performance spaces with acoustical walls, a gallery, a sculpture studio, faculty offices, darkrooms, computer labs and film editing rooms.

In the last decade, Carroll University has spent over $130 million in renovations. Perhaps the most impressive of all of these constructions is the Michael and Mary Jaharis Science Laboratories. This building cost $24 million and is almost 42,000 square foot in total. It includes a cadaver lab where students can focus on dissections, a nuclear magnetic resonance spectrometer, an aquatic suite and much more. Since opening in 2016, it has become a vital resource for Carroll University's science students.

Since 2015, the Science and Technology Center at Coppin State University has benefited students and the wider community. Coppin State University's specialism is STEM, and the new facility is really helping to make the college a world leader in training for these careers. The total cost of the building was $83 million, and it brought innovative new classrooms, learning environments, research laboratories, a greenhouse and a data center to the college. It's a highly sustainable building and has been awarded the GOLD Certification from Leadership in Energy and Environmental Design.

Anyone who likes the video game Tetris will immediately see the appeal of University of Iowa's the Visual Arts Building. A 2008 flood damaging the college's former visual arts building necessitated this new construction. The Visual Arts Building began construction in 2013, was completed in 2017 and cost $77 million overall. The finished structure offers art students over 126,000 square feet of space to create masterpieces and collaborate within. In fact, the building is designed to not just facilitate but encourage this activity. It has multiple centers of light, allowing creative people to view projects in different ways, and is designed so that corridors can also serve as meeting spaces and foster discussion.

In 2014, Augusta University unveiled one of the most modern medical training facilities on the planet. This building is the result of a $76 million project to provide Augusta's students with everything they need to become incredible medical practitioners. It's 175,000 square feet in total, and it's equipped with a 40,000 square foot simulation center, which trains students in all areas of medicine. To fund this outstanding project, Augusta received $42 million in bond funding from the State of Georgia and over $34.5 million in charitable donations.

Frostburg State University

Frostburg State University put $71 million into its Center for Communications and Information Technology. And that money was spent on some amazing things. In addition to world-class teaching facilities, it has TV studios, radio studios and a planetarium with a video feed to a rooftop observatory. Everything about this building is cutting edge. It even had a virtual ribbon cutting for its grand opening ceremony. The center opened in late 2014, and it's been a huge hit with Frostburg students ever since. They apparently enjoy studying in the building so much that they need to be told to leave when the building closes at night.

Many colleges are building business relationships with their home cities, and Johns Hopkins University is no exception. In 2017, the 23,000 foot start-up incubator FastForward 1812 opened in Baltimore and immediately acquired 19 business tenants. This number has only increased since. The innovation hub has offices, laboratories, communal workspaces, access to legal, accounting and fundraising experts and unlimited coffee for tenants. Many of the current businesses are former Johns Hopkins students, and others hire new graduates. The building cost $65 million.

University of Massachusetts Amherst

The University of Massachusetts, Amherst's staff members realized that they needed to house their construction and architecture courses in an incredible building. So from 2015 to 2017, they built, "the largest and most technologically advanced academic contemporary wood structure in the US." This was possible due to a system that mixes wood and concrete flooring, which was pioneered at the University of Massachusetts, Amherst itself. In total, the four-floor building cost $52 million and has a roof garden, motion sensors, electro-tinting glass and many more modern features. Not only is it filled with everything that an architecture or design student needs to become successful, but it's also a giant testament to what they can achieve.

University of Michigan - Dearborn

In the last 20 years, University of Michigan Dearborn has doubled in size. However, it's not just claiming new space but also working out how to make its existing spaces more practical. This can be perfectly seen in its Natural Sciences Building, which is adopting a flexible classroom environment so that spaces can be used for multiple activities and subjects. This means that most of the furniture in the building is portable, and simple technology is installed, which professors of all subjects can use. This renovation cost $51 million and is 99,404 square feet in total.

This incredible building only opened in 2017, but it has already won a number of prestigious design awards. Rice University has created Moody Center of the Arts to both teach students about art in a world-class manner and to be a cultural center for the public. Inside the building is a museum art gallery, an experimental art gallery, a multimedia gallery, a studio theater, a maker space, classrooms, a tech library, audiovisual editing booths, offices for visiting artists and a cafe. The building cost $50 million.

Virginia Commonwealth University

This 1970 building has undergone extensive renovations and expansions in recent years. In 2016, the new version of James Branch Cabell Library was launched to the world. It had 96,000 square feet of new construction, adding study, collaboration, discovery and creation spaces for students. It also added a section for collections and archives that focus on the college's specialist subjects, such as Virginia and Richmond history and graphic arts. It then installed a workshop with a 4K video studio, media equipment, video editing software a video game lounge, 3-D printers, laser cutters, sewing machines and more. And if all that wasn't enough, it installed a Starbucks. The renovation cost $50.8 million.

College of Lake County Illinois

Between 2015 and 2018, College of Lake County, Illinois completely remodeled its main campus, Grayslake. This project involved $50 million of renovations, which saw 190,000 square feet of buildings demolished and rebuilt with an extra 30,000 square feet added. Some of the improvements undertaken in this time included moving the cafeteria from the basement to above ground, creating a modern welcome center, designing new study and social areas, adding learning areas and micro-classrooms, installing high-efficiency lighting and much more.

The University of Utah

Location

Salt Lake City, UT

This $45 million building was designed with creative and practical considerations in mind, both inside and out. The exterior of the building is largely cased in copper and will change color over the years, meaning that Lassonde Studios will never look exactly the same. The interior is in a flexible grid system, so the rooms can expand and decrease while following a similar structure. The building assists students in numerous ways. It has 400 residential units for living, creative spaces for studying and business startup incubator services that students are utilizing upon completing their degrees.

University of Pennsylvania

Location

Philadelphia, PA

University of Pennsylvania completed this start-up business incubator in 2016. It was built over 23 acres of properties opposite University of Pennsylvania's main campus. Prior to this huge incubator, the site was home to a range of industrial buildings, such as paint factories, which the University refurbished for its main center. This main center has 58,000 square foot of space and mixes its industrial past with the very modern. Pennovation Works will expand into new projects to connect students with the local business community in coming years. However, it also currently runs a range of interesting activities, such as events, business programs, business matchmaking and more. The main center renovation, site landscaping, and other improvements cost $37.5 million.

In 2014, Alverno College began over $32 million worth of renovations on its campus. The staff members focused on creating a cutting-edge nursing simulation center, a new classroom building, and a student commons area. Of all its renovations, the La Verna Student Commons is definitely the jewel in the crown. Prior to the building's renovation, students were cramped and struggled to focus on work and organization activity. The renovation has doubled this space in size and fits in a range of student services, such as the Service Learning Center.

University of Nevada Reno

University Business states that University of Nevada, Reno has been undertaking a range of impressive renovation and construction projects in recent years. Perhaps its most impressive renovation is the complete demolition and reconstruction of its Getchell Building. Prior to 2014, the Getchell Building served as the core base of the college's library. However, the college's management had ambitious ideas for the space, and approved The William N. Pennington Student Achievement Center in its place. This new building cost $45 million and brought together a range of innovative student services into one place. It also boasts incredible views of Northern Nevada.

This building took an extremely long time to create. It opened in 2009, after 20 years of planning and construction. Even though this is one of the oldest campus renovations on the list, the Center definitely earns its place. It has over 107,000 square feet of usable space and features a cinema, mailboxes for all students, venues for major events, student publication workspaces, student programming space and event services. It's also regularly used by the public as a wedding venue. The building cost $35 million.

This building cost $30 million, before accounting for the extensive state of the art equipment that Clemson University added. It opened in early 2016 and wowed the college's students. Charles Watt, who is the Innovation Center's executive director, stated that he believes the building and its infrastructure will become, "the model for advanced academic buildings for all other universities." Each floor contains interactive video screens that dominate the movable walls. Also, upon opening, the outside of the building had the USA's largest media mesh grid for playing video content. The center's mission is to, "create an environment where collaboration between students, faculty, and leaders from industry and government agencies generates ideas and solves complex problems."

From 2015 to 2017, Northwestern decided to make the most out of its existing Seeley G. Mudd Library. It did this by transforming it into a hall that has multiple functions at different times of the day. Upon completion of the renovation, Mudd Hall had collaborative student resources, scientific laboratories and three empty floors, which were built in anticipation of future academic expansion. Since opening, Mudd Hall has expanded and continues to expand into providing active learning classrooms, a video recording studio, 3-D printing technology and more. Northwestern has not disclosed the cost of the initial renovation or expanding facilities.

In future years, Wichita State University could become recognized as having the world's most cutting-edge facilities and infrastructure. It is currently building out its Innovation Campus, with many incredible planned buildings soon to enter construction. However, the completion of its Experiential Engineering Building is still highly significant. This building opened in early 2017. It is 143,000 square feet and filled with state of the art equipment, 25 laboratories, and the Go Create space, which offers students access to wood, metal and textiles for their own personal development projects. The building cost $32 million.

This college's Science and Engineering School is based in a now renovated former airplane hangar. The teaching area, originally called Akerman Hall but renamed the Gary J. Balas Atrium in 2015, benefitted from a $5.3 million renovation that the college managed. Prior to the renovation, it had coped with temporary laboratories and an inefficient layout for 25 years. It now has state of the art industrial research labs, collab spaces and more. The hangar's redesign has also ensured that it saves approximately $70,000 per year in energy costs.

In 2017, Tufts University opened its new Science and Engineering Complex, which cost $10 million. This was thanks to Microsoft co-founder Paul G. Allen, who funded the entire project. The building is economical in price and in resource usage. Its design has ensured that it uses 77% less energy, 31% less water, and 30% less lighting than the average building of its size. Like many other college renovations, Tufts is adopting a more open and collaborative work environment with this new space. The college president, Anthony Monaco, said, "It is through working together - and connecting and sharing ideas informally in these bright new and renovated spaces - that exciting innovation can occur."

University of Pennsylvania

Location

Philadelphia, PA

It may not look like it, but the Perry World House is one of the oldest buildings at the University of Pennsylvania. In 2016, a renovation was completed on this almost 200-year-old cottage, turning it into a futuristic, stylish building. As the name suggests, Perry World House is where University of Pennsylvania's global engagement team is located. This team uses the building to conduct research dedicated to solving global problems, create student programming for a globalized society and run events. The renovation cost $17.8 million.

Washington & Lee University

This renovation is one of the most loving but time-consuming on the list. Washington and Lee University is home to a range of historic buildings. Tucker Hall is part of the college's Colonnade national historic landmark, and as such, the renovations had to be handled with great care. The renovation work was originally intended to last five years, but in reality, it took 10 years to complete. Over $50 million was spent in ensuring that the building had up to date equipment but also maintained a classical and historical look. The building now houses the romance languages, classics, and religion departments
Get prepared for your next steps
Use articles and resources to uncover answers to common questions, get guidance on your goals, and learn about applying to schools.
Discover a program that is right for you.
Explore different options for you based on your degree interests.