10 Best Online Master's in Biomedical Engineering
Have you already completed a STEM-related Bachelor's degree, but are looking to further your education with a Masters? If so, Best Value Schools has compiled the 10 Best Online Masters in Biomedical Engineering programs you can choose from in 2019. If you're a student who's passionate about topics involving molecular biology, cancer research, and pharmacology, ...
BestValueSchools.com is an advertising-supported site. Featured or trusted partner programs and all school search, finder, or match results are for schools that compensate us. This compensation does not influence our school rankings, resource guides, or other editorially-independent information published on this site.
Are you ready to discover your college program?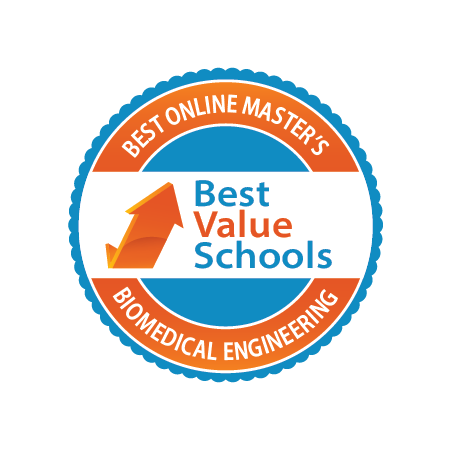 Have you already completed a STEM-related Bachelor's degree, but are looking to further your education with a Masters? If so, Best Value Schools has compiled the 10 Best Online Masters in Biomedical Engineering programs you can choose from in 2019.
If you're a student who's passionate about topics involving molecular biology, cancer research, and pharmacology, but you haven't found a way to combine your interests into one specialty, earning a Masters in Biomedical Engineering could be a great fit for you.
Methodology
Best Value Schools publishes college degree rankings with the belief of how one's higher education should be, both, affordable and an investment of continued value for the students who pursue them. The staff of BVS collects data from reputable sources in order to calculate Net Price and the short and long-term value of every ranked degree. Collected data is simplified into weighted categories before scoring, and then scaled through a BVS Score up to 100. The weighted categories are:
Degree Investment Return (25%)
Student & Alumni Evaluation (25%)
Cost Value (25%)
Matriculation (10%)
Academic Success (15%)
No matter what degree you decide on, we hope our research and support has made the selection process easier. There are numerous resources BVS utilizes to collect information on degrees, and we encourage you to check them out for yourself!
Why Master in Biomedical Engineering?
There are many great reasons to major in Biomedical Engineering, beginning with the number of job opportunities available upon graduation. Employment for Biomedical Engineers is expected to rise by seven percent between 2016-2026, according to The Bureau of Labor Statistics' "Occupational Outlook Handbook" on Biomedical Engineers. BLM additionally cites how the average annual salary for Biomedical Engineers was reported at $88,040, or $42.33 per hour.
However, BML's reported annual income is based on data published by occupations usually filled by employees with a Bachelor's degree as the stopping point. So why continue your education with an online Masters?
Students who continue their education with Biomedical Engineering go on to work as, well… Biomedical Engineers and management - but also: Pharmaceutical researchers, professors, equipment technicians, or even principal scientists. Students who earn their Masters of Engineering in Biomedical Engineering provide more competitive applications, specificity toward their trade and skill set, and take on a brilliant opportunity to positively affect the lives of everyone around them.
A STEM of Hope
Biomedical Engineers don't merely create machinery or prosthetics, but they're also synthesizing life-saving organs for patients without donor matches, developing chemotherapies for terminal illnesses, or developing gene therapy solutions for hereditary disorders. Biomedical Engineers are essential catalysts for the future of a successful global healthcare system.
The following list of 10 Best Online Masters in Biomedical Engineering feature universities with competitive and challenging admission processes. Students who wish to pursue their Masters in Biomedical Engineering should already have a Bachelor's degree in a Science, Technology, Engineering, and Mathematics, or STEM-related degree. Students without a previous Bachelors degree in the sciences can expect most Masters programs involving Biomedical Engineering to require prerequisites such as Calculus, Differential Equations, Physics, General and Organic Chemistry, and Microbiology.
Nearly every school requires a minimum GPA of 3.0 for admission and requires their students to maintain a high GPA throughout their degree to maintain enrollment. The average time spent toward an online Masters' program is two years and can be done without having to relocate or paying out-of-state tuition.
So what are you waiting for? Check out our 10 Best Online Master's in Biomedical Engineering and get started on your upcoming applications!
Featured Online Programs
Figuring out where to apply? These top, accredited schools offer a variety of online degrees. Consider one of these accredited programs, and discover their value today.
Columbia University

Location

New York City, NY

Students can earn their Masters of Science in Biomedical Engineering from Columbia University in 30 credits and completely online. Columbia offers required courses such as Quantitative Physiology, Solid Biomechanics, and Partial Differential Equations. Students can also learn how to make artificial organs, organize genetic databases, and develop models of physiological systems to develop novel concepts for the medicine of the future. Applications are accepted year-round, but oddly enough, Columbia doesn't allow any transfer credits. Submitting GRE test results are required for admission, along with three letters of recommendation, previous transcripts, a minimum 3.0 GPA, and a personal statement. One year of Calculus, Biology, Chemistry, and Physics are all required to be considered.

University of Maryland College Park

Location

College Park, MD

The University of Maryland at College Park offers an intensive, online Master of Engineering in Biomedical Engineering. The MEng in itself requires students to complete 30 credits, or 10 courses, where courses such as Microscopic Function of Cells, Tissues, and Organs are necessary. Special topics are also available for three credits, like The Science and Engineering of Biopharmaceuticals, where subjects involving gene splicing, legacy, and emerging platform, and bioreactors are all discussed. Applicants without a previous degree in Engineering need to complete Fundamental of Thermodynamics, Calculus I-III, General Biology & Chemistry, Organic Chemistry, and Molecular Biology before applying. A minimum GPA of 3.0 is required of incoming students and students currently enrolled. The deadline for June 2019 is July 26, 2019.

University of Southern California

The University of Southern California offers the second best online Master of Science in Biomedical Engineering in the U.S. USC's MSE can be completed within two years and with, or without, a thesis track. 28 credits are required to graduate, where 15 units must be taken within one's major, and maintain a minimum GPA of 3.0. Required courses for USC's MSE include Advanced Topics in Biomedical Systems, Physiological Control Systems; and Signal and Systems Analysis. Unlike other MSE degrees, USC requires all applicants to submit a satisfactory GRE to be considered. Applications are accepted on a rolling basis, but to be considered for a scholarship, applicants should look into submitting their application nearly ten months in advance.

The University of Illinois at Urbana Champaign

The University of Illinois at Urbana Champaign offers the fourth best online Master's of Engineering in Bioengineering by offering students an online degree comparable in quality to a residential classroom. In addition, online students have the ability to finish their degree in only five months! UIUC offers their MEng with three concentrations, including Bioinstrumentation, Computational Genomics, and General Bioengineering. Bioengineering electives generally include Cancer Nanotechnology, Musculoskeletal Tissue Mechanics, and Tissue Engineering. Students who are interested in applying to UIUC can expect to send the typical admission requirements of every other university on our lists, such as official transcripts, resume, personal statement, and three letters of recommendation. Submitting GRE scores is not necessary for admission, but a high score can improve one's application overall. The deadline for Fall 2019 is approaching quickly, though, and applications should be submitted before May 31 for a fast response.

Johns Hopkins University has been a staple for top medical research universities in the United States, and so it's no surprise JHU offers an elite online MS in Applied Biomedical Engineering as well. Students must finish their degree within five years and complete the Biomedical Engineering Practice and Innovation, which is a six-day course which takes place over two weekends. While finishing their weekend internship, students work inside of the labs and clinics of the famous Johns Hopkins Hospital in Baltimore, Maryland. Other degree requirements include passing all classes with no less than a B- or 79.5 percent, and ensuring at least six core classes are all taken within three years. Graduate students at JHU can study core-focus areas such as Imaging, Instrumentation, and Translational Tissue Engineering. All three focus areas are intended to ensure JHU students understand the physiology of living cells and how to repair human issue, using imaging to construct complex imaging, and converting cellular expressions into electric signals - or vice versa. Examples of core classes include Introduction to Brain-Computer Interface, Biomechanics of Cell and Stem Cells, and Orthopedic Biomechanics. Prospective students should hold a relevant BS with a minimum 3.0 GPA. JHU has many prerequisites including Calculus, Physics, Quantum Mechanics, Thermodynamics, Electricity and Magnetism, General Chemistry, and Molecular Biology.

Rutgers University

Location

New Brunswick, NJ

Students studying at Purdue University can earn an online MSE in Biomedical Engineering with only 30 credits of curriculum based on Biomedical Engineering, Life Science, Analysis, Regulatory Engineering, and Quantitative-Analytical coursework. Purdue also provides expert faculty to teach specialized topics. Professor Arezoo Ardekani, for example, teaches coursework involving Multiphase Flows, Non-Newtonian Fluid Dynamics, and Microfluidics. According to Purdue's Department of Mechanical Engineering, MSEng students are currently conducting concussion studies using football helmets, developing bioresorbable metals for orthopedic implants, and using nanocomposite elastomers to mechanically reinforce skin-electronics. Students can choose between a thesis or non-thesis degree option while researching at nearby facilities such as The Birck Nanotechnology Center and the Bindley Bindley Bioscience Center. For students to be considered for Purdue's MSEng program, applicants should already have a STEM-related Bachelor's degree with a minimum 3.0 GPA. Program prerequisites include Calculus I-II and Differential Equations, or Linear Algebra. Applications are accepted three times a year and are due by May 1, July 1, or November 1 of 2019.

University of Washington Seattle Campus

The University of Washington Seattle Campus' online Master's in Pharmaceutical Bioengineering unsurprisingly took the eighth spot on our list because, well, UW Seattle Medical School has the nickname "Pill Hill" for a reason. Overall, UW's online students to earn their 38 credit PharBE through either a Drug Discovery and Design track, or Translational Pharmaceutics Track. Core degree requirements include Molecular and Cellular Biology, Pathophysiology, and Pharmaceutics I & II. To graduate, all UW PharBE students complete a six-credit Clinic Development Capstone, which provides students with an opportunity to demonstrate their ability to design, synthesize, and manufacture novel pharmaceutical drugs. In addition, students must complete their online PharBE between 16 - 24 months with a minimum GPA of 3.0. Prospective UW students are encouraged to submit their application by May 10 for priority acceptance. Domestic students who take the Basic Biosciences Certificate under a graduate non-matriculated status can apply up to 12 credits toward their PharBE, saving students a large sum of money!

Not everyone can be Elle Woods, but some of us can still go to Harvard. That's right - students can now earn their Master's of Liberal Arts in Bioengineering and Nanotechnology from Harvard University online. Don't get too excited, though - because Harvard still requires online students to attend four classes on campus throughout the year. The Harvard MLABEng degree requires students to complete 12 courses and work with a thesis director to research topics relevant to one's academic major. Unlike other schools with a Master's involving Bioengineering, Harvard also provides a Graduate Certificate in Nanotechnology. Students who are successfully admitted into Harvard have taken the seminar, "Introduction to Graduate Studies and Scholarly Writing in Biotechnology," and passed with a B or higher. The seminar "Writing in the Sciences" can also be taken with a B or higher, although students can take either class up to two times with an admitting score. In addition, students need to have already taken one Life Science course at Harvard with a 3.0 GPA. For the upcoming 2019 school year, Harvard students depend on paying $2,750 a course and an overall degree billed for $33,000.

Colorado State University

Colorado State University offers an online Masters of Engineering specialized toward Biomedical Engineering where students learn the more technical skills associated with physiological and chemical kinetics. Although CSU is a bit more expensive than UW at #10, CSU only requires 30 credits for its ME. Biomechanics, Materials, and Tissues are the main three staples for studying Biomedical Engineering at CSU. Topics involving pharmacology, mechanical and tissue engineering, biosensors, or prosthesis are just a few of the required skills learned at CSU - although there are other exciting courses available as well. I mean, who doesn't want to learn about Cardiovascular or Biofluid Mechanics? Admitted CSU students typically have a minimum undergraduate degree in Life Sciences or Engineering and with a minimum GPA of 3.0. Although submitting a GRE score isn't required for admission, CSU believes it could strengthen your application. The deadline to apply for Fall term is June 1, 2019.
Get prepared for your next steps
Use articles and resources to uncover answers to common questions, get guidance on your goals, and learn about applying to schools.
Discover a program that is right for you.
Explore different options for you based on your degree interests.