35 BEST ONLINE BACHELOR'S IN CRIMINAL JUSTICE

Are you ready to find your fit?
Does watching "Judge Judy," or "Legally Blonde," make you feel like Rocky running up the stairs to the Philadelphia Museum of Art? If you're not sure where to begin, but know you want to study Criminal Justice, then Best Value Schools' list of the 35 Best Online Bachelor's in Criminal Justice can help you pick the online degree that's right for you.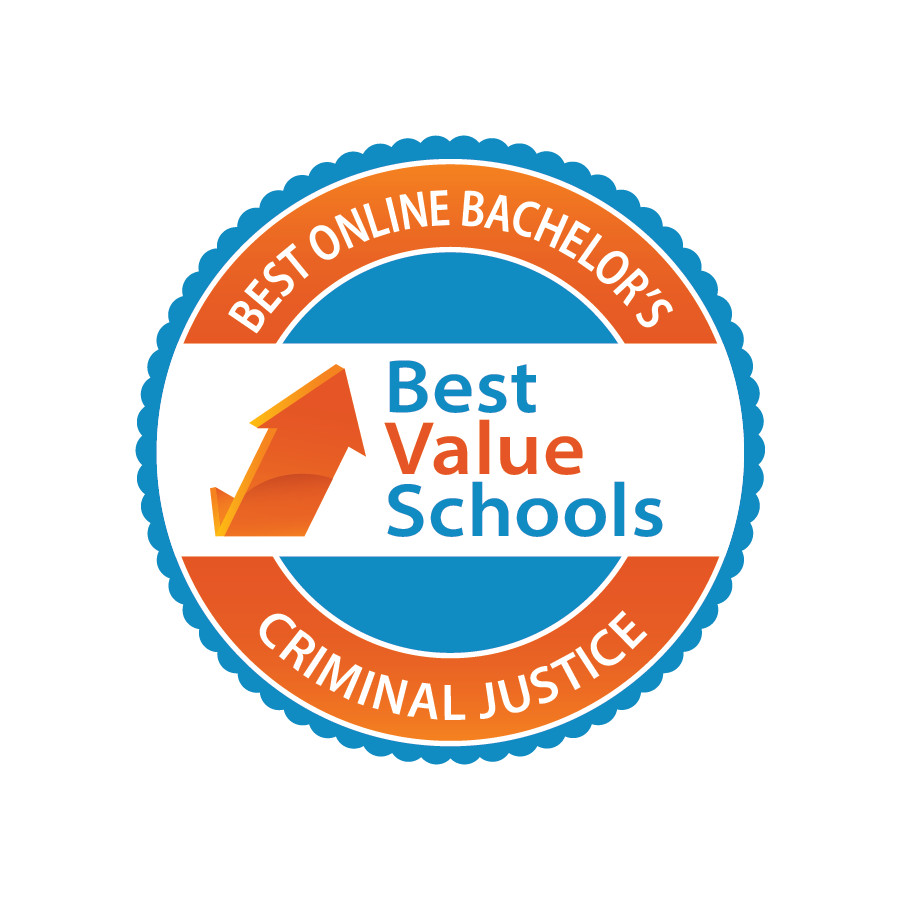 The following list of online Bachelor degrees have been ranked based on alumni reviews, affordability; faculty ratings and expertise; completion timelines, and quality of education. Many online schools, such as the colleges we've listed for you, also provide professional certifications for current criminal justice professionals who want to step up their qualifications.
Professionals with a Bachelors in Criminal Justice often go on to work as law enforcement officers, parole officers, security guards, or social workers. Other students with the same degree can apply to law school later on, and find work as lawyers, judges, politicians, or even working within the FBI.
According to the U.S. Bureau of Labor Statistics, the number of job opportunities for Criminal Justice majors is expected to grow in the next ten years. This is especially true for the states of North Carolina, New York, Texas, Florida, and California - where professionals in 2017 made an average annual income of $69,408.
So what are you waiting for? Check out the Best 35 Online Bachelors in Criminal Justice to pick the best online program that's right for you!
Ranking Factors
Best Value Schools publishes college degree rankings with the belief of how one's higher education should be, both, affordable and an investment of continued value for the students who pursue them. The staff of BVScollects data from reputable sources in order to calculate Net Price and the short and long-term value of every ranked degree. Collected data is simplified into weighted categories before scoring, and then scaled through a BVS Score up to 100. The weighted categories are:
Degree Investment Return (25%)
Student & Alumni Evaluation (25%)
Cost Value (25%)
Matriculation (10%)
Academic Success (15%)
No matter what degree you decide on, we hope our research and support has made the selection process easier. There are numerous resources BVS utilizes to collect information on degrees, and we encourage you to check them out for yourself!
Check out our methodology to see how we determined each score.
#1

Arizona State University

Tempe, AZ

#2

University of Central Florida

Orlando, FL

#3

Florida International University

Miami, FL

#4

Washington State University

Pullman, WA

#5

University of Massachusetts - Lowell

Lowell, MA

#6

University of Nebraska at Kearney

Kearney, NE

#7

Sam Houston State University

Orlando, FL

#8

Fort Hays State University

Miami, FL

#9

Liberty University

Pullman, WA

#10

University of Oklahoma Norman Campus

Cincinnati, OH
Featured Online Programs
Figuring out where to apply? These top, accredited schools offer a variety of online degrees. Consider one of these accredited programs, and discover their value today.
Arizona State University ranks at the #1 spot for best online BS in Criminology and Criminal Justice. ASU's online degree programs have a standing, peak-ranking reputation amongst college ratings, research institutions, and faculty leadership. Recent faculty fellows have been associated with the Academy of Criminal Justice Sciences and the American Psychological Association.

Students admitted into ASU's BSCCJ are required to complete about 120 credit hours and maintain a major and cumulative GPA of 2.0. ASU offers 40 different CJ courses and each are nearly eight weeks-long. Online students are also able to complete their degree through a "fast track," if they wish to graduate more quickly. Required courses include Courts and Sentencing, Community Justice, and Literacy and Critical Inquiry.

According to ASU's website, recent online graduates have found work in the criminal justice field as crime scene investigators, criminal justice professors, and social workers.

University of Central Florida

University of Central Florida provides an online BA, or BS in Criminal Justice where students will be educated on leadership in the professional world of criminal justice. Certificate programs are also available for specializations involving Crime in America, Police in Society, Data Analytics for Criminal Justice, and Prosecution and Adjudication. Students who are interested in continuing their education past a BS can also apply to UCF's Master's of Science in Criminal Justice.

What allows UCF to rank higher than others, however, also involves the respected reputation of UCF faculty and their presence in the community. UCF recently made online headlines when Professor Gene Paoline, of UCF's College of CJ, received his Distinguished Scholar Award from the American Society of Criminology Division of Policing. In addition, UCF was also ranked at #16 for Best Online Bachelor's Programs 2018 by U.S. News and World Report.

Florida International University

Florida International University offers a BS in Criminal Justice through its School of International and Public Affairs. FIU provides an online opportunity to immerse students into the theories and practices such as: criminal justice, criminology, the U.S. constitution, and public policy. Overall, FIU's BSCJ requires the completion of 120 credits and requires courses such as Measurement and Analysis in Criminal Justice, or Global Terrorism.

Every FIU student is paired with an online success coach, or mentor, throughout their education. In addition, FIU awards high achieving students with the opportunity to join the Honors College and seek out internships through FIU's connected network. Students who are interested in pursuing law school have found success through FIU through their advanced courses in legal studies.

Washington State University

Washington State University offers online students an opportunity to earn a BS in Criminal Justice at one of the oldest criminal justice programs in the United States. WSU was founded in 1943 and has continued to uphold high standards of education as an accredited university through the Northwest Commission on Colleges and Universities.

WSU's BSCJ requires courses such as Crime Control Policies, Criminal Law, and Criminal Procedure. Students are also able to incorporate electives such as Criminal Law, Multicultural Society, and Violence Toward Women into their undergraduate curriculum.

Internships taken at WSU also count toward college credits towards finishing a BSCJ at WSU. Students are given virtual mentors and able to chat with professors online for extra assistance. Prospective WSU students with a 3.5 GPA or higher or who are ranked in the top 10 percent of their high school class are guaranteed admission into WSU.

University of Massachusetts - Lowell

The University of Massachusetts - Lowell hosts an opportunity for online students to earn their BS in Criminal Justice. A 2.5 cumulative GPA is required for graduation and students must complete a minimum of 36 criminal justice credits during the program.

Required courses include Introduction to Policing, Criminology, and Criminal Law. A large range of topics can be studied as electives such as Violence in America, Criminal Profiling, Hate Crime, and Child Maltreatment. There are also options for students to continue their education with additional CJ certifications or earning an MS in Criminal Justice.

University of Nebraska at Kearney

The University of Nebraska at Kearney offers a top-rated BS in Criminal Justice with a traditional 120 credit undergraduate curriculum. The Department of Criminal Justice at UNK offers either a CJ Comprehensive degree or a CJ Major.

The difference between either option is how the CJ Comprehensive allows Criminal Justice majors to expand the amount of major-specific coursework they can take for their degree; while CJ Majors are required to choose a secondary major and incorporate a more diverse curriculum into their BS.

UNK stands out amongst other U.S. universities with similar programs thanks to the state of Nebraska, where current law enforcement officers are given a reduced tuition cost to complete their Bachelor's degree. According to UNK's website, past BSCJ graduates have been employed at the Nebraska State Patrol and National Security Agency.

Sam Houston State University

Similarly to the previous ranking, Fort Hays, Sam Houston State University offers both a BS and BA in Criminal Justice. SHSU's most popular classes include Global Terrorism, Violent Offenders, and White Collar Crime. In order to graduate from SHSU, students are expected to complete an internship with major criminal justice agencies such as the FBI, INTERPOL, and local police departments.

Advanced classes include: Global Terrorism, Cyber Crime, Violent Offenders, and Victimology. Criminal justice internships are also offered within the university to work for departments such Classes begin every fall, spring, and summer. Online enrollment is available for U.S. and international students at any location they wish.

Fort Hays State University

Fort Hays State University offers, both, a BA or BS in Criminal Justice while offering beneficial certificates to students hoping to work professionally within the criminal justice industry. Required courses include Introduction to Criminal Justice and Criminology.

FHS's BA/BS degree provides certification in Victim Advocacy, Law Enforcement, Corrections, Laws and the Courts, and Justice Networking. Each certification acts as a degree minor, although they do not act alone as individual programs. Each certification requires 12 credit hours and provides 6 - 12 different 3-credit courses per category.

Liberty University offers an online BS in Criminal Justice for students who are focused on developing strong leadership within professional judiciary agencies later on. LU's Criminal Justice degree requires students to graduate with 120 credits where up to 75 percent of credits can be transferred from a different university. Each online class is eight weeks long and students typically graduate within four years.

LU offers specializations such as Criminal Psychology, Homeland Security, and Strategic Intelligence. According to LU's website, recent BSCJ graduates are now employed as criminal psychologists, caseworkers, police detectives, and law enforcement officers.

University of Oklahoma Norman Campus

The University of Oklahoma Norman offers a nationally-ranked BS in Criminal Justice for online students interested in graduating with an accelerated track. UO's four required courses are: Police and Policing, American Judicial Processes, the American Correctional System, and Theories of Criminal Behavior.

Although UO's accelerated BS is completable within 18 months, most students graduate in 2 - 3 years. The 18 month achievement is possible due to the length of OU's online classes, which are only eight weeks long, or half of a semester. Students can enroll in classes held at different times in the semester in order to take a larger course load each semester, although, OU advises students to plan ahead with an advisor before doing so.

Pennsylvania State University-World Campus

Location

University Park, PA

Pennsylvania State University cover an online BS in Criminal Justice where students can complete their 120-credit degrees from anywhere in the world. Penn State students can also take an 18 credit Homeland Security Minor, which may allow them to find employment within public and private security agencies. Other minors offered include: Human Development and Family Studies; Political Science; Psychology; and Sociology.

Penn State is also more beneficial to BSCJ students serving in the military due to the university's Military Grant-in-Aid undergraduate program. The Military-in-Aid program allows military members and their spouses to discount up to 44% of their tuition, although the benefits aren't combinable with benefits from the GI Bill.

University of Colorado Denver Anschutz Medical Campus

The University of Colorado Denver Anschutz Medical Campus offers an online Bachelor's of Arts, as opposed to a BS, in Criminal Justice. Studying Criminal Justice within a liberal arts-specific degree is advantageous for students who wish to incorporate advanced critical thinking into the future of criminal justice.

With a comprehensive understanding of ethics, sociology, and psychology, BSCJ students at CU Online can take their degree to a new level and begin their Master's degree for Criminal Justice at the same. In fact, undergraduate students are able to apply up to 12 upper division credits toward their MA, and receive a tuition scholarship for their BA/MCJ from the School of Public Affairs!

UC Online students additionally benefit from the BACJ internship requirement, which would allow students to work, paid or unpaid, and receive college credit for their experience. For example, 45 hours of working through a degree-related job site is worth one semester credit hour.

University of Nebraska at Omaha

The University of Nebraska at Omaha offers an online, 120-credit hour BS in Criminology and Criminal Justice where students can take other comprehensive core curriculum such as English and Sociology while earning their degrees. UNO's BS requires students to take classes such as: Police and Society, Survey of Corrections, and Criminal Procedure.

To graduate UNO, students must maintain a minimum GPA of 2.0, although university internships are only available to students with a 2.5 GPA, 75 completed credit hours, and written permission from an instructor. Internships are not actually required, however, and students can choose to focus on an optional Senior Honors Thesis instead. UNO's optional thesis project can make taken for 3-6 credits and allows individual students to develop their own independent research project alongside UNO faculty.

Southeast Missouri State University

Location

Cape Girardeau, MO

Southeast Missouri State University offers a hands-on BS in Criminal Justice where students will be able to analyze and track contemporary issues within the criminal justice system, and develop creative solutions. The Department of Criminal Justice and Sociology provide undergraduate students with experienced, professional faculty members.

SMSU stands out from other BSCJ programs because of its dual - track degree features, which provide students the option to study Criminal Justice through a traditional Academic/University curriculum; or study through a Law Enforcement Academy track, which allows students to receive specialized law enforcement experience.

California State University San Bernardino

Location

San Bernardino, CA

California State University San Bernardino's online MA in Criminal Justice has been highly ranked by multiple college ranking websites between 2016 and 2018. Admitted Criminal Justice majors at CSU students must have a 2.7 GPA and complete prerequisite courses such as Introduction to the Criminal Justice System and Introduction to Criminal Law.

Courses offered have heavy focuses on policing tactics and police systems, forensics, victimology, laws and the courts, and justice in society. CSU's department faculty pages provide professor backgrounds and contact information for students who want to connect before the term begins!

Portland State University

Like many departmental programs at Portland State University, every graduate earns a degree designed to instill critical thinking and creative problem solving. Earning an online Bachelors of Science in Criminal Justice from PSU is no different. According to PSU's website, students are expected to focus their studies on the critical issues involving: crime mapping, advanced crime analysis, criminal behavior, police-community relations, crime and social factors, and evidence-based crime control.

To earn a BSCJ from PSU, students must earn a minimum of 180 class credits, which require classes such as Policing in America, Punishment and Corrections, and Criminal Law and Reasoning. Admission into PSU's BSCJ program require a minimum 2.25 GPA, or at least a 2.0 GPA if transfering to PSU with an Associates Transfer degree. Students who transfer to PSU may apply up to 20 equivalent credits toward their degree major.

Western Carolina University

Students of Western Carolina University are given a unique experience in earning their online BS in Criminal Justice due to the high affordability of WCU's tuition. According to WCU's website, the Criminal Justice Online Program has been ranked at #1 for "Best Buy," by website Get Educated.

Admission to WCU is thought to be highly selective and only accepts applications twice a year. Prospective students must already have their Associates of Arts degree, or an Associate's of Science degree. Applicants must also show at least one year of criminal justice experience.

University of Wisconsin - Platteville

The University of Wisconsin - Platteville offers an online BS in Criminal Justice where students can finish their degree within two years. Overall, UWP's BSCJ requires students to complete 120 credit hours, with the majority of classes consisting of introductory Criminal Justice coursework. Additional requirements for graduation include a three-credit theory course on Criminology, and another three-credit course on Research Methods in Criminal Justice.

UWP's BSCJ requires potential applicants to submit proof of how they're in the top 50 students of their high school class, or submit an ACT composite score of 22 in order to be accepted. Current USP students must earn a minimum 2.5 GPA in all major - related coursework to graduate. Undergraduates are admitted three times per year during the months of December, April, and July.

University of Missouri SLouis

The University of Missouri St. Louis offers undergraduates an opportunity to earn their BS in Criminology and Criminal Justice with an emphasis on a pre-law curriculum. UMSL's BSCCJ is designed to focus on four predominant areas of studies, which include: criminal theory, criminal justice issues; institutions and policies, and social science research methods.

To complete an online BSCCJ for UMSL students should have a strong interest in working toward a future law degree and working within the judicial administration of law, rather than law enforcement itself. According to UMSL's website, the college's Department of Criminology and Criminal Justice has been ranked second-best nationally for quality of scholarly research by the Journal of Criminal Justice.

Colorado State University

Colorado State University offers an online BS in Criminal Justice designed to train students to work in any role within the criminal justice field. CSU's Criminal Justice Department rewards high - performing students with two Awards of Completion and Skills Endorsements in order to aid students with a career references and opportunities. Criminal Justice students may specifically earn certificates recognizing: Applied Criminal Justice and Understanding, Interpreting, and Enforcing U.S. Law.

CSU's 120 credit BSCJ requires courses such as: Law Enforcement and American Policing, Laws of Evidence, and Criminal Law. In addition, CSU offers online students the ability to add on a specialization, which consists of five upper - division credit courses. Students can choose to specialize in areas distinct from Criminal Justice, such as Public Relations, Marketing, or Healthcare Management.

University of Alabama at Birmingham

The University of Alabama at Birmingham offers a widely comprehensive BS in Criminal Justice with opportunities for students to obtain an additional BS degree in Digital Forensics. In addition, UA Birmingham's Department of Criminal Justice also allows students to acquire an undergraduate minor in Forensic Science, or Legal Affairs in conjunction with a minor in Forensic Psychology.

Similarly to other BSCJ around the U.S., UA Birmingham offers undergraduate students the opportunity to study computer forensics and cybercrimes. What additionally allows UA's online BSCJ to stand out, however, involves the department's ability to attract CJ scholars, and not simply students who want to earn their degrees quickly.

According to UA Birmingham's website, the CJ Department's primary mission involves specifically educating students to utilize crime and delinquency theories, and understand the logic behind research, and statistical analysis; to understand the procedural and operational functions of the criminal justice system; and to understand the philosophical ethics behind the U.S. criminal justice system itself.

Fayetteville State University

Location

Fayetteville, NC

Fayetteville State University offers, both, an online BS in Criminal Justice, or a minor in Criminal Justice. FSU's BSCJ degree requires 120 credit-hours to graduate, where 38 of which must be completed within the Criminal Justice major. Transfer students can apply up to 90 credits towards their BSCJ degree at FSU.

FSU offers online courses for BSCJ majors such as Police and Society, Prisons and Society, Victimology, and Restorative Justice. Admissions to FSU occur on a rolling basis and require a 2.0 - 2.5 depending on an individual's previous college experience. All prospective FSU must submit their SAT or ACT college entrance examinations to be accepted into the university.

University of the Cumberlands

Location

Williamsburg, KY

The University of the Cumberlands is up next on our list with its online Bachelor's degree in Criminal Justice. UC offers courses such as Policing, Probation, and Parole; Juvenile Justice, White Collar Crime, and Death Investigation.

In addition, students of UC are able to choose from four areas of concentration including Law Enforcement Management, Forensics, Criminal Profiling, or Prison Ministries. According to UC's website, graduates from their online BSCJ go on to work as state police officers, FBI agents, border patrol agents, or even federal air marshals.

Lamar University offers an online BS in Criminal Justice unique from other available programs because of its specificity toward current law enforcement professionals who can use Police Training Academy credit toward their academic degree and complete their degrees quickly. In order to acquire LU's BSJC, students must complete 48 core major credits, 27 lower division credits, and 45 upper - division electives.

While LU's BSCJ requires a fairly standard curriculum, such as Police Problems or Responses to Crime, LU additionally requires their BSCJ students to complete English, Sociology, Political Sciences, and even Geology - related courses. Whether it's Science Fiction, African American Literature, Geographical Terrorism, Natural Disasters, or the Geography of Latin America, students of LU's BSCJ are very likely to receive a well-rounded education.

Loyola University Chicago

Unlike other universities already listed, Loyola University stands out on its own by offering an online BA in Applied Criminal Justice Leadership. How so? LU focuses predominantly on offering criminal justice studies with an emphasis in critical thinking, teamwork and communication, and ethical reasoning.

LU's online BA in ACJL requires 30 major - specific credit hours and will accept up to 15 transfer credits from a previous college or university. Admission requirements require incoming students to have a minimum 2.0 GPA.

According to Troy University's website, Criminal Justice happens to be one of their largest departmental programs yet. So it's no wonder TU offers online students an opportunity to also earn their BS in Criminal Justice along with a certification in cybersecurity.

Undergraduate students at TU are required to complete a minimum of 36 credit-hours specific to the Criminal Justice major. Required courses include: Constitutional Law, Criminology, and Survey of Law Enforcement. In general, graduates of TU go on to work as police officers, FBI agents, probation officers, loss prevention, or private investigators. TU predicts the need for correctional treatment specialists will increase by 18% by 2020.

The University of Louisville's online BS in Criminal Justice focuses on challenging their students with rigorous topics to prepare them for a career in criminal justice. UL's Department of Criminal Justice requires a minimum of 50 credit hours at the 300-level curriculum or higher. Required courses include: Criminal Behavior, Research Design, Quantitative Analysis, and Criminal Law and Evidence.

Upon completion, UL's students will know how to use and apply theories of criminal justice in the working world. According to LU's website, the Department of Criminal Justice works with its own University Career Development Center to hold an annual Criminal Justice Career Fair.

Northwestern State University of Louisiana

Location

Natchitoches, LA

Northwestern State University of Louisiana offers an online BA in Criminal Justice from its Criminal Justice, History, and Social Sciences department. NSUL's CJHSS department specifically offers undergraduates degree-tracks heavily involved with Pre-Law, Paralegal Studies, or even Homeland Security.

NSUL's required courses include: Police Process, Cultural Competence & Criminal Justice, Criminal Justice Ethics, and Drug Use in Modern Society. According to NSUL's website, students who work full-time within law enforcement, public safety, or the fire department are eligible for reduced tuition equivalent to six credit-hours.

Brandman University offers undergraduate students an online BA degree program focused on training future leaders in the criminal justice field by emphasizing the importance of community. BU offers courses involving: Contemporary Issues in Criminal Justice; Gangs and Gang Behavior; Forensics; and Immigration and National Security.

According to BU's website, occupations related to criminal justice are on the rise. For example, the employment of managers and supervisors of police, detectives, and correctional officers have reportedly increased by 13 - 14.9%.

Prospective BU applicants who are actively serving in the military may be able to transfer credits from their experience in the armed forces. Overall, BU's admission requirements include 12 or more transferable college credit-hours, and a minimum 2.0 GPA.

Online students of Bemidji State University can earn their BS in Criminal Justice through four areas of educational specialities including Law Enforcement, Victimology, Corrections, and Tribal Justice. Unlike other online degree programs, BSU requires all eligible applicants to transfer from a previous accredited college with at least 24-semester credit hours.

Overall, BSU's BS requires the completion of 48 undergraduate credits with an overall GPA 2.25. Required courses include Corrections and Penology, Principles of Criminal Justice Supervision, and Intercultural Communication.

Ball State University offers an ideal online BFA for students interested in applying to law school after graduation. In addition to offering undergraduates the option of a pre-law track, BSU encourages its students to select courses they're truly interested. In order to this, BSU minimizes the amount of required coursework by, instead, providing more elective credits as part of their BFA's core curriculum.

A few of BSU's required courses include: Race, Gender, and Crime; Juvenile Justice and Delinquency; Policing in a Free and Diverse Society; and Community Corrections. All BSU undergraduates are required to complete a 400-level senior capstone. According to BSU's website, the average admitted student GPA and ACT score is recorded at 3.5 and 23, respectively.

Old Dominion University offers an online BS degree for undergraduates interested in studying the technical and sociological dimensions of the criminal justice system within the United States. Faculty members at ODU are experienced professionals within the criminal justice field.

ODU's BS degree requires students to complete 30 credit hours residentially, and earn up to 120 credit hours overall. Required degree courses include introductory psychology, criminology; Law and the Criminal Justice System, Criminological Theory, and Introduction to Social Research.

Additional BS requirements include maintaining a 2.0 GPA and fulfilling a second-language requirement. ODU's online BS program placed fourth place for College Factuals,' "Best Criminology Colleges in the U.S., 2019," and second place for "Best Online Colleges for Forensic Psychology, 2018," by Online Colleges.

Concordia University - Saint Paul

Concordia University - Saint Paul offers online students a 40-credit Bachelors of Arts in Criminal Justice. Each of CSP's courses are seven weeks long and designed to train and develop professionals such as law enforcement officers, crime scene technicians, and corrections counselors.

According to CSP's website, 95% of CJ students receive job offers within the first year of graduating.
Get prepared for your next steps
Use articles and resources to uncover answers to common questions, get guidance on your goals, and learn about applying to schools.
Discover a program that is right for you.
Explore different options for you based on your degree interests.