15 BEST ONLINE BACHELOR'S DEGREES IN WRITING
Are you ready to find your fit?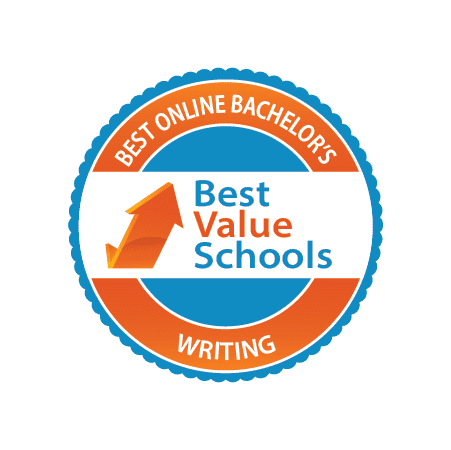 In today's global economy, there's hardly an industry without a need of writers, which is especially true for writers with a variety of desirable specialties for the job. This could be those with specific interest and training in professional, technical, scientific, academic, or creative writing, all of which can be earned through bachelor's programs in English Literature. While most universities don't offer an undergraduate degree solely dedicated to Creative Writing, Bachelor of Arts in English programs equip students with the skills necessary to thrive as writers as well as a liberal arts background useful in many settings.
Programs with concentrations in or courses dedicated to different types of writing all prepare students with skills in critical thinking and analysis, rhetorical argument and construction, and communications, perhaps even through the use of mixed media. With a BA in English program, this may look like the combination of courses in American or Global Literature and those in Poetry or Creative Non-fiction Writing. Some programs are even dedicated to more specific areas of writing, like Rhetorical, Technical, and Professional Writing. English and Writing students benefit from the freedom to pursue the type of work and subject matter that is most interesting to them and gain sought-after qualification for opportunities in a variety of workplaces.
Selection Criteria
Best Value Schools publishes college degree rankings with the belief of how one's higher education should be, both, affordable and an investment of continued value for the students who pursue them. The staff of BVS collects data from reputable sources in order to calculate Net Price and the short and long-term value of every ranked degree. Collected data is simplified into weighted categories before scoring and then scaled through a BVS Score up to 100. The weighted categories are:
Degree Investment Return (25%)
Student & Alumni Evaluation (25%)
Cost Value (25%)
Matriculation (10%)
Academic Success (15%)
No matter what degree you decide on, we hope our research and support has made the selection process easier. There are numerous resources BVS utilizes to collect information on degrees, and we encourage you to check them out for yourself!
Here are the 15 Best Online Bachelor's Degrees in Creative Writing!
15. Regent University – Virginia Beach, VA
Bachelor of Arts in English
Regent University's Bachelor of Arts in English degree is a hybrid program. Students will choose from eight-week courses focused on professional, technical, or creative writing. The program is designed to prepare students for careers in fields such as commercial fiction, journalism, marketing, corporate communications, and even script writing. Course options include Victorian Literature, American Realism & Naturalism, Modern American Poetry, and Poetry Writing. As Regent is a dedicated Christian university, students will also take courses focused on literature through a Christian lens. Applications are open to traditional students and adult learners or transfer students. Freshmen must submit SAT or ACT scores, but there is no minimum GPA requirement.
Net Price: $17,820
Score: 86.9
14. Mercy College – Dobbs Ferry, NY
Bachelor of Arts in English
The Bachelor of Arts in English degree from Mercy College is designed to prepare students for a variety of different careers, including those in law, medicine, arts and entertainment, publishing, personnel relations, and more. The curriculum focuses on the necessary and desirable professional skills of writing correctly, reading and thinking critically, and speaking persuasively and effectively. Required courses include Poetics: An Introduction to Literary Texts, and Survey of English Literature. Students may also take classes in different areas of literature such as Classical, Social and Cultural, and Historical. Mercy College also offers a five year combined BS and MS in English program, allowing students to work towards teacher qualification in just five years.
Net Price: $16,246
Score: 87.2
13. University of Massachusetts – Amherst – Amherst, MA
Bachelor of Arts in Writing
The University of Massachusetts at Amherst offers an entirely online Bachelor of Arts in Writing Concentrations degree. With this flexible curriculum, students may design their program of study in writing. Courses may cover literary topics, including English, Comparative Literature, and Journalism. Students can also transfer up to 105 credits of prior coursework. This may be especially attractive to those who have life experience that can translate to college credit, such as professional training and certifications, credit exams, or military training. The program is designed for degree completion, meaning that applicants must have a minimum of 12 college credits with at least a 2.0 GPA and have not already earned a bachelor's degree.
Net Price: $21,281
Score: 88.9
12. Thomas Edison State University – Trenton, NJ
Bachelor of Arts in English
Thomas Edison State University's Bachelor of Arts in English program prepares those who are looking for a career change or are in pursuit of graduate-level education. Students will graduate with competitive skills in rhetorical grammar and usage, critical thinking, argumentation, and the application of research methods. The curriculum focuses on many aspects of literature and advanced writing. Courses may cover classical literary topics such as survey and analysis, but other courses discuss issues of gender, class, culture, and more to ensure students have an interdisciplinary understanding of the discourse. As for writing, students may take courses in Playwriting, Poetry, Creative Writing, and Technical Writing.
Net Price: N/A
Score: 89.3
11. University of Maryland – University College – Adelphi, MD
Bachelor of Arts in English
University of Maryland's Bachelor of Arts in English program prepares students for both career opportunities and further graduate study, using a curriculum dedicated to both literary research and writing. The courses provide the material necessary to approach literature with a critical approach and a cultural literary, meaning students will work with the discourse using multidisciplinary teachings. Students will also complete original research and learn how to convey complex information through accessible language. Courses may include Modern American Literature, Renaissance Literature, and 19th Century British Literature. Elective credits may be used to focus on Writing courses. All classes are available online, and some are in a hybrid format.
Net Price: $15,256
Score: 90.6
10. Missouri State University – Springfield, MO
Bachelor of Science in Professional Writing
Missouri State University offers an online Bachelor of Science in Professional Writing degree with opportunities to minor in or earn a certificate in Screenwriting, Technical Writing, and Writing for Television and Film. The Professional Writing program is designed specifically for those interested in careers in the content creation world, either as writers or editors. The curriculum is broadly intended to cover all aspects of the field. Students are encouraged to select a minor that will complement their long-term goals. The program also requires students to complete an internship in a relevant employment setting, ensuring that they graduate with experience to prepare them for competitive careers.
Net Price: $15,173
Score: 92.6
9. University of Illinois at Springfield – Springfield, IL
Bachelor of Arts in English
Courses in the Bachelor of Arts in English program at the University of Illinois are offered both on campus and online. The curriculum prepares students with skills in writing with confidence, precision, and audience awareness, as well as the analysis of diverse literary texts. There's also an emphasis on the importance of professional research in the discourse and its role in answering social and cultural questions. Courses cover topics such as Creative, Digital, and Professional Writing, as well as World Literature. The online BA in English is designed as a degree-completion program, so applicants are expected to have completed at least 30 credits of college credits at the lower-division level with a GPA of at least 3.0.
Net Price: $12,054
Score: 92.7
8. University of Colorado – Boulder, CO
Bachelor of Arts in English Writing, Rhetoric, and Technology
The University of Colorado designed their Bachelor of Arts in English Writing, Rhetoric, and Technology with a recognition that trained writers are highly demanded in a variety of workplaces. Students take courses in professional writing, linguistics, magazine writing, publication, creative and academic writing, and multimedia composition. The entire program is offered online, and full-time students may complete their degree in the traditional four years. However, to ensure maximum flexibility, students can enroll part-time and move at their own pace with individualized support from faculty. Prospective applicants are encouraged to reach out to the department for more information, as requirements vary based off of the academic background.
Net Price: $14,586
Score: 93.6
7. University of Memphis – Memphis, TN
Bachelor of Arts in English – Professional Writing Concentration
The Bachelor of Arts in English from the University of Memphis can be completed entirely online through UM's Global Campus. The online degree offers two concentration areas: African American Literature or Professional Writing. Students who select the Professional Writing concentration will advance their communication skills necessary in fields such as business, publishing, and technology. Courses include Persuasive Writing, Web Design/Online Writing, and Professional Editing. The rest of the degree is made up of 60 general education requirements, 27 core English courses, and then electives, adding up to 120 total credits. Applicants may transfer in prior, completed college coursework or enter as freshmen.
Net Price: $13,663
Score: 94.3
6. Indiana University-East – Richmond, IN
Bachelor of Arts in English – Technical, & Professional Writing Emphasis
Indiana University's online Bachelor of Arts in English offers students a concentration in Technical and Professional Writing, with a curriculum dedicated to critical thinking, persuasive and effective communication, and the presentation of material through various media. Students may go onto careers in advertising, public relations, social services, or even writing for publication. The BA in English is designed as a degree completion program, so students are expected to enter the program with at least 60 completed college credits earned with a minimum GPA of 2.0. Assuming students have completed their general education requirements, they'll almost immediately begin taking upper-division English courses, in topics like Technical Editing, American Fiction, and Introduction to Critical Practices.
Net Price: $7,971
Score: 95.4
5. Old Dominion University – Norfolk, VA
Bachelor of Arts in English – Professional Writing
The Department of English at Old Dominion University offers a 12-credit Professional Writing concentration to those pursuing a Bachelor of Arts in English. Courses cover an array of topics within professionally-desirable writing, such as technical communication, writing in digital spaces, public relations, and writing with video. Students have full flexibility in designing their course of study; of the four required courses, there are 13 different options to fulfill the concentration. Courses in the writing certificate taken online and are sometimes synchronous. Other courses within the BA in English program will cover English theory and analytics, and general introduction courses to composition, creative, and technical writing.
Net Price: $15,213
Score: 95.4
4. Central Washington University – Ellensburg, WA
Bachelor of Arts in English: Professional and Creative Writing
Central Washington University's Bachelor of Arts in English program offers a specialized English degree in Professional and Creative Writing. This major provides students with a background in the liberal arts-focused part of literature, and builds off of that in courses on creative writing, business writing, professional writing, scientific and technical writing, editing, and publishing. Students will take seven required courses covering all types of writing, and then go onto select electives in the specific type that most suits their ambitions. These electives are divided into Creative Writing and Professional Writing & Editing. There are also Literature and Language electives, covering topics like Women's Literature, Race & Literature, and Critical Studies.
Net Price: $14,124
Score: 96
3. University of Houston – Houston, TX
Bachelor of Arts in English – Creative Writing Concentration
The Bachelor of Arts in English program from the University of Houston offers a concentration in Creative Writing for literary-minded students to prepare themselves with skills in critical thinking, creative analysis of historical and cultural contexts, and more. Required courses cover World Literature, American Literature, and British Literature, both pre and post-1800. The degree then divides its following electives into topic areas: students will complete courses in Creative Writing, Genre, Literature and Theory, and Publishing. All students will also create their English Portfolio before graduation. Coursework in Creative Writing may include Workshop in Fiction, Poetry, or Creative Nonfiction; Directed Study in English; Playwriting; and Literary Translation.
Net Price: $15,664
Score: 96.2
2. University of Central Florida – Orlando, FL
Bachelor of Arts in English – Creative Writing
The Bachelor of Arts in Creative Writing from the University of Central Florida prepares students with an appreciation for and understanding of fiction, poetry, and non-fiction prose. Graduates may go onto careers as copywriters, educators, journalists, playwrights, and more. Rather than combining a Creative Writing concentration into a Literature-focused degree, this BA in English is entirely dedicated to writing. Students will study a diverse array of texts while advancing their skills in using their imagination in combination with a developed craft. The curriculum is dedicated to the sought-after skills of constructing arguments and critical thinking, as well as the creative development of content for various genres.
Net Price: $15,341
Score: 97.4
1. Arizona State University – Tempe – Tempe, AZ
Bachelor of Arts in English
Arizona State University offers an Online Bachelor of Arts in English with courses dedicated to composition and critical analysis. A majority of student's studies will be electives, with a university-wide focus on historical and cultural analysis in the context of one's chosen discourse of education. Classes last seven and a half weeks and are entirely online, with start options year-round. Students may also elect to complete the degree at a fast-track pace, which would award them the degree in just three years. Prospective applicants are encouraged to submit information and reach out to advisors to determine what course of study is the best fit for them.
Net Price: $12,947
Score: 100
Get prepared for your next steps
Use articles and resources to uncover answers to common questions, get guidance on your goals, and learn about applying to schools.
If you're pursuing a master's degree in psychology, you may have been asked the following question: "What can you do with a master's in psychology?" It may even be a...
Are you interested in helping others resolve their issues and hurdles through talk therapy? You may want to consider a career in the counseling field. Counseling is a field that's...
Mental health counseling jobs exist across many settings — from hospitals and government agencies to schools and private practices, and they're projected to grow. The Bureau of Labor Statistics (BLS)...
Discover a program that is right for you.
Explore different options for you based on your degree interests.