15 BEST ONLINE BACHELOR'S DEGREES IN SECONDARY EDUCATION

Are you ready to find your fit?
If your dream is to teach children and young adults, the 15 Best Online Bachelor's Degrees in Secondary Education will assist you in finding your ideal program and school.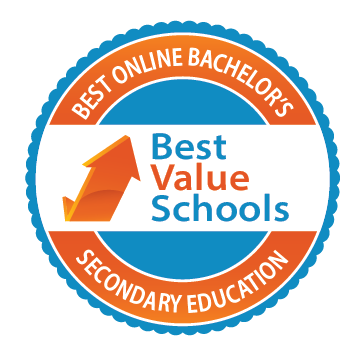 According to the Bureau of Labor and Statistics Occupational Outlook Handbook, teaching positions nationwide are expected to grow eight percent by 2026. Job growth deviates widely depending on the region, with the south and west parts of the country having a higher demand for teachers.
If you are thinking of teaching in a Science, Technology, Engineering, and Math subject, securing a teaching position is more achievable. Over the next seven years, many teachers will be eligible for retirement, opening up further opportunities for recent graduates. In addition to the satisfaction of positively impacting the lives of young people, secondary education teachers may benefit from a variety of scholarship programs while in school, and loan forgiveness programs when they are out of school. If you teach in a rural area for five or more years, up to $17,500 of your student loan debt may be forgiven.
Members of the military, their spouses and veterans pursuing a secondary education teaching career may find support in the Troops for Teachers program. The Department of Education also offers the TEACH Grant as an incentive for students to pursue teaching as a career. In 2017, the median income for secondary school teachers was $59,170.
Many of the schools on our list offer a Bachelor's degree while also preparing the student for certification within that school's state. Some are teaching preparation programs that give graduates not only the Bachelor's degree, but a strong foundation to apply for certification wherever they choose to live and work. All of the programs require that the student select a subject or area of concentration - from mathematics to music.
Ranking Factors
Best Value Schools publishes college degree rankings with the belief of how one's higher education should be, both, affordable and an investment of continued value for the students who pursue them. The staff of BVS collects data from reputable sources in order to calculate Net Price and the short and long-term value of every ranked degree. Collected data is simplified into weighted categories before scoring, and then scaled through a BVS Score up to 100. The weighted categories are:
Degree Investment Return (25%)
Student & Alumni Evaluation (25%)
Cost Value (25%)
Matriculation (10%)
Academic Success (15%)
No matter what degree you decide on, we hope our research and support has made the selection process easier. There are numerous resources BVS utilizes to collect information on degrees, and we encourage you to check them out for yourself!
#1

East Carolina University

Greenville, NC

#2

Iowa State University

Ames, IA

#3

University of Alabama at Birmingham

Birmingham, AL

#4

Southeast Missouri State University

Cape Girardeau, MO

#5

Northcentral University

San Diego, CA

#6

Great Basin College

Elko, NV

#7

Emporia State University

Emporia, KS

#8

Union Institute and University

Cincinnati, OH

#9

Webster University

Saint Louis, MO

#10

Southwestern Assemblies of God University

Waxahachie, TX
Featured Online Programs
Figuring out where to apply? These top, accredited schools offer a variety of online degrees. Consider one of these accredited programs, and discover their value today.
The Bachelor's degree at East Carolina University prepares its students via coursework, classroom observation, and an internship for a career educating grades six through nine. Through the Partnership East program, recent graduates of North Carolina community colleges take all courses online while visiting local middle schools to observe and practice the material they've learned. The degree focuses specifically on teaching the subjects of language arts and social studies.

ECU's College of Education has a robust scholarship program and awards over $200,000 in scholarship funds to its students each year. Applications are completed online. ECU utilizes Blackboard for its online classes. All students participate in their orientation on Blackboard prior to enrolling in online courses. ECU is accredited by the Southern Association of Colleges and Schools Commission on Colleges.

At Iowa State University, students pursuing the Bachelor of Science in Secondary Education select a major area of study. There are 13 majors to choose from a broad range of subjects: biology, earth sciences, history, and math, to name a few. BS in Secondary Education candidates applies to the Educator Preparation Program in tandem with their admission to ISU. In addition to online coursework, the Educator Preparation Program requires in-classroom practicums. The practicum is an opportunity for students to create and implement lesson plans while observing teachers in the classroom.

The BS in Secondary Education curriculum emphasizes the use of technology in the classroom. The program's faculty is made up of leaders in the secondary education field, many of whom have written textbooks in their subject matter. After completing the four-year degree, students are recommended for licensure to the Iowa Board of Educational Examiners.

University of Alabama at Birmingham

Future teachers pursuing a Bachelor of Science in Secondary Education at the University of Alabama may select science, math, language arts or social studies as an area of focus. Students apply for admission to the Teaching Education Program at UAB. All students in the Secondary Education program participate in internships where they gain first-hand experience working with children. The secondary education program offers classes online, on campus, weekends and during the summer.

At the end of the program, students apply for the Professional Educator's certificate issued by the Alabama State Department of Education. UAB's School of Education offers many scholarships to its students. The Teaching Education Program at UAB is accredited by the National Council for Accreditation of Teacher Education.

Southeast Missouri State University

Location

Cape Girardeau, MO

The Bachelor of Science in Secondary Education at Southeast Missouri State University emphasizes the training of engaged teachers who are prepared to instruct in a variety of settings. Whether the student's chosen field of study is Spanish or music, the BS in Secondary Education gives students not just the tools to teach, but to inspire and motivate young people. Students may opt to gain further insight and experience through the international teaching exchange program. The Missouri Board of Education recognizes Southeast's education program as "exemplary." Southeast also offers many scholarships. The education program is accredited by the National Council for Accreditation of Teacher Education.

At Northcentral University, students who have completed community college courses have the opportunity to pursue a career in teaching through the Bachelor of Education program. The BEd program allows for the transfer of up to 90 credits. Some students complete the degree in 20 months. All faculty teaching within the BEd program holds a doctorate within in their field. NCU offers tuition reduction and fee waivers to students currently in the military, their spouses, veterans, and reserves. NCU is accredited by the WASC Senior College and University Commission.

The Bachelor of Arts in Secondary Education at Great Basin College prepares its students for careers as middle school and high school teachers. Upon completion of the Teacher Education Program, students will be eligible for certification by the state of Nevada. The program's curriculum includes three practicum courses, totaling approximately 100 hours of classroom observation. BA in Secondary Education students may opt for a teaching endorsement in biological science, business education, English, mathematics, or social sciences.

GBC's Teacher Education Program recognizes the unique needs of rural Nevada students, and the curriculum has been shaped to meet these needs. GBC offers credit for prior learning experiences and via the college level examination program. For adult learners, GBC has student resources such as the Adult Learner Concierge.

Emporia State University's Bachelor Science in Secondary Education has over 17 certifications areas available to students. Certifications subjects range from Earth and Space Science to Speech and Theater. BSE students first take general education courses - many of which are available online - and then move on to courses focused on pedagogy. BSE students take 21 credit hours of professional service. These credit hours are completed in two phases, where students observe and teach in a secondary education classroom with the support and presence of a mentor teacher.

ESU participates in the Troops to Teachers program, which helps veterans and returning military personnel to obtain teaching positions in public schools. In 2013, ESU was selected for U.S. News and World Report's list of Best Schools for Veterans. ESU is accredited by the Higher Learning Commission and the National Council for Accreditation of Teacher Education.

Union Institute and University

Union Institute and University's Bachelor of Science in Secondary Education lays a strong foundation for students seeking to receive certification in the state they intend to become a 6-12th-grade teacher. UIU's BS in Secondary Education program is 120 credits, and students select a teaching focus area in Science, English, Mathematics or Social Science. The curriculum offers courses in classroom management, Educational Assessment, and Effective Instructional Practices.

UIU allows up to 90 transfer credits from other institutions, as well as credit by examination and prior learning experience. Nearly 50 years old, UIU has an established reputation as a leader in distance education and instruction for adult learners. UIU is accredited by the Higher Learning Commission.

Webster University prepares future teachers to instruct 6th-12th-grade classes in the subjects of English, Mathematics, Social Science, or Unified Science. Students will gain knowledge of their concentration and the pedagogical approaches appropriate to development. The program consists of 128 credit hours, with 33 credits in core coursework. Core courses include topics on child and adolescent development, behavior management, and education of students with exceptionalities.

The program requires three credit hours of seminar work and 17 hours of teaching apprenticeship. Apprenticeships are assigned in St. Louis City, St. Louis County, St. Charles County and Jefferson County School Districts. The BA prepares students to take the state of Missouri's required content area exam which leads to teaching certification.

Southwestern Assemblies of God University

Southwestern Assemblies of God University Bachelor's in Secondary Education program emphasizes the teaching of language arts and reading. Graduates of the program pursue teaching positions in both public and private schools. The teacher education program prepares students for certification in the state of Texas.

Additionally, students are required to complete field experience and engage in student teaching over the course of their degree program. At the root of all coursework is SAGU's mission to shape and inform students with a Christian world-view. SAGU is accredited by the Southern Association of Colleges and Schools Commission on Colleges.

Students pursuing a Bachelor of Arts in Secondary Education at Ottawa University can select Business, English, Math, History or Music as their area of focus. With a curriculum that combines both coursework and hands-on teaching, OU prepares BA in Secondary Education graduates to teach diverse populations of children. Required classes include Educational Psychology, Foundations of Schools in a Diverse Society, and The Teaching Profession. Upon completion of this program, students meet certification standards for Arizona and Kansas. OU is accredited by the Higher Learning Commission.

At Grand Canyon University, Bachelor of Arts in English for Secondary Education students complete their degree in four years or less. GCU allows up to 90 transfer credits other institutions. Bachelor of Arts in English for Secondary Education offers courses in a broad spectrum of topics such as Shakespeare and Drama, Social Justice for Educators, and Methods for Teaching Literature for Secondary education.

GCU is a faith-based, Christian institution. The university offers many scholarships, including for transfer students and DACA eligible students. Students in the program may also be eligible for the U.S. Department of Education's Teacher Education Assistance for College and Higher Education Grant, or TEACH grant.

Judson College's Bachelor of Arts in Secondary English/Language Arts is designed to educate future 6th-12th-grade school teachers in Alabama. Coursework is completed entirely online, with field experience carried out in public and private schools across the state of Alabama. Judson College uses the learning management system Moodlerooms. Most courses should be completed within two to four months, but can also be completed at a faster time frame if the student wishes. Judson College is rooted in Christian traditions and the teachings of Christ. The Southern Association of Colleges and Schools Commission on Colleges is the accrediting agency of the college.

Wilkes University

Location

Wilkes-Barre, PA

At Wilkes University, students in the Bachelor of Arts in Education program will graduate certified to teach in the state of Pennsylvania. Wilkes University has over nine content areas for students to concentrate on such as English, History, Math, and Spanish. There are 12 required courses, or 47 credits, of coursework for the BA in Secondary Education. Classes at Wilkes cover topics such as Integrating Technology in the Classroom, Teaching Culturally and Linguistically Diverse Learners, and Assessment in Education.

The program also requires 12 credits of student teaching. Wilkes University has a generous merit-based scholarship program for new, transfer and continuing undergraduate students. Wilkes University is an 86-year-old institution that is accredited by the Commission on Higher Education of the Middle States Association of Colleges and Secondary Schools.

The Bachelor of Arts in Education with a Teacher Leader Program in Secondary Education at Murray State University offers distinct programs tailored for specific grade-level instructors. The degree program is a combination of University studies, teaching coursework and classes in the subject area. To complete the degree, students engage in a culminating experience is a semester-long student teaching position in the chosen subject area. MSU is accredited by The Southern Association of Colleges and Schools Commission on Colleges.
Get prepared for your next steps
Use articles and resources to uncover answers to common questions, get guidance on your goals, and learn about applying to schools.
Discover a program that is right for you.
Explore different options for you based on your degree interests.