5 BEST ONLINE BACHELOR'S DEGREES IN LIBRARY SCIENCE
All people have a wealth of information available at their fingertips via the internet, but so much is out there in print. Help others sort through the noise with one of the 5 Best Online Bachelor's Degrees in Library Science.  The role that Librarians play in society cannot be understated. They collect and curate information so ...
BestValueSchools.com is an advertising-supported site. Featured or trusted partner programs and all school search, finder, or match results are for schools that compensate us. This compensation does not influence our school rankings, resource guides, or other editorially-independent information published on this site.
Are you ready to discover your college program?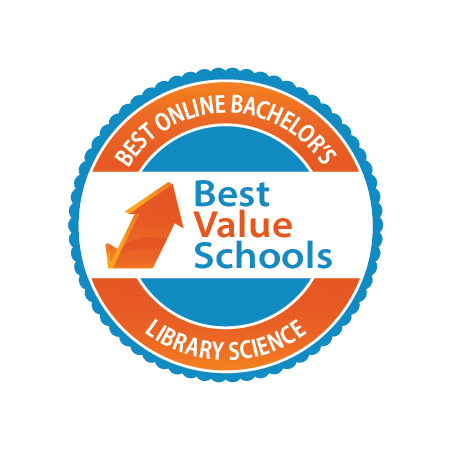 All people have a wealth of information available at their fingertips via the internet, but so much is out there in print. Help others sort through the noise with one of the 5 Best Online Bachelor's Degrees in Library Science.
The role that Librarians play in society cannot be understated. They collect and curate information so that it's available for others to find and use easily. More and more, their role has been transitioning to supporting a myriad of research efforts, which ultimately leads to a better-informed society. A degree in Library Science, therefore, can be extremely useful for you as well as your surrounding community.
According to the Bureau for Labor Statistics, the average annual salary for a librarian in 2017 was $58,520, and the field is growing at a rate of nine percent, which is comparable to the national average. Glassdoor actually put the national average salary for a Public Librarian higher at $72,549.
It should be noted that degrees in Library Science don't limit you to careers as a librarian. Those with this degree have gone on to roles as Archivists, Curators, Research Specialists, and Web Masters.
Selection Criteria
The ultimate reason for a degree of any sort is preparation to be effective in the field. If the program you attend is of high caliber, the degree you earn is worth the cost of time and finances. If the program is not up to par, your degree may result in a net loss, as opposed to a net gain. We at Best Value Schools believe there is a crucial balance between quality and cost, and at the heart of this balance is value.
So how do we determine the value of a school and its program?
Cost
Faculty Reputation
Accreditation
Flexibility (online programs)
Student/Alumni Satisfaction
Curriculum Relevance
Here are the 5 Best Online Bachelor's in Library Science Degree!
Featured Online Programs
Figuring out where to apply? These top, accredited schools offer a variety of online degrees. Consider one of these accredited programs, and discover their value today.
University of Nebraska Omaha

The Bachelor of Science in Library Science offered by the University of Nebraska Omaha is the clear winner in this ranking. Almost 100 percent of graduates are placed within six months. The faculty have been the recipients of awards and students have direct access to advising and mentorship. The program also highly encourages field experience during the entirety of the program if possible. Potential coursework includes the Organization of Information, Young Adult Literature, Digital Literacy, and Managing Collections. Another great facet of UNO's program is that it offers 10 minors that can also be completed entirely online. These include Geography, Gerontology, Political Science, Sociology, and Non-profit Management.

University of Southern Mississippi

The University of Southern Mississippi provides a convenient and affordable Bachelor of Science in Library and Information Science. Courses are offered through virtual classrooms, and they are taught by faculty with theoretical knowledge and practical experience. The major area of study requires 45 credit-hours whereas the total bachelor's degree requires a typical 120 credit-hours. Students can take traditional LIS courses, such as Sources of Information for a Multicultural Society, Information Ethics, Development of Library Collection, and Technology in the School Library. This program considers itself to be military-friendly and is an excellent stepping stone for a masters in LIS, which USM also offers online

University of Maine at Augusta

The University of Maine at Augusta offers a Bachelor of Science in Information & Library Sciences that requires 120 credit hours. In addition, the Senior Capstone necessitates an internship of at least 120 clock hours under an MLS Librarian. Specific to this major, 52 credit hours of ILS courses are required and they cover a broad range that includes Library Management, Web Page Design, Introduction to Reference Services & Materials, and Introduction to Archives and Manuscripts. Former students have commented that the flexibility and excellence of the online program at UMA have greatly aided their professional development. In addition, UMA is confident that its undergraduate program equips alumni for graduate study.

Clarion University of Pennsylvania

Studying Library Sciences at the Clarion University of Pennsylvania is an excellent decision, as its program is accredited by the American Library Association. This ensures that the curriculum covered is effective and relevant, especially considering the ever-advancing technological capabilities pertaining to research and information gathering. In addition, 89 percent of students agreed in a survey that the "Library Science Faculty was very effective. The concentration requires 48 credit-hours of Library Science courses. Some of these courses include Basic Information Sources and Services, Media for Young Adults, Organization of Information, and Administration of Libraries. This concentration is also great preparation for Clarion's MS in Library Sciences.

University of Arizona Global Campus

University of Arizona Global Campus offers a Bachelor of Arts in Library Science and Media that helps direct organization and communication skills toward careers in information acquisition. It is a degree provided through the Education Department, and it requires 120 credit-hours. The major itself requires 33 credit hours of major courses, and all courses are three credits each. Students take a single course at a time, and each lasts five weeks. In total, the program takes 208 weeks to complete. Coursework includes Information Literacy, Literature for Children, Foundations of Educational Technology, and Foundations of Library and Information Sciences. University of Arizona Global Campus is accredited by the WASC Senior College and University Commission.
Get prepared for your next steps
Use articles and resources to uncover answers to common questions, get guidance on your goals, and learn about applying to schools.
Discover a program that is right for you.
Explore different options for you based on your degree interests.