5 BEST ONLINE BACHELOR'S DEGREES IN EDUCATION
Are you ready to find your fit?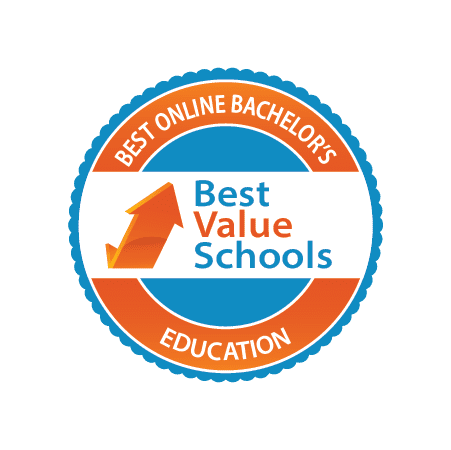 Contrary to the perception of many, earning your Bachelor's Degree in Education provides the knowledge and experience necessary for more careers than simply those in teaching. Students who pursue a Bachelor Degree in Education have career options for traditional education settings, such as public or private schools, as well as within businesses, community organizations, or even technology-focused fields.
Knowing your options outside of traditional state-sanctioned teaching is important, as not all of the degrees listed below provide state-licensure or certification. Pursuing a Bachelor's degree in Education is a chance for students to receive knowledge and training that will be used in a variety of settings.
Online programs offered in the field also guarantee that no matter what stage you're at, you have the access and ability to begin and finish your degree with a schedule that makes sense for you. As the field of Education covers a lot of interdisciplinary matters, students will often take courses dedicated to teaching pedagogues, and behavioral analysis of learners with psychology and sociology-based courses, as well.
The critical-thinking, analysis, and problem-solving skills acquired through educational studies will always be in demand regardless of which career one decides to pursue post-graduation. Earning one of Best Value School's 5 Best Bachelor's Degrees in Education is a way to guarantee career outlooks and growth that reflect the successful support, teaching, and guidance of all types of learners.
Selection Criteria
Best Value Schools publishes college degree rankings with the belief of how one's higher education should be, both, affordable and an investment of continued value for the students who pursue them. The staff of BVS collects data from reputable sources in order to calculate Net Price and the short and long-term value of every ranked degree. Collected data is simplified into weighted categories before scoring and then scaled through a BVS Score up to 100. The weighted categories are:
Degree Investment Return (25%)
Student & Alumni Evaluation (25%)
Cost Value (25%)
Matriculation (10%)
Academic Success (15%)
No matter what degree you decide on, we hope our research and support has made the selection process easier. There are numerous resources BVS utilizes to collect information on degrees, and we encourage you to check them out for yourself!
Here are the 5 Best Online Bachelor's Degrees in Education!
5. Wilmington University — New Castle, DE
Bachelor of Science in Education Studies
Wilmington University's Bachelor of Science in Education Studies program prepares students for employment without requiring licensure or certifications for graduate opportunities in areas like learning theory, educational psychology, and more. Wilmington designed its affordable, online programs for nontraditional students who are already working. In addition, the university is consistently rated as one of the most affordable private universities in the nation.
There are four concentration area options, which include Early Childhood Education, Elementary Education, Middle-Level Education, and Skilled and Technical Sciences. Required course topics will vary based on the choice of concentration. However, they all involve courses dedicated to technology in the industry, psychological and behavioral studies of the concentration area's age group, and courses on learning differences and learner developments. Classes are taught by faculty with professional experience in the field, ensuring a multifaceted education.
Net Price: $14,955
Score: 86.6
4. Maranatha Baptist University — Watertown, WI
Bachelor of Science in Educational Studies
The Bachelor of Science in Education Studies from Maranatha Baptist University is designed for nontraditional students who hope to teach within Christian schools specifically. It does not provide government-issued professional licensure, but rather one of many alternative routes to teacher certification. MBU is a small, private college that places emphasis on its fundamental Baptist position and consequent teachings, as well as its relationship to local churches. Both undergraduate and graduate degrees are offered entirely online.
Core courses in the BS in Education Studies at MBU include Biblical Perspectives in Human Relations & Counseling, Foundation of Education, and Educational Psychology. While the program is designed to especially benefit nontraditional students or those looking to finish their degree, traditional freshmen may also apply. For students interested in a Master of Education, MBU offers graduate courses at the undergraduate level to count not only toward the BS but a prospective MEd degree.
Net Price: $18,152
Score: 88.7
3. City University of Seattle — Seattle, WA
Bachelor of Arts in Education
The City University of Seattle designed its Bachelor of Arts in Education degree for traditional entry-level students who have completed prerequisites at the university level. Upon graduation, students will be prepared for teaching certification in the state of Washington. Students have the option of concentrating in Elementary Education, Middle-Level Mathematics, Special Education, English Language Learners (ELL), and Reading, or a combination of two areas. While the program was designed for traditional students, it still offers maximum flexibility in schedule: courses are online or on Saturdays. Students may choose a mixed-mode delivery where they sometimes travel to campus or take strictly online courses. The program offers many hands-on field experience regardless of whether or not students take on-campus courses.
Net Price: N/A
Score: 89
2. Arizona State University — Tempe, AZ
Bachelor of Arts in Education in Educational Studies
Arizona State University's Bachelor of Arts in Education in Educational Studies focuses on providing tools and knowledge to students that will allow them to teach in a variety of contexts, not just schools. This may include workplaces or professional settings, community institutions, or civic organization, as the degree is not a teacher certification program. ASU is consistently ranked as a top research university in the US and takes a "student-first" approach in all its curricula to ensure students have access to personalized routes toward success.
Graduates have gone onto becoming instructional designers and technologists, school psychologists, educational administrators, and more. Course duration typically lasts around seven-and-a-half weeks, and with start dates throughout the year. Topics in the major courses include Social Embeddedness of Educational Endeavors, Educational Psychology for Non-Teachers, and Technology Literacy. Of the 120 credits of the program, 30 are required to be fulfilled at the university campus.
Net Price: $12,947
Score: 90.6
1. University of Missouri — Columbia, MO
Bachelor of Educational Studies
The Bachelor of Educational Studies from the University of Missouri is offered 100 percent online. While it does not lead to state certification, it prepares students for employment in a variety of fields that rely on teaching skills, such as careers in business, the health sciences, community college teaching, and human resources. To emphasize the importance of interdisciplinary training in the field, students may choose from one of many focus areas. Such concentrations include business management, computer applications, culinary arts and restaurant management, and health sciences occupations.
Regardless of the chosen focus area, all graduates are trained in problem-solving and critical thinking analyses and practices that can be used in a wide array of fields. Both traditional entry-level students and transfer students may apply. Courses have year-round start dates to ensure maximum flexibility in their schedule. Courses provided from the University of Missouri's online programs are either semester-based courses or self-paced courses. The semester-based allow real-time interaction between instructor and classmates. Self-paced courses do not provide interaction with other students and classes may be taken for up to six months.
Net Price: $17,762
Score: 100
Get prepared for your next steps
Use articles and resources to uncover answers to common questions, get guidance on your goals, and learn about applying to schools.
If you're pursuing a master's degree in psychology, you may have been asked the following question: "What can you do with a master's in psychology?" It may even be a...
Are you interested in helping others resolve their issues and hurdles through talk therapy? You may want to consider a career in the counseling field. Counseling is a field that's...
Mental health counseling jobs exist across many settings — from hospitals and government agencies to schools and private practices, and they're projected to grow. The Bureau of Labor Statistics (BLS)...
Discover a program that is right for you.
Explore different options for you based on your degree interests.