With one of these 5 Best Online Bachelor's in Biology, you will have the professional skills, technical knowledge, and research experience necessary to step into a great career in biology. Whether you want to start your career or continue your education, one of these programs is waiting for you.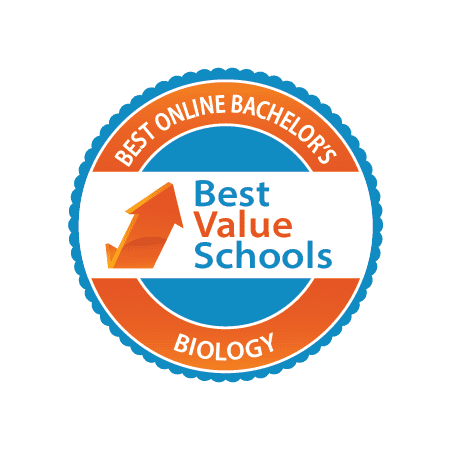 A degree in biology can provide many career options for graduates. Biology majors can continue toward higher education, they can teach biology, and they can pursue one of many jobs such as microbiologist, biological technician, conservation scientist, research scientist… the list goes on.
With so many career options, it can be difficult to find a biology program that fits your academic goals. This list includes 5 of the Best Online Bachelor's Degrees in Biology. These programs are customizable and flexible. They allow you to focus on topics that interest you. Plus, since these programs are online, they can be completed without interrupting the rest of your life. Earn your degree at your pace and prepare for a meaningful career in healthcare, environmental conservation, education, or research.
Once you've earned your degree, the possibilities are endless. The Bureau of Labor Statistics shows you can earn close to $70,000 as an entry-level microbiologist. Postsecondary Biology Teachers can make a median pay of $78,000, and biological technicians earn a median salary of $44,000. Jobs in environmental and wildlife conservation can give you the chance to make an impact in the world. Whatever your interests within the field of biology, a bachelor's degree from one of these five schools could be the perfect way to get started.
Selection Criteria
Best Value Schools publishes college degree rankings with the belief of how one's higher education should be, both, affordable and an investment of continued value for the students who pursue them. The staff of BVS collects data from reputable sources in order to calculate Net Price and the short and long-term value of every ranked degree. Collected data is simplified into weighted categories before scoring and then scaled through a BVS Score up to 100. The weighted categories are:
Degree Investment Return (25%)
Student & Alumni Evaluation (25%)
Cost Value (25%)
Matriculation (10%)
Academic Success (15%)
No matter what degree you decide on, we hope our research and support has made the selection process easier. There are numerous resources BVS utilizes to collect information on degrees, and we encourage you to check them out for yourself!
Here are the 5 Best Online Bachelor's in Biology for 2020!
5. University of Maryland - University College - Adelphi, MD
Bachelor of Science in Biotechnology
At the University of Maryland - University College, students can earn a Bachelor of Science in Biotechnology or a Bachelor of Technical and Professional Studies in Biotechnology. Both of these degrees help prepare graduates for careers in agricultural, pharmaceutical, and biomedical fields. Students at UMUC study a wide range of topics including molecular biology, bioinstrumentation, and chemical sciences. They learn important theories and foundations of biology while also gaining valuable hands-on experience. With relevant internships and a focus on laboratory skills, students are prepared to solve real-world problems. Classes include titles such as Laboratory Management and Safety, Bioinformatics, and Workplace Learning in Biology. This well-rounded curriculum covers customer assistance and technical support, as well as emerging technology and cost-benefit analyses. The program requires 120 credit hours, with up to 90 transfer credits. UMUC is ranked as No. 63 in U.S. News & World Report's list of National Universities.
Net Price: $15,256
Score: 88.22
4. University of West Georgia - Carrollton, GA
Bachelor of Science in Biology, Secondary Education
The University of West Georgia offers several options for a Bachelor of Science in Biology. Students can earn a Bachelor of Science with a Major in Biology in one of three tracks: a general biology track, a professional preparation track, and a secondary education track. Within these tracks, students are given plenty of choice in selecting their courses. Required courses within the major cover topics such as ecology, prokaryotic biology, organismal biology; cell and molecular biology; and chemistry. There are several elective options beyond these required courses. With the help of an advisor, students can create a curriculum that perfectly fits with their interests and career goals. The courses are designed by nationally and internationally recognized faculty. At UWG the professors enjoy teaching, mentoring, and making a difference through cutting-edge research. Students have opportunities to learn from faculty and peers by joining one of more than 150 student organizations. Students also complete a Biological Internship course which helps them gain practical knowledge of biology. UWG was named No. 230 in National Universities by U.S. News & World Report. It's accredited by the Southern Association of Colleges and Schools Commission on Colleges. The Bachelor of Science in Biology requires 120 credit hours.
Net Price: $14,351
Score: 89.41
3. Westfield State University - Westfield, MA
Bachelor of Science in Biology
Westfield State University has an excellent hybrid program for students earning their Bachelor of Science in Biology. Courses can be completed online or on-campus in the evenings or during the day. Students are assisted by a faculty advisor in selecting their desired schedule. Along with their schedule, students have control over the topics they study. There are plenty of electives to choose from, such as Conservation Biology, Genetics, and Plant Biology. Students can add a concentration in Biotechnology or combine their BS in Biology with the Teaching Licensure Program. Westfield encourages students to participate in specialized undergraduate research. The Westfield Environmental Center gives students to opportunity to join in important and meaningful research. In order to gain real-world experience, they are given opportunities to publish and present their findings at conferences through Westfield. From their first semester on, students get to work in state-of-the-art labs to gain hands-on training. U.S. News & World Report considers Westfield No. 32 in Top Public Schools, and Money named it among the top 200 Best Colleges for your Money.
Net Price: $15,967
Score: 89.44
2. Excelsior College - Albany, NY
Bachelor of Science In Natural Sciences
The Bachelor of Science in Natural Sciences with a concentration in Biology from Excelsior College fosters curiosity through exploration and experimentation. Faculty members have experience in the field and offer unique, applicable teaching. The core biology courses are Evolutionary Biology, Biodiversity, Anatomy and Physiology, Plant Anatomy, Human Genetics, and Microbiology. From there, students can choose from several electives. In this program, students learn to collaborate with multidisciplinary teams as they solve problems in creative, new ways. Graduates become strong leaders with experience in data analysis, grant writing, data presentation, experimentation, and implementation of new technologies. Online classes offer greater flexibility, and up to 117 of the required 120 credit hours can be transfer credits. According to Forbes, Excelsior College is the No. 1 Best College for Adults Returning to School. The online classes are flexible, and the program is affordable and instantly relevant.
Net Price: N/A
Score: 96.50
1. Arizona State University - Tempe, AZ
Online Bachelor of Science in Biological Sciences
Arizona State University was named the No. 1 in Most Innovative Schools by U.S. News & World Report. The Online Bachelor of Science in Biological Sciences curriculum was designed by industry leaders. Faculty members have been recipients of scholarships and endowments, as well as members of fellowships such as the Royal Society and the American Academy. ASU prepares students for the MCAT and teaches the recommended competencies of the American Medical Colleges and the Howard Hughes Medical Committee. The program is offered online in order to provide greater flexibility for students. An on-campus lab may be required and can be completed during the summer, but ASU also incorporates a virtual lab experience into their program. The flexibility continues through ASU's six different start dates. Courses are seven to eight weeks long, and the program requires 120 credit hours. Courses include titles such as Animal Physiology, Immunology, and Plants and Civilization. ASU's BS in Biological Sciences has also been recognized for its affordability. Money named ASU No. 115 Best Colleges for your Money and Forbes named it No. 67 in America's Best Value Colleges.
Net Price: $12,947
Score: 100.00