10 Best Master's Degrees in Sustainability
Earth is struggling to support the current lifestyle of humanity, and if we don't change our trajectory, the future looks grim. Be a part of the change with one of the 10 Best Master's Degrees in Sustainability.  The role of sustainability specialists is in more demand now than ever. Scientists have made it clear that ...
BestValueSchools.com is an advertising-supported site. Featured or trusted partner programs and all school search, finder, or match results are for schools that compensate us. This compensation does not influence our school rankings, resource guides, or other editorially-independent information published on this site.
Are you ready to discover your college program?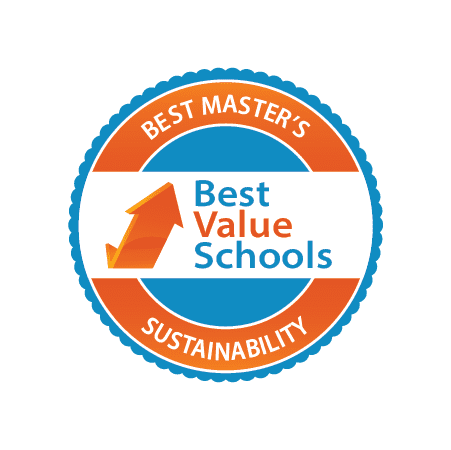 Earth is struggling to support the current lifestyle of humanity, and if we don't change our trajectory, the future looks grim. Be a part of the change with one of the 10 Best Master's Degrees in Sustainability.
The role of sustainability specialists is in more demand now than ever. Scientists have made it clear that if industries don't make significant changes to their operations, it will only continue to be harder and harder for humans to thrive on Earth. From the food industry to technology--and everything in between--companies, organizations, and governments are realizing that everyone must be more conscious of how their choices affect our environments.
The career paths of those with expertise in sustainability can include technology, consulting, marketing, finance, or general management, but they all typically require a Master's Degree in Sustainability. Some degrees take the form of MBAs with concentrations in Sustainability, while others take the form of a Master of Science in Sustainability. Regardless, the preparation from graduate school is worthwhile.
The U.S. Bureau for Labor Statistics reports that Environmental Specialists make a median salary of $71,130. Moreover, jobs are growing at 11 percent, which is faster than the national average. Plus, green initiatives are not slowing down, so there will always be careers for sustainability specialists. If you are looking to increase your earning potential, job security, or if you simply want to take better care of the environment, check out the 10 Best Master's Degrees in Sustainability.
Selection Criteria
Best Value Schools publishes college degree rankings with the belief of how one's higher education should be, both, affordable and an investment of continued value for the students who pursue them. The staff of BVS collects data from reputable sources in order to calculate Net Price and the short and long-term value of every ranked degree. Collected data is simplified into weighted categories before scoring and then scaled through a BVS Score up to 100. The weighted categories are:
Degree Investment Return (25%)
Student & Alumni Evaluation (25%)
Cost Value (25%)
Matriculation (10%)
Academic Success (15%)
No matter what degree you decide on, we hope our research and support has made the selection process easier. There are numerous resources BVS utilizes to collect information on degrees, and we encourage you to check them out for yourself!
Here are the 10 Best Master's Degrees in Sustainability!
#1

University of Pennsylvania

Philadelphia, PA

#2

University of Michigan

Ann Arbor, MI

#3

Western Kentucky University

Bowling Green, KY

#4

Tufts University

Medford, MA

#5

Cornell University

Ithaca, NY

#6

Maharishi University of Management

Fairfield, IA

#7

Rochester Institute of Technology

Rochester, NY

#8

American University

Washington, DC

#9

Duquesne University

Pittsburgh, PA

#10

Wilmington University

New Castle, DE
Featured Online Programs
Figuring out where to apply? These top, accredited schools offer a variety of online degrees. Consider one of these accredited programs, and discover their value today.
University of Pennsylvania

Location

Philadelphia, PA

The University of Pennsylvania College of Liberal and Professional Studies offers a Master of Environmental Studies with an Environmental Sustainability Certificate. This program is rich and diverse as it includes courses from different schools and departments. Candidates for the MES Environmental Sustainability might take a class from the Wharton School of Business, the School of Engineering and Applied Science, the School of Design, and the Urban Studies program.

This multidisciplinary approach yields a highly robust and well-rounded certificate that teaches graduates to consider all aspects of the sustainability equation as they attempt to tackle environmental problems. The program is truly exciting, combining classroom learning with research and internship experiences that allow for hands-on problem-solving. Students may begin this program in the Fall or Spring semester.

The Master of Science in Natural Resources and Environment, Sustainable Systems offered by the University of Michigan is a professional degree master's degree. Sustainability students at the University of Michigan speak highly of the interdisciplinary, well-rounded approach in their studies. There are four pillars of the MS program, including professional training, field-based learning, informed management decision, and practical strategies to changing behavior. This foundation is what allows graduates to become global leaders in sustainability.

The Sustainable Systems specialization is one of six specialties offered through this master's degree program. It looks at Systems Analysis, Sustainable Design and Technology, and Sustainable Design-Making and Enterprise. In doing such, the curriculum covers themes such as water, mobility, food, energy, and built environments. Students complete intensive projects that help explore solutions to sustainability issues.

Western Kentucky University

Location

Bowling Green, KY

Gordon Ford College of Business at Western Kentucky University offers a certificate in Sustainability alongside its general Master of Business Administration program. This degree can be taken at a full-time, one-year, pace; however, working professionals can take the Professional "Executive" MBA, and both options are available online or on-campus. The program is accredited by the Association to Advance Collegiate Schools of Business.

The Sustainability certificate involves four courses: Survey of Business Sustainability Issues, Sustainable Business Operations, Sustainability, Innovation, & Entrepreneurship, and Sustainability Marketing. They can all be taken online in an on-demand format. Importantly, students do not need to be enrolled in the MBA program to take this certificate course. With this certificate, graduates are better equipped to face complex socio-environmental issues.

The Tufts University Department of Urban and Environmental Policy offers a 36-credit Master of Science in Sustainability. It can be completed in 12 months at a full-time pace, but it is flexible for students to study at a part-time rate. The program is interdisciplinary, which allows for sustainability students to pursue interests in other fields as well.

Coursework includes Socio-Ecological Systems Thinking for Sustainability, Economics for Policy and Planning, and Field Projects. Tufts students may additionally supplement their MSS with certificates in Community Environmental Studies, Management of Community Organizations, Program Evaluation, and GIS. The campus partners with the Global Development and Environmental Institute, the Tufts Institute of the Environment, and the Talloires Network.

Part of the full-time Master of Business Administration at Cornell University is an option for immersion learning in Sustainable Global Enterprise. Cornell's Johnson School of Business knows how immersion in Sustainability is preparation for leadership in any industry. It is a two-year program at a business school ranked No. 2 for best sustainability degrees by Bloomberg Businessweek in 2013.

Learning takes place as students are placed into small teams where they work with actual business firms as consultation to solve the businesses' sustainability challenges. The curriculum further includes a Sustainable Global Enterprise Practicum, Strategies for Sustainability, and other electives that align with student goals. MBA students can participate in three clubs: The Sustainable Global Enterprise Club, the Energy Club, and the General Management Association.

Maharishi University of Management

The Maharishi University of Management offers a Master of Business Administration in Sustainable Business that is accredited by the International Accreditation Council for Business Education. With their block format, MUM has students focus on one course at a time, which allows for full immersion in each subject. Typical MBA courses at Maharishi have less than 20 students, providing for great student-professor rapport.

Some of the courses offered by this program include Socially and Environmentally Responsible Management, Leading Organizational Change for Sustainability, Sustainable Community Development, and Sustainable Technologies. The program can be taken in an Evening-Weekend Format, as well as online, which allows students to attain their MBA in a manner most convenient to them. Additionally, MUM offers a three-year internship program that fully funds student MBA studies.

Rochester Institute of Technology

Innovation and Intelligence are the building blocks for Rochester Institute of Technology's Master of Science in Sustainable Systems. This program seeks to equip graduates for creating and maintaining a sustainable future for the world. Admittance to the program does not require a background in sustainability, as coursework is thorough in bringing students up to speed. The program takes as little as one year to complete.

The MSSS is offered at the Golisano Institute for Sustainability while maintaining nine specialized labs for sustainability projects. Students are also able to find a much more hands-on experience to supplement their coursework. This kind of skill development explains why RIT sustainability students achieve a 100 percent job placement rate after graduating. Alumni of RIT's MSSS rave about the program's rigorous, but comprehensive preparation for their careers.

The Kogod School of Business at the American University offers a Master of Science in Sustainability Management for those with a passion for sustainability and the eagerness to incite change. The MSSM is the only DC Metro Area program offered through a business school. Although it may sound contradictory, the program is able to be both interdisciplinary and specialized. It does this by providing concentrations that take into account aspects of business, social science, international policy, and domestic public policy.

These concentrations include Sustainability Executive, Sustainability Policy/Communications Executive, Sustainability Consultant, and Sustainability Entrepreneur. Overall, students will be prepared to effect change in these types of roles. This is a 30 credit-hour program which can be completed at a part-time or full-time pace. It focuses on Innovation, Firm Excellence, Lean Supply Chain, Life Cycle, and Risk Assessment.

The Master of Business Administration in Sustainable Business Practices degree from Duquesne University maintains a stellar reputation. This is backed by the program's exceptional job placement records. Students participate in an international study trip, which adds a global perspective to the domestic-based curriculum. The program begins annually in late May and only take one year to complete.

Each student, upon admission, is considered for merit-based financial aid. On top of this, scholarships, graduate assistantships, and fellowships may be available to strong students to help reduce tuition by a greater extent. Coursework for the MBA Sustainable Business Practices includes incredible courses such as Leading Change in Sustainable Enterprises, Managing People for Sustained Competitive Advantage, and Business Ethics and Global Responsibility.

Wilmington University offers a concentration in Environmental Sustainability as an option within its general Master of Business Administration program. Pursuing the Environmental Sustainability concentration narrows student elective choices. This program is offered on campus or online and can be completed in as few as 12 months. It is accredited by the International Accreditation Council for Business Education.

Regionally, Wilmington University has the most affordable business school tuition. Wilmington's graduate school courses cost an average of $1,431. What's even more helpful is the open admission policy which doesn't require a GMAT score. Once admitted, Environmental Sustainability MBA students will take courses such as Strategic Planning for Environmental Organizations, Project Management with Sustainable Green Technologies, and Environmental Regulations and Ethical Issues.
Get prepared for your next steps
Use articles and resources to uncover answers to common questions, get guidance on your goals, and learn about applying to schools.
Discover a program that is right for you.
Explore different options for you based on your degree interests.