Big data drives modern-day marketing, and new skills are necessary for improving job prospects. The 15 Best Master's Degrees in Marketing are committed to providing those professional enhancements.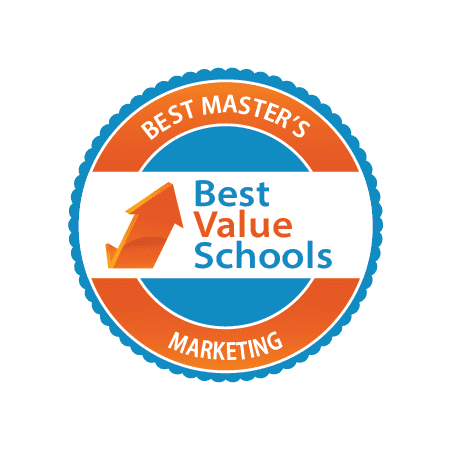 As big data continues to revolutionize industries around us, professions and employers demand new proficiencies both technical and analytical. The following list of 15 Best Master's Degrees in Marketing is among the best because of the professional skills they can provide and enhance for future marketing professionals. The degrees on this list offer cutting-edge research techniques and new modeling for more effective, data-driven marketing solutions.
Professionals can no longer wait around for employers to provide the training they need to keep up with the rapidly changing technological advancements. It is no longer about reading numbers, and it is now about generating them and telling a story with analytics. Each of the programs listed exposes students to courses that combine the marketing world they already know with the tech and database advancements they need.
Selection Criteria
Best Value Schools publishes college degree rankings with the belief of how one's higher education should be, both, affordable and an investment of continued value for the students who pursue them. The staff of BVS collects data from reputable sources in order to calculate Net Price and the short and long-term value of every ranked degree. Collected data is simplified into weighted categories before scoring and then scaled through a BVS Score up to 100. The weighted categories are:
Degree Investment Return (25%)
Student & Alumni Evaluation (25%)
Cost Value (25%)
Matriculation (10%)
Academic Success (15%)
No matter what degree you decide on, we hope our research and support has made the selection process easier. There are numerous resources BVS utilizes to collect information on degrees, and we encourage you to check them out for yourself!
Here are the 15 Best Master's Degrees in Marketing for 2019!
15. The University of Alabama - Tuscaloosa, AL
Master of Science in Marketing
The University of Alabama provides students with a Master of Science in Marketing. There are two specialties available, which are Digital and Social Media Marketing and Marketing Analytics. Overall, the master's program consists of 30 credit hours and requires students to finish six hours of an internship summer experience. UA designed its MSM so grad students could complete their degree in two semesters, assuming they could enroll in 15 hours per semester.
Program applicants are expected to apply with a minimum GPA of 3.0. The average accepted MSM student applies with a GMAT score of 580 or a 308 on their GRE. The university doesn't require program applicants to have past academic experience with marketing, although a previous degree involving liberal arts is favorable.
Net Price: $19,993
Score: 76.1
14. Northwestern University - Evanston, IL
Master of Science in Integrated Marketing Communications
Northwestern University offers a Master of Science in Integrated Marketing Communications to those who already possess marketing experience or those who are ready to jump in and learn. This graduate degree requires 18 graduate level credits. Northwestern designed its full-time MSM program to be completed after five quarters. Some of the courses students are exposed to include Content Strategy, Data Science Foundations, and Consumer Insight.
Integrated Marketing Communications is best defined as a strategy through which organizations aim to drive performance through means of consumer engagement through service and communication. IMC is a modern day marketing strategy driven by analytics and is a proven way to manage a customer's experience. Students walk away from the program with the ability to build and maintain strong brands within their professional career.
Net Price: $26,099
Score: 76.9
13. Syracuse University - Syracuse, NY
Master of Science in Marketing
Syracuse University offers a Master of Science in Marketing through its Martin J. Whitman School of Management. This degree program requires 30 credit hours and is a STEM designated program. Those that attend full-time can complete this degree in as little as nine months. Students who wish to apply to this program are recommended to have a minimum 3.0 GPA and a GMAT score of at least 600. This program is designed for grounding students with a strong business foundation in combination with marketing courses. Students who enter this rigorous program come away with the ability to guide their firm toward profitable market opportunities through analysis and understanding of market data. Graduates are adept and trustworthy decision makers in a competitive employment field.
Net Price: $35,306
Score: 77.0
12. University of Cincinnati - Main Campus - Cincinnati, OH
Master of Science in Marketing
The University of Cincinnati offers a Master of Science in Marketing at its main campus. To meet admission requirements, students need to submit GMAT or GRE scores, two letters of recommendation, an essay, a resume, and a statement of purpose. Upon admission, students need to maintain a GPA of at least 3.0 and finish the program within five years. Some of the classes offered include Marketing Ethics, Career Management, and Influence Strategies.
Not only are UC students be exposed to marketing and research techniques, but they also enhance their professional toolbox with exposure to branding, international issues, product management, and buyer behavior. Cincinnati graduates have gone on to work for Nielsen, The Cincinnati Reds, and Abercrombie & Fitch.
Net Price: $21,050
Score: 80.2
According to the Cincinnati Enquirer, Cincinnati is one of the fastest-growing metros in the Midwest and is sure to offer vast opportunities to graduates with such valuable skill-sets.
11. University of South Florida - Main Campus - Tampa, FL
Master of Science in Marketing
The University of South Florida offers a Master of Science in Marketing at the main campus. This specialized degree requires 30-34 credit hours for completion. Interested applicants must have a minimum 3.0 GPA from all undergraduate program coursework. GRE or GMAT scores may also be necessary but are determined after prospective applicants reach out to the admissions office for guidance.
Students who are admitted to the program find themselves immersed in various marketing-related subjects with the ability to pursue a plethora of career paths upon graduation. Areas of specialization include marketing analytics, digital marketing, and brand management, or supply chain management. Students are also allowed to take a general track if they prefer a broader focus.
Net Price: $11,766
Score: 82.9
10. Clemson University - Clemson, SC
Master of Science in Marketing
Clemson University offers a Master of Science in Marketing program. This degree program requires 30 credit hours to complete. For admission requirements, the university prefers it if prospective applicants would reach out to the department for information. The curriculum offers both a full-time program and a part-time program. Along with regular coursework, students also participate in a master's research project that revolves around the application of research to solve a business problem and requires both a written and oral report and presentation.
Clemson prefers that incoming students possess some professional experience associated with the marketing industry, but welcomes newcomers as well. The MSM degree provides its graduates with all the skills needed to carve out a career in marketing or to move on to a doctoral program.
Net Price: $18,757
Score: 82.9
#9. University of Southern California - Los Angeles, CA
Master of Science in Marketing
The University of Southern California offers a Master of Science in Marketing degree program. This MS program requires 30 units of credit for completion. A cumulative GPA of 3.0 must be earned for all loans to be applied to the degree. The program takes around two years to complete, but students have developed an in-depth knowledge of marketing strategies, innovative marketing skills, and research concepts by the end. These skills are honed-in the fields of entertainment, sports entertainment, luxury and lifestyle, technology, healthcare, and marketing start-ups.
USC's MS in Marketing program is an excellent fit for those looking to immerse themselves in the universe of marketing. Students have one-on-ones scheduled with the MSM Social Director to discuss goals and areas of interest. The program even offers two academic tracks: Analytics and Consumer Behavior. The program finds its strengths in providing personalization and depth of subject matter.
Net Price: $32,892
Score: 84.6
8. University of Houston - Houston, TX
Master of Science in Marketing Program
The University of Houston provides a Master of Science in Marketing Program. This program requires 36 credit-hours and can be completed in 12 months with full-time enrollment or 24 months with the part-time program. The admission requirements for students include submission of an application, an updated resume, transcripts, GRE or GMAT test scores, two letters of recommendation, and a goal statement. UH is proud of its cutting-edge curriculum that includes the latest classes in digital marketing, social media marketing, and customer relationship management. Students from UH's Bauer School of Business have been consistent winners in the Google Online Marketing Challenge. Bauer credits the evolving curriculum for its success in the competition where they were named Champion for The Americas (North and South America) in 2013.
Net Price: $15,664
Score: 86.7
7. Georgia State University - Atlanta, GA
Master of Science in Marketing
Georgia State University offers a Master of Science in Marketing. The program requires 30 hours of credit for completion. The curriculum includes International Marketing, Buyer Behavior, and Data-Driven Marketing among its courses. Students use the skills they develop within the classroom setting to maximize their employability. GSU emphasizes professional skill building with exercises such as solving an organization's problem through a project-based curriculum.
GSU's MS in Marketing is hyper-focused on sending their graduates on to a career immediately after graduation. They encourage students to continue their profession while attending the program and are proud of the fact that their graduates receive an average of a 50 percent salary hike upon completing the program. Most alumni stay within the area upon graduation as well with over 40,000 alumni working in the Atlanta metro area.
Net Price: $15,350
Score: 88.2
6. Johns Hopkins University - Baltimore, MD
Master of Science in Marketing
Johns Hopkins University offers a Master of Science in Marketing. The program is 36 units and takes one year to complete if enrolled full-time. Part-time enrollees complete the program in two years. The MS program is designed for student success at every level of any industry whether a global corporation or a startup environment. Students complete courses in Business Law, Decision Models, and Customer Analytics. This curriculum teaches students the power of research and data analysis.
Graduates of the MSM degree program can confidently build customer datasets, assess brand equity, and use qualitative and quantitative research to gain customer insight. This full breadth of specialized knowledge creates employable graduates. Some of the companies that already employ Johns Hopkins alumni include Cisco Systems, NBC, Amazon, and Verizon Wireless.
Net Price: $29,066
Score: 89.4
5. Michigan State University - East Lansing, MI
Master of Science in Marketing Research
Michigan State University offers a Master of Science in Marketing Research degree program. This comprehensive marketing research program requires 34 credits to complete and takes one year in the on-campus, cohort format. Students also have the option to finish their degree online, and that takes 20 months to complete. All faculty members in the MSMR program hold doctorates in marketing and have consulting experience.
The emphasis of the MSMR program at Michigan State is to leverage and technological and analytical revolution within modern day marketing. Students in this program participate in real projects with real clients. Students earn credits while working on real-life problems and use their tools of research to find real-world solutions.
Net Price: $16,684
Score: 94.2
4. The University of Texas at Dallas - Dallas, TX
Master of Science in Marketing
The University of Texas at Dallas offers a Master of Science in Marketing degree program. This flexible degree program requires the completion of 36 semester credit hours and can be completed within one to two years. Students take courses in a curriculum that includes Competitive Marketing Strategy, Interactive and Digital Marketing, and Web Analytics. To qualify for the MS degree, students must maintain a 3.0 GPA in both core courses and aggregate courses.
UT Dallas students enrolled in the MS degree program also have the option of choosing a specialty track within the degree. Those tracks include Advertising and Branding, Business Development and Sales, Digital Advertising and Marketing, Marketing Analytics and Consumer Insights, Product Management, and Marketing Management. All of these options lead to a higher career trajectory and greater salary demand.
Net Price: $10,036
Score: 96.2
3. University of Maryland - College Park - College Park, MD
Master of Science in Marketing Analytics
The University of Maryland offers a Master of Science in Marketing Analytics through its Robert H. Smith School of Business. This program requires 22 credits and can be completed in 10 to 16 months. Some of the courses students complete include Statistical Programming, Market Forecasting, and Data Science. Those willing to invest in themselves for the improvement of their career options and put themselves on track for their desired salary and position. Students in the MSMA program are willing to sacrifice over the short-term to set themselves up for long-term gains in their careers. The payoff comes in the form of employment opportunities at companies that already employ UMD's MSMA graduates. Those companies include LinkedIn, Salesforce, and Under Armor.
Net Price: $17,241
Score: 96.5
2. Columbia University in the City of New York - New York, New York
Master of Science in Marketing Science
Columbia University in the City of New York offers a Master of Science in Marketing Science. MSM Students take a minimum of 30 units to complete the program. Columbia's MSM Science program is a two-term STEM eligible curriculum. Graduate students in this program take courses such as Marketing Models, Strategic Consumer Insights, and Pricing Strategies. Students can either write a thesis or complete a Ph.D. course as the final component of this curriculum.
A class profile of Columbia's 2018 MSM students shows just how competitive this program is. Of 338 applications received, only 20 were accepted into the program. The average GPA is 3.85. Eleven percent of students have an industrial engineering degree, while another 11 percent already have a degree in psychology. Only five percent of MSMS students apply with an academic background in marketing.
Net Price: $22,824
Score: 99.8
1. Texas A&M University - College Station, TX
Master of Science in Marketing
Texas A&M University offers a Master of Science in Marketing through its College Station campus. This program does not require any minimum GRE or GMAT scores or a minimum GPA, but they do have recommendations that applicants should review before submitting their applications. Most students complete the 36 unit curriculum within 16 months. The courses included in the curriculum include Marketing Consulting, Services Marketing, and Product Innovation. The average class size is about 35 students.
TAMU concerns itself with providing its MSM students with positive exposure to employers and experiences in the business world. One of those programs that foster these relationships is the corporate mentor program. Each student enrolled in the MS program is paired with one of the 23 members who serve as corporate mentors to the students. TAMU also provides real-world business projects which students research and present solutions as they would in their careers. The skills obtained in this program are not just for the classroom; they are prepared for the professional world.
Net Price: $19,554
Score: 100