10 Best Affordable PhDs' in Special Education

Are you ready to find your fit?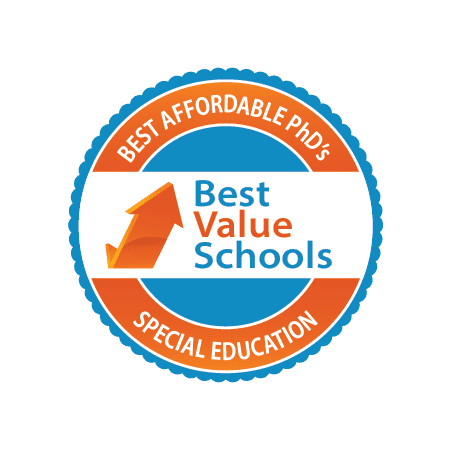 The vocation of teaching is certainly praiseworthy. Developing expertise in Special Education, with all the different challenges that may arise is honorable. But how are educators who work with those affected by disability trained, and how do we know their training is effective? This is where those with a Ph.D. in Special Education step in. These people care about the quality of both students and educators.
Holding a Ph.D. in Special Education typically leads you down one of two paths - both of which often overlap. One path is that of the university professor who uses current research and evidence to teach special education majors. The other path is that of the researcher who studies and develops useful theories and material for the aforementioned professors to draw from.
Though salary isn't the reason people typically pursue a Ph.D. in Special Education, it may be helpful to know that Payscale.com lists the average salary for a Ph.D. in Special Ed. as $75k/year. The real value from a Ph.D. in this field, however, is the impact on students. Whereas teachers in special education may impact hundreds of students in their careers, those with a Ph.D. have the potential to impact thousands.
Selection Criteria
Best Value Schools publishes college degree rankings with the belief of how one's higher education should be, both, affordable and an investment of continued value for the students who pursue them. The staff of BVS collects data from reputable sources in order to calculate Net Price and the short and long-term value of every ranked degree. Collected data is simplified into weighted categories before scoring and then scaled through a BVS Score up to 100. The weighted categories are:
Degree Investment Return (25%)
Student & Alumni Evaluation (25%)
Cost Value (25%)
Matriculation (10%)
Academic Success (15%)
No matter what degree you decide on, we hope our research and support has made the selection process easier. There are numerous resources BVS utilizes to collect information on degrees, and we encourage you to check them out for yourself!
Here are the 10 Best Affordable Ph.D.s' in Special Education!
#10. University of Texas at Austin - Austin, TX
Ph.D. in Special Education
The Special Education Department at the University of Texas at Austin is ranked fifth by U.S. News & World Report overall. It offers different focuses within its Ph.D. programs, most of which are research oriented. These focuses include Autism and Developmental Disabilities, Early Childhood Special Education, Learning Disabilities and Behavioral Disorders, as well as Equity and Diversity in Special Education.
Most of UT Austin's Special Education Ph.D. concentrations are approved by the Behavioral Analyst Certification Board, meaning that the majority of graduate school alumni are certified Behavioral Analysts as well. It should be noted that not all alumni are restricted to research and counseling, as a good number go onto educator roles as well.
Net Price: $14,356
Score: 83.9
9. University of Oregon - Eugene, OR
Ph.D. in Special Education
For those who live - or want to live - in the Pacific Northwest, the University of Oregon offers an excellent Ph.D. in Special Education. Athletics are not the only nationally ranked programs at this school: Oregon has the fourteenth best graduate school of education, as well as the third-ranked Special Education program.
One notable aspect of this program is that students create close-knit learning communities which helps them be successful both in the classroom and with research. Speaking of research, the College of Education had $48.3M in research funding for 87 research projects in the fiscal year of 2017. The opportunities for graduate students to research in a meaningful way are vast.
Net Price: $15,100
Score: 84.4
8. Indiana University - Bloomington - Bloomington, IN
Ph.D. in Special Education
When it comes to pedagogy, the School of Education at Indiana University - Bloomington subscribes to an "inquiry-driven" approach. This means that Ph.D. students in Special Education continually engage in discovery, with faculty instructors and advisors helping them navigate their journey. But the support that students receive is not strictly academic: IU boasts that every student who is looking for funding to support program costs receives it by the end of the first year.
This occurs through Assistantships, Associate Instructor Positions, Work in Research Centers and Institutes, and Faculty Research. In addition, students can take a doctoral minor in areas such as technology, inquiry, statistics, and public health. These would help develop a more unique identity as a scholar in the field of Special Education.
Net Price: $12,488
Score: 85.2
7. Utah State University - Logan, UT
Ph.D. in Disability Disciplines, Special Education
Utah State University offers a Ph.D. in Disability Disciplines with a concentration in Special Education through its Department of Special Education and Rehabilitation. Including this program, all of Utah State's SPER Ph.D. programs are focused on developing next-generation university and college professors. In essence, the program teaches how to teach future Special Education teachers
This occurs through direct collaboration with faculty, as well as developing skills and experience in writing, research, scholarship, teaching, and supervision. Utah State's program additionally orients its students to behavioral analytics within the context of special education. The capstone of the program is a dissertation with substantial research that adds to the academia of this field.
Net Price: $12,338
Score: 86.5
6. University of Washington - Seattle, WA
Ph.D. in Special Education
The College of Education at the University of Washington offers a Ph.D. in Special Education that focuses on preparing its graduates to research and teach at the university level. This college has been ranked fifth among public institutions, as well as fourteenth overall by U.S. News & World Report. It has also received honors from the American Educational Research Association.
Plenty of funding opportunities exist for capable students. For instance, those who will specialize in special education for math or reading can apply for the Project FOSTER fellowship which disburses Department of Education funding that provides 4-5 years of tuition, a monthly stipend, health insurance, travel funds, books, school supplies, and shared office space. A similar opportunity exists for those who seek to specialize in Applied Behavioral Analytics.
Net Price: $9,443
Score: 90.8
5. Michigan State University - East Lansing, MI
Ph.D. in Special Education
Michigan State University's Ph.D. in Special Education is positioned to offer five years of guaranteed funding. This graduate program which teaches about research, teaching, and service is ranked as twelfth overall by U.S. News & World Report. Part of the reason for this ranking lies in the student-focused nature, where those in the program can select an interesting area to guide their courses and research. Some of these areas include technology, mathematics, literacy, language, and behavior analysis.
Faculty members also research in these common areas, in addition to autism, assessment, bullying, and victimization. Coursework that students often engage with includes Multicultural Issues in Special Education, Single-Case Experimental Research Methods, and Current Issues in Literacy Research and Instruction.
Net Price: $16,684
Score: 92.5
4. University of Kansas - Lawrence, KS
Ph.D. in Special Education
The University of Kansas has complete funding available for its Special Education Ph.D. students. How is the UK's Department of Special Education able to do this? For one, it helps that this program is the top-ranked public program by U.S. News & World Report. The doctoral curriculum is built on the four pillars of problem-centered learning, an apprenticeship with mentors, developing and maintaining an intellectual community, and the scholarly integration of teaching and research. The Ph.D. focuses on research and has myriad specializations: Special Education Policy and Systems, Instructional Design, Technology, and Innovation, Disability and Diversity in Education and Society are a few of many.
Net Price: $15,966
Score: 92.8
#3. University of Minnesota - Twin Cities - Minneapolis, MN
Ph.D. in Special Education
Ranked No. 9 overall by U.S. News & World Report, University of Minnesota's Ph.D. in Special Education provides valuable training to those who seek to contribute to the field of Special Education. Though full funding for students is not a guarantee, plenty of funding opportunities exist for Ph.D. candidates that include scholarships, grants, fellowships, as well as assistantships.
Faculty members have diverse experiences and specialties that include Autism Spectrum, Emotional Behavior, Deaf/Hard of Hearing, and Early Childhood Special Education. Coursework is vast and covers a range of topics such as Advanced Psychological and Educational Measurement, Psychology of Interpersonal Relationships, and Personality and Social Behavior.
Net Price: $16,808
Score: 94.0
2. University of North Carolina-Chapel Hill - Chapel Hill, NC
Ph.D. in Education with Applied Developmental Sciences & Special Education
The University of North Carolina - Chapel Hill offers a Ph.D. in Education with a concentrated emphasis in Applied Developmental Sciences and Special Education. Further emphasis in Special Education can be directed toward Early Childhood Interventions, School Age Programs, Autism, and Struggling Readers and Writers. At least three funding opportunities are available for ADSEE scholars, including two leadership grants and one fellowship program
Coursework for the ADSEE program includes Critical Issues in Special Education, Autism Research Seminar, Biological Basis of Child Development, and Disability Policy. In addition, the framework for the Education Ph.D. includes studies in statistics, methods, and research.
Net Price: $11,100
Score: 98.0
1. University of Virginia - Charlottesville, VA
Ph.D. in Special Education
The Ph.D. in Education - Special Ed from the University of Virginia is full-time and based in Charlottesville. Students are typically granted, at a minimum, tuition, health insurance, and a stipend. They are automatically considered for the Dean's Fellowship Program which provides the same perks, but a greater stipend. Other faculty members can provide funding through their own research grants as well.
This program focuses on future researchers and future university professors; therefore, the curriculum focuses on research methodology and evidence-based approaches to developing next-generation educators. The total program requires 72 credit-hours, and at least 54 of these credits must be coursework.
Net Price: $16,594
Score: 100
Get prepared for your next steps
Use articles and resources to uncover answers to common questions, get guidance on your goals, and learn about applying to schools.
Discover a program that is right for you.
Explore different options for you based on your degree interests.