5 BEST AFFORDABLE ONLINE MASTER'S DEGREES IN WEB DESIGN

Are you ready to find your fit?
Graduate school is expensive and difficult to commit to. We've narrowed down 5 of the Best Affordable Online Master's Degrees in Web Design to make your decision easier.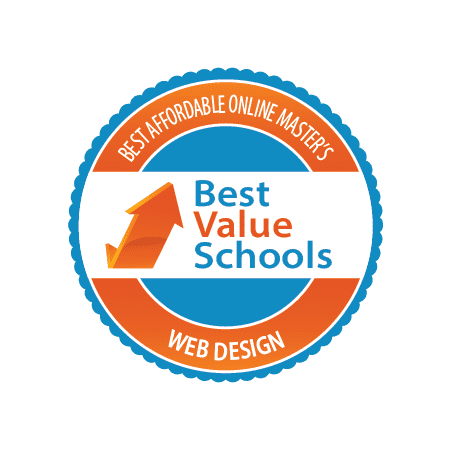 There's no doubt, how in this technology-driven Twenty-first Century, the employment outlook for Web Developers and Designers is promising. The U.S. Bureau of Labor Statistics estimates that the growth of jobs in the field will have increased by 15 percent from 2016-2026. While the USBLS also reports that the typical level of education for entry-level developers is an associates degree, earning a Master's in Web Design will make graduates much more competitive candidates in the field.
Pursuing a masters will increase one's opportunities in more stable freelance work, or equip them with desirable skills for established industries. Of course, becoming a named Web Developer is only one option that these programs best suit graduates for. Others may go on to work in content development, social media management, or webmastering. Students should expect to obtain thorough knowledge in design and evaluation, coding in different programs, business innovation and presentation, and more.
Students beginning their Master's Degree in Web Design may already be employed in the field and want to grow their skills and salary opportunities, or are coming from a different educational background. Regardless, there are many flexible Web Design programs for all types of students who plan to continue in this promising field.
Selection Criteria
Best Value Schools publishes college degree rankings with the belief of how one's higher education should be, both, affordable and an investment of continued value for the students who pursue them. The staff of BVS collects data from reputable sources in order to calculate Net Price and the short and long-term value of every ranked degree. Collected data is simplified into weighted categories before scoring and then scaled through a BVS Score up to 100. The weighted categories are:
Degree Investment Return (25%)
Student & Alumni Evaluation (25%)
Cost Value (25%)
Matriculation (10%)
Academic Success (15%)
No matter what degree you decide on, we hope our research and support has made the selection process easier. There are numerous resources BVS utilizes to collect information on degrees, and we encourage you to check them out for yourself!
#1

Fort Hays State University

Hays, KS

#2

University of Florida

Gainesville, FL

#3

Harvard University

Cambridge, MA

#4

Illinois Institute of Technology

Chicago, IL

#5

Full Sail University

Winter Park, FL

,

,

,

,

,
Featured Online Programs
Figuring out where to apply? These top, accredited schools offer a variety of online degrees. Consider one of these accredited programs, and discover their value today.
Fort Hays State University

Fort Hays State University designed their MPS program interdisciplinarily, with the curriculum containing four components: a nine-credit core curriculum, nine to 12 credits in a concentration area, six-to-nine credits in electives, and a three-credit project or internship. Students who pursue the 30-credit program will graduate with a Master of Professional Studies with a focus in Web Development Curriculum. Core topics of the focus area include Web Scripting Languages, Research Methods in Informatics, Advanced Web Development, and more. Applicants must have a bachelor's degree and a minimum 3.0 GPA from their last 60 institutional credits. Around 43 percent of recent graduates from the program received promotions in their current careers, while another 21 percent entered the field, and seven percent pursued doctoral degrees.

Students who pursue the University of Florida's 37-credit program will graduate with a Master of Arts in Mass Communication with a specialty in Web Design. Students who enroll full-time may complete the degree in just 16 months, having learned through hands-on assignments, flexible online courses and lectures, and support from attentive faculty members. The program focuses on giving students the knowledge to brand messaging for digital platforms, code fully responsive websites, use marketing theory for successful campaigns, and more. Applicants must have a bachelor's degree with a GPA of 3.0 or better, and a GRE Verbal score of 156 and a Quantitative score of 146. Admitted students can begin the program in spring, summer, or fall.

The Master's in Digital Media Design from Harvard University is a 12-course program completed online, but with one course taken on campus. Students will graduate having learned about the latest tools in the communication portfolio, like web design and video, as well as modern production methods. The capstone project has students make an innovative digital media prototype and present it to a committee of faculty. The program structure consists of six core courses, five electives, and the capstone. Before being fully admitted to the program, prospective students must enroll in two graduate-level courses: computation design alongside a course in animation, film, or virtual reality, or a course in web design and application development. If the student receives a B or higher in these courses, they will continue into the program.

Illinois Institute of Technology

The Master's in Web Design and Application Development from Illinois Institute of Technology is provided by the Information Technology and Management department at the university. Students will complete 30 total credits for the degree in Information Technology and Management with a specialization in Web Design and Application. Course topics for the specialization include Human and Computer Interaction, Business Innovation, Web Real-Time Communications, and more. The program prepares students for careers that require optimal technical and policy technology solutions. Admission to the Information Technology and Management program is competitive. Competitive prospects apply to IIT's MITM with a minimum GPA of 3.0 and a minimum combined score of 300 on the GRE.

Full Sail University's online Master of Science in Instructional Design & Technology is a year-long program, with each three-credit course taking only one month. The course schedule is already structured for students and available to view on their website but is subject to change. The 12 topics include Personal Development and Leadership, Instructional Design and Evaluation, and Game Strategies and Motivation. Applicants are expected to have an undergraduate degree or higher, although submitting a GRE score is not required. If one's undergraduate degree is in an unrelated field, they may still be considered for admission. Upon graduation, students understand how to create compelling and inspirational content for online curricula.
Get prepared for your next steps
Use articles and resources to uncover answers to common questions, get guidance on your goals, and learn about applying to schools.
Discover a program that is right for you.
Explore different options for you based on your degree interests.