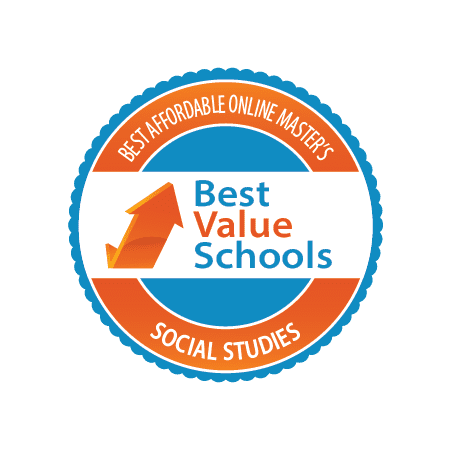 Educators have a valuable responsibility to teach the next generation. Become more influential in your role as a teacher with one of the 5 Most Affordable Online Master's Degrees in Social Studies.
Often, when teachers are asked why they chose their profession, they recall a teacher from their pasts who remarkably impacted their lives. The role of teachers in society is an important one, and educators have a responsibility to be as prepared as possible to be the most effective they can be in their classrooms.
Two factors can inhibit this: money and time. This is why we've compiled the 5 Most Affordable Online Master's Degrees in Social Studies. Those who aspire to establish historical literacy in our youths ought to pay attention.
These degrees apply to the teaching of students from seventh to twelfth grade. The Bureau of Labor Statistics approximates the median pay for middle school teachers to be $57,720, while the median pay for high school teachers is slightly higher at $59,170. The availability for these careers is expected to grow by eight percent from 2016-2026, so job security is a perk for those called to be teachers.
Selection Criteria
Best Value Schools publishes college degree rankings with the belief of how one's higher education should be, both, affordable and an investment of continued value for the students who pursue them. The staff of BVS collects data from reputable sources in order to calculate Net Price and the short and long-term value of every ranked degree. Collected data is simplified into weighted categories before scoring and then scaled through a BVS Score up to 100. The weighted categories are:
Degree Investment Return (25%)
Student & Alumni Evaluation (25%)
Cost Value (25%)
Matriculation (10%)
Academic Success (15%)
No matter what degree you decide on, we hope our research and support has made the selection process easier. There are numerous resources BVS utilizes to collect information on degrees, and we encourage you to check them out for yourself!
Here are the 5 Most Affordable Online Master's in Social Studies!
#1

SUNY College at Brockport

Brockport, NY

#2

University at Buffalo

Buffalo, NY

#3

University of Missouri-Columbia

Columbia, MO

#4

Pennsylvania State University-World Campus

University Park, PA

#5

University of the Cumberlands

Williamsburg, KY

,

,

,

,

,
Featured Online Programs
Figuring out where to apply? These top, accredited schools offer a variety of online degrees. Consider one of these accredited programs, and discover their value today.
SUNY College at Brockport

Fully accredited by the Council for the Accreditation of Educator Preparation, SUNY College at Brockport offers a Master of Science in Education in Adolescence Social Studies. This program is for those who possess or will soon possess a New York State teaching certificate in social studies, grades middle school through high school. It can be completed with a minimum of 30 credit hours. Admission requires a bachelor's degree from a four-year institution and a minimum of a 3.0 GPA. Coursework includes Diversity in Education, Applied Historical Seminar, Issues in Social Studies Education, and Educational Assessment and Evaluation. Successful graduates are eligible for an institutional recommendation for their New York State certification.

The Online Master of Education program offered by the University at Buffalo allows you to focus your expertise in areas such as literacy, content knowledge, technology, special education, or writing. Having an emphasis in any of these areas strengthens the Social Studies Education Track. The M.Ed. is accredited by the Teacher Education Accreditation Council, and it requires 33 credit hours. This translates to 2-3 full-time semesters. Mentoring is provided so that students find success in both the master's program and the career field. In addition, this is a fairly flexible program with classes offered during the day and night. These courses include Research in Social Studies Education, Teaching the Exceptional Learner in the Regular Education Classroom, and Social Studies Curriculum.

University of Missouri-Columbia

Those who seek to become classroom leaders in their school districts should dutifully consider the Master of Education at the University of Missouri-Columbia. This M.Ed. is fully accredited by both the Higher Learning Commission, and the Teacher Education Accreditation Council. It is a degree that lends further insight into the impact of education research and theory in the practical classroom.

In terms of pace, most students take one or two classes per semester. Considering that 30 credit hours are required for this program, it typically takes two years for students to complete the curriculum. Coursework includes Culturally Responsive Pedagogy, Patterns for Instruction in Social Studies, and Curriculum Development. The University of Missouri-Columbia also offers incredible electives such as Youth Cultures and Cultures of Youth, Seminar: Families in Poverty, and Immigrant Issues in Education.

Pennsylvania State University-World Campus

Location

University Park, PA

A Master of Education from Pennsylvania State University World Campus is oriented at practicing educators who seek to further their professional experiences and certifications. This program has been accredited by the Council for Accreditation of Educator Preparation since 1965, and it requires 30 credit hours for completion. This requirement is met through unique classes such as Teaching Historical Thinking with Nonfiction, Teaching and Learning Historical Literacy with Media; and Teaching Citizenship for Civic Engagement.

Penn. State's M.Ed. engages with critical topics that include sustainability and ecological issues, public issues and ethical reasoning, as well as democratic education and pedagogy. It typically requires at least a year of teaching experience before admission, but exceptions are not unheard of. The M.Ed. doesn't initially lead to certification, but can be used toward that end.

University of the Cumberlands

Location

Williamsburg, KY

The University of the Cumberlands is accredited by the Southern Association of Colleges and Schools Commission on Colleges. Its Master of Arts in Teaching is accredited by both the National Council for Accreditation for Teacher Educators and Kentucky's Educational Professional Standards Board. The program for Secondary Education requires 33 credit hours; whereas, the program for Middle School Education may require up to 36. A maximum of nine credits may be accepted for transfer into the university.

Coursework includes Classroom Management and Discipline, Educational Technology, Instructional Design and Curriculum, Issues and Trends in Programs in Special Education, and The Modern Secondary School. Admission to this program necessitates a non-waivable entrance exam that may take the form of the GRE.
Get prepared for your next steps
Use articles and resources to uncover answers to common questions, get guidance on your goals, and learn about applying to schools.
Discover a program that is right for you.
Explore different options for you based on your degree interests.