5 GREAT APPS FOR COLLEGE STUDENTS

Are you ready to find your fit?
College Student Apps
Circle of 6
MindNode
Studious
Study Blue
Mathway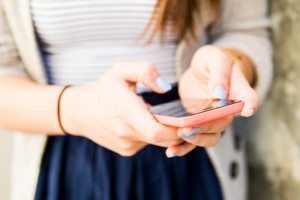 You use apps to track your social life and stay in touch with distant relatives, but what about apps that help you learn and stay organized as a college student? Research has shown that iPads help schoolchildren learn faster, so technology is helping students excel from an early age. If you make use of one or more of the following apps, you may find that technology increases your chances of educational success as well.
1. Circle of 6
While you may focus primarily on keeping up with your homework and enjoying your social life before college gives way to a more serious professional life, safety is more important than having fun or getting straight As. This app allows you to designate six safe people and make contact with them in a discreet manner if you're ever in danger. With the click of a couple buttons, you can send your current location and a message to one or more of your six designated people. They can then respond by calling for help on your behalf or going to your location to assist.
Circle of 6 is an award-winning safety app available for iPhone and Android systems.
2. MindNode
How do you organize your ideas and come up with more creative approaches when writing a research paper, a fictional story or an opinion-based essay? This app makes the process easier by allowing you to create mind maps. You place your core idea in the center, and then enter related thoughts in branches that move away from that center. The map allows you to make connections between ideas that may lead to creative approaches, or you can just use it as an organizational tool that makes every project easier to manage.
MindNode is a creativity-inspired app compatible with Apple and Mac devices.
3. Studious
It's easy to get lost in a large college campus even after you've been studying for a year or two. To help stop the frustration of wandering around in search of a building or classroom, this app offers a database with comprehensive maps for select college campuses. You can receive directions to certain locations with GPS capability, but the app also includes pictures of many locations within the database. Other features include a planner and timetable that help with organization.
Studious is always adding new college campuses to the database and is available for all Apple devices.
4. Study Blue
If you've ever spent an hour searching through a mess of class notes in attempt to study for a test, you know that you end up wasting far too much time. This app makes it easier to organize those notes so that you can study in a more efficient manner. You will also find more time to study, since you won't need your paper notes to cram. The app allows you to create digital flashcards, search a library for information, collaborate with study partners and complete quizzes or review sheets based on the notes you've entered.
Study Blue syncs with Evernote and is available for Apple and Android devices. You can also use the web platform.
5. Mathway
From basic math to calculus, this app allows you to check answers to any math problem in real time. If you're not sure about an answer or have no idea how to solve a problem, you can plug it into the app to see how it suggests solving the problem. You don't even need network access to use the app, so it may help you study even when you're in the library or another location where cell phone reception isn't reliable.
Mathway is available for Android and Apple devices, and you can download it through Amazon, iTunes or Google Play.
You could easily add some other well-known apps like Evernote to this list because they offer comprehensive organizational systems that some college students find effective. Many students still prefer smaller apps that cater to their lifestyle as a student, so consider all of your options before settling on just one app.
You may also like: 5 Essay Tips for College Applications
Get prepared for your next steps
Use articles and resources to uncover answers to common questions, get guidance on your goals, and learn about applying to schools.
Discover a program that is right for you.
Explore different options for you based on your degree interests.